OVERLAND PARK, Kan – The 2017 World's Largest Swimming Lesson (WLSL) will take place on Thursday, June 22nd. This will be the eighth year for the global event and Team WLSL will be setting its sights on a new goal – reaching more than one billion with the message Swimming Lessons Save Lives by 2019. Local WLSL events take place at hundreds of locations in more than 20 different countries on five continents over the course of 24 hours. The purpose of the event? Provide kids and parents exposure to life-saving water safety skills and build awareness about the vital importance of teaching children to swim to prevent drowning.
The World Waterpark Association founded the WLSL event in 2010, and works with dozens of life-saving and drowning prevention organizations to support Team WLSL and their mission to spread the message Swimming Lessons Save Lives because:
• The problem is real: Per the CDC, drowning remains the leading cause of unintended, injury related death for U.S. children ages 1-4, and the second leading cause for children under 14; drowning is an even greater threat in other countries around the world

• Many lack basic swimming skills: In 2014, a survey completed by the American Red Cross found that more than half of all Americans (54 percent) either can't swim or don't have all of the basic swimming skills

• Parental supervision is key: According to Safe Kids Worldwide 2016 report, despite the fact that lack of supervision played a role in the majority of drowning deaths. less than half of parents (49 percent) indicate they remain within arms' reach of their child in the water
We encourage aquatic facilities and trainers to help parents connect the dots between learning to swim and staying safer in and around the water. Join Team WLSL for this global, life-saving event by registering as an official 2017 WLSL Host Location.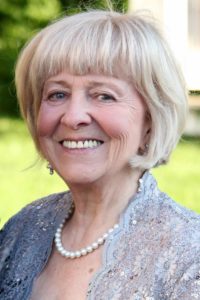 SACO, Maine – Justine Brewer and her family own and operate Southwick's Zoo in Mendon, Massachusetts. Her company has been a proud NEAAPA member and she is a former member of the Board of Directors.
Justine will be inducted into the NEAAPA Hall of Fame on Tuesday, March 28, 2017 during the Annual Meeting Dinner, held at the Sheraton Springfield Hotel Monarch Place.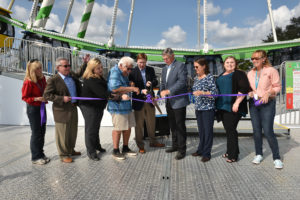 TAMPA, Fla. – The 2017 Florida State Fair is in full swing at the Fairgrounds in Tampa. And what was already the nation's largest Midway now is enhanced with the addition of the Midway Sky Eye – the largest travelling Ferris Wheel in North America. Construction of the 155 foot tall giant Wheel, which was a spectacle in itself, was completed on Sunday night. The ride opened for its first thrill seekers at 2:30 p.m. on Monday after a thorough safety inspection.
Adam H. Putnam, Commissioner of Agriculture, cut the ribbon on the Midway Sky Eye and was joined by Florida State Fair Authority Director Cheryl F. Flood, Chairman of the Board Doyle E. Carlton III, Board Treasurer Linda Syfrett and Frank Zaitshik, president of Wade Shows and Midway manager, for the inaugural ride.
The Midway Sky Eye was manufactured by the Lamberink company in the Netherlands, and the pieces were shipped to the United States in late January. Owned by Wade Shows, the Fair's Midway coordinator, the Sky Eye is making its North American debut at the Florida State Fair.
Comprised of more than 500 pieces, construction of the Wheel required an 80-ton crane, at a cost of $3 per minute. The heaviest part is the center axle, which weighs 6,600 pounds. In all, the ride weighs more than 400,000 pounds – as much as two blue whales.
The Midway Sky Eye is lit by more than 524,000 individual LED red, green, blue, yellow, orange and purple lights, ensuring its place as the brightest spectacle at the Fair. Powering the Sky Eye requires more than six miles of electrical wiring, which is enough to stretch from the Fairgrounds to Ybor City.
The Sky Eye is equipped with 36 gondolas that hold six people each. Riders can see more than 15 miles from the top – from Land O' Lakes to Apollo Beach!
As a special Valentine's Day treat, rides on the Midway Sky Eye will be 2-for-1 on Tuesday only. The Sky Eye is one of 126 rides at the Florida State Fair, which also includes more than 100 things to see and do included in the price of admission. The Fair runs through Monday, February 20.
For more information about the fair, including a schedule of events and ticket information, visit www.floridastatefair.com. Follow the Fair on Facebook at www.facebook.com/floridastatefairgrounds and on Twitter at https://twitter.com/flstfairgrounds for the latest updates and announcements.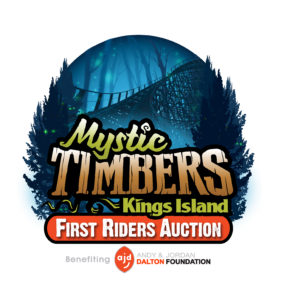 MASON, Ohio – Kings Island's new wooden roller coaster, Mystic Timbers, will make its highly anticipated debut to the general public April 15. But guests can experience a new kind of adventure with unexpected thrills before anyone else at the Mystic Timbers First Riders auction event Thursday, April 13. All proceeds will go directly to the Andy & Jordan Dalton Foundation, a nonprofit organization dedicated to providing life-changing experiences to seriously ill and physically challenged children and their families in the Cincinnati area.
All participants must raise a minimum of $100 to participate in this event. All participants will receive a first official rider t-shirt, dinner, unlimited rides on Mystic Timbers from 7-9 p.m. and a first official rider commemorative ticket. The top five fundraisers will receive an autographed Andy Dalton memorabilia item.
Registration for the event is now open online.
Themed to an abandoned lumber company, the 109-foot-tall wooden roller coaster will feature 16 airtime moments through wooded terrain along 3,265 feet of track at speeds up to 53 mph with an intriguing mystery: What's in the shed?
LOGAN, Utah – S&S-Sansei Technologies is pleased to announce that it has signed contracts to build and install the first 4D Free Spin Coaster in Asia at Nagashima Spa Land in Mie Prefecture, Japan.
Nagashima Spa Land is a major amusement park in Mie Prefecture featuring a water park and amusement rides. Nagashima Spa Land, reputed to be the best amusement park for roller coasters in Japan, is the main attraction of the resort. The park is filled with over fifty rides, ranging from gentle and suitable for children to outrageous rides for those looking for exhilarating moments.
S&S – Sansei Technologies, Inc., the largest U.S. manufacturer of major amusement rides and roller coasters, has been manufacturing rides since 1994 and the company has installed over 450 rides and roller coasters in 30 countries. "We have had such an amazing response from our 4D Free Spin coasters currently operating," Gerald Ryan, Executive Director of Sales and Marketing for S&S-Sansei, commented, "and S&S is confident that riders in Japan will be satisfied with the high thrill this coaster offers. We have enjoyed working with Nagashima Spa Land to offer the first ever coaster of its kind in Asia and know that this project will be a great addition to their park."
The new 4D Free Spin coaster at Nagashima Spa Land, to be named Arashi, which means "Storm" in Japanese, is projected to open in March 2017.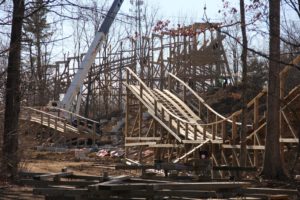 MASON, Ohio – Construction on Kings Island's new Mystic Timbers roller coaster continues to take shape. Work has begun on building the mid-course tunnel section of the ride, station and shed. Mystic Timbers is a custom-designed ride built for Kings Island by Great Coasters International, which recently designed the Gold Striker roller coaster at California's Great America in Santa, Clara, CA.
Themed to an abandoned lumber company, the 109-foot-tall wooden coaster will feature 16 airtime moments through wooded terrain along 3,265 feet of track at speeds up to 53 mph with an intriguing mystery: What's in the shed? By the time workmen complete construction on the ride, they will have used approximately 330,000 board feet of southern yellow pine lumber; 30,000 pounds of nails; 88,000 bolts and washers and 5,500 cubic yards of concrete for the foundation. Mystic Timbers makes its highly anticipated debut in the spring.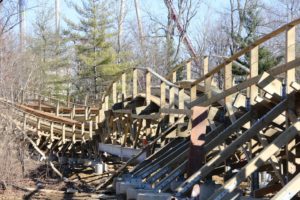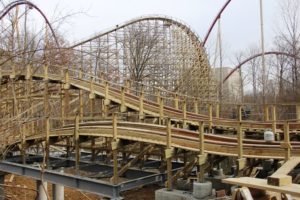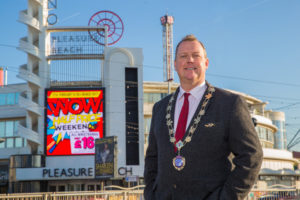 SUNBORN, London – Nick Thompson, Deputy Managing Director of Blackpool Pleasure Beach, has become the first ever third generation Chairman of the British Association of Leisure Parks, Piers and Attractions (BALPPA). Nick follows in the footsteps of his father and grandfather who both previously held this prestigious post.
Nick was announced as Chairman of BALPPA, which is a 2-year post, at the association's annual AGM and dinner, which took place aboard the Sunborn in London, last month.
Nick's grandfather, Leonard Thompson, was one of the founding members of association, and the original chairman, in 1936. He then held the position again almost 25 years later in 1963. Nick's father, Geoffrey Thompson carried on the family tradition, holding the post of chairman in 1981 and again in 1992.
Founded in 1936, BALPPA is the non profit-making Trade Association representing the interests of owners, managers, suppliers and developers in the UK's commercial leisure parks, piers, zoos, family entertainment centres (indoor play and soft play centres) and static visitor attractions sector.
On becoming Chairman of BALPPA, Nick Thompson comments, "I'm extremely proud and honoured to be able to represent the leisure industry on behalf of the UK. As the third generation of my family to hold this position I feel very humbled, especially as my grandfather was one of the founding members of the association.
"Over the next two years our members face a number of challenges, such as Brexit, and in my role I intend to make sure that as an association we continue our lobbying to get the best for our industry."
In his time as Deputy Managing Director, Nick has spearheaded a number of the parks most high profile projects. The latest, which he has been heavily involved with, is overseeing the development of Construction 2018. Construction 2018 will be the UK's first ever double launch coaster and representing an investment of £16.25, is one of Blackpool Pleasure Beach's most ambitious projects to date. The ride, which is being manafactured by German company Mack Rides, will open in Spring 2018.
NORFOLK, Va. — Today, Katharine "Kathie" Morgan began serving as president of ASTM International, one of the world's largest standards development organizations. Morgan will lead a team that supports thousands of members, customers, partners, and other stakeholders worldwide. She succeeds James A. Thomas, who served in the role for 25 years.
"I am thrilled and humbled to serve as president of an organization that has played such a foundational role in meeting societal needs for over a century," Morgan said today at the organization's first major meeting of 2017 in Norfolk, Va.  "We will build on the legacy of Jim Thomas, attracting even more of the world's top technical experts to our committees while also serving people and organizations that rely on our standards and services."
A brief new video featuring Morgan and her first presidential message were released today.
Morgan was joined at the event today by Thomas Marsh, CEO of Centrotrade and ASTM International's 2017 chairman of the board. "Kathie brings proven leadership skills, a deep understanding of the global standards community, a passion for ASTM International's mission, and much more," Marsh said. "ASTM International will continue to grow and thrive under her leadership."
Also today, Morgan visited the Virginia Beach Fire Department Training Facility to see demonstrations of emergency response robots and drones.  Manufacturers, first responders, and others tested robot capabilities and operator proficiency using 50 test methods, many of which have been developed through ASTM International's Committee on Homeland Security Applications (E54).
Morgan is a 33-year veteran of ASTM International. She served as executive vice president for the past two years. Prior to that, she was vice president of Technical Committee Operations, leading a 50-member team that supports the volunteer work of ASTM International's 30,000 members worldwide.
Morgan is one of the world's most prominent voices on standardization-related issues. She is a board member of the American National Standards Institute's Board of Directors, the Council of Engineering and Scientific Executives, the International Consumer Product Health and Safety Organization, the Society for Standards Professionals (SES), the American Society of Association Executives, and a former member of the Standards Council of Canada's Standards Development Organization Advisory Committee.
Morgan holds a bachelor's degree in chemical engineering from Lafayette College in Easton, Pa., and a master's degree in business administration from Widener University in Chester, Pa. Follow her on Twitter at @ASTMpres.
INDIANAPOLIS, Ind – A unique auction will be held at the Indianapolis Motor Speedway on March 11, 2017, involving a host of items not seen by the public in more than 40 years.
The auction includes a rare Herschell-Spillman 30-horse, all-wood carousel, and a second Allen Herschell 30-horse, ½ & ½ carousel.
Two vintage National Amusement trains are featured items that will be auctioned off, along with 12 brass and cast iron bells, an original Horse Drawn Hansom Cab, and a classic Albert Decap dance organ built in Belgium in the 1930s.
Three Zinc Cigar Store Indians, American Star High Wheel Bicycle, several vintage steam pumpers used for fire-fighting early in the 20th century and an actual 1826 prairie schooner wagon are also in the auction catalog.
These items are being sold as non-collection assets unrelated to the Indianapolis Motor Speedway Foundation's mission because they do not relate to racing or automobiles in any way, and were never intended to be displayed in the Indianapolis Motor Speedway Museum.
"The spectacular items in this one-of-a-kind auction tell important stories about life in America in the days of our grandparents and great grandparents, and deserve to be displayed and used in an appropriate setting. The Indianapolis Motor Speedway Museum was never intended to be that setting and it is time they find a home where they can be enjoyed as treasured examples of American life of 75 to 100 years ago, or more" said Betsy Smith, executive director of the non-profit Indianapolis Motor Speedway Foundation that operates the museum.
Proceeds from the auction will be invested in the future of the museum, to celebrate more than a century of the innovation, thrill, and adventure of motor racing at the Indianapolis Motor Speedway.
The sale will be held in the Pavilion at the Indianapolis Motor Speedway.
This is a call to action. I am asking all of you to really take the time to read this email and truly take action as detailed in this email, and continue to take action on a regular basis, if the survival of the H-2B program is important to you and your business.
This is a period of confusion and chaos in Washington, DC in regards to all aspects of immigration. I do not want to be hysterical or rabble rousing, but I do want to sound an alarm that at the very least, many H-2B employers will be capped out of the program this year if the Returning Worker Exemption (or similar relief) is not enacted, and at the very worst, the program could be even cut back, suspended or subject to delays that make it useless.
There are many troubling signs that impending actions may negatively affect the H-2B program:
·Jeff Sessions, future Attorney General, at the hearing I attended in Washington, DC stated "H-2B employers are comparable to modern day slave owners" and has been a key opponent to the fight for the Returning Worker Exemption.
·Memos have been circulating in the White House about "reforming" and "investigating" various visa programs, "investigating the damage to US workers of foreign visa employment".
·Breitbart and other far left and far right "news" outlets have been pounding the drumbeat that all foreign workers (legal and illegal) "flood into America, taking jobs from American Workers, depress wages and lower working conditions."
·The Department of Labor processing of H-2B applications has slowed to a crawl, with Notices of Acceptance (that are supposed to be issued within 7 days of application) not being issued even after 30 days of processing.
There are good signs, with business oriented individuals nominated to Key Cabinet Positions, but they have not been confirmed yet and those who are fundamentally against foreign worker positions seem to have the President's ear.
The chaos and confusion, executive orders and media attention may force Congress to take action sooner, rather than later.
What action Congress takes depends on you. I have been preaching the same sermon for years. You must form a personal relationship with your member of Congress. This does not mean making a phone call, sending a fax or email, and checking off a box that you have done your job.
This means first finding out who your Member of Congress is. Do you know, if so that is a great first step. If not, then you need to go to this website, use your home address (where you live and vote) and find out who your member of Congress is.
http://www.house.gov/representatives/find/
Key in your information and find out who your Member of Congress is. There is typically a link to their website and you can find out where the District Offices are.
You should go in person to the local district office, and ask to speak directly with the Member of Congress. If they ask what the issue is, you can briefly tell them that the issue is your ability to keep your business open and to protect American Jobs.
If they say the Member of Congress is not in, ask to speak to the District Director so that you can schedule an appointment to meet directly with your Member of Congress. Be persistent. The Member of Congress typically will come home Fridayafternoon, be in the district Saturday and Sunday, then fly back to Washington on Monday. Leave your business cards. Pick up as many business cards that you can to collect as many direct email addresses and phone numbers that you can for the staffer in the office.
Your message and talking points are very simple.
If you are a couple or have children who are teenagers or adults, bring them to the meeting to reinforce that you are a family business.
You tell them your name and where you live to establish you are a voter in the Representatives' District.
You tell them that your family owns and operates a business, that has been in operation for (fill in the blank) number of years, you provide (carnival, rides, games, fill in the blank) to various local fairs, festivals, civic groups, churches that hold recurrent, annual, seasonal fundraising events in their communities. These special community events are the major fundraiser for these organizations each year, and without these fundraisers the organizations would not be able to (provide scholarships, fund the Church School, fill in the blank) and the local community would suffer. If you know if any events in the Representative's District, make sure you mention them. If you have a fair or a powerful sponsor in the district, take them along to the meeting with the Representative.
You would state that you only work 9 months (fill in the blank) each year, you travel from location to location, your work schedule is typically when others are off work and can attend the festival, evenings, weekends and holidays. State that it is logical and reasonable that US Workers prefer year-round employment, fixed hours, not traveling from event to event. Your labor pool is very limited as to who is available to travel, you hire each and every US Worker that you can, would love to hire ALL US Workers and not spend the time, money and effort on hiring foreign workers, but you CANNOT. And if you try to operate without the foreign workers to augment your US Workers, you cannot operate safely and efficiently, you cannot provide the services you are contracted for, and if you are not able to obtain temporary, seasonal, foreign workers you may have to close your family business.
Whatever your personal beliefs are you do NOT say that US Workers are lazy or would prefer to sit at home watching TV collecting benefits, are on drugs, etc. Do not harp on drugs, background checks, long hours, bunkhouses.
You listen carefully to the Member of Congress and/or staff member(s) you speak with. You let them know that you are only there to ask them to support a working H-2B program moving forward. Do not specifically mention the Returning Worker Exemption, right now you are forming a bond, a relationship with your member of congress. This relationship is what we need when there is a critical issue to be addressed, but must be formed NOW and maintained over a sustained period of time.
Financial Support for your Representative.
While meeting with your member of congress in their official office DO NOT MENTION FUND RAISING OR CONTRIBUTIONS TO THEIR POLITICAL CAMPAIGN.
However, in addition to going through the front door to meet your Congressman, you should also google your member of congress's name and see if you can find the separate and distinct campaign committee set up to raise funds for the political campaign. The key is that it will not be an official government website, will not end in ".gov". Carefully review the website, see if there are any upcoming town hall meetings or fundraising events. Contact the campaign committee, tell them you are a constituent of the member of Congress, would like to contribute $500 (fill in the blank, but that amount should get their attention and still allow for future contributions) to the campaign and ask if there is an event that you can attend.
So, in addition to meeting the Member of Congress in the office, you will follow up within a short period of time with a second face to face meeting, where you can again discuss the H-2B program, how much the program means to your business.
You only one U.S. House Representative. Your adult children, show manager, family members, suppliers, key sponsors or fair committees may have the same member of congress or different members of Congress, and they may be able to set up appointments as well and open the door for you if you have the time to pursue. But the key will be your own Representative.
YOUR SENATORS
You also have two U. S. Senators. To find out who your Senators are you can go to this website http://www.senate.gov/senators/contact/ find out who they are and where their district offices are located. As each senator covers the entire state, there is not much of a chance you will meet the Senator, but you do need to meet with his/her staff. Repeat the process detailed above for your Representatives, for each of your senators.
Call to action.
What you need to do is put a face, a heart and a soul into the H-2B program for your Representative and Senators. I cannot do this for you. A paid lobbyist or trade organization cannot do it for you. You and your family are the only ones who can do this, can form this relationship. I will do everything I can to assist you, prepare you, and if it is at all possible, accompany you to the meetings. The OABA and Gregg Hartley will also be there for you.
I cannot stress how important this is. You need to be able to call your member of Congress or his or her Chief of Staff). To be able to do that is going to take hard work on your part.
We must be proactive or we will get steamrolled by the far right and the far left and that would be a disaster for all of us. Your action (or inaction) will make a difference.