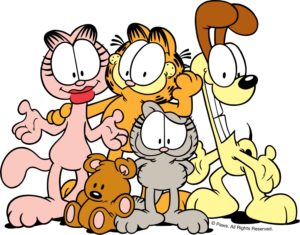 GRAND PRAIRIE, Texas – Six Flags Entertainment Corporation (NYSE: SIX), the world's largest regional theme park company, and Riverside Tourism Investment Group Co. Ltd., an award-winning tourism and real estate developer and Six Flags partner, today announced that the children's areas of China's first-ever Six Flags branded parks will be themed after Garfield and the Garfield characters from the world-famous comic strip. Six Flags Zhejiang is scheduled to open in 2019, anchoring a 30 billion yuan (USD $4.6 billion) resort development located on the coast of Hangzhou Bay. Six Flags Chongqing is scheduled to open in 2020.
"We are excited to partner with the great team at Paws Incorporated to create unique, themed sections based on the beloved Garfield character for children and their families," said John Odum, President, Six Flags International Development Company. "From themed rides and attractions to live shows, character meet and greets and merchandise, guests will be fully immersed inside the clever world of Garfield and friends."
"This alliance is another major step toward building a world class park for millions of visitors," said Che Li, Chairman of the Riverside Investment Group. "Garfield is already a beloved character in China and we look forward to bringing him to life inside Six Flags Zhejiang and Six Flags Chongqing."
"This is a great opportunity for Garfield to entertain families and children," said Garfield's creator Jim Davis. "Six Flags and Riverside have an extraordinary project planned and to have our characters featured is an incredible honor."
"Garfield" and "the Garfield characters" are intellectual properties owned by Paws, Inc., an Indiana-based corporation of which Davis is President. Paws was represented by International Theme Park Services, Inc., a leader in the theme park and amusement industry.
ROXBORO, NC – Sherry Howell, Director of Client Success at CenterEdge Software, a leading provider of point-of-sale, online sales and reservations, and ticketing systems for entertainment and recreation facilities, will speak at the International Association of Trampoline Parks (IATP) European Conference and Trade Show on Monday, May 22 at Hilton London Paddington in the United Kingdom.
Howell's presentation, "Getting the Return on Your Investment for Your Event Sales Effort," will provide attendees with reasons why an event sales effort is needed, offer two different approaches to setting sales targets, and discuss strategic ways to examine your current and future sales pipeline.
"It's virtually impossible to grow your business without dedicated event sales efforts, but this important piece of the pie isn't always given the love and attention it needs. My hope is to offer differing strategies to help operators determine the approach that makes the most sense for where they are today and what they wish to accomplish," said Howell.
The first annual European International Association of Trampoline Parks Conference and Trade Show will provide a forum for the exchange of information and opportunities to network with others in the trampoline park industry. The conference program will benefit indoor trampoline park owners, operators and managers, entrepreneurs looking to get into the business, and entertainment center owners looking to add this exciting new attraction to their existing businesses.
FARMINGTON, N.H. – Benjamin Paul Combs, age 18, of 21 Tappan Street, Farmington, NH, passed into eternal life on May 4, 2017 after suffering from severe depression. He will be remembered and celebrated as the everlasting joy of his family's life and for his loving kindness and thoughtfulness to friends and family.
His brilliant intelligence and wonderful sense of humor endeared him to all. Ben was a self-motivated learner with knowledge beyond his years of facts, people, and life.
He listened to classical music, symphony orchestra, and Frank Sinatra. His interests through the years ranged from karate, aviation, archery, history, travel, and cooking to camping/hiking, Pokémon Go, superheroes, video games, and movies. He also loved to play mini golf and board games (especially Monopoly) and was an avid reader of comic books and major novels. Most recently he enjoyed building Legos and complex jigsaw puzzles.
Ben was close to all of nature and exhibited a special fondness for cats everywhere. He hiked 20 of the 48 New Hampshire mountains in the 4000-Footer Club.
When depression was not overwhelming him, Ben had been at the top of his class academically. In the last year, he was employed at SkyTrans Manufacturing, where he learned to clean and test grips for ski lifts, sandblasting, forklift operations, and flame cutting. This winter, he worked with his Dad as part of the team to finish the Green Peak chairlift at Waterville Valley, making his Dad forever proud of him.
His inner quiet reflective nature did not begin to reveal his true self or the persistent courage he had as a young man.
Ben is survived by his parents Rachel Jane (Livingston)Combs and Richard Combs of Farmington, sister Margaret E. Combs of Farmington, and brother SGT Patrick D. Combs of Somersworth as well as grandparents George and Carolyn Livingston of Florida and many aunts, uncles and cousins, as well as his beloved cat, Puma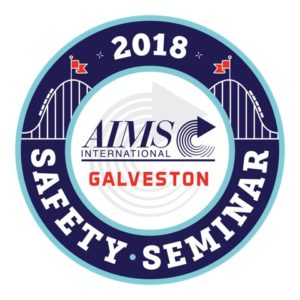 NASHVILLE, Tenn. – The 2018 AIMS Safety Seminar will be held January 7-12 in Galveston, Texas. Classes will be held at the beautiful Galveston Convention Center with hotel accommodations at the adjacent Hilton Galveston and the San Luis Resort.
"After being in Orlando for many years, we listened to the industry's request to move the AIMS Safety Seminar to a more central US location and chose Galveston for its accessibility, the wonderful facilities, and the opportunities area attractions such as the Pleasure Pier and Schlitterbahn Water Park offer our students. The climate is perfect and the convention center is ideal for our classes. This is going to be a fantastic year!", said Karen Oertley AIMS Executive Director.
Holly Coston, AIMS Seminar Manager added, " Under the chairmanship of Palace Entertainment's Jeffrey Savelesky, the AIMS Education Committee is planning many new and timely classes for 2018 Galveston. Stay tuned for more great news about the 2018 Safety Seminar".
The AIMS Safety Seminar is recognized by major parks and attractions as the worldwide leader in safety training and education.  Boasting an annual enrollment of more than 350 students, the week-long seminar offers 40 class hours of education (4 CEU) and AIMS certification testing in Ride Inspection, Maintenance, Operations and Aquatics. Additional certificates are also offered. Known for its wide selection of classes and the quality of expert instructors, AIMS students can choose from more than 200 class offerings to tailor a curriculum that best fit their needs and the requirements of their employers.
Early registration for the seminar is $595 and includes tuition, class materials, CEU and completion certificates, an opening reception, daily morning and afternoon breaks, and lunch every day. AIMS certification testing and other certificates are offered at an additional fee.
Early registration will open in July with full registration starting in September. More information on the AIMS Safety Seminar can be found at www.aimsintl.org or contact Holly Coston, Seminar Manager at info@aimsintl.org.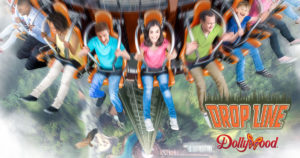 PIGEON FORGE, Tenn. — Dolly Parton declared this season at Dollywood as "The Year of the Family," thanks to the fantastic family fun which abounds throughout 2017. Today, park officials unveiled Drop Line, a 230-foot-tall free-fall experience, to media during a special sneak preview. The ride officially opens to guests on Saturday, May 6.
Drop Line lifts guests more than 20 stories above Dollywood's Timber Canyon. As it ascends, the ride's gondola slowly spins around the tower, providing guests with a bird's eye view of the Great Smoky Mountains. Guests shouldn't get too comfortable with the commanding vantage point they find more than 200 feet above the ground, however. In an instant, Drop Line descends back to the ground in a thrilling rush of excitement.
"Drop Line is the perfect new attraction for Dollywood," said the park's General Manager Gene Scherrer. "We have a number of unique rides, but this one is unlike anything else here. Our guests will have a chance to enjoy the beautiful Smoky Mountain scenery as they rise up the tower, but once they get to the top, the anticipation of the drop will certainly create memories they'll remember for quite some time," he added with a laugh.
Dollywood also soon will open Whistle Punk Chaser, adjacent to Drop Line and the award-winning Thunderhead wooden coaster. Whistle Punk Chaser is a junior coaster which throws exciting twists and turns at Dollywood's younger guests, helping prepare them for the day they can join their parents aboard the park's larger rides.

SAN FRANCISCO, CALIF. – Picsolve, the leading digital content creation partner for world-class visitor destinations, has today announced it is providing its innovative imaging technology at Music City's highly anticipated, new tourist attraction; Madame Tussauds Nashville, Tennessee. Music lovers from across the world will have the chance to capture and instantly share their live experiences as they rub shoulders with music legends from Johnny Cash to Bruno Mars, and current country superstars including Luke Bryan and Carrie Underwood.
Picsolve has been chosen as the sole partner to provide the technology behind all the interactive photography experiences within Madame Tussauds Nashville. Visitors can earn social bragging rights by having their photo taken among a host of specially created immersive sets, while surrounded by famous faces, and instantly share this moment with the world. Meanwhile its green screen technology powers an interactive experience where music fans can pose with instruments and imitate the industry's icons. Their image is captured and made into bespoke take home merchandise, including a personalised vinyl album cover, tour poster and VIP backstage pass.
The growing partnership with Merin Entertainments, known for its iconic wax attractions and other globally recognised family leisure destinations including LEGOLAND® resorts and SEA LIFE centres, continues Picsolve's rapid expansion in the US and will be the 20th Merlin operation using its innovative imaging technology in the country. The Nashville site is the 16th Madame Tussauds attraction in the world to select Picsolve as its digital content creation partner, building on its strong relationship with the worldwide family entertainment brand.
Danny Low, Head of Retail New Development Midway and RTP, Merlin Entertainment comments: "Picsolve and Merlin Entertainments have a proven track record in providing customers with inventive and exciting image opportunities. Through our partnership, we're continuing to work together to develop immersive sets and experiences that Madame Tussauds guests can enjoy. We are thrilled to have them on board for this very special musical experience in Nashville, and we look forward to our guests enjoying music through the ages during their time in Music City."
Alan Wright, Picsolve CEO comments: "We pride ourselves in equipping our partners with the industry-leading tools and the invaluable skillset they need to provide the best possible live experiences for their customers. We set the bar with our creative ideas and themed set installations and we can't wait to see how Madame Tussauds' visitors react to the experiences now that it has opened its doors to the public. The US is widely known as the land of opportunity and we see growth in this market as strategically important to our geographic diversification plans and look forward to a long-lasting and mutually beneficial partnership with Merlin Entertainments."
GRAND PRAIRIE, TEXAS – Six Flags Entertainment Corporation (NYSE:SIX), the world's largest regional theme park company, today announced it has entered into an agreement with EPR Properties, owner of Waterworld California, to operate the water park located in Concord, California. Waterworld California, formerly owned and operated by Six Flags, is Northern California's largest water park and is located 18 miles southeast of Six Flags Discovery Kingdom. The agreement is subject to approval by the City of Concord.
"This is an exciting new venture and a great opportunity to provide families with more entertainment options in this important market," said Six Flags President and CEO John Duffey. "Guests in Northern California will now have the opportunity to enjoy two beautiful Six Flags parks. This is truly a win-win, as we welcome our 20th property—Waterworld California—back into our family of parks."
The 30-acre Waterworld California features more than 35 water attractions, including the region's largest wave pool, an interactive children's play area and its newest offering—Break Point Plunge. This heart-pounding, 270-foot long looping thrill ride launches riders in a capsule from a height of more than six stories. Other extreme slides include Honolulu Halfpipe—a mammoth curved tube slide—and Cliffhanger, one of the park's signature speed slides.
Waterworld California opens for the 2017 season on May 13. Six Flags Discovery Kingdom is now open Fridays, Saturdays and Sundays and opens for daily operation, beginning May 26.
Senate Bill 70 (SB70), a bill that strengthens Kansas' amusement ride safety regulations, was signed into law on Monday, April 24 by Governor Sam Brownback.
IAAPA strongly supports effective amusement ride safety regulation enacted by the states. The association applauds the Kansas legislature for passing SB70, and is appreciative of the opportunity to provide information on globally recognized safety standards and best practices. IAAPA also recognizes the work of Representative John Whitmer (R-93), whose experience in the amusement industry was instrumental to help improve the legislation.
The legislation makes improvements to Kansas' regulation of amusement rides in several areas, including permitting, registration, fees collected, injury reporting, insurance, requirements for qualified inspectors, and more.
SB70 takes effect July 1, 2017.
If you have any questions please contact Erika Scheffer at escheffer@iaapa.org.
The Food and Drug Administration (FDA) published a final rule in 2014 requiring restaurants and similar retail food establishments that are part of a chain with 20 or more locations doing business under the same name, to provide calorie information for standard menu items as well as additional written nutrition information available upon request per the requirements in the Affordable Care Act.
Originally, compliance was to begin on December 1, 2016; however, under the FY 2016 Omnibus bill, the FDA was prohibited from using any funding to implement or enforce the regulation under one year after the FDA finalized guidance. A detailed website providing information on the final rule, guidance, and consumer resources are available here.
After many delays, the law goes into effect on May 5, 2017.
Who Must Comply
A covered establishment is a fixed position or site restaurant or similar retail food establishment that is part of a chain of 20 or more locations doing business under the same name regardless of the type of ownership and offering substantially the same menu items for sale. This includes any retail food establishment that offers restaurant-type food including food service facilities and concession stands located within entertainment venues like amusement parks and move theaters. The FDA has published guidance for non-covered establishments that would like to register voluntarily to be covered by the rule.
Requirements
Covered establishments must provide (1) the number of calories contained in a standard menu item; (2) number of calories contained in a standard menu self-service food; and (3) additional written nutrition information upon consumer request. Certain food items are exempt such as temporary items, daily specials, and custom orders. Establishments must provide the calorie information on the primary writing from which the customer makes an order selection including all written menus, electronic menus, menu boards, and online menus. The additional written nutrition information available upon request must include total calories, calories from fat, saturated fat, trans fat, cholesterol, sodium, total carbohydrates, dietary fiber, sugars, and protein.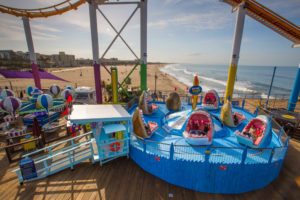 SANTA MONICA, Calif. – Pacific Park takes a new spin on a classic ride in 2017. The world's first Shark Frenzy takes a bite out of the classic Tilt-a-Whirl ride at the two-acre amusement park on the Santa Monica Pier, officially opening on Thursday, April 13.
Sitting aptly over the Pacific Ocean, Pacific Park took its most recognizable inhabitants and adapted the "Tilt-A-Whirl" ride concept for the new "Shark Frenzy" design. With seven whirling cars on tilting platforms, guests sit in the jaws of the ocean's most iconic sharks including the Blue, Bull, Great White, Lemon, Mako, Sand Tiger and Tiger species. Riders are moved in a circular motion while whirling around and sent side-to-side in sudden, unpredictable movements. The seven colorful breaching shark cars are accentuated with eclectic beach trappings such as shark warning signs, shark-bitten surfboards, lifesaving buoys and beach warning flags.
"We are proud to continue to introduce industry firsts that began with the world's first solar-powered Ferris wheel to the world's first wind-powered midway game, and now the world's first Shark themed Tilt-A-Whirl ride," says Jeff Klocke, Vice President and General Manager at Pacific Park on the Santa Monica Pier. "The opening of Shark Frenzy is part of our ongoing commitment to our guests and the community to consistently deliver an authentic California experience."
The original Tilt-A-Whirl ride has been entertaining guests since 1927 as cherry red, half-globed whirling cars. Pacific Park's shark themed Tilt-A-Whirl ride offers seven breaching shark cars that seat up to three adults or four children. The minimum height requirement is 36 inches with a supervised companion. Guests 46 inches or taller may ride alone.
The creative concept and branding for Shark Frenzy was designed by VENT, a Los Angeles-based strategy and branding shop. The specific design and artistry of the iconic Shark Frenzy breaching shark cars was by DJ Neff in Santa Monica, Calif. The Tilt-A-Whirl ride manufacturer is Larson Entertainment, Inc. in Plainview, Texas.
Pacific Park on the Santa Monica Pier, LA's only admission free amusement park, offers 12 amusement rides, 14 midway games, an oceanfront food plaza and beachside shopping. In addition to the Pacific Wheel solar-powered Ferris wheel, Pacific Park's signature rides include The West Coaster, a steel roller coaster that races 55 feet above the Santa Monica Bay; and Inkie's Air Lift Balloon Ride, the high-flying, family-sharing kids' ride. For additional information and hours of operation, call 310-260-8744, visit www.pacpark.com, follow on Twitter: @pacpark and Like at Facebook: facebook.com/pacificpark.