WHITE SETTLEMENT, Texas — Just two years after opening, the city of White Settlement sent a notice to Harvest Family Entertainment Texas LP (HFE) that it was terminating the land lease it had to operate a Hawaiian Falls water park on city property.
Hawaiian Falls White Settlement, opened in 2014 as the first North Texas waterpark/adventure park combo, adding a ropes course, zip lines, rappelling walls, a 20,000 square-foot indoor arcade, and an event center to the typical water park offerings.
As with many Hawaiian Falls projects, the parks are a public-private partnership, with cities contributing funds or other incentives to have a water park built on city-owned land. The White Settlement Park cost $17 million to build. Typically, Hawaiian Falls borrows that money from the city then pays it back through a long-term lease agreement.
The City of White Settlement terminated the agreement on April 21, after just two seasons. According to the city, Hawaiian Falls had been in arrears on its lease payments. The city determined that it was unlikely that delinquent lease payments would be made any time in the near future, and that future lease payments were unlikely to be paid as scheduled.
Hawaiian Falls had already sold season passes to the park and had hired and started training employees for the upcoming season. The company has indicated that season passes are good at all Hawaiian Falls parks, and it will try to relocate current employees into its existing locations.
The City of White Settlement has assumed control of the facility and is fast at work removing signage and preparing the park for the upcoming season. Plans call for the establishment of a new name and to have the park open as soon as possible. The city is currently directing questions regarding season passes, tickets, and event bookings to Hawaiian Falls, instructing customers that Hawaiian Falls still exists but Hawaiian Falls White Settlement does not. The city of White Settlement website states, "The city is adamant to see the park facility grow, provide seasonal employment for our youth and other professionals, as well as ensure excellent customer service during and after the changeover."
HFE operates six family-friendly water parks in accordance with Christian principles under the Hawaiian Falls brand. The company was founded by David Busch, of Horizon Family Holdings LLC, who had experience building multiple water parks in several states. He came to Texas to start a more community-based entertainment company. The first Hawaiian Falls Water Park open in Garland, Texas, in 2003.
HFE has had financial difficulties in the past resulting in the sale of the first two parks in Garland and The Colony to CNL Properties. CNL Properties leases the parks back to HFE to operate as Hawaiian Falls parks.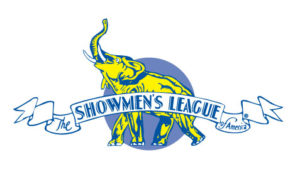 CHICAGO, Illinois — The Showmen's League of America has created the Mike Chance Memorial Scholarship to honor the Chance Family. The fund will help deserving college students for years to come. Donations to the fund can be made by contacting Cindy Herring at 312-733-9533.
The Showmen's League has granted up to $40,000 a year in scholarship donations and has made more than $1.3 million in donations to deserving students in North America since the program began.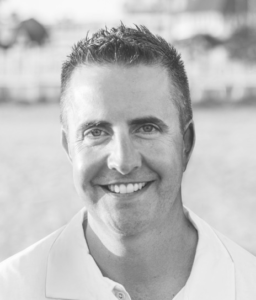 WICHITA, Kansas — Michael (Mike) Dean Chance, 42, Wichita, Kansas, joined his loved ones in heaven Tuesday, April 19, 2016.
Mike was born May 26, 1973, in Wichita, Kansas, to Richard (Dick) and Penny (Pruter) Chance. He made many long-lasting friends at his alma maters, Wichita Northwest High School (1991) and Kansas State University (1995).
Mike embraced his gift of sales by joining his father in the family business at Chance Rides, a world-leading amusement ride manufacturing company, in 1998. In 2000, he was named the third generation president of the company. He led Chance Rides through many challenging and prosperous times. Mike took much pride in the company his grandfather, Harold Chance, built and was instrumental in expanding it into roller coaster design and new product development. Mike especially loved taking the first official ride on newly installed attractions, alongside his father.
Mike married fellow K-Stater Mindi Gibbs on June 26, 2000, in Maui, HI. Their son, Carter Michael, was the light of his life.
Mike was deeply loved and admired. He was an active member of the Kansas chapter of Young Presidents' Organization (YPO). He loved watching K-State football and WSU basketball games, traveling with his family and competing in triathlons (a half IRONMAN and Escape from Alcatraz were among his most gratifying feats). The love of family and friends fueled Mike in all his accomplishments. His contagious laugh, his smile and his sense of humor and adventure defined him and will never be forgotten.
In addition to his wife and son, Mike is survived by his father Dick and step-mother Carol Chance, grandmother Marjorie Chance, sister Amie (Alan) Green, brother John (Ritisha) Chance, stepfather Jim (Nancy) Stanelle, three nieces, two nephews and many other close aunts, uncles and cousins.
Mike was preceded in death by mother Penny Stanelle, grandfather Harold Chance and step-brother TJ Hernandez.
A celebration of Mike's life will be held Wednesday, April 27, 2016, at 10:00 a.m. at Chapel Hill United Methodist Church 1550 N. Chapel Hill Drive, Wichita, KS 67206. Memorial contributions may be made to the following organizations: KidzCope, 9415 E. Harry, Suite 501, Wichita, KS 67207; Mental Health Association of South Central Kansas, 555 N. Woodlawn, Suite 3105, Wichita, KS 67208.
Mike Chance video, courtesy Fidelity Bank and Chance Rides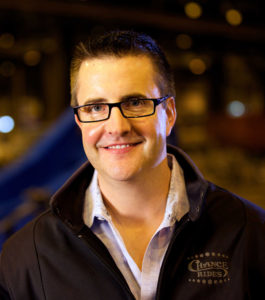 WICHITA, Kan. — The Chance family has announced that funeral service service for Michael Chance have been set for 10:00 a.m. on Wednesday, April 27 at the Chapel Hill United Methodist Church in Wichita, Kan. A reception will follow at the Wichita Country Club.
An online register for comments to the family is in the process of being set up with the funeral home in Wichita that is handling the funeral arrangements. Amusement Today will post (amusementtoday.com) a full obituary and online comment information as soon as it becomes available.
Chapel Hill United Methodist Church
1550 N. Chapel Hill Drive
Wichita, Kan. 67206
(316) 684-1117
www.chapelhillwichita.org
Wichita Country Club
8501 E. 13th Street North
Wichita, Kan. 67206
(316) 634-2882
www.wichitacountryclub.org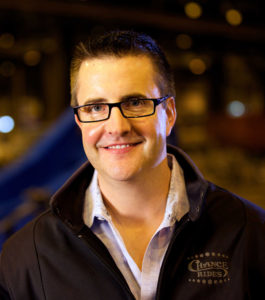 WICHITA, Kan. — In a prepared statement to the amusement industry, Chance Rides, Inc. has announced that company President Mike Chance lost his battle with depression on April 19 at the age of 42.
"Yesterday our family and company suffered a tremendous loss. Our son and company president Mike Chance lost his long‐term and well‐fought battle with depression. Mike had suffered from this tough disease for years and had faithfully sought treatment and relief from its effects. Like any other disease that is not yet well understood, depression is often difficult to successfully treat." said Dick Chance, CEO of Chance Rides and Mike's father.
"We are proud of Mike for bravely fighting this disease for years while living a full and rich life as a wonderful husband and father, son, grandson, brother, friend and a great company leader. He was a triathlete who competed alongside friends in Iron Man triathlons across the country. Mike valiantly fought this disease while focusing on doing great work together with our employees so the fact that he had this disease will come as a surprise to many who knew him. Just as with other diseases that take our loved ones too early, our family's hope is that research into the treatment for depression will advance. And that those seeking relief from this disease will find a path to successful treatment."
Michael Chance joined the family business in 2000 with the purchase of D.H. Morgan Manufacturing, Inc. and became President of Chance Morgan, Inc., today known as Chance Rides, Inc. He was instrumental in expanding the company into roller coaster design and manufacturing and in the development of new products. He graduated from Kansas State University with a marketing degree. He and his wife Mindi have one son.
Harold Chance formed the original Chance company in 1961. Dick Chance has been the Chance CEO since 1985. Company ownership remains within the Chance family.
Service arrangements and memorials are pending. Chance Rides announced the news to employees this morning and is offering ongoing grief counseling for its 100 employees.
AmusementToday.com will post service information once arrangements are finalized.
Abu Dhabi, United Arab Emirates- 19 April 2016: Miral and Warner Bros. officially announced that a Warner Bros. themed destination is set to open in Abu Dhabi.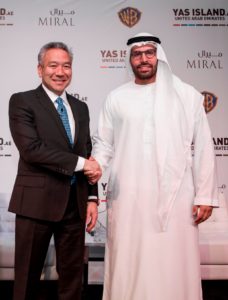 Situated on Yas Island, one of the world's leading business, leisure and entertainment destinations, the development will include the only Warner Bros. branded hotel alongside the immersive theme park.
The first phase of the project, Warner Bros. World Abu Dhabi, is set to open in 2018. Construction is underway and rides are in production.
Warner Bros. World Abu Dhabi will bring together stories and characters from the Studio's unparalleled portfolio of DC Comics Super Heroes universe including Batman, Superman and Wonder Women as well as Warner Bros. Cartoons such as Bugs Bunny, Scooby-Doo and Tom and Jerry. Guests of all ages will be able to step inside Gotham City and Metropolis, and experience the cartoon worlds of Looney Tunes, Hanna-Barbera and more, all under one roof.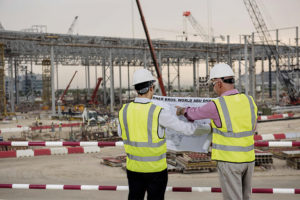 ORLANDO, Florida — Mako made its debut run along its 4,760-foot steel track at SeaWorld Orlando in April. During its inaugural test ride, Mako plunged 200-feet down from its initial lift hill, surged through nine air-time hills and reached topped speeds of 73 mph.
Mako's tight turns and speed are inspired by reality. Mako sharks are known for their top speed, making extreme jumps and the ability to quickly change course as they pursue their prey. Riders will become submerged into the world of the mako shark and feel the power of the predator as they experience the thrill of the hunt starting June 10.
GALVESTON, Texas — In anticipation of the opening of the world's tallest water coaster, MASSIV, park officials at Schlitterbahn Galveston Island released a computer generated ride video and teaser video. The ride video, which is based on detailed CAD drawings of the actual ride as well as photos of the Galveston park, provides a guest's perspective of what riding the world's tallest water coaster will be like – minus the refreshing splashes of water.
"We can't wait to ride MASSIV," said Ron Sutula, Schlitterbahn Galveston's general manager. "This ride video is the closest we can get until we open the ride in early June."
MASSIV will have four uphill sections, an enclosed tunnel section, translucent turn, and triple drop finale. At 926 feet long, it'll be the longest slide at Schlitterbahn Galveston. The official height will be revealed next month. Both the ride video and teaser are available on Youtube.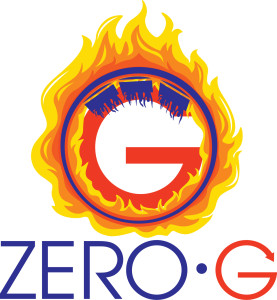 Monticello, IN – April 12, 2016 Indiana Beach, Indiana's Favorite Boardwalk Resort, will kick off its upcoming 90th Anniversary season with the addition of a looping-reversing coaster called Zero G.
Manufactured by Texas-based Larson International, the single loop coaster stands 5 stories high and can accommodate 20 riders at one time. Zero G will be placed on Indiana Beach's classic Boardwalk Funway.
"Indiana Beach is excited to have this new ride added to our line-up of six rollercoasters and other thrill attractions", said John Collins Indiana Beach Boardwalk Resorts General Manager. "With all the park improvements and upgrades being completed in preparation for Indiana Beach's 90th anniversary season, adding a ride as thrilling as Zero G is icing on the cake" Collins stated.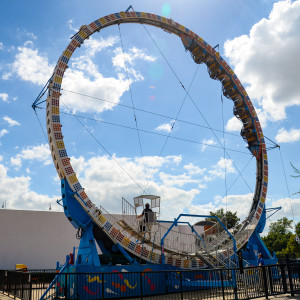 The "Larson Loop" coaster builds riders' anticipation as it rocks back and forth before looping 360 degrees, pausing briefly to suspend riders upside down. The ride is scheduled to be open at the start of the 2016 season.
About Indiana Beach Boardwalk Resort
Indiana Beach is located in Monticello, Indiana on Lake Shafer. The resort was founded in 1926 and purchased by Apex Parks Group in September 2015. The resort features a Boardwalk Funway, seven roller coasters, 45 rides, the Shafer Queen Paddlewheel boat, two campgrounds, rental accommodations, and an on-property hotel. Ideal Beach, the water park, includes the original swimming pool with sand beach, water slides, an action river, and kid's spray area.
About Apex Parks Group
Apex is a privately held company based in Aliso Viejo, California with 13 Family Entertainment Centers, 2 Water Parks, and 1 Amusement Park Resort in California, Texas, Florida, New Jersey, and Indiana. Apex Parks Group is currently one of the largest owners of Family Entertainment Centers in the United States. Apex Parks was founded in 2014 to acquire and operate best-in-class out-of-home entertainment assets and is committed to excellence, to the communities they serve, and to delivering value that exceeds expectation.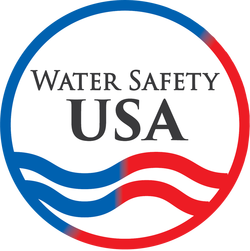 COLORADO SPRINGS, Colorado — Water Safety USA has been established by a consortium of national governmental and nongovernmental organizations concerned with water safety and drowning prevention. Water Safety USA aims to empower people with resources, information, and tools to more safely enjoy and benefit from our nation's aquatic environments. Water Safety USA will work to align safety advice from member organizations and magnify the reach of that advice in an effort to collaboratively improve water safety.
Aligned messaging was sought by the organizations because the American public receives water safety advice from many diverse sources. Sometimes these messages inadvertently conflict. To the degree that messaging can be simplified and made more consistent, there is a greater chance that it will be understood and followed. Water Safety USA also intends to work to help prioritize efforts toward the areas needing the greatest focus.
According to Water Safety USA moderator B. Chris Brewster, "We've all agreed we'll be even more effective working together. As our messaging aligns and we promote it in concert, public understanding should improve, and safer use of our waters will be the result."
Water Safety USA is a roundtable of equals. The founding members of Water Safety USA are the American Academy of Pediatrics, American Red Cross, Boy Scouts of America, Centers for Disease Control and Prevention, National Park Service, National Safe Boating Council, National Swimming Pool Foundation, Safe Kids Worldwide, U.S. Coast Guard, U.S. Consumer Product Safety Commission, United States Lifesaving Association, USA Swimming Foundation, and YMCA of the USA. Each has a strong record of providing drowning prevention and water safety programs, including public education.
In addition to better messaging, the members of Water Safety USA hope to help identify evidence-based strategies to promote water safety and to promote the collection and analysis of reliable, standardized data to assist in development and more effective targeting of prevention programs and strategies. The group believes that by working together, the combined strength will lead to increased impact and effectiveness of its members' prevention efforts.
Drowning is a leading cause of death and injury in the USA. Water accidents can be devastating, but with proper safety precautions, water is one of our healthiest recreational environments. Water Safety USA believes by working collaboratively it can meaningfully reduce the nearly 5,800 annual trips to emergency rooms and more than 3,800 deaths due to drowning. The good news is that drowning is almost always preventable.
Learn more about Water Safety USA and our initiatives at: www.watersafetyusa.org.