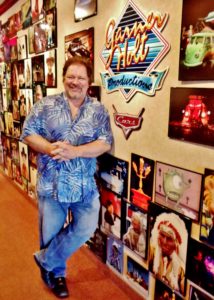 SAN BERNARDINO, Calif. — Garner L. Holt, founder and president of Garner Holt Productions, Inc. (GHP), is the recipient of the Disneyana Fan Club's (DFC) 2016 DFC Disney Legend Award.
The Disneyana Fan Club, founded in 1984 as the National Fantasy Fan Club to celebrate its members' mutual love of all things Disney, presents the annual award to individuals whose accomplishments have helped to make an extraordinary and lasting impact on the entertainment, educational and cultural legacy of Walt Disney. Honorees are nominated by their peers, former recipients and members of the club, and are selected by the club's Legends Committee.
"I'm humbled by the DFC's award," said Holt. "The entire focus of my company has been to create high-quality entertainment and educational animatronics and attractions in the style of Walt Disney. I'm moved and proud that my company and life's work has been deemed a major contributor to that great man's legacy."
Holt founded the company which bears his name based largely on his love for Disney's audio-animatronics attractions at Disneyland. In 1977, at age 16, he incorporated GHP in California to design and produce animatronic presentations. Since then, GHP has created nearly 5,000 individual animatronic characters for leading theme parks around the world, including work at all six Disney theme park resorts, Universal Studios, Knott's Berry Farm and dozens of other theme parks and corporate clients (Hershey, Mattel, Chuck E. Cheese and Lockheed Martin among them). Today, GHP is the primary supplier of animatronic figures for Disney parks worldwide.
The award will be presented to Holt at DFC's annual convention in Anaheim, CA, on July 14.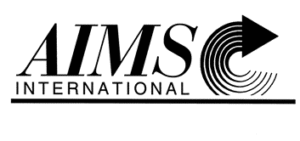 NASHVILLE, Tenn. — The Amusement Industry Manufacturers and Suppliers (AIMS) association, a non-profit organization dedicated to promoting safety throughout the amusement industry, has created a new award to recognize a person or organization that has made a significant impact or contribution in improving safety. The AIMS International Safety Award is presented annually to the individual or organization that demonstrates leadership, innovation, and foresight in improving safety in the amusement industry.
With safety as the industry's #1 concern for amusement industry guests and employees worldwide, efforts in improving safety are shown in many forms: the design and implementation of new products and technology, the development of safety education programs and training, and by exemplary leadership in influencing others.
Please send your nomination for the person or organization who has demonstrated theses qualities in improving safety for our industry!
Nominations for the AIMS Safety Award can be submitted by individuals within the amusement industry. The winner will be selected by a vote of AIMS International's board of directors and the award will be presented during the Golden Ticket Awards on September 10, 2016, at Cedar Point in Sandusky, Ohio.
The deadline for nominations is Friday, July 22, 2016
Click here for a nomination form
Send nomination form and supporting documents to:
Email: info@aimsintl.org
Fax: 714.276.9666
Mail: AIMS International, PO Box 92366, Nashville, TN 37209
Boynton Beach, Florida — Worldwide Ticketcraft is saddened to announce the passing of its long time phone greeter and sales person Jerry Love. Jerry has been "the voice" of Worldwide for the past 17 years and his greetings made people laugh and smile no matter what mood they were in before they called. In his former careers Jerry was a music producer and disc jockey. He wanted everyone to hum a tune all day every day.
Erik Covitz, President of Worldwide Ticketcraft said, "Jerry was our friend, colleague, advisor, calming influence, cheerleader and maintained the most positive upbeat attitude of any individual I have ever had the pleasure of knowing."
Jerry joined Worldwide Ticketcraft in 1999, the year the company was founded. He ensured calls were answered by a person and not a machine. Jerry truly enjoyed greeting callers and often people would say, "tell me more about the wonderful guy that just answered the phone."
From Jerry's bio on ThirdStoneArtists.com (Production and Artist Development Company)
"Early in his career Jerry Love worked in the radio world programming WOR-FM and as "Jebadiah" on WNEW-FM in New York City. Love was one of the first free form D.J.'s syndicated on CBS-FM and all seven affiliates plus KALK in Oklahoma City.
He worked as the East Coast Director of A&R for Famous Music Publishing (a division of Paramount Pictures) for A&M Records. Love discovered Artists/Groups such as Living Colour (Epic Records), Mighty Mighty Bosstones (Mercury Records), Letters to Cleo (Giant Records), Four Non Blondes (Interscope Records), Paula Cole (Reprise Records), and many others. He Also worked with and/or signed artists and groups such as Cat Stevens, Joe Cocker, Supertramp, Humble Pie, Peter Frampton, The Strawbs, Chuck Mangione, Nazareth, and Fairport Convention.
In 1975 Love teamed up with Michael Zager. They began Love-Zager Productions/Sumac Music and went on to produce many hits with The Spinners, Michael Zager Band, Cissy Houston, Andrea True Connection, Ronnie Dyson, and Afro Cuban Band. Grammy and Oscar winning writers Doug James, Alan Rich, Alan Roy Scott and Jolyn Skinner were each signed by Love-Zager Productions/Sumac Music."
A service to celebrate his life, open to all visitors, will take place on Thursday, June 16th, at noon at Gutterman Warheit Memorial Chapel in Boca Raton, Fla.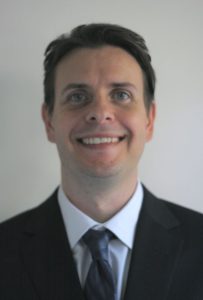 Wichita, Kan. — John Chance, the youngest son to Dick Chance, the Chance Rides Inc., CEO., has rejoined the company as the VP of Business Development. John left the company to run his own venture in 2012 after having worked in the family business for 10 years. During that 10 years John was instrumental in integrating the engineering team from D.H. Morgan Coasters into Chance Morgan, Inc. He has also served as the lead Project Manager and was head of Latin American sales. John holds a Master's Degree in Business Administration and brings strong international experience, having lived in Europe and Latin America.
Last year John successfully sold his business, making him available to rejoin Chance Rides where he will focus on maintaining and growing the strong customer relationships that his brother, Mike Chance, built before him. He also brings a renewed effort to ensure that Chance Rides is providing the best customer service and quality in the industry. Under John's leadership every department will direct its focus to continuous improvement. The talented veteran team will remain in place and they look forward to the renewed energy, excitement, and strength that John will bring to the company along with his father, Dick.
It is the company's hope to honor the memory of Michael Chance by dedicating themselves to serving the customers that he was proud to work with. The lesson passed down from Chance Rides founder, Harold Chance, was that if you can make your customers be successful then we will be successful. We will continue in that mindset and look forward to many more years of success together.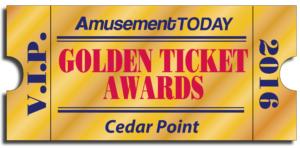 Save the date for "The Networking Event of the Year"! The red carpet will be rolled out for the amusement industry at the beautiful Cedar Point amusement park and resort in Sandusky, Ohio, for this year's "don't miss" event on Friday and Saturday, Sept. 9-10. Visit with old industry friends and enjoy meeting new colleagues during Amusement Today's annual Golden Ticket Awards. The complete itinerary, registration and hotel information are now available at goldenticketawards.com.
The Golden Ticket Awards event will officially kick off on Friday, Sept. 9, with specialty tours of Cedar Point, networking opportunities, a festive cocktail reception and Chef's Table Food Feast. On Saturday, Sept. 10, attendees will enjoy play time in the park, an optional – and unique – Lake Erie cruise with amazing vantage points of Cedar Point (proceeds of the ticket price will benefit the NRCMA) and finally the awards show itself, which will be an Academy Awards theme … literally walk the red carpet and dress the part if you wish!
To check out the itinerary and hotel information for the Golden Ticket Awards, as well as to register, please log on to goldenticketawards.com. This event is reserved for working professionals in the amusement industry. Representatives from parks and attractions, manufacturers, suppliers, consultants and more will come together to network and celebrate another industry season.
The lakeside Hotel Breakers at Cedar Point will serve as the host hotel for the event. Please refer to goldenticketawards.com for specific information and rates.
This is the 19th annual year for the Golden Ticket Awards; they are presented to the "Best of the Best" in the amusement industry and are calculated from an international poll conducted by Amusement Today.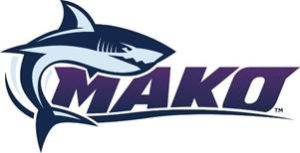 ORLANDO, Fla. — With properties across the country, if not the globe, having made the hypercoaster a commonplace theme park staple, it is rather surprising that the vacation Mecca of Orlando, or even Central Florida, has somehow missed out on that component over the past quarter century. But, no more.
SeaWorld Orlando has just recently introduced Mako, a 200-foot coaster that breaks through all sorts of records for the tourist destination. A hypercoaster is typically known for numerous drops without any type of inversions. Although the region is known for a complement of outstanding coasters, many of which are manufactured by the Swiss firm of Bolliger and Mabillard (B&M), it is not until the release of Mako that park goers in Orlando can now enjoy this missing ingredient of the theme park spectrum.
Along with sister park Busch Gardens Tampa just over an hour away and Universal Studios down the street, the B&M catalog is highly represented: multi-looping, dive machine, inverted, floorless, flying — those are all accounted for. Now, with two to three years in development, a hypercoaster can be added to the list.
"Our relationship with B&M goes back to the early 90s (with Busch Gardens Tampa)," said Mike Denninger, vice president of theme park development and design. "This is our 10th B&M coaster in our system of parks. We're very familiar with B&M and we love B&M. When we set out to do this project, we knew we had several products of theirs in our parks, so we saw how Apollo's Chariot (Busch Gardens Williamsburg) was a fan favorite. We needed to do something like this in this market."
Mako is the third B&M coaster in the SeaWorld Orlando park, following Kraken (floorless) and Manta (flying).
— Tim Baldwin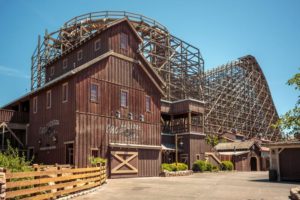 BUENA PARK, Calif. — Following nine months of renovation work, GhostRider, the iconic wooden roller coaster at Knott's Berry Farm, strutted its stuff for the media on June 9. The ride's official reintroduction to the public, taking place June 11, coincides with the 75th anniversary celebration of its host area in the park, Ghost Town.
Work on the 118-foot-tall coaster performed by Great Coasters International, Inc. (GCII), of Sunbury, Pa., included the replacement of all 4,533 feet of track and the swap-out of the original double-axel Philadelphia Toboggan Company rolling stock for GCI's trailer-style Millennium Flyer trains. The new trains sport a wood-grain barrel design
GhostRider has undergone some careful reprofiling to improve transitioning and to allow for the removal a mid-course block brake. The trains are slowed on the brake run by a new magnetic braking system.
Also expected to reduce overall maintenance on the ride, which runs year-round and reaches speeds exceeding 55 mph, is the retracking effort's use of two layers of ipe (pronounced ee-pay) wood — an extremely durable wood native to Central America and South America also known as Brazilian walnut.
GhostRider originally opened at Knott's Berry Farm in 1998. It was the last attraction commissioned for the park by the Knott family before they sold it to Cedar Fair Entertainment Company a year earlier.
—Dean Lamanna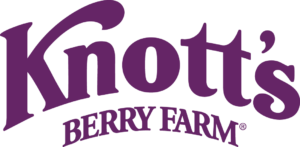 SANDUSKY, Ohio — Cedar Fair Entertainment Company has announced that Jon Storbeck has been hired as Vice President and General Manager of Knott's Berry Farm. Jon will join the company on May 30, after a distinguished career of more than 30 years at The Walt Disney Company.
Mr. Storbeck replaces Raffi Kaprelyan, who has been promoted to Regional Vice President of Cedar Fair.
"During his time with Disney Parks & Resorts, Jon demonstrated the leadership traits that make him particularly well-qualified for this role." said Raffi Kaprelyan. "As Vice President and General Manager, Jon will report directly to me and oversee all aspects of Knott's Berry Farm's operations, ensuring we continue to deliver the high-quality guest experience that Knott's is known for."
In his new role, Mr. Kaprelyan will oversee Knott's Berry Farm as well as several other parks in the Cedar Fair system. "Raffi has driven the record-performance of Knott's Berry Farm and we are excited to have his leadership applied to more of our parks." said Richard A. Zimmerman, Chief Operating Officer of Cedar Fair.
ARLINGTON, Texas — At 11 am on Tuesday, May 24, Six Flags Over Texas hosted a ribbon cutting ceremony to celebrate the opening of the super-villains rides in the newly expanded Gotham City section of the park. Officers from the Arlington Police Department were on hand to keep the villains under control and to be the first riders.
Following the police officers, media and VIP guests had the opportunity to be among the first to experience the three super-villainous rides during a media preview day at Six Flags Over Texas. The day was geared towards providing media with a first-hand account of their battle against The Riddler Revenge, Catwoman Whip, and Harley Quinn Spinsanity.
Six Flags season pass holders will have the opportunity to try the new attractions on May 26 and May 27. The area will open to the general public on Saturday, May 28.
The Riddler Revenge and Catwoman Whip are two new rides supplied by Zamperla S.p.A. of Italy. Harley Quinn Spinsanity is an existing ride that has been rethemed to fit in with the newly-expanded Gotham City section. It was supplied by Huss Park Attractions of Germany.

NORMAN, Oklahoma — Motorists traveling along I-35 just 10 miles south of Oklahoma City now have a prime view of the State's newest thrill ride- a 109 foot A-Frame Single Skycoaster that has instantly become the new vertical icon for Andy Alligator's Fun Park. 
The combination FEC-Waterpark has steadily grown since its debut and the addition of the Skycoaster marks a milestone in the park's history. "The FEC business is changing and we continue to look for attractions that meet the demands of our guests. We are excited to add an attraction we feel will take our business to new heights", proclaimed Kyle Allison, the park's General Manager.  "The Skycoaster is unique and that's what we look for. Our customers are already intrigued by the construction of the towers and we can't wait for the first ride!  We are confident the Skycoaster® will take us to the next level. Our customers are excited for a cutting edge thrill attraction."
Skycoaster's Managing Director Mark Rosenzweig is also thrilled with the installation. He added, "This model of Skycoaster is ideal for the FEC and small to medium-sized park market. For the investment, it is tough to find another vertical piece that makes such a strong visual presence. We are confident that the attraction will serve Andy Alligator's well over the coming years."