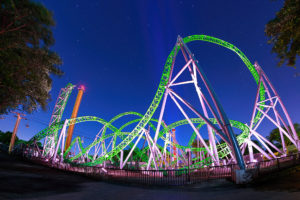 STEVENSVILLE, Md. – KCL Engineering, a leader in custom lighting solutions, has chosen Ride Entertainment as their sales partner in the attractions industry.
KCL burst onto the scene this year with three notable projects at Adventureland Park, the most innovative being a first of its kind LED lighting system on the park's new Gerstlauer roller coaster, The Monster. The coaster, which stands 131 feet tall, can be seen throughout the park by day, and at night the ground and track-mounted lights make the attraction a focal point. Beyond an illumination solution, on a coaster designed to confuse riders, the lighting systems adds another layer of intrigue and unpredictability.
"When Adventureland shared the concept for The Monster, we had a vision to bring the entire structure to life through dynamic track lighting. Perhaps the fact that this was our first large-scale ride lighting project worked in our favor as we truly felt no limitations. We simply came up with an idea and engineered our way to it," said Kris Kunze, PE, The Monster's lead lighting designer.
"As soon as I saw what KCL could do I knew we needed to work with them," laughed Adam Sandy, Chief Business Development Officer at Ride Entertainment. "We are always on the lookout for innovation in the attractions industry and what they created for Adventureland was unlike anything I have seen. We are thrilled to see where they take their unique illumination concepts next," he noted.
The Iowa-based engineering company is no stranger to working on high-profile projects worldwide. KCL Engineering has implemented LED solutions for Yankee Stadium, Safeco Field, and numerous skyscrapers around the globe.
"Working with Ride Entertainment is an absolute honor," declared Kunze. "Their partnership provides immediate immersion into the attractions industry. We look forward to providing a wide variety of custom lighting solutions; from basic LED installations that give an existing attraction new life to park-wide solutions seen nowhere else in the world."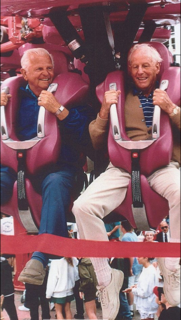 William H. Morey, 87, of Wildwood, NJ, a renowned builder during the Jersey Shore Doowop motel boom years, owner/operator of the old Ringo bingo hall on the Wildwood boardwalks, and a cofounder of Morey's Surfside Pier, where millions of Delaware Valley youth for decades enjoyed their summers, went to be in the loving arms of the Lord, Wednesday, January 11, 2017.
Bill was born at Margaret Mace Hospital in North Wildwood, NJ, on April 19, 1929, and raised in West Wildwood, NJ by his parents, Lewis and Clara Morey. The Morey family birth order was 5 sons: Lewis, Raymond, Wilbert, William, and Charles, and 2 daughters: Yvonne and Esther. He resided in the Wildwoods his entire life, graduated from Wildwood High School in 1948, and married Dolores Peterson Morey in 1951.
He was an avid golfer, a member of the Wildwood Golf and Country Club, and scored a hole in one at the age of 80. Family members humorously called him "Commander Whitehead", and friends and colleagues coined the nickname for him, "Silver Fox." He is survived by his wife: Dolores, 2 sons: William and Thomas, twin daughters: Jane and Joan, and William's spouse: Carolyn. He also has 7 grandchildren: William "Bud", Eric, and Brett Morey, John and Sara Freeman, Drew and Jenna Ankney, 6 great-grandchildren: William "Buddy", Ellasyn, Delaney, Waylon, Joel, and Marshall Morey.
A funeral service will be held at St. Ann's Roman Catholic Church at Magnolia and Atlantic Avenues in Wildwood, NJ on Saturday, January 21, at 11am. Calling hours will be held at the church from 9am to 10:45am. In lieu of flowers and gifts, donations to the Pulmonary Care of the Cape Regional Medical Center will be accepted in memory of William H Morey, Sr.
MASON, Ohio – Construction on Kings Island's new Mystic Timbers roller coaster is taking shape. By the time workmen complete construction on the ride, they will have used approximately 330,00 board feet of southern yellow lumber; 30,000 pounds of nails; 88,000 bolts and washers and 5,500 cubic yards of concrete for the foundation. Themed to an abandoned lumber company, the 109-foot-tall wooden roller coaster will feature 16 airtime moments through wooded terrain along 3,265 feet of track at speeds up to 53 mph with a spellbinding mystery: What's in the shed? Mystic Timbers will make its highly-anticipated debut this spring and will become Kings Island's 16th roller coaster.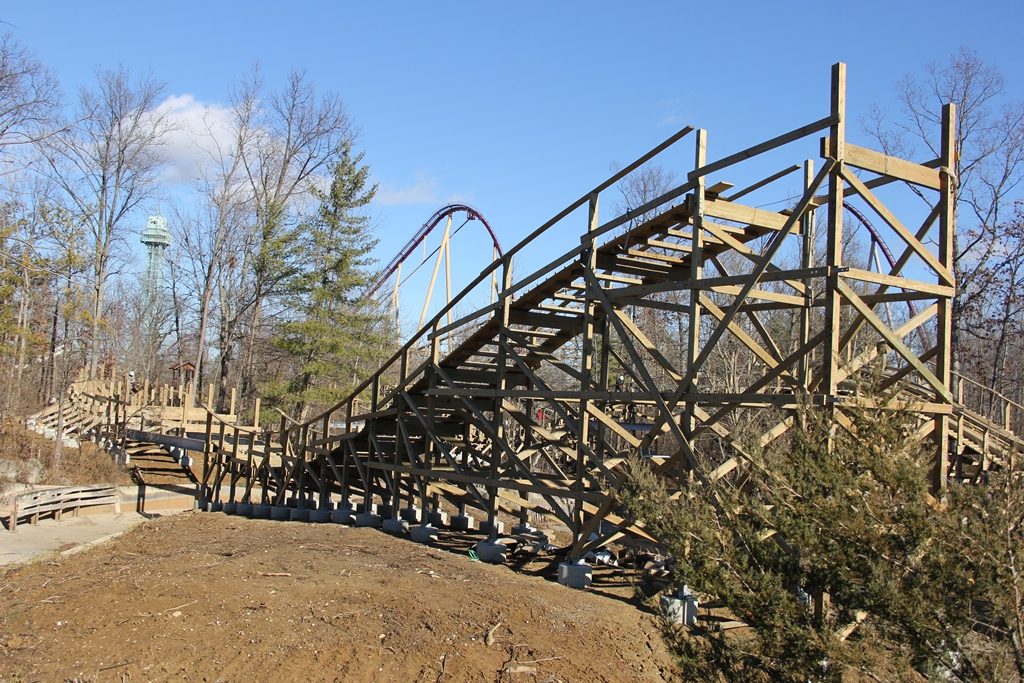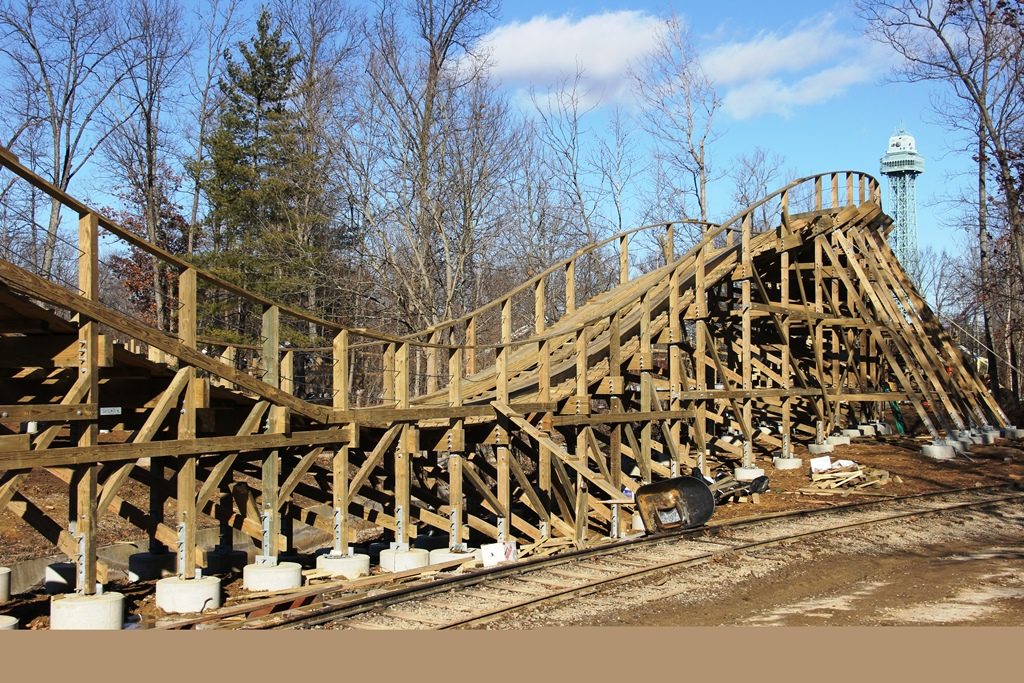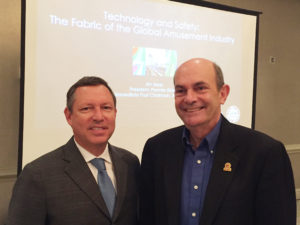 ORLANDO, Fla. – The 2017 AIMS Safety Seminar is currently underway.
Jim Seay of Premier Rides (left) offered the AIMS Safety Seminar opening session keynote. Greg Hale, vice-president of worldwide safety at Disney, provided opening safety remarks.
360 plus students registered, a new AIMS record. The annual seminar is currently underway at the Doubletree in Orlando and runs through Jan. 13. Some of the new areas to be covered include security, active shooter, terrorism, total productive maintenance programs, ASTM standards and guest behaviors, as well as classes specific to ride accessibility, climbing walls, family entertainment centers and more.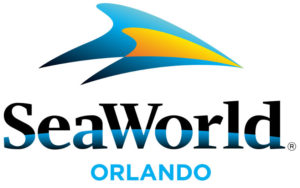 ORLANDO, Fla. – SeaWorld Entertainment, Inc. (NYSE: SEAS), a leading theme park and entertainment company, today announced that Denise Godreau has joined the company as Chief Marketing Officer. Godreau brings extensive industry experience in driving global brand strategy, digital marketing and technology, and revenue generation.
"We are looking forward to the leadership and experience Denise brings to our marketing team," said Joel Manby, President and Chief Executive Officer of SeaWorld Entertainment, Inc. "She will be focused on driving increased visitation and communicating the company brand in a meaningful way to help us deliver on our strategic business plan."
Denise Godreau has been a senior executive in notable companies in hospitality and entertainment for more than 20 years. She has worked at Fortune 500 and startup companies, in the US and abroad, developing a deep understanding of the global consumer and marketplace.
Denise served as a senior executive at Disney Parks for more than a decade, where she was responsible for strategies driving attendance and occupancy for all theme parks, water parks, and hotels for Walt Disney World Resort. Following her successful career at Disney, Denise joined a start-up team to create a new online university (Brandman University in Southern California), and later, a new mega resort (Baha Mar) in Nassau, Bahamas. Earlier in her career, Denise worked for the international divisions of Procter & Gamble, Pizza Hut and Blockbuster Entertainment.
Denise has a Bachelor of Science in economics from the Wharton School at the University of Pennsylvania, and a Master of Business Administration from Harvard Business School.

TAMPA, Fla. – SeaWorld Parks & Entertainment today announced leadership changes for the company's parks in Orlando and Tampa. Jim Dean, President of Busch Gardens Tampa Bay and Adventure Island, has been named park president of the company's Orlando parks, SeaWorld, Aquatica and Discovery Cove. Stewart Clark, Vice President of Discovery Cove, has been named park president of Busch Gardens Tampa Bay and Adventure Island. The changes will be effective January 16, 2017.
"Jim is an outstanding theme park leader who has led excellence, performance and growth in Tampa. I am pleased to now have him at the helm of our flagship operations in Orlando," said Joel Manby, President and Chief Executive Officer of SeaWorld Entertainment, Inc. "The Busch Gardens Tampa Bay parks will gain a proven and innovative leader, as Stewart's operations and zoological expertise has contributed to more than a decade of acclaimed guest experience at Discovery Cove."
Jim Dean started his career as a financial analyst in the corporate headquarters of Anheuser-Busch (A-B) in St. Louis, Mo. He transferred to Busch Gardens Tampa Bay as finance manager in 1990 and Sesame Place in Langhorne, Pa. in 1993 as finance vice president. Dean accepted the head of finance position with A-B's European trade office in London in 2000 before returning to the U.S. five years later as vice president of accounting for the U.S. brewing division of A-B. He moved back to the company's theme parks in 2008 as head of corporate finance before accepting the role of park president for Busch Gardens Tampa Bay and Adventure Island in 2010. Dean holds an engineering degree from Memphis State University and an MBA from St. Louis University.
Stewart Clark started his career with SeaWorld in 1983 and brings more than 30 years of zoological and theme park leadership experience. During his career, Clark served in five parks including Busch Gardens Tampa Bay. Most recently, Clark served as the Vice President of Discovery Cove and was instrumental in developing Discovery Cove's interactive programs, animal exhibits, and culture of customer service excellence. Clark earned a Bachelor of Arts degree in applied behavior and organizational management from National-Louis University and currently serves as the Chair of the Alliance of Marine Mammal Parks and Aquariums.
Donnie Mills, current park president of the Orlando parks has announced his retirement after 42 years of dedicated service with the company.
"Donnie has made a lasting contribution to our parks and our people by serving as park president in three of our six markets, leading the operations team and instilling a culture committed to the highest levels of operational execution across this great company," Manby said.
Donnie began his career at Busch Gardens Tampa in 1974 in the Park Operations department, and served as both the Vice President of Park Operations at Busch Gardens and General Manager of Adventure Island during his initial time in Tampa. He subsequently served as Vice President of Operations at SeaWorld San Diego and then at Busch Gardens Williamsburg. Donnie was promoted to Park President of Busch Gardens Williamsburg in 2003 and then Busch Gardens Tampa in 2007. In February 2010, Donnie was appointed Chief Operating Officer for the Busch Gardens and Sesame branded parks. In 2015, Donnie took on the role of Orlando Parks President.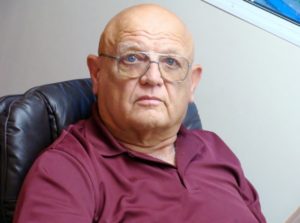 YORK, Pa. — Wayne E. "Jake" Inners, 70, owner and CEO of Inners Amusement Company, DBA Majestic Midways, passed away Dec. 10. He was 70.
Inners was the youngest of seven boys and two girls who grew up in a family with entertainment roots stretching back to 1909. His father, Francis Grover Cleveland Inners, was as a trapeze artist before forming Inners Amusement Company in 1946.
Inners joined the family business in 1963 with his purchase of a Theel carousel. In 1974, he formed Majestic Midways apart from the amusement business he at that time shared with his brother, Edward, when he purchased all assets of Reynolds Rides & Amusements in Chesapeake City, Md. The operation currently has 35 rides and travels to locations in eastern Pennsylvania, New Jersey, Delaware and Maryland.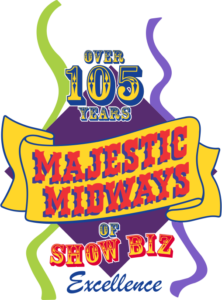 "My father was a pioneer and innovator in our industry," said Jake's son, Scott, who is president and safety director of Majestic Midways. "He was loved and respected by all who knew him.
"My father helped many people throughout the years who could testify that his actions spoke far louder than his words. Few people knew of the things he accomplished with charities, donations of equipment and substantial financial resources for several meaningful projects."
Causes favored by Jake Inners included City of Light Children's School and What Matters Ministries. Added Scott: "I am proud to say he created a culture within our family and company: Giving to those who couldn't give back, which is the very heart of Christ."
Colleagues admired Inners for his commitment to managing a solid, respectable business.
"He had a good appreciation for electrical things," said Joe Filoromo, supervisor of the Pennsylvania Department of Agriculture's Amusement Ride Safety Division. "Jake ran a clean, safe, nice operation. I will miss his ethics."
Inners was a life member of the Pennsylvania State Showmen's Association (PSSA) and previously served as president of the organization; additionally, he was named by PSSA as 1989 Showman of the Year. He most recently served as chairman of the Outdoor Amusement Business Association committee.
"He was one of the best supporters PSSA ever had, plain and simple," said Beverly Gruber, PSSA secretary.
In the early 1980s, Inners and Steve Swika, Jr., of S&S Amusements were original members of the committee that crafted the Pennsylvania Amusement Ride Safety Act, which went into effect in 1984. Inners still served on the committee until recently.
A celebration of Jake's life was held at Grace Fellowship in York on Dec. 19. The third generation of the Inners family will continue the amusement operation uninterrupted. —B. Derek Shaw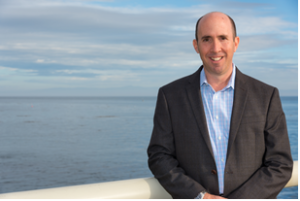 ALEXANDRIA, Va. – The board of directors of the International Association of Amusement Parks and Attractions (IAAPA) elected David Rosenberg second vice chairman. Rosenberg is a vice president of Monterey Bay Aquarium. He will serve as second and first vice chairman of IAAPA before taking the helm of the global attractions industry trade association as its chairman of the board in 2019. The board made the selection in accordance with IAAPA's governance guidelines following the recent passing of Al Weber, Jr. Ph.D., who had been elected to the position in September.
"With David as our chairman in 2019, IAAPA will enter its second century with a leader who embodies the membership diversity that now exists in the organization," said Will Morey, chairman of the IAAPA governance committee and president and CEO of Morey's Piers in Wildwood, New Jersey. "David brings to the role 26 years of experience in the travel and tourism industry and has been a key member of IAAPA's leadership team over the last 10 years including serving as a volunteer chair of several IAAPA committees and as a member of IAAPA's board of directors. He has been a tireless advocate for membership development supporting the initiation of many new programs and member benefits. Given the experience he has gained over the years working in multiple segments of our industry, including amusement parks, hotels, and zoos and aquariums and his strategic insights into creating exceptional guest experiences, we are confident David is ideally suited to chart and lead the association's course into the future."
"I'm humbled to be selected to help lead our global association during this exciting time for the worldwide attractions industry," said Rosenberg. "In the next few years IAAPA will establish its new headquarters office in Orlando as we begin to plan for the next 100 years of the association. I look forward to playing a leadership role in shaping that future."
In his role leading the guest experience at Monterey Bay Aquarium, Rosenberg chairs the Visitor Experience Steering Committee, which is responsible for strategic planning and implementation of all aspects of the aquarium visit that is enjoyed by more than 2 million guests annually. He has helped the aquarium, a nonprofit organization whose mission is to inspire conservation of the ocean, become a benchmark for excellence in the global attractions industry. The aquarium is not only a top tourism destination in California, but it also provides free education programs for 90,000 school-children a year, conducts scientific research, facilitates the most recognized sustainable seafood program in the world, and advocates for more informed ocean policies locally and globally.
Rosenberg's career began at Walt Disney World in Orlando, Florida. He rose to the executive ranks of Hyatt Hotels Corporation at some of their top properties in the United States. In 2007, Rosenberg joined the Monterey Bay Aquarium.
He is highly involved in the hospitality community and served on the executive committee for Monterey County Hospitality Association, an organization representing attractions, golf courses, hotels and resorts throughout Northern California. Additionally, he is a member of an Academic Advisory Committee for California State University, Monterey Bay, and is an active member of the Association of Zoos and Aquariums. He is a past member of the board of directors for "Voices for Children" in Monterey. Rosenberg has also authored articles on methods to enhance the visitor experience and is a sought-after speaker at industry conferences and symposiums throughout the world.
Rosenberg is an active member of IAAPA where he recently served on the board of directors and was chairman of the global membership committee. He has served as chairman of the IAAPA zoos and aquariums committee and was a member of various constituency committees. In 2015, he was awarded the prestigious IAAPA Outstanding Service Award for his contributions to the global attractions industry.
Rosenberg has a bachelor's degree from the University of Arizona and is an IAAPA Certified Attractions Executive (ICAE).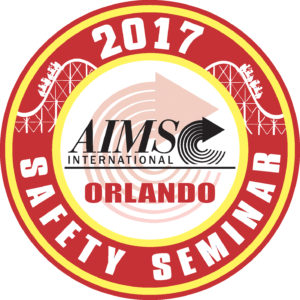 NASHVILLE, Tenn. – Jim Seay, President of Premier Rides, will deliver the keynote address during the opening session at 2017 AIMS Safety Seminar. The seminar will take place January 8-13, 2017 at the Doubletree by Hilton Orlando at SeaWorld Florida.
"We are thrilled that Jim will speak to our students and instructors", said Karen Oertley, AIMS Executive Director. "Premier Rides is on the leading edge of ride safety, accessibility for guests, and technology advancements. With his unique background in innovative ride development with a focus on guest safety, his remarks are sure to inspire."
Seay is chair of the IAAPA Global Safety Committee and is a member and immediate past chair of ASTM Committee F24 on Amusement Rides and Devices. The committee develops and refines ride safety standards that are used globally. He has promoted the use, application, harmonization, and adoption of ASTM amusement standards around the world, and has testified before the United States Congress about industry safety.
Seay's background gives him a unique perspective. A Cornell University graduate, he earned a bachelor's degree in mechanical and aerospace engineering and did graduate studies at California State University Long Beach. He was an aerospace engineer at Hughes Aircraft and then an engineering and maintenance executive at Six Flags Theme Parks Inc., before joining Premier Rides Inc. in 1995 as executive vice president of engineering. He was named president of the company the following year.
Seay serves on the IAAPA Foundation Board of Directors, and is a member of the AIMS International Board, the Executive Committee of ASTM F24, the Themed Entertainment Association, the National Safety Council, and several regional attractions associations. He also serves on a number of philanthropic boards including the Living Classrooms Foundation in Baltimore, Maryland.
"I am honored to have the opportunity to present the keynote speech during the 2017 AIMS Safety Seminar. The industry is incredibly fortunate to have so many people including park operators, ride inspectors and manufacturers volunteering their time to travel from around the globe, to train and to discuss the importance of safety in our industry. I look forward to sharing a global vision for safety that highlights how critical those attending the AIMs conference are to a very productive seminar," commented Mr. Seay.
Seay has been honored with numerous industry awards in recognition of his work and contributions to industry safety. In 2015, he was honored for his extraordinary contributions to the field of international voluntary standards for the amusement industry when presented with the prestigious ASTM International 2015 William T. Cavanaugh Memorial Award, the highest award that ASTM International bestows upon an individual. In 2013, he was honored with the Lifetime Service Award by IAAPA, a prestigious award is given in recognition of an individual's contributions to the industry and to IAAPA. It honors IAAPA members who excel in performing services for the association and the industry; persons who are dedicated to its well-being, and who have been doing so in excess of twenty years.
Seay's passion for amusement ride safety is demonstrated by the countless hours he has volunteered over the past twenty-five plus years to the development of global safety standards; including six years serving as Chairman of ASTM F24. Seay continues to do so by encouraging member participation in standards creation and also promoting next generation involvement in both IAAPA and ASTM.
TANNERSVILLE, Pa. – This evening, Camelback Resort officially debuted its new Galactic Snowtubing attraction – an illuminated, exhilarating after-dark snowtube experience that is unlike anything else in the country. Following an official ribbon cutting ceremony, special invited guests and media were among the first to launch themselves down the country's largest snowtubing park, completely transformed with lasers, music, and an amazing LED light show across all 42 high-speed lanes.
Also new is Base Camp 1 Lodge, located at the base of the snowtubing park. Here guests can purchase snowtubing tickets, relax between exhilarating snowtube runs, and warm up with a cup of hot cider or cocoa and the Camelback tradition of hot waffles, day or night. After a break or snack, guests can quickly and effortlessly get back to the snowtubing thrills by way of two magic carpets that take both tube and rider back to the top.
"Not everybody skis or snowboards, but snowtubing is a fun, outdoor winter activity that everyone can participate in," said Brian Czarnecki, vice president of sales & marketing. "Camelback Resort is already home to the largest snowtubing park in the country, and the launch of after-dark Galactic Snowtubing completely transforms the experience."
Camelback Resort offers close-to-home winter fun for beginners to aficionados from northeastern and central PA, along with the markets of NYC, Long Island, NJ and Philadelphia. Guests can come for the day, or stay at Camelback Lodge & Aquatopia Indoor Waterpark and experience Camelback Resort's many indoor and outdoor amenities. Camelback Lodge & Aquatopia Indoor Waterpark offers the nation's best Ski, Splash & Stay package! A one-night stay includes accommodations at the slope-side Camelback Lodge, access to the 84-degree Aquatopia, the largest indoor waterpark in the Northeast, and up to four free lift tickets and snowtubing tickets – a $267 value. (Day/date restrictions apply.)
Camelback Resort welcomes guests to 34 trails, all illuminated for night skiing and snowboarding, 100% snowmaking, and 16 lifts. Named the #1 place in America to learn to ski and snowboard by the Huffington Post, Camelback Resort is the recipient of the coveted Conversion Cup from the National Ski Area Association for excellence in beginner programs, in particular, their Terrain Based Learning programs.