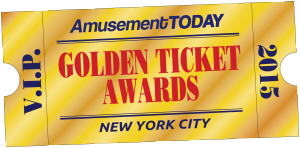 Event registration, itinerary and hotel info online at GoldentTicketAwards.com
NEW YORK CITY, N.Y. — It's the Networking Event of the Year. Start spreading the news — industry friends old and new will gather for Amusement Today's annual Golden Ticket Awards at the birthplace of the American amusement park, Coney Island. The new Luna Park in greater New York City, is the location for this year's "don't miss" event on Friday and Saturday, Sept. 11-12. The complete itinerary, registration and hotel information are now available at goldenticketawards.com.
The Golden Ticket Awards event will officially kick off on Friday, Sept. 11. The day is open for attendees to explore New York City. The festivities begin in the evening with a special Roaring 20s-themed cocktail party and dinner reception at Victorian Gardens at Wollman Rink in New York City's beautiful and iconic Central Park. Zamperla will serve as the host for all 2015 Golden Ticket Awards festivities.
Attendees will have the opportunity before the awards show on Saturday, Sept. 12, to tour downtown NYC on a double-decker bus that is narrated by a licensed guide who knows the city inside and out. Special tour bus wristbands will be provided to all registered attendees. A private shuttle bus will transport participants to Luna Park at Coney Island the afternoon of September 12 to take in the sights and sounds of one of the oldest and most beloved amusement areas in the world. The Golden Ticket Awards presentation will be at the historic Gargiulo's Restaurant. The event concludes that night with a special fireworks show viewable from the Coney Island Boardwalk.
To check out the itinerary and hotel information for the Golden Ticket Awards, as well as to register, please visit the goldenticketawards.com website. ALL attendees MUST register online. This event is reserved for working professionals in the amusement industry. Representatives from parks and attractions, manufacturers, suppliers, consultants and more, will come together to network and celebrate another industry season.
The Park Lane Hotel across the street from Central Park will serve as the host hotel for the event. Specific information and rates can be found at goldenticketawards.com.
This is the 18th annual year for the Golden Ticket Awards; they are presented to the "Best of the Best" in the amusement industry and are calculated from an international poll conducted by Amusement Today.
Set to open in 2016, indoor water park resort to offer families unique vacation experiences
Families in Colorado will soon have something new to howl about. Great Wolf Resorts, Inc., North America's largest family of indoor water park resorts, announced today it is expanding its paw print to the Centennial State.
Great Wolf Lodge Colorado Springs will be a first-class destination resort, providing families with more than 380,000 square feet of entertainment offerings and lodging amenities to enjoy, all under one roof. The centerpiece of the resort will be more than 65,000 square feet of indoor water park fun, the largest in the state. With signature Great Wolf Lodge water rides and attractions, including the thrilling five-story funnel slide, Howlin' Tornado™; Slap Tail Pond® wave pool and Fort Mackenzie® – a multi-level interactive tree house with a massive tipping water bucket – the new resort will feature water fun for everyone.
"We are so excited to bring the Great Wolf Lodge brand to Colorado," said Kim Schaefer, chief executive officer, Great Wolf Resorts, Inc., "As the leader in indoor water park resorts, we provide unique, year-round family getaways each and every day. The addition of Great Wolf Lodge Colorado Springs will feature many of the amenities and activities our guests know and love, as well as several experiences new to our brand."
The 311 guest suites will provide the perfect place for families to relax after a full day of water park play. Each suite will comfortably accommodate at least six people and include an in-room refrigerator, microwave and coffee maker. Families can choose from several suite styles, including the kid-focused Wolf Den and KidCabin® suites, complete with bunk beds and theming featuring the Great Wolf Kids characters.
For true weatherproof, year-round fun, Great Wolf Lodge Colorado Springs will feature dozens of entertainment options, all under one roof. Families will delight at the wide variety of activities found throughout the entire resort, perfect for children of all ages.
Attractions and entertainment include:
· An indoor play park with over 33,000 square feet of fun complete with Howlers Peak Ropes Course®, a multi-level climbing attraction, and Howl in One indoor miniature golf;
· MagiQuest®, the brand's exclusive live-action, interactive game that takes place throughout the lodge;
· Scooops® Kid Spa, the perfect place for ice cream-themed manicures and pedicures;
· Ten Paw Alley™ mini bowling;
· Daily children's activities as part of the resort's Great Wolf Kids program; and
· The Forest Friends Show and evening Story Time by the fireplace – a Great Wolf Lodge tradition that brings everyone together in their pajamas in the Grand Lobby each night.
Great Wolf Lodge Colorado Springs will also feature several dining options and food outlets including the brand's signature Lodge Wood Fired Grill® restaurant and bar Hungry as a Wolf® handcrafted pizza and pasta.
Event planners can also look to Great Wolf Lodge Colorado Springs for their meeting and event needs. The property will feature more than 20,000 square feet of preconference and flexible conference space, built-in audio/video technology and customizable catering options.
Access to Great Wolf Lodge Colorado Springs' indoor water park is exclusive to resort guests, and included with each suite reservation. A Great Wolf Lodge getaway is a great option for families looking for the perfect place to spend time together.
Great Wolf Lodge Colorado Springs will be the company's fourteenth resort. It will be located off I-25, 15 minutes from downtown Colorado Springs and less than an hour from Denver. The resort is expected to open in late 2016.
For more information on Great Wolf Resorts and its brands of indoor waterpark resorts, visit greatwolf.com/colorado-springs.
WEST MIFFLIN, PA–A mammoth new Ice Age branded 4-D theatrical experience, Ice Age: No Time For Nuts 4-D, will premiere at Kennywood Amusement Park on Wednesday, July 29.
This eye-popping adventure follows the manic saber-toothed squirrel Scrat on an epic odyssey in time travel. From the Coliseum of Ancient Rome to the dance floor of Studio 54, Scrat survives everything from Excalibur to the Titanic as he chases after his beloved acorn that's been accidentally lost in time.
This fully immersive, high energy 9-minute show was created by Blue Sky Studios and Fox Animation in partnership with SimEx-Iwerks Entertainment. Featuring exclusive brand new footage, Ice Age: No Time For Nuts 4-D is presented in high-definition 3-D projection combined with in-theater special effects to further engage the audience.
"We are thrilled to bring this new Ice Age experience to our guests! The high action storyline engages all the senses with amazing scenes that maximize our in-theater special effects," said Kennywood General Manager Jerome Gibas. "The Ice Age characters are well known and appeal to our audience. Families and adults visiting Kennywood will enjoy this show."
The 4-D Theater is included in the price of Kennywood's FunDay Passes and Season Passes – available at the park's ticket gate and at www.Kennywood.com.
All Aboard! 'Flying' steampunk train is made from more than 1,000,000 matchsticks!
Ripley's Believe It or Not! Times Square Odditorium introduces the world's largest matchstick model to the public July 29th, 2015.
The train measures 22 feet long, 13 feet wide and 9 feet high – and is made from over one million, individually placed matchsticks. Created in the style of steampunk, this locomotive features classic turn-of- the century details of both a plane and a train. Visitors can get up close and personal to this massive exhibit with direct access to the train's 'working' engineer cab. This child-size cab has fully operable throttle, brake and forward levers.
Ripley's commissioned the locomotive, called 'Plane Loco', from master matchstick artist Pat Acton. Acton spent 14 months (over 3,000 hours) building his largest creation in Iowa. He will hand deliver the giant exhibit, and will be onsite to perform the installation himself at Times Square.
Members of the press are invited to a pre-launch event on Wednesday, July 29th from 6 AM – 8 AM. Artist Pat Acton will be on hand to answer questions about his world record art, and offer a first-hand look at how such a massive undertaking is achieved one matchstick at a time. Please contact Brittany Every at Brittany@RipleysNewYork.com to reserve your spot!
Ripley's Believe It or Not! Times Square will officially open the exhibit to press and public at 2PM on Wednesday, July 29th. With General Admission tickets the first 200 guests will receive special giveaways and have an opportunity to meet the artist.
"This train is an incredible work on its own, but the fact that Pat built it one single matchstick at a time is what visitors will find truly mind-boggling," said Edward Meyer, Ripley's VP of Exhibits and Archives.
Peer-reviewed study published in the prestigious Journal of Mammalogy
A new peer-reviewed study published in the Journal of Mammology by the Oxford University Press adds important insights to the debate over how long killer whales in human care live. The study found no difference in life expectancy between killer whales born at SeaWorld and a well-studied population of wild killer whales.
The study, "Comparisons of life-history parameters between free-ranging and captive killer whale (Orcinus orca) populations for application toward species management," compares current published data for survival and reproductive activity of known-age Pacific Northwest killer whales since 1975 with the life history of killer whales in SeaWorld's care. The average life expectancy for SeaWorld's killer whales is 41.6 years; average life expectancies for Southern and Northern Resident killer whales are 29.0 and 42.3 years respectively.
Additionally, the study shows that average calf survival rate from approximately 6 months of age (i.e., age at first sighting) to age 2 in the Southern Resident killer whale population (79.9 percent) is significantly less than SeaWorld's average calf survival rate from 40 days to age 2 (96.6 percent). The study may be accessed and read in full by following this link: http://jmammal.oxfordjournals.org/content/early/2015/07/09/jmammal.gyv113.article-info
"Although emotion will always be a part of the debate as to whether killer whales, or any other species, should be maintained in human care, it is absolutely necessary to have validated facts when an argument for or against is being made on scientific grounds," said study author Kevin Willis, Vice President for Biological Programs for the Minnesota Zoo. "Based on the available data, it is now clear that it cannot be truthfully argued that killer whales should not be maintained in captivity because they have a shortened life expectancy relative to their wild counterparts."
The objective of this study was to characterize and compare reproductive parameters and survivorship patterns of free-ranging killer whales in the Pacific Northwest and killer whales living at SeaWorld using methodologies previously published for zoological and free-ranging populations. The Northern and Southern Resident killer whale populations of the Pacific Northwest are the most studied and documented wild killer whales in the world. These new comparisons provide a novel metric from which comparisons with other populations can be made. They also shed new light on age estimates for the species as a whole.
"This article represents the first peer-reviewed publication that directly compares reproductive and survivorship patterns between captive and wild killer whales," said study author Todd Robeck, DVM, Ph.D., Vice President of Theriogenology for SeaWorld Parks & Entertainment.
"The results demonstrate unequivocally that killer whales in captivity have similar life expectancies to those in the wild and provide invaluable knowledge concerning normal reproductive patterns of this species. This information is imperative for developing management plans and directing future research efforts that are designed to protect wild killer whale populations."
The ability to study killer whales in controlled research settings in accredited zoological institutions like SeaWorld has provided most of the fundamental information known about the species' physiology including adaptations to diving; auditory detection, echolocation, and learning; reproductive physiology; growth and development; metabolic and energy requirements; and immune system function.
Calling all train and history enthusiasts! Tweetsie Railroad is known by generations of families for its Wild West adventure. What many people may be surprised to learn is that North Carolina's first theme park has a long and rich history, which it celebrates each year with Railroad Heritage Weekend. Highlights of this year's event, which will take place August 29-30, 2015, include tours of the Tweetsie Railroad Train Shop and a special ride on Tweetsie's historic steam locomotives.
The highlight of Railroad Heritage Weekend for many railfans will be when the original locomotive No. 12 pulls the 1870's vintage coach car on non-stop trips around the mountain, recreating the historic trains of the narrowgauge East Tennessee and Western North Carolina Railroad. This once-a-year trip will run Saturday and Sunday, while the No. 190 locomotive pulls a separate train, taking riders on Tweetsie's famous Wild West adventure. On Sunday morning, Tweetsie will showcase a doubleheader, the only day of the year when locomotives No. 12 and No. 190 work together to pull the train on the Wild West train ride.
Guests will also have the opportunity to tour the Tweetsie Railroad Train Shop. While few guests ever visit the shop, it serves a vital function for the park by keeping Tweetsie's pair of vintage locomotives operational and in pristine condition. As one of the only shops of its kinds left in existence, it also preserves a special art, keeping alive the romance of steam-powered locomotives. The shop was first opened by engineer Frank Coffey, who helped deliver Tweetsie's No. 12 engine to its current Blowing Rock home in 1957. Coffey passed away in 1999 but left his legacy in the form of steam locomotive mechanics who have passed down the craft from previous generations.
Other Railroad Heritage Weekend Activities will include historic documentaries, a memorabilia display and photo sessions, as well as performances by Cherokee dancers and crafts from the Tsalagi Touring Program. The Cherokee performances will take place at 11:00 a.m., 1:00 p.m. and 3:00 p.m. in the Tweetsie Pavilion.
Tweetsie's history dates back well before 1957, when the theme park opened to the public. The original "Tweetsie" was the nickname of the East Tennessee and Western North Carolina (ET&WNC) Railroad, which began service in 1881 from Johnson City, Tennessee to Cranberry, North Carolina. The railroad eventually expanded the line to Boone in 1919, and ran until a flood destroyed most of the tracks in 1940. By 1950, the remaining narrow-gauge portion of the line was abandoned. The railroad gained its familiar nickname, "Tweetsie," from the sound of the whistles as they echoed off the mountains. The railroad's sole surviving steam locomotive, engine No. 12, was purchased by Tweetsie Railroad in 1956, and North Carolina's first theme park opened on July 4, 1957. Engine No. 190 the "Yukon Queen" joined No. 12 in 1960 after being purchased from the White Pass and Yukon Railway in Alaska, where it had served the US Army's 770th Railway Operating Battalion during WWII.
All Railroad Heritage Weekend activities are included in Tweetsie's regular daily admission price with one exception: a $5 per passenger donation will be required to ride the special 1870's vintage coach car train. All donations will go towards supporting the East Tennessee and Western North Carolina Railroad restoration projects.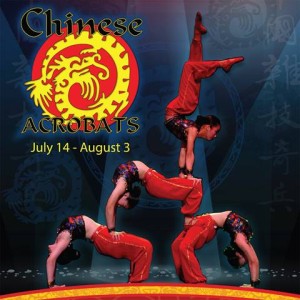 The Chinese Acrobats have tumbled into International Showplace for a limited, and exclusive, run. This 30 minute show offers more than a glimpse into the fascinating traditions of the Orient. It consists of sensational Chinese acrobatics, balancing feats and much more. A truly Oriental spectacular and a show for all ages, the grace and precision of the acrobats are the triumph of years of dedicated training and discipline.
The Chinese Acrobats feature Qin Shaobo, who is most recognized for his portrayal of "Yen", commonly referred to as "Grease Man", in the Ocean's Trilogy.
Show times are 3:00 PM, 5:00 PM, 7:00 PM daily, with an additional show on Saturday's at 1:00PM.
This show is free with park admission.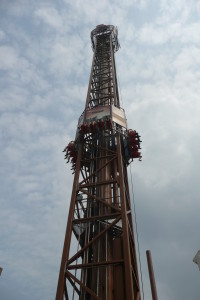 LOGAN, Utah – (July 13, 2015) – S&S Worldwide is pleased to announce that it will build and install a 16-Seat Drop Tower for the new motiongate™ Dubai theme park, part of the Dubai Parks and Resorts development which is opening in October 2016.
motiongate™ Dubai will be the Middle East's first Hollywood-inspired theme park that will bring together three of the largest film studios in the world – Lionsgate, Sony Pictures Studios and DreamWorks Animation to deliver an immersive experience.
S&S Worldwide, the largest U.S. ride manufacturer, has now installed over 450 of their products in 30 countries around the world. Tim Timco, Vice President of Sales and Marketing for S&S said, "We are thrilled to be working on such a unique project. The amusement and entertainment industry is growing rapidly in Dubai, and we are pleased to be associated with this progress. Our Drop Tower ride will provide guests with spectacular views of this massive development and do so in a very thrilling fashion."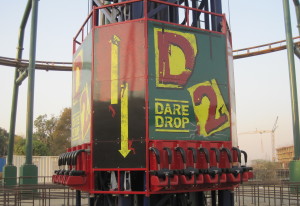 Matthew Priddy, Chief Technical Officer for Dubai Parks and Resorts said: "motiongate™ Dubai will be four million square feet of movie themed entertainment and we are delighted that S&S will be building what is set to be one of our most thrilling rides in the park – a drop tower. The safety of our guests is of paramount importance to us and that is why we are choosing to work with the biggest and best ride manufacturers in the business. S&S will ensure our guests will have an exciting experience on this ride."
Timco added, "S&S has many years of experience providing high-quality tower rides. We believe that this Drop Tower will be a highlight of motiongate™ Dubai and will continue the tradition of quality and safety for S&S. We look forward to seeing this project come together over the next year."
Tipton, Pennsylvania – DelGrosso's Amusement Park will host the 18th Annual Native American Pow Wow on Saturday and Sunday, July 18-19, 2015.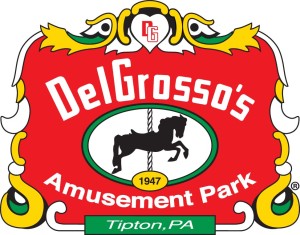 The weekend festival will be filled with Native American Dancing in full regalia, drumming, and singing. Native American arts and craft vendors will also have various displays throughout the Pow Wow Grounds (inside the Tipton Creek Railroad tracks). Vendors are by invitation only.
Keith Colston, Tuscarora & Lumbee, will serve as the Master of Ceremonies for this year's event. All Native American Dancers are welcome to compete.
Pow Wow Grounds and Vendor Shopping open at 10am both days. Grand Entry into the dance arena will take place on Saturday at Noon and 6pm. Grand Entry on Sunday will take place at Noon. The Pow Wow will be held from 10am-9pm on Saturday and 10am-5pm on Sunday (crowd and weather depending).
"This traditional Native American gathering is full of color and culture. Year after year, our park guests comment about the bright, beautiful regalia and tribal traditions they get to watch and enjoy. This event is an amazing way for them to learn about history," says Carl Crider Jr., General Manager and President of DelGrosso's Amusement Park.
An All-Day Fun Pass for DelGrosso's Amusement Park is just $19.95. This includes Rides and the Water Park. DelGrosso's Amusement Park offers Free Parking and Free Admission into the Ride Park area. Follow us on Facebook at DelGrosso's Amusement Park and on Twitter @DelGrossos Park. Text the word DelGrossos to 99605 for weekly text message updates.
SHANGHAI, — While construction continues on Shanghai Disney Resort, the resort announced the names of the first tenants for its exciting shopping, dining and entertainment district, Disneytown. The tenants include well-known and trusted local and international brands including renowned restaurants Shanghai Min, Crystal Jade, and The Cheesecake Factory operated by Hong Kong Maxim's Group, as well as various retail options including stores under I.T group, i.t and BAPE STORE, and a LEGO Brand Retail store. Other exciting high-profile brands including Food Republic, Coconut Paradise, The Dining Room, Hatsune, blue frog, Xin Wang Restaurant, BreadTalk, Toast Box, and Chow Tai Fook will also be the first of several dozen tenants that will work closely with Shanghai Disney Resort to offer world-class shopping and dining options.
Shopping, dining and entertainment areas are key features of Disney resorts around the world, helping guests enjoy an integrated resort experience alongside world-class theme parks and hotels. Shanghai Disney Resort's Disneytown will initially be comprised of a 46,000 square meter pedestrian-access area and will be located next door to Shanghai Disneyland, and within walking distance from both Shanghai Disneyland Hotel and Toy Story Hotel. When the resort celebrates its grand opening in spring of 2016, Disneytown will feature nearly 50 tenants including a high-quality, diverse mix of retailers – premium, affordable luxury and fast fashion options – and exciting restaurants for families and convention guests alike. While located next to the theme park, there will be no charge for admission to this unique area.
"Shanghai Disney Resort has worked closely with Chinese and international partners to develop new, fresh and exciting versions of these brands for guests visiting Disneytown," said Philippe Gas, general manager of Shanghai Disney Resort. "This area will offer a distinctive Disney experience, treating guests by both day and night to great dining, shopping and entertainment amid beautiful open-air promenades and lakeshore charm."
With Chinese guests in mind, Disneytown has been designed by an international creative team to demonstrate the perfect blend of Disney traditions and classic Chinese and Shanghai design and cultural elements, including traditional Shikumen architecture in homage to the unique heritage ofShanghai. Disneytown will be composed of five distinct districts, including Lakeshore, Marketplace, Spice Alley, Broadway Boulevard, and Broadway Plaza, to create a variety of experiences and unique offerings within each district.
Tenants of Disneytown will work closely with Shanghai Disney Resort to provide exclusive dining, shopping and entertainment experiences by tailoring every detail of the venues – from the decorations to menu design. Dining options will vary across the districts. Guests may enjoy fine dining experiences at upscale table service restaurants in the romantic theatre district, Broadway Plaza, where Shanghai Min and Crystal Jade will provide authentic Shanghainese and Cantonese cuisine with stunning views of Shanghai Disneyland from both balconies. The first Asia flagship restaurant of The Cheesecake Factory operated by Hong Kong Maxim's Group and blue frog's new-concept restaurant will be featured in Broadway Boulevard. Spice Alley will offer a variety of popular Asian cuisines in a casual, yet eclectic and fun environment and its dining experiences will offer something for everyone, including unique Southeast Asian cuisine and local Chinese delights from Food Republic, Thai food from Coconut Paradise and new Shanghainese dim sum and cuisine from The Dining Room. Casual dining experiences will be provided in Marketplace by Xin Wang Restaurant, the all-day Cantonese tea house, as well as fresh bakeries BreadTalk and Toast Box. Guests will also be able to experience a variety of waterfront dining options in the Lakeshore district such as California-style Japanese restaurant Hatsune, while enjoying views of both the lake and the Enchanted Storybook Castle to the north and the Shanghai Disneyland Hotel to the south.