TORONTO, Ontario – Cineplex Entertainment ("Cineplex") today announced that it is acquiring all of the issued and outstanding shares of Tricorp Amusements Inc. ("Tricorp").  Upon completion of the transaction, which is expected to close in early October, New Jersey-based Tricorp will become part of Cineplex Starburst Inc. ("CSI"), a wholly owned and operated subsidiary of Cineplex Entertainment.
  Financial terms
 were not disclosed. 
"With Premier Amusements as well as through strategic mergers and acquisitions like Brady Starburst last year, CSI has become one of the leading distributors and operators of amusement and gaming equipment across North America," said Ellis Jacob, President and CEO of Cineplex Entertainment.  "The acquisition of Tricorp enables CSI to further scale its US presence and create opportunities for significant growth."
Tricorp is a leading provider of interactive video, redemption and amusement gaming services through revenue sharing agreements in the United States. It has a diversified client portfolio focusing on the theatrical exhibition vertical
as well as community-based family entertainment destinations such as bowling centres, amusement and water parks, indoor mini-golf and laser tag facilities, as well as casinos and restaurants. It also specializes in entertainment centre design and has over 35 years of experience in delivering high quality entertainment programing and attraction selection.
"This transaction with Cineplex is exciting because it will allow for greater scale in our existing business channel and provide for even more opportunities for the entire Tricorp team," said Charles T. Peitz, Founder and Chief Executive Officer, Tricorp Amusements Inc. "Combining our two organizations creates a powerful, strong and diverse amusement company that can now provide amusement services to a much broader and expanded market across North America."
Headquartered in Toronto, Ontario, 
CSI has 
16 offices across Canada and the United States operating as Cineplex Starburst, Brady Starburst, Premier Amusements and Playdium
. The acquisition announced today strengthens CSI's already strong US market position by adding nearly 100 Tricorp employees covering over 20 states from five regional distribution centres across the eastern seaboard. The Tricorp corporate offices will remain in New Jersey and the executive management team will continue to be led by industry veterans Charles 'Chuck' Peitz and Joe Ingui.
With pro forma revenues of approximately $28.0 million USD and pro forma adjusted EBITDA of approximately $6.0 million USD, the Tricorp acquisition will be financed with cash-on-hand and existing credit facilities.
BARCELONA, Spain – Today, the International Association of Amusement Parks and Attractions (IAAPA), the largest trade association for the $39 billion worldwide attractions industry, announced it will relocate its global headquarters office to Orlando, Florida. The move will begin in 2017. IAAPA also announced plans to host its annual conference and trade show (IAAPA Attractions Expo) in Orlando at the Orange County Convention Center through 2030. The move from Alexandria, Virginia, and convention contract extension are contingent upon support from the state of Florida and Orange County, Florida.
The IAAPA Board of Directors approved the relocation and convention agreement extension during meetings held in Barcelona, Spain in conjunction with the association's European conference and trade show, Euro Attractions Show 2016.
Move Supports the Growing Association that Supports a Growing Industry
The IAAPA board of directors concluded the worldwide headquarters for the association should be located in the global epicenter of the theme park and attractions industry, Orlando. In addition to world-renowned theme parks including Legoland Florida, SeaWorld Orlando, Universal Orlando Resort, and Walt Disney World, the region offers Fun Spot, Ripley's Entertainment, Dave & Buster's, and other best-in-class attractions including water parks, family entertainment centers, zoos, aquariums, museums, and natural attractions. Many of the industry's leading manufacturers and suppliers have a presence in the region as well.
The Central Florida location will make it easier for IAAPA members from around the world to connect with each other and engage with IAAPA's professional staff when they travel to the region to meet with industry suppliers and to see some of the latest industry innovations at Florida's attractions. As IAAPA's staffing needs grow in the future, the move will also facilitate the association's ability to recruit candidates with industry experience.
"IAAPA is the global organization that supports and connects attractions industry professionals from around the world and although we've done so successfully for almost 100 years, it's now time to look ahead and form our vision for the next 100 years," said John McReynolds 2016 IAAPA Chairman of the Board and Senior Vice President of External Affairs for Universal Parks and Resorts.
"I cannot think of a better place to build our future than in Orlando, the theme park and attractions capital of the world," McReynolds added. "Our new headquarters will become a global gathering place where industry leaders will connect to conduct business, learn from each other, address challenges, and imagine the attractions that will put smiles on people's faces for many years to come."
"In an effort to keep up with the rapid growth of the global attractions industry over the past 10 years, we have expanded our regional offices, increased the products and services we offer our members, added staff, expanded our training and professional development programs, and hosted record-breaking trade shows around the world. We have outgrown our headquarters office so now is the time to put infrastructure in place to support the association and the industry for the future," said IAAPA President and CEO Paul Noland.
"Orlando is not just a place to have fun, it's also a great place to conduct serious business and that's a winning combination for IAAPA," Noland added.
Convention Agreement Extension to Generate Millions for the Orlando Economy 
IAAPA has held its global conference and trade show at the Orange County Convention Center for many years and since 2010. The association previously committed to host the event in Orlando through 2025. That agreement will now be extended for five additional years through 2030. The weeklong event brings 30,000 people to the region and generates an estimated $51.3 million for the Orlando-area economy each year. The economic impact of the 20-year agreement will exceed $1 billion. IAAPA Attractions Expo 2016 takes place at the Orange County Convention Center Nov. 14-18 and additional information is available at www.IAAPA.org/IAAPAAttractionsExpo.
Orange County Welcomes IAAPA to the Orlando Business Community
Orange County Mayor Teresa Jacobs traveled to Barcelona to answer questions from the IAAPA board members about the region and to outline the county's interest in bringing the headquarters to Orlando and discuss the Expo extension.
"We're thrilled to welcome IAAPA to Central Florida," said Orange County Mayor Teresa Jacobs. "In addition to the obvious synergy with our world-class theme park and entertainment industries, the addition of another national association headquarters unit is tremendously important. As the home of the AAU and USTA associations, it makes great sense to add IAAPA to this impressive lineup."
The State of Florida, Orange County Florida, Visit Orlando, the Orange County Convention Center, the Orlando Economic Development Commission, and Enterprise Florida Inc., have all played key roles in assisting IAAPA in the association's plans to relocate their headquarters office Orlando.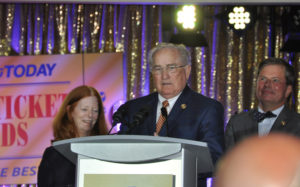 SANDUSKY, Ohio – Harold Hudson was presented with the first AIMS International Safety award during the Golden Ticket Awards held Saturday, September 10, at Cedar Point. The Award, presented by AIMS International president, Timo Klaus, and AIMS Executive Director, Karen Oertley was created to recognize a person or organization that has made a significant impact or contribution in improving safety in the amusement industry by demonstrating leadership, innovation, and foresight.
In presenting the award, Karen Oertley said, " We were pleased to have received many nominations, all are top candidates for future consideration. One individual stood out, however, as one the most passionate and dedicated safety advocates in the amusement industry. He is a man that has been committed to ensuring the safety of our amusement industry guests and employees throughout his career as well as through his work with ASTM in developing safety standards. Harold Hudson is truly a gentleman, scholar and safety icon in the industry and we are so proud to present him with the 2016 AIMS International Safety Award."
In accepting the award, Harold Hudson remarked, "I am truly honored to receive this first AIMS International Safety Award, especially when I think of the thousands of people AIMS has trained at their safety seminar and the thousands upon thousands of people in our parks that are all involved in keeping our guests happy and safe. When I began my industry career as the Corporate Engineer for Six Flags St. Louis, I found more than a job. I found a great family where safety is the #1 goal. Safety is a moral obligation as prescribed by our values to make sure our guests are happy, have a good time, and are safe.. It's been a great 38 years and I hope my efforts from the past as well as those in the future warrant this award."
During the presentation, Timo Klaus also announced a scholarship to the AIMS Safety Seminar in memory of former AIMS president and Executive Director, Mark Moore. In the spirit of Mark's passion for craftsmanship, the scholarship will be awarded by AIMS to a craftsperson who works with their hands in the amusement industry. More details will be released shortly.
About The AIMS International Safety Award
Created in 2016, The AIMS International Safety Award is presented annually to the individual or organization that demonstrates leadership, innovation, and foresight in improving safety in the amusement industry. With safety as the industry's #1 concern for amusement industry guests and employees worldwide, efforts in improving safety are shown in many forms: the design and implementation of new products and technology, the development of safety education programs and training, and by exemplary leadership in influencing others.
Nominations for the AIMS Safety Award can be submitted by individuals within the amusement industry and the winner is selected by a vote of AIMS International's board of directors. The award will be presented annually during the Golden Ticket Awards.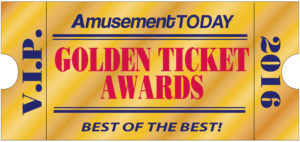 SANDUSKY, OHIO, Sept. 10, 2016 – It's been called "the Academy Awards of the amusement industry," and in a show full of "red carpet" pageantry and excitement, the winners of Amusement Today's 2016 Golden Ticket Awards were revealed tonight at this year's host park, Cedar Point, the legendary amusement park and resort along the shores of Lake Erie.
The Golden Ticket Awards are presented annually to honor the "Best of the Best" in the amusement industry and are calculated from an international poll conducted by Amusement Today. The prestigious survey asks experienced amusement park voters around the country and world to rate the "bests" in 23 categories.
Always revealing some surprises, this year's poll did not disappoint. In the category of "Best Seaside Park," perennial favorite Santa Cruz Beach Boardwalk in Santa Cruz, Calif., re-gained its title after being edged out last year, and the Twilight Zone Tower of Terror at Disney's Hollywood Studios in Orlando narrowly displaced Universal's Islands of Adventure's Harry Potter and the Forbidden Journey, also in Orlando, as "Best Dark Ride." Finally, fan-favorite Millennium Force at Cedar Point was out-voted for "Best Steel Coaster" by a single ballot by Fury 325 at one of its sister Cedar Fair parks, Carowinds, in Charlotte, N.C.
The list of 2016 winners are:
| | | |
| --- | --- | --- |
| Category | Winner | Location |
| Best Amusement Park | Europa-Park | Rust, Germany |
| Best Water Park | Schlitterbahn Waterpark Resort | New Braunfels, Texas |
| Best Children's Park | Idlewild & SoakZone | Ligonier, Pa. |
| Best Marine Life Park | SeaWorld Orlando | Orlando, Fla. |
| Best Seaside Life Park | Santa Cruz Beach Boardwalk | Santa Cruz, Calif. |
| Best Wooden Coaster | Boulder Dash | Lake Compounce, Bristol, Conn. |
| Best Steel Coaster | Fury 325 | Carowinds, Charlotte, N.C. |
| Best Kids' Area | Kings Island | Kings Mills, Ohio |
| Friendliest Park | Dollywood | Pigeon Forge, Tenn. |
| Cleanest Park | Holiday World & Splashin' Safari | Santa Claus, Ind. |
| Best Halloween Event | Halloween Horror Nights | Universal Studios Orlando, Fla. |
| Best Landscaping | Busch Gardens Williamsburg | Williamsburg, Va. |
| Best Christmas Event | Smoky Mountain Christmas | Dollywood, Pigeon Forge, Tenn. |
| Best Food | Knoebels Amusement Resort | Elysburg, Pa. |
| Best Shows | Dollywood | Pigeon Forge, Tenn. |
| Best Water Ride | Valhalla | Blackpool Pleasure Beach, Blackpool, England |
| Best Water Park Ride | Wildebeest | Splashin' Safari, Santa Claus, Ind. |
| Best Dark Ride | Twilight Zone Tower of Terror | Disney's Hollywood Studios, Orlando, Fla. |
| Best New Attraction of 2016 — Amusement Park | Lightning Rod | Dollywood, Pigeon Forge, Tenn. |
| Best New Attraction of 2016 — Water Park | Massiv | Schlitterbahn Galveston Island, Texas |
| Best Carousel | Grand Carousel | Knoebels Amusement Resort, Elysburg. Pa. |
| Best Indoor Roller Coaster | Revenge of the Mummy | Universal Studios Orlando, Fla. |
| Best Funhouse/Walkthrough Attraction | Noah's Ark | Kennywood, West Mifflin, Pa. |
Personally chosen by Gary Slade, publisher and editor-in-chief of Amusement Today, this year's Publisher's Pick Awards were presented in the following categories:
Supplier of the Year – Bolliger & Mabillard (B&M) in Monthey, Switzerland, for its success and dedication to excellence, as well as achieving 100 roller coaster projects during more than a quarter-century of quality business practices;
Person of the Year – Raffi Kaprelyan of Knott's Berry Farm in Buena Park, Calif., for his vision and passion for his park's history and respect for the role of Knott's Berry Farm in the evolution of the theme park concept;
Renaissance Award – Ed Hart of Kentucky Kingdom in Louisville, Ky., for the dedication he has shown in the presentation of his park's rebirth and its ultimate thriving atmosphere; and
Park of the Year – Cedar Point, for its foresight and philosophy of reinvesting that has resulted in continued excellence and for transforming the park into a complete resort destination, taking it back to its original 1870 roots.
For the 12th consecutive year, Amusement Today recognized college students who plan to pursue a career in the amusement industry and are employed by the host park of Cedar Point and two of its sister parks in the region – Kings Island, Mason, Ohio, and Michigan's Adventure, Muskegon, Mich., – as Miss and Mr. Golden Tickets. These individuals exemplify the spirit and integrity of the amusement industry by promoting the cornerstones of safety, service, courtesy and cleanliness at the highest level, while consistently exceeding job expectations. This is an annual designation by Amusement Today to promote education in the field of hospitality and amusement.
Amusement Today newspaper was founded in 1997 and covers international amusement and water park news and trends. In its 19-year history, it is a five-time winner of various awards from the International Association of Amusement Parks and Attractions. For a detailed outline of the 2016 winners and survey results, please visit GoldenTicketAwards.com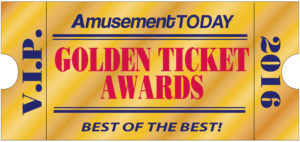 SANDUSKY, Ohio — Cedar Point will host the 2016 Golden Ticket Awards on September 9 and 10, 2016. Presented by trade newspaper Amusement Today, the private, two-day event for amusement industry professionals recognizes the "best of the best" in the amusement industry.
Beginning at 8:00 p.m. Eastern Daylight Time on September 10, 2016, the public can watch the Golden Ticket Awards ceremony streaming live online at www.cedarpoint.com/GTA.
The annual Golden Ticket Awards are the amusement industry's equivalent of the Oscars, with amusement park owners and managers, ride manufacturers, and other industry officials gathering to salute the industry's top parks. Winners were selected by amusement park enthusiasts, voting from around the world.
The legendary Cedar Point in Sandusky, Ohio is hosting the 2016 event. With its scenic location on a 364-acre Lake Erie peninsula, Cedar Point is an historic amusement park and resort that dates back to 1870. It is steeped in rich tradition and character, while providing modern-day family fun and thrills with the biggest array of rides – from mild to wild – anywhere in the world.
This is the 19th annual year for the Golden Ticket Awards; they are presented to the "Best of the Best" in the amusement industry and are calculated from an international poll conducted by Amusement Today.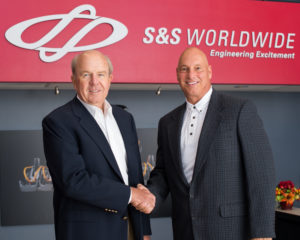 LOGAN, Utah – Under the leadership of long-time CEO Rich Allen, S&S Worldwide, Inc. ("S&S") has experienced tremendous growth and success, including the recent groundbreaking for a large, new facility that will increase productivity and efficiency throughout the company. Allen will now be retiring as CEO after nearly twenty years of service and after taking the company from an exciting enterprise with primarily one product (tower rides) to a global corporation that has quadrupled its former size and become the largest U.S. manufacturer of roller coasters and thrill rides.
Tim Timco, currently serving as President of S&S, has accepted the position of President and CEO. In his new position, Timco will be responsible to evaluate and advise the Board of Directors on the impact of the company's strategic plans, ensure that the company is consistently represented in a strong positive image, introduce new programs and strategies to provide solutions to business challenges, and lead the planning process for the continuing growth and development of S&S. Timco joined S&S in 2013, was promoted to the role of Vice President, Sales and Marketing in 2014, and was promoted again to President in 2015. From his executive sales position, Timco has contributed to the development of the company's global growth and he has been a leader in charting the course for its corporate direction in his role as President.
Jason Mons (formerly Executive Vice President) has been promoted to the position of COO at S&S. Mons will be responsible to develop and direct the management of the general operations of the company. Mons will participate in formulating and administering company policies to improve productivity, ensure cost efficiency, and he will implement processes and systems to generate higher productivity and profits, as well as ensuring compliance with company needs for capital investments and improvement projects. Since joining S&S in 2004, Mons has had considerable influence on the operational success of S&S.
Gerald Ryan, an employee of S&S since 1996, has accepted the position of Vice President, Sales and Marketing. Ryan will be responsible to develop sales and marketing programs and systems to support the strategic direction of the company and to align international business plans with organizational objectives. In this role, Ryan will develop annual marketing and sales plans, direct the implementation and execution of those plans, and oversee and direct market research efforts and new business affiliations. Ryan will also serve as a member of the Executive Management Committee.
Preston Perkes, who has been with S&S for ten years, has accepted the position of Director, Project Management and Ride Services. In this new role, Perkes will be responsible for the guidance of Project Management, Customer Service, Technical Support, and Ride Installation. Perkes and his team will oversee all aspects of complex amusement ride projects from inception to conclusion, as well as customer support for the hundreds of S&S rides operating in over 30 countries.
Roger Mann, CPA, was recently hired by S&S as CFO, replacing Mike Bassett. Mann brings many years of manufacturing accounting experience and will continue to develop systems and processes that will support and contribute to the company's success.
Tim Timco, President and CEO, said the combined knowledge and talent of this new management team, with the assistance and support of the company's other seasoned managers will "provide increased leadership internally and externally, all toward the achievement of our long-range business objectives. With the amazing, talented team at S&S, the company's organizational growth and business success can only continue."
GRAND PRAIRIE, Texas — Six Flags Entertainment Corporation (NYSE:SIX), the world's largest regional theme park company, today announced exciting new attractions for the 2017 season, featuring an extensive roster of Warner Bros. and DC Comics branded rides and attractions including the world debut of the next generation of the award-winning JUSTICE LEAGUE: Battle for Metropolis interactive dark ride. Additionally, the company is expanding its park portfolio with the opening of a new water park in Mexico and introducing thrilling rides at each of its other locations across North America.
In 2017, coming to Six Flags Magic Mountain, Six Flags Great Adventure, and as part of its 50th Anniversary celebration – Six Flags Over Georgia:
The award-winning JUSTICE LEAGUE: Battle for Metropolis. This multi-sensory dark ride features the most sophisticated technology available, completely immersing riders in a video gaming world. Guests become members of the JUSTICE LEAGUE Reserve Team and battle alongside BATMAN, SUPERMAN, WONDER WOMAN, GREEN LANTERN and THE FLASH against Lex Luthor, The Joker and his henchmen to save Metropolis. The Joker's partner in crime, Harley Quinn, will join the band of villains during this epic battle at Six Flags Magic Mountain.
Coming to Six Flags Over Texas, Six Flags Great America and Six Flags New England:
The Joker – Named among the Top 10 most anticipated new roller coasters by USA TODAY and FOX News, this thrilling roller coaster is set to wreak havoc in 2017. After being lifted straight up a 12-story, 90-degree hill, riders flip head-over-heels at least six times along the weightless journey. Thrill seekers will experience exhilarating leaps and dives along a horizontal plane, with unexpected drops as they tumble from one level to the next. The wing seats amp up the pandemonium since riders will experience all of this chaos with no track above or below — just the sky, ground and plenty of sinister thrills.
Coming to Six Flags America:
WONDER WOMAN Lasso of Truth – An extreme swing ride that spins guests in a 98-foot circle at speeds of 40 miles per hour atop a 24-story tower. Guests sit two across in open-air swings as they climb to the top of the tower while spinning round and round, high above the beautiful Maryland and D.C. landscape.
Coming to La Ronde and Six Flags Discovery Kingdom:
A massive pendulum-shaped thrill ride that swings 40 guests back and forth at 70 miles per hour, while rotating counterclockwise and climbing higher and higher to 147 feet in the air. This exciting attraction will bear the name Titan at La Ronde and will be known as WONDER WOMAN Lasso of Truth at Six Flags Discovery Kingdom.
Celebrating its 25th Anniversary, Six Flags Fiesta Texas welcomes:
Thunder Rapids – North America's first rocket blast water coaster. This state-of-the-art attraction is part roller coaster, part water slide, featuring a custom-designed inline raft and new water jet propulsion technology for lightning-fast uphill speeds and adrenaline-pumping drops. Guests will also encounter four high-banked flying saucer turns throughout the 942-foot long structure. The ride's advanced loading system design allows guests to quickly and easily board their vehicle at ground level from a moving station, eliminating the need to carry a tube. Also on tap for the 2017 season—a colorful, new Mardi Gras Festival, featuring 10 authentic New Orleans style parade floats, Mardi Gras themed food, merchandise and beautiful park décor. The Mardi Gras Festival takes place from March 24 through April 30.
Get ready for thrilling, spinning fun at Six Flags St. Louis:
Spinsanity – This high-flying attraction brings a unique level of thrill as the massive disc spins first one direction and then another, while swinging from side-to-side. Forty guests sit on motorcycle-style seats facing outward as the disc flies along the 51-foot high half-pipe track all while whirling around at 14 revolutions per minute. Spinsanity is the first-of-its-kind attraction at Six Flags St. Louis.
Coming to The Great Escape and Splashwater Kingdom:
Summer just got Bigger, Better and Wetter with the introduction of the all-new Bonzai Pipelines dueling water slides. The new attraction will feature a pair of twisting body slides with impressive heights, thrilling speeds and nearly 300 feet of pure splashing fun. A perfect way to beat the heat for thrill seekers and families alike, the slides will be located in the upper portion of Splashwater Kingdom. Bonzai Pipelines will be the water park's 13th attraction and its first body slide tower.
Coming to Six Flags Mexico:
The New Revolution,
North America's first fully-integrated Virtual Reality (VR) roller coaster makes its Six Flags Mexico debut. Riders don Samsung Gear VR headsets, for a multi-dimensional virtual coaster experience. High-definition imagery and storytelling syncs with the unique track configuration of the Medusa Steel Coaster creating a one-of-a-kind seamless "real world" to "virtual world" thrill ride experience. Riders now become co-pilots seated in the cockpit of a true-to-life fighter jet, flying through a futuristic city in a battle to protect the planet against alien invaders, all while racing along the 3,300 feet of twisting, turning, looping coaster track. Six Flags Mexico guests will also be treated to the new
Mardi Gras Festival,
from March 17 to May 1, featuring authentic New Orleans style parade floats, complemented with delicious, traditional carnival food and merchandise along with colorful park décor.
Joining the proud Six Flags family of iconic theme and water parks:
Hurricane Harbor Oaxtepec Mexico
in the beautiful state of Morelos. This tropical oasis will offer families a welcome summer retreat. The 67-acre park will feature an innovative new hybrid waterslide, a multi-level water play structure, a wave pool and a tranquil lazy river, among numerous other fun water attractions all set among a lush, inviting landscape. Hurricane Harbor Oaxtepec will be Six Flags' 19th park, and is scheduled to open in February 2017.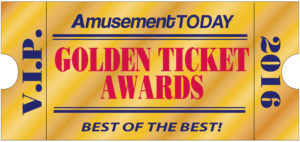 The time is now to register for the "Networking Event of the Year!" Registration for Amusement Today's 2016 Golden Ticket Awards is looming with a deadline of Friday, Sept. 2. The host park for the two-day event on Friday and Saturday, Sept. 9-10 is the beautiful Cedar Point amusement park and resort located along the shores of Lake Erie in Sandusky, Ohio.
To check out the itinerary and to register, please visit www.goldenticketawards.com. This event is reserved exclusively for full-time working professionals in the amusement industry such as park owners, operators and management, ride manufacturers, designers, suppliers and vendors.
Cedar Point is literally rolling out the red carpet and invites all industry attendees to dress the part of the Academy Awards – or their finest attire if they wish – to fit the atmosphere of the Oscars-theme of the awards show for Saturday evening's festivities (beginning at 5:30 p.m.).
Due to the overwhelming popularity of the "Cedar Point Legacy & Landmark Tour" slated for Friday, Sept. 9 at 2-3 p.m., that specific tour is now SOLD OUT. Space is still available for the "Cedar Point Behind-the-Screams Tour" from 3:30-4:30 p.m.
Tickets for the Jet Express Boat Tour also remain. The advance-purchase tickets ($75.00 per person) are a fundraiser to benefit the National Roller Coaster Museum & Archives.
This is the 19th annual year for the Golden Ticket Awards; they are presented to the "Best of the Best" in the amusement industry and are calculated from an international poll conducted by Amusement Today.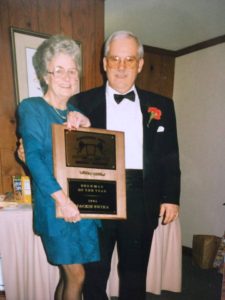 Stephen Swika, Jr., 77, of Scott Twp., Pa., owner of Pennsylvania-based S&S Amusements, passed away peacefully at home August 19, 2016.
Born in Carbondale, he was the son of the late Stephen Swika Sr. and Justine Mikloiche Swika. He was a graduate of Blakely High School.
Swika Jr.'s family began in the outdoor amusement industry as a game concession operation. But, in 1957, he and his dad partnered together to form S&S Amusements, broadening the game operation into amusement rides as well.
Today, the show has a large inventory of rides including a new one added this year, the A.R.M. Vertigo. The show plays from April until October.
Swika Jr. was a member and past president of the Pennsylvania State Showmen's Association and served on the board of directors of the Outdoor Amusement Business Association. Swika also was a member of the Showmen's League of America, the New York Association of Agricultural Fairs, the International Independent Showmen's Association and was a NARSO and Pennsylvania ride inspector.
He was a member of Washington Lodge 265, Free and Accepted Masons, Bloomsburg, Pa. and an honorary member of Scott Twp. Hose Company 1.
He was preceded in death by his wife, Jacqueline (Jackie) Swika, who passed away in 2007. She also was an active member of the industry. She was a member and past president of the Pennsylvania State Showmen's Association and the Outdoor Amusement Business Association and served on the board and as a trustee for both organizations.
Swika Jr. was respected for his knowledge and expertise in the outdoor amusement industry and played a large part in the implementation of the Pennsylvania Ride Safety Act. He was instrumental in the engineering and refurbishing of many rides. He was known for always being there to lend a helping hand, a replacement part or advice to anyone who asked.
Two of his favorite sayings were, "It Is What It Is" and "The Show Must Go On."
Swika Jr. was loved by many and will be greatly missed.
Surviving are a son, Stephen Swika III and wife, Paula, Scott Twp.; three daughters, Cherylann Swika-Post and husband, Michael, Scott Twp.; Saundra Swika-Belcher and husband, David, Scott Twp.; and Valerie Swika, Englewood, Fla.; one stepdaughter, Stephanie Williams and husband, David, Scott Twp.; 11 grandchildren, Adam, Justine, Melissa, Ursula, Alicia, Sabastian, Corey, Tiffany, Evan, Jordan and Emily; three great-grandchildren, Peyton, Bailey and Austin; two brothers, Robert Swika and wife, Mary Helen, Jessup; Richard Swika and wife, Linda, Peckville; and several nieces and nephews.
He also was preceded in death by his sister, Susan Klopher.
Friends may call from 2-5 p.m. or 6-9 p.m., Tuesday, Aug. 30, at the Hedley Mason Funeral Home, Peckville, Pa.
Masonic services by the Washington Lodge 265 will be held at 7 p.m.
Funeral services are set to start at 11 a.m., Wednesday, Aug. 31, at the funeral home, followed by entombment at St. Mary's Mausoleum, Montdale, Pa.
In lieu of flowers, memorial donations may be made to the Salvation Army, 500 S. Washington Ave., Scranton, PA 18505, or Special Olympics Pennsylvania, 2570 Blvd. of the Generals, Suite 124, Norristown, PA 19403, or Pennsylvania State Showmen's Association Scholarship Fund, P.O. Box 5, New Tripoli, PA 18066.
VICENZA, Italy – It was a labor of love for Alberto Zamperla as he began putting together celebratory preparations for his company's 50th anniversary.
The anniversary is year-long, but Zamperla wanted to bring his friends and customers together to show his appreciation of their support throughout the years.
And, that is what he did on June 9 and 10. More than 120 guests were invited to this small city just under 40 miles west of Venice, a city known for the architectural influences of Andrea Palladio in the 16th century.
Guests were wined, dined, toured and, most of all, appreciated.
"They are my reason for success," Zamperla said, adding that he not only builds amusement rides but he also builds relationships.
In fact, to him, that is what it is all about.
The birth of Antonio Zamperla S.p.A., Albert Zamperla's father, came in 1966. But, the foundation dates back to a century long family tradition which started with an equestrian circus at the beginning of the 20th century, moving through the establishment and management of one of the first street-cinemas in Italy, and then to the craftsmanship and production of amusement rides.
Antonio Zamperla's entrepreneurial adventure began in those years, when he realized that popular adult attractions could be successfully reproduced for children. Three years after founding Antonio Zamperla S.p.A., the company produced mini bumper cars, which since have been renamed mini scooters. They could be trailer mounted and moved, a novelty for the time.
In 1971, the company came out with the Punchball game.
In 1972, Alberto Zamperla moved to the U.S. to open a business here. He told those attending the celebration in Vicenza that it was very difficult for him when he first entered the U.S. and tried to sell products since he had no references and that was what park and carnival management wanted to see.
In 1975, Zamperla came out with the Mini Jet 6 and Alberto Zamperla made his first sale of the ride to Reithoffer Shows.
He finally had a reference. In 1976, the U.S. office was opened.
Today, Zamperla produces over 260 rides a year and not only has the headquarters in Vicenza and an office in the U.S., but has a global presence. In 2015, the production report broken up into ride types showed 46.18 percent of the rides produced that year were major and thrill rides. Family rides produced took up 30.88 percent; roller coasters, 15.04 percent; and kiddie rides, 7.90 percent.