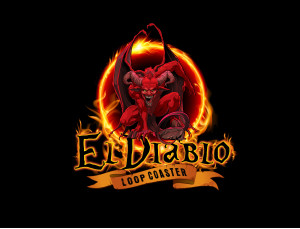 Jackson, N.J. — The devil is in the details for Six Flags Great Adventure's new looping thrill ride, set to open this spring. Originally announced in the fall of 2014 as "Looping Dragon," with an Asian-inspired moniker and location in the Golden Kingdom section, the new ride was re-imagined by park management who opted for a more "devilish" theme – El Diablo.
"The Jersey devil has deep roots in our state's history, and inspired the new theme for our upcoming thrill ride," said Park President John Fitzgerald.
The giant, fiery red El Diablo giant loop will make its home next to the world's top-rated wooden coaster, El Toro, in the Mexican-themed Plaza del Carnaval section. It features riders sitting in "face-off" seats rocketing forward and backward pendulum style until the train gains enough momentum to complete a full revolution seven stories in the air. The thrill ride then kicks into high gear, completing full revolutions until it stops momentarily with riders suspended upside down, and then reverses direction for even more thrills.
"El Diablo is the perfect addition to Plaza del Carnaval, as it appeals to both thrill seekers and families alike. Rides like El Toro and Tango attract a wide audience to this area, which also provides ample opportunities for dining, shopping and relaxation from the excitement of the world's largest theme park," Fitzgerald added.
El Diablo is set to open this spring, and will have a 48-inch height requirement to ride.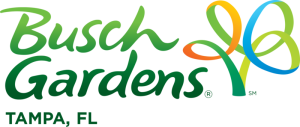 Tampa, Fla. – February 1, 2015, is the last day for thrill seekers to ride Gwazi at Busch Gardens Tampa as the park prepares to permanently close the wooden roller coaster.
Gwazi opened in 1999 as Florida's first dueling wooden roller coaster, providing guests with thrilling and memorable experiences for more than 15 years.
"No decisions have been made about what lies ahead for Gwazi or for the future plans of that area of Busch Gardens," said Park President Jim Dean. "But, we are always looking for ways to enhance guests' experiences, so stay tuned for more news."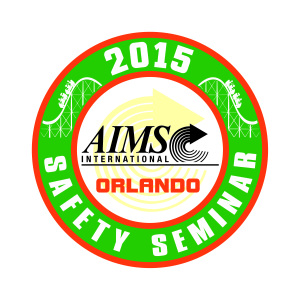 SANTA ANA, Calif. — AIMS International has extended the early registration deadline for the 2015 AIMS Safety Seminar and Certification Program to January 7, 2015. Attendees who register by the newly extended deadline will save $100 off the registration price.
The annual AIMS Safety Seminar is world-renowned for its diverse curriculum and the quality of instructors. Certification testing will be offered for Levels I and II Maintenance Technician and Operations Technician; Level I Aquatics Operations Technician; and Levels I, II and III Ride Inspector Certification. The seminar will take place in Orlando, Florida, January 11 to 16, 2015.
A complete schedule, list of classes and registration information can be found on the AIMS International website.
ARLINGTON, Texas — The offices of Amusement Today will close at 5 p.m on Friday, December 19, 2014, and will re-open on Monday, January 5, 2015, in order to give our employees a chance to celebrate the Christmas and New Year holidays with their family and friends.
Amusement Today desktop edition will not be published on December 24, 25, December 31, 2014, and January 1, 2015.
The Amusement Today staff wish each and every one of our readers and followers a safe and Merry Christmas and a Happy New Year.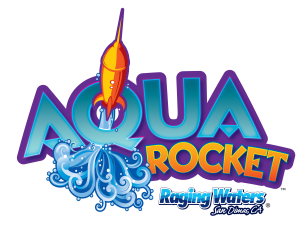 SAN DIMAS, Calif. — Raging Waters San Dimas is introducing the first hydromagnetic LIM water coaster to California this summer 2015 – Aqua Rocket. The new attraction will span close to two football fields in length, making it a great addition to the park's current 49 water attractions.
Aqua Rocket offers guests a radically different experience by merging the adrenaline rush of a roller coaster and the thrills and spills of a water ride. With the new generation of hydromagnetic technology, the four-person rocket style raft transits uphill for a series of four peaks and three drops at a speedy 30 mph.
"Aqua Rocket is an awesome state-of-the-art water coaster that will stimulate your senses." said General Manager Mark Whitfield.
Similar to a roller coaster, linear induction motors (LIM) are used to generate a traveling magnetic field to push the metal-plated rafts rapidly and smoothly uphill. Amid the 1,000-foot-long water coaster are three continuous rocket incline zones.
"We are excited for the newest addition and looking forward to Aqua Rocket becoming one of the most popular attractions in California." Whitfield added. "Ranked by Travel Chanel and USA Today, Raging Waters is one of the Top 10 Water Parks in the U.S….and it just got better!"
Raging Waters San Dimas is owned and operated by Palace Entertainment. Operating on 50 acres of water adventure, Raging Waters San Dimas has over 49 water attractions.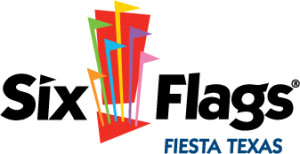 SAN ANTONIO, Texas — Six Flags Fiesta Texas welcomes Jeff Filicko as the new Marketing Manager beginning December 29.
Filicko has more than 7 years of theme park marketing experience at Kennywood amusement park located near Pittsburgh, Pa. Like many in the industry, he began by working his way up from a seasonal summer job to a full time position. As a Manager, Filicko was able to increase his responsibilities to include PR, Promotions, Special Events and Advertising.
In addition, Filicko is also a recent graduate of the IAAPA Institute for Attractions Managers and has served for several years as an IAAPA committee member representing the amusement industry.

MUNICH, Germany — On December 15, 2014, Maurer Söhne GmbH & Co. KG became MAURER AG. The change in corporate form to a stock corporation denotes a milestone in the company`s strategy: The path is leading in the direction of further internationalization and the internationally recognized legal form of stock corporation is a logical step on this path. Maurer AG will be represented by a new Logo and a new internet presence.
Dr. Holger Krasmann, Chairman of the Executive board and Dr. Christian Braun, the former managing directors, have been appointed to the board of the renamed Maurer AG. The company will remain in the ownership of the Beutler and Grill families, with Jörg Beutler as Chairman of the Supervisory Board.
A new, clearer brand image will support the changeover to a stock corporation. The Logo has been reworked: Clear, contemporary and distinctive, the Logo communicates strength and unity. The company name now only consists of the name Maurer.
The new internet presence www.maurer.eu gives a clear visual message of technological orientation. "However it is not only a visual concept" explains head of marketing Judith Klein, "rather that we want to present a company cast from one piece, no longer separated into sub-divisions but one homogenous Company." Naturally the new website is also optimized for mobile devices.
The Maurer Group is a leading specialist in mechanical engineering and steel construction with over 1,000 employees worldwide. The company is the market leader in the areas of structural protection systems, (bridge bearings, expansion joints, seismic devices). It also develops and produces professional roller coasters and Ferris wheels as well as special structures in steelwork.
Among the most notable large projects are the entire technological bridging equipment for the Russky Bridge in Wladiwostok, the world's largest cable-stayed bridge. When it comes to steelwork, our showpieces include the BMW World and Munich's Airport Terminal 2. Spectacular amusement rides include for example the Rip Ride Rockit Roller Coaster in Universal Studios Orlando, 10 Skyloops worldwide and the Fiorano GT Challenge in Abu Dhabi.

The amusement industry lost a dear friend in 2011 when Alan Ramsay passed away at the young age of 41. Alan was a friend to anyone he met and a true fan of our industry possessing a passion and commitment for the amusement industry. Alan served on the AIMS Education Committee and was instrumental in providing many of the recommendations for the Safety Seminar to the AIMS Board of Directors.
In tribute to Alan, the International Association of Amusement Parks and Attractions (IAAPA) is honored to provide five scholarships to the AIMS Safety Seminar in his name. Alan will be missed, but his positive impact on the industry will not be forgotten. An application for scholarship can be downloaded from AIMSintl.org website. Completed applications should be emailed to info@aimsintl.org or faxed to 714.276.9666. All applications must be received by December 30, 2014. Applicants should confirm their applications have been received. A committee will review the applications and pick the five recipients who will be acknowledged at the AIMS Award Luncheon.

Windermere, Fla. — Innovative Attraction Management LLC (IAM) announces a partnership with Fouraime Enterprises Limited to provide the IAM Turnkey Operations Management Program and the IAM Elite Aquatic Risk Prevention program for the new, cutting edge water park and amusement attraction located in Chaguaramas, Trinidad. This new entertainment offering, includes the design of Aquatic Design Consultants, Inc. (ADC). This park will provide an exceptional guest experience which includes an unprecedented water park with unique elements built in plus Family Entertainment Center features including go-kart racing, adventure attractions and an arcade.
Fouraime Enterprises Limited is truly excited at the opportunity to bring a world class Water and Amusement Park to Chaguaramas in the North Western peninsula of Trinidad. An initiative from the Chaguaramas Development Authority (CDA) has allowed private investors to get involved in expanding the horizon of family entertainment available in the Republic of Trinidad & Tobago and we are very proud to be a part of this strategy.
"We will break ground in January 2015 with the intent on opening the Water Park for the summer of 2016. This facility will have rides and attractions never seen before in the Southern Caribbean and we firmly believe that the location will become a hub for family entertainment in the region" stated Mr. John Aboud, Chairman of Fouraime Enterprises Limited.
"We are incredibly fortunate to have this opportunity to partner with the team at Fouraime Enterprises, LTD" IAM President Mike Friscia said. "This facility is incredibly unique that will exceed our guests expectations and we are prepared to exceed Fouraime Enterprises Limited expectations with the implementation of the IAM Management and IAM Elite Aquatic Risk Prevention programs".
Designed by the waterpark professionals of Aquatic Design Consultants, Inc. (WaterParkTeam.com), the water/amusement park will provide fully integrated, non-stop water thrill experiences that seamlessly incorporate wet and dry features. The waterpark brings to life over two and a half million gallons of water consisting of lazy/adventure rivers connecting thrilling water slide complexes and comprehensive signature rides, with multiple guest areas, dynamic wave pools, a surfing-in-place plaza, oceanfront VIP cabanas with private pools, swim-up concessions, full retail venues, and much more to create an extreme level of excitement and an overall pleasant vacation atmosphere for guests.
"This is truly a world-class water/amusement park venue that will capture the enthusiasm of residents and visitors of the beautiful Trinidad Island that is part of Trinidad and Tobago. We have designed many such venues in the past, but the natural beauty of our oceanfront setting and the innovative integration of such cutting edge wet and dry experiences for our guests, sincerely makes this a one-of-a-kind masterpiece in the South Caribbean" said ADC President and Lead Designer Kevin McElyea.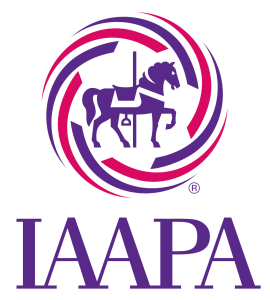 The International Association of Amusement Parks and Attractions (IAAPA) and attractions industry professionals raised more than $120,000 for Give Kids The World (GKTW) Village in Kissimmee, Florida, during IAAPA Attractions Expo 2014. IAAPA Attractions Expo 2014 is the largest conference and trade show for the attractions industry and took place in the Orange County Convention Center in Orlando, Florida, Nov. 17-21. GKTW is a nonprofit resort that provides cost-free vacations for children from around the world with life-threatening illnesses and their families.
The money was raised through private donations and the following fundraising events: 12th Annual IAAPA International Charity Golf Tournament, 5th Annual Motorcycle Ride, 5K Fun Run and 1K Walk, and Chance-to-Win Raffle.
"We greatly appreciate our longstanding partnership with IAAPA and its members, and we are so thankful for the continued support," said Pamela Landwirth, president of GKTW. "The outpouring of support from IAAPA and the attractions industry as a whole allows us to continue to create smiles and inspire hope for our Wish families."
12th Annual IAAPA International Charity Golf Tournament
The 12th Annual IAAPA International Charity Golf Tournament drew 127 attractions industry professionals who enjoyed a round of golf at Hawks Landing Golf Course at the Orlando World Center Marriott Resort on Sunday, Nov. 16. The foursome of Andrew Callies, Jason Kielmann, Shawn Kirsch, and Christian Vozza, all from Congo River Golf in Orlando, Florida, won the tournament.
5th Annual IAAPA Motorcycle Ride
Thirty-eight motorcycle enthusiasts toured Orlando's scenic landscape on Sunday, Nov. 16, during IAAPA's fifth annual motorcycle ride for GKTW. Orlando Harley Davidson served as the ride's starting and ending point.
IAAPA's 5K Fun Run and 1K Walk, Footprints From the Heart
On Thursday, Nov. 20, 153 people participated in the IAAPA 5K Fun Run and 1K Walk held at the Give Kids The World Village.
Ethan Knoebel, of Knoebels Amusement Resort, won the men's 5K race, finishing with a time of 17:06. Gina Claassen of Herschend Family Entertainment won the women's race, finishing the 5K in 20:58.
The highest individual fundraiser for the 5K Fun Run and 1K Walk was Joanna DelMoral of the Themed Entertainment Association (TEA); she raised $1,300.
Chance-to-Win Raffle
Throughout the week, Expo participants entered the Chance-to-Win raffle in hopes of winning a four-to-five-night Royal Caribbean cruise by donating to GKTW at the organization's Expo booth at the Orange County Convention Center.
A list of golf tournament sponsors, motorcycle ride sponsors, and fun run sponsors is available at IAAPA.org.
IAAPA also partners with GKTW for the World Passport for Kids Program, which enables Wish families who stay at the Village to visit a participating amusement park or attraction for up to a year following their stay. IAAPA member attractions from around the world participate in the program. Additional information about the program is available at www.IAAPA.org/about-IAAPA/community-outreach.