STEVENSVILLE, Md. — Ride Entertainment Group has issued a statement concerning a ride mishap on an attraction at the Throne Fair in Paris, France, that resembles one of the company's products:
Yesterday there was a shocking incident in Paris on the "Adrenaline" Extreme Ride, which is an unauthorized knock off device which attempted to copy Skycoaster's signature flight experience. In the incident a young girl's harness apparently failed, leaving her hanging by her ankles as she rode the 50 meter tall ride. Thankfully, despite the dangerous situation, it appears that there were no serious injuries.
The Adrenaline ride is not connected in any way to Skycoaster or Ride Entertainment. Skycoaster and Ride Entertainment have worked tirelessly to achieve its unmatched safety record, including rigid equipment inspections and mandatory operator training. If you have further questions please contact Mark at Info@RideEntertainment.com.
-Adam Sandy, Chief Business Development Officer, Ride Entertainment Group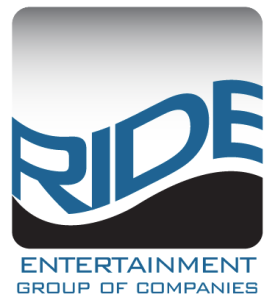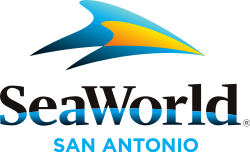 SAN ANTONIO, Texas – SeaWorld San Antonio kicks off its third annual Seven Seas Food & Wine Festival on April 21st. Sip and savor more than 85 chef-created dishes, unique wines, craft cocktails and beers from around the world as you stroll through the park each Friday, Saturday and Sunday from April 21st – May 29th. Highlighting 11 countries in six distinctive maritime regions, festival goers can sample tasty bites inspired by the great chefs of Italy, Greece, France, Mexico, Cuba, Jamaica, Korea, Japan, Argentina, Brazil and Spain. The interactive event also features live entertainment such as the Japanese taiko drummers and the Art of Food, which transforms ordinary fare into an extraordinary art form.
"Texans love to experience great food in a great atmosphere and no one can combine the two better than SeaWorld San Antonio," said park president Carl Lum. "Our culinary team led by our executive chef, Scott Ronczkowski, brings the opportunity to sample international cuisine in a casual atmosphere, while guests can also enjoy a fun day filled with shows and thrills," added Lum.  
The festival is included with any SeaWorld Pass, Fun Card or daily admission. Guests may purchase individual tastings or sampler packages that include multiple tastings starting at $26.99. To view a complete menu, including specialty wines, craft beers and cocktails from each region, visit the festival website.
The Seven Seas Food & Wine Festival offers bold flavors for every taste on Fridays, Saturdays, Sundays (April 21–May 28) and Memorial Day on Monday, May 29. The festival is open from 11 a.m. to park close on all event days.
GRAND PRAIRIE, Texas – Six Flags Entertainment Corporation (NYSE: SIX), the world's largest regional theme park company, today announced a new multi-year marketing partnership and food service program with Nathan's Famous, Inc. The new agreement makes Nathan's Famous the "Official Hot Dog of Six Flags" across the United States.
Six Flags will serve Nathan's Famous frankfurters exclusively at food locations in 15 of the U.S. theme and water parks in 2017, adding the Chicago market in 2018. The partnership will be supported across Six Flags media networks, featuring Nielsen-measured Six Flags TV, in-park activations, integrations into the Six Flags mobile app, and through in-park signage. In market, Six Flags will partner with Nathan's to highlight Nathan's summer rewards, including sweepstakes hosted on the Nathan's website and the brand's social media pages.
"We are thrilled to welcome Nathan's to our premier portfolio of national partners," said Stephanie Borges, Six Flags vice president of North American strategic marketing and partnerships. "This partnership highlights our ability to deliver integrated platforms using our Six Flags Media Networks and experiential teams to drive sales at retail, while offering quality products to our guests."
In support of the official partnership, Six Flags and Nathan's Famous will also be incorporating an array of consumer-facing special offers, including ticket and shopper marketing programs throughout the span of the agreement.
"Aligning with a popular family friendly brand like Six Flags is a natural fit for us," said Leigh Platte, Nathan's Famous vice president of sales. "Nathan's celebrates family and fun. We are proud that Six Flags guests will now be able to enjoy our premium hot dogs, and that the brand will enhance the overall entertainment experience. We couldn't be more excited to be the official hot dog of these great parks."
Smithfield Foods is the licensee of Nathan's Famous pre-packaged hot dogs, selling a wide variety of beef franks at thousands of supermarkets across the country including natural casing, skinless, bun-length, 50 percent reduced fat, angus, and more.
Hundreds of Parrotheads and fans alike joined in the celebration that also marked the first-ever Margaritaville restaurant to open in California.
Jimmy Buffett said, "I walked onto the site of CityWalk when it was still under construction, and my first thought was 'I want a Margaritaville here.' Thanks to the great folks at Universal, we made it.  It's great to play at the opening and I look forward to visiting regularly on my journeys to the West Coast.  Fins Up!"
"Jimmy Buffett's Margaritaville is a perfect complement to Universal CityWalk," said Karen Irwin, President and COO, Universal Studios Hollywood. "With its inviting tropical vibe, incredible selection of Margaritas and signature dishes, Margaritaville offers another exceptional dining experience at CityWalk that everyone can enjoy."

HOUSTON, Texas – The world's largest celebration of agriculture, education, entertainment and Western heritage drew a record-breaking 2,611,176 visitors in total attendance to the 85th annual Houston Livestock Show and Rodeo, March 7 – 26, 2017.
"Powered by more than 33,000 volunteers, the 2017 Houston Livestock Show and Rodeo successfully provided a record number of visitors with a world-class entertainment experience," said Joel Cowley, Houston Livestock Show and Rodeo president and CEO.
 "During the 2017 Show, fans were immersed in one-of-a-kind educational and agricultural exhibits, larger-than-life entertainment, and nightly celebrations of Western heritage during RODEOHOUSTON."
The total 2017 Houston Livestock Show and Rodeo attendance was more than the population of any Texas city.
• Total attendance for all activities on the grounds was a record 2,611,176. In three days, the World's Championship Bar-B-Que Contest entertained 226,369 guests, and on Thursday, March 2, attendance reached an opening-day record of 47,883.
• Another record was broken on Saturday, March 18, with a single-day attendance of 185,667, when the Show had more people on the grounds than Texas' 16th most populated city.
• Paid Rodeo/concert attendance reached 1,370,263. Two of the RODEOHOUSTON performances landed on the list of the Show's top 20 paid rodeo/concert attendance records. First: Sunday, March 19, 2017 – Go Tejano Day – Banda El Recodo and Siggno – 75,557; 17th: Thursday, March 16, 2017 – Luke Bryan – 75,033.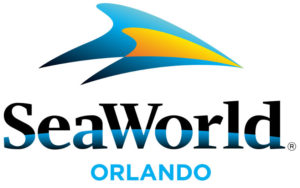 ORLANDO, Fla. – SeaWorld Entertainment, Inc. (NYSE: SEAS) ("SeaWorld"), a leading theme park and entertainment company, today announced that a wholly owned subsidiary of Zhonghong Zhuoye Group Co., Ltd. ("Zhonghong Group"), a diversified holding company focused on strategic growth opportunities in the leisure, tourism, and culture industries, will acquire an approximately 21% equity interest in SeaWorld from certain funds affiliated with Blackstone at a price of $23.00 per share.
SeaWorld and Zhonghong Holding Co., Ltd. ("Zhonghong Holding"), an affiliate of Zhonghong Group, have also agreed to advisory services and support agreements under which SeaWorld will advise Zhonghong Holding exclusively on the concept development and design of theme parks, water parks, and family entertainment centers to be developed and operated by Zhonghong Holding, including exclusive rights in China, Taiwan, Hong Kong and Macau.
"Zhonghong Group is making a significant, long-term investment in SeaWorld, reflecting their appreciation of the strength of our brand, our potential to grow the company and a shared commitment to protect wildlife and the environment," said Joel Manby, President and CEO of SeaWorld Entertainment, Inc. "Zhonghong Group has a strong track record of performance in the leisure and travel industries, and a solid management team with valuable experience in theme parks, family entertainment, and real estate development in Asia."
"We are delighted to engage with SeaWorld to bring this iconic, world-class family entertainment brand to China. SeaWorld's commitment to inspiring guests to protect animals and our oceans is increasingly relevant to people all around the world," said Yoshikazu Maruyama, President of Zhonghong Group's American operation. "Zhonghong Group hopes to contribute our experience and resources in global tourism and project development to enhance long-term value to all of SeaWorld's shareholders. We look forward to a highly collaborative relationship and to serve as a key partner to grow its business and further its mission."
Zhonghong Group has entered into a stockholders agreement with SeaWorld and, effective upon closing of the transaction, SeaWorld will increase the size of its Board to 11 and Zhonghong Group executives Yoshikazu Maruyama, President of Zhonghong Group's American operation, and Yongli Wang, Chief Strategy Officer of Zhonghong Group, will join the SeaWorld Board providing long-term shareholder perspectives and substantive expertise in global themed entertainment and business development in China.
The agreement also contains certain restrictions on Zhonghong Group's ability to sell its interest in SeaWorld for a period of two years, limitations on its ability to acquire more than 24.9% of SeaWorld's outstanding shares without the approval of the independent directors of SeaWorld's Board and other customary restrictions including voting and standstill to protect SeaWorld and all of its stockholders.
Upon receipt of regulatory approvals and satisfaction of other customary closing conditions, the transaction is expected to close in the second quarter of 2017. Following the closing contemplated by the agreements, Blackstone and its affiliates will no longer hold any interests in SeaWorld or have seats on SeaWorld's Board.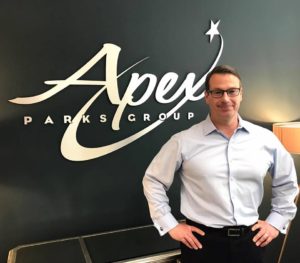 ALISO VIEJO, Calif. – Apex Parks Group today announced the appointment of John Fitzgerald as Chief Executive Officer of the company.  Fitzgerald is an amusement park industry veteran with more than 30 years of experience.  He most recently served as park President, VP and General Manager at Six Flags' parks in New Jersey, including Great Adventure – the world's largest theme park.  Fitzgerald succeeds the late Al Weber, a visionary in the field of family entertainment.  He begins his new role immediately and is based in company headquarters in Aliso Viejo, CA.
Tyler Zachem, Chairman of the Board of Apex Parks Group, said, "John is a proven leader with an impressive track record of success across our industry, most recently at one of Six Flags' highest profile parks.  He was the clear choice to lead our organization, and we have every confidence that John and our talented team at Apex will continue to deliver the operational excellence and growth that were hallmarks of the company under Al Weber's leadership."
Prior to joining Apex Parks Group, Fitzgerald was the Park President of Six Flags Great Adventure & Safari and Six Flags Hurricane Harbor in Jackson, NJ, for more than six years.  Before Six Flags, Fitzgerald was a general manager and executive at several domestic and international theme parks.  He began his career as a ride operator at Great Adventure.  He most recently served as a consultant to Apex on strategic initiatives.
Fitzgerald commented, "Apex has a platform and a team that is dedicated to providing outstanding family entertainment, and I am thrilled to join the company.  Al Weber was my very close friend and a mentor of mine in this industry, and I am honored to carry on his legacy to continue to build Apex into the premier operator of family-oriented amusement parks and entertainment centers."
In addition to appointing John Fitzgerald as CEO, Apex announced Brenda Morris has been named CFO on a permanent basis after serving as interim CFO since November 2016.  Prior to this, Morris served as a senior finance executive and CFO at several retail businesses including Hot Topic Inc. / Torrid LLC, 5.11 Tactical, Love Culture and Zumiez.  Morris also serves on the board of directors of two publicly traded companies – Duluth Trading Company and Boot Barn, where she is the chair of the audit committee.
Zachem commented, "Brenda is a highly accomplished financial executive, and she brings a wealth of consumer-facing, multi-site business model experience that has already benefitted Apex. As interim CFO, we have been impressed with her ability to lead our finance organization.  Her knowledge and experience will enable the successful growth of the company."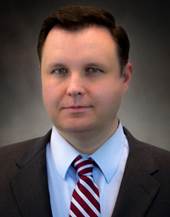 CINCINNATI, Ohio – Gold Medal Products Co., the world's leading manufacturer and distributor of concession food equipment and supplies, is pleased to announce James Adam Browning has been appointed to the office of President.
Browning joined Gold Medal in 2010 and most recently served in the dual role of Executive Vice President and General Counsel. His guidance has been integral to not only legal and compliance issues, but also to implementing policies and procedures that contribute to operational efficiencies, productivity and profitability.  Above all else, Browning says he is most proud of the relationships he has built, both within the Company and with Gold Medal customers. "This is a relationship business. I will continue to focus on customer service and building strong relationships with our customers and within the industry."
Browning enters the role with an eye on the company's continuing performance and growth.  He states, "This is a pivotal time in Gold Medal's history. We are fortunate to have an extremely talented and dedicated team. It is exciting to consider all of the opportunities before us, as what we do right now will lay the foundation for celebrating our 100th year in business."
CEO and Chairman, Dan Kroeger offers his enthusiastic endorsement saying, "Adam has demonstrated outstanding leadership during his time at Gold Medal. His knowledge, experience and work ethic will be of great benefit to guide our company's journey into the future of the concessions industry."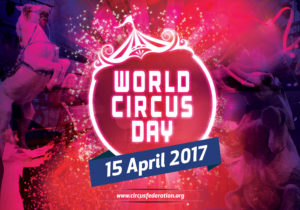 MONACO – The Fédération Mondiale du Cirque under the Honorary Presidency of H.S.H.Princess Stéphanie of Monaco decided to nominate the third Saturday of April, every year, as the World Circus Day and in 2010 for the first time, called upon the circus communities around the Globe to celebrate together our common holiday.
The circus arts is not limited by borders or languages. Everybody related to this unique performing art form belongs to the same big family regardless where they live, where they work.
The World Circus Day is the national day of the circus arts. It is a great and important opportunity to raise public awareness, to share the wonders and secrets of this magic world, to attract supporters and circus lovers by creating unforgettable moments of happiness.
That day in April in around 50 countries couple of hundreds events took place in the past. Fédération Mondiale du Cirque invites all circuses, circus related organizations, schools, museums in each continent and in every country to honor our biggest common feast by organizing special events.
There are countless forms to mark the date: offering open door activities, animal trainings, professional workshops, organizing exhibitions, festivals or charity shows – just to mention some of them.
Your creativity, imagination and hard work are the guarantee of the success of the 8th World Circus Day in 2017.
We want to beat the record of participants this year! The more we participate the more we can prove the unity, the importance and the force of our community. We ask everybody to use the WCD logo offered by the Federation to strengthen our common image.
Please register your WCD events on the Federation's website: http://www.circusfederation.org/world_circus_day
Take high resolution photos during the festivities and upload them on the same website. There will be a special Planet Circus WCD edition in June, publishing the best shots selected.
The Féderation Mondiale du Cirque asks for your cooperation for the World Circus Day wishes you a great preparation to the World Circus Day on 15th of April 2017 and success, happiness during the celebrations.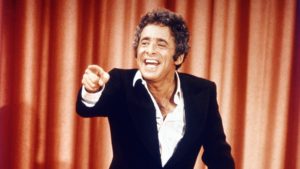 PALISADES, N.Y. — Television personality and author Chuck Barris, who penned the 1962 pop song "Palisades Park," died at his home here March 21. He was 87.
Although best known for creating and hosting the mostly-for-laughs, 1976-launched TV talent showcase The Gong Show and producing, among others, the popular reality-based game shows The Dating Game and The Newlywed Game, Barris also was a prolific author. He authored several novels and a controversial, self-described 1984 autobiography, Confessions of a Dangerous Mind, in which he said that he was an assassin for the C.I.A. during the 1960s. (The agency refuted that claim.) The latter book was adapted into a 2003 film of the same name directed by George Clooney.
Prior to his TV success, Barris, who was born in Philadelphia and graduated from Drexel University, wrote the song "Palisades Park," which was inspired by Palisades Amusement Park in Bergen County, N.J. As sung by Freddy Cannon, the tune became a hit — landing at No. 3 on the Billboard Hot 100 chart in June 1962. It was the singer's biggest success.
Numerous other recordings of "Palisades Park" were made thereafter, including renditions by Shelley Fabares, Jan and Dean, The Beach Boys and The Ramones. Cannon himself re-recorded the song in 1987 as "Kennywood Park," named and adjusted for the still-operating amusement park in West Mifflin, Pa.
Barris is survived by his wife of 16 years, Mary.
—Dean Lamanna