"If you really want to do something for Gatlinburg, come back and visit us," Werner said in a Nov. 30 press conference.
"Many of our city's 6,000 residents, as well as those of our friends and family in Gatlinburg, are dependent on the tourism industry for jobs to care for themselves and their families," said Leon Downey, Pigeon Forge executive director of tourism. "As our communities move forward, our industry has an obligation to our residents and employees to encourage visitation to the area and sustain our businesses."
Pigeon Forge is located next door to Great Smoky Mountains National Park where wildfires ignited Monday night, Nov. 28.
Pigeon Forge businesses were not damaged during this week's fires, and businesses are operating as usual. The city's Winterfest festival continues, including several Christmas shows at various theaters. Dollywood theme park reopens on Friday, Dec. 2. Restaurants and lodging properties are operating on normal schedules.
City-wide support includes 30 Pigeon Forge firefighters currently stationed in Wears Valley.
Of the 500 evacuees in Pigeon Forge, fewer than 20 remain in the Pigeon Forge Community Center shelter.
"We are heartbroken by the devastation we've seen in Gatlinburg," said Pigeon Forge City Manager Earlene Teaster. "But I speak on behalf of all our Pigeon Forge tourism partners when I say that we offer our constant prayers and encouragement for everyone affected and stand alongside them as they work to rebuild."
Dolly Parton announced a new effort by The Dollywood Company and The Dollywood Foundation to establish a fund to assist the families affected by the Smoky Mountain wildfires. The new My People Fund will provide $1000 each month for six months to Sevier County families who lost their homes. Anyone who would like to contribute to the My People Fund may visit dollywoodfoundation.org.
The Tennessee Emergency Management Agency (TEMA) and Tennessee Voluntary Organizations Active in Disaster (TN VOAD) have set up a call center to provide information for those who would like to donate goods and volunteer to help survivors. For a list of the most-needed items, please visit http://mypf.social/pfdonationneeds. The call center is staffed from 8 a.m. to 8 p.m. daily; the phone number is 866-586-4483.
To support displaced residents and visitors, Pigeon Forge established a distribution center to disperse donated food and supplies. Located just off the Parkway in Pigeon Forge in the former Boyds Bear building at 149 Cates Lane, the facility is open Monday through Saturday from 9 a.m. to 4 p.m. and Sunday from 1 to 4 p.m.
The deadline to submit a number of scholarship applications for the 2017 AIMS Safety Seminar, has been extended. Applications for the Mark Moore Craftsperson scholarship and the IAAPA Alan Ramsay scholarships will now be accepted through Monday, December 5th.
Complete information on these scholarships along with application forms can be found on the AIMS website at www.aimsintl.org. For questions, please contact AIMS at info@aimsintl.org.
PIGEON FORGE, Tenn. — In a video message released this evening, Dolly Parton announced a new effort by The Dollywood Company and The Dollywood Foundation to establish a fund to assist the victims of the Great Smoky Mountain wildfires in Tennessee. The new My People Fund will provide $1000 each month to Sevier County families who lost their homes.
"I've always believed charity begins at home and my home is some place special," Parton explained. "That's why I've asked my Dollywood Companies—including the Dollywood theme park, and DreamMore Resort; my dinner theater attractions including Dixie Stampede and Lumberjack Adventure; and my Dollywood Foundation—to help me establish the My People Fund.
"We want to provide a hand up to those families who have lost everything in the fires. I know it has been a trying time for my people and this assistance will help get them back on their feet."
Anyone who would like to contribute to the My People Fund may visit dollywoodfoundation.org.
For those wishing to send donations via mail to Dolly's My People Fund, the address is:
Dollywood Foundation
2700 Dollywood Parks Blvd.
Pigeon Forge, TN 37863
More information on the program will be released on Friday, December 2.
LOUISVILLE, Ky. –
On the heels of a very successful 2016 season, Kentucky Kingdom announces its new attractions and additions for 2017. Leading the list is "Eye of the Storm," a 24-passenger, high-speed thrill ride with a roller coaster train that circles a seven-story loop, featuring continuous rotations, inversions, and both forward and backward motions (see below photo, video, and spec sheet). With the addition of "Eye of the Storm," Kentucky Kingdom now has more than 80 rides and attractions, including five roller coasters, 20 water attractions, and one of the largest selections of children's rides in the region, with two additional children's rides to be introduced in 2017.
The park is also upgrading its classic wooden coaster, Thunder Run, which will receive a new train and track modifications at a cost of more than half a million dollars. Bill Hargrave, the park's Vice President of Construction, remarked, "This new train replaces the original Thunder Run train first put into service in 1990. With its advanced technology, the new train, together with the track improvements, will give coaster enthusiasts a smoother and faster ride."
Other improvements include the installation of more shade structures in the water park and at ride queue lines; additional lockers; a greater number of tables, chairs, and benches throughout the park; more lounge chairs for the water park; beefed-up air conditioning in restrooms and dining areas; upgraded technology to expedite season pass processing and in-park purchases; three additional ticket windows to speed entry into the park; and, for convenience, an additional entrance to the Hurricane Bay water park.
Ed Hart, President and CEO of Kentucky Kingdom, commented, "Last year, we completed our initial three-year development plan and attendance rose to approximately 800,000, representing a 60% increase over attendance at the time the previous park closed (in 2009). With tremendous support from my partners (Ed Glasscock, Bruce Lunsford, and the Al J. Schneider Company), we've spent a total of $54 million over the past three years. That's $10 million more than the amount we committed to spend. Now we are ready for round two – a second three-year development plan, with the goal of achieving at least one million visits. Our approach has always been the same: to add new attractions for every age and thrill level, provide outstanding guest service in a safe and friendly environment, and offer prices the average family can afford."
Hart went on to add, "We take our role as a leader in the Commonwealth's tourism industry very seriously. With the hundreds of thousands of out-of-state visitors now coming to Kentucky Kingdom each year, the park not only helps fill local hotel rooms, but also helps boost attendance at other attractions, both locally and throughout the state."
"In addition," Hart said, "for many of our more than 1,000 seasonal team members, a summer job at Kentucky Kingdom is their first real job. We are dedicated to providing them the best possible training and mentoring. This not only helps them perform well in their duties here at the park, but also gives them a solid foundation for whatever career path they may ultimately choose."
In 2017, Kentucky Kingdom's general admission price will be $49.95. Season passes, which include free parking, a 20% discount on in-park purchases, and $1.00 soft drinks, are now on sale for only $59.95 at the park's website (www.kentuckykingdom.com) and at all area Kroger stores. For more information, please check the park's website.
PIGEON FORGE, Tenn. – After assessing the damage wrought by recent wildfires in the foothills of the Great Smoky Mountains, Dollywood is focusing its efforts for the next two days supporting the community.
Dollywood hosts have joined in supporting the needs of their fellow hosts affected as well as assisting other area businesses in supplying personal care items to the shelter at the LeConte Center in Pigeon Forge and they continue to feed and house firefighters and first responders.
"I have been watching the terrible fires in the Great Smoky Mountains and I am heartbroken. I am praying for all the families affected by the fire and the firefighters who are working so hard to keep everyone safe. It is a blessing that my Dollywood theme park, the DreamMore Resort, Dixie Stampede and so many businesses in Pigeon Forge have been spared," Dolly Parton said.
Thanks to the hard work by community firefighters and first responders, Dollywood's DreamMore Resort is open to guests. The Dollywood theme park will resume normal operation on Friday, December 2 at 2 p.m.
For those interested in helping victims of the wildfires, contact the American Red Cross (1-800-Red Cross) or text REDCROSS to 90999 to donate ten dollars to the American Red Cross disaster relief fund.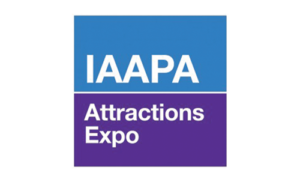 ORLANDO, Fla. – IAAPA Attractions Expo 2016 broke all records as an all-time high 35,100 attractions industry professionals gathered in Orlando this week to experience the future of the industry across the largest trade show floor in the event's 98-year history. The attractions industry business is booming around the world and the success of IAAPA Attractions Expo 2016 rounds out a record-breaking year for all three of IAAPA's Expos, including the events in Asia and Europe. The weeklong trade show and conference in Orlando took place Nov. 14-18 in the Orange County Convention Center.
More than 22,600 buyers, including attractions industry owners, presidents, general managers, directors, and managers joined creative innovators throughout the week to announce new products, test the latest technologies, discuss trends and hot topics, taste new food and beverage options, and learn from leading experts. IAAPA Attractions Expo is the premier conference and trade show for the $39.5 billion global attractions industry and serves as the marketplace of innovation for the industry. The event is owned and produced by the International Association of Amusement Parks and Attractions (IAAPA).
"What an amazing week and year. This record-setting show caps off a record year for IAAPA Expos around the world," said Paul Noland, IAAPA president and CEO. "With the largest gathering in nearly 20 years, the success of IAAPA Attractions Expo 2016 is an indication of sustained growth in the industry."
The five-day Expo pumped an estimated $51.3 million into the Orlando-area economy.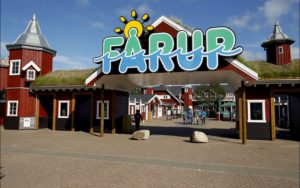 DENMARK – A generational and ownership change has been implemented in Fårup Sommerland, as Søren Kragelund is selling his shares in the company and will resign as CEO and board member.
"Of course it is with a certain sadness that we are announcing that Søren Kragelund has decided, as he reaches 68, to sell his owner's share in the company and is stepping down as director and board member of Fårup Sommerland. Over half a lifetime, Søren has created a successful and eminent lighthouse in a North Jutland and the Danish context. His vision, innovation and hard work is the reason why Fårup Sommerland is, today, an extremely well-run company and an internationally renowned amusement park. "Everyone involved in Fårup Sommerland owes Søren Kragelund a big thank you. This includes all of North Jutland tourism and the Region, for putting Fårup Sommerland on the world map", says Chairman Ole Mølgaard.
Fårup Sommerland was established by Søren Kragelunds father, Anders Kragelund, and Henrik Schancks mother, Kamma Schnack, in 1975. In 1996, the current owners and cousins, Søren Kragelund and Henrik Schnack, took joint ownership, with 50 percent each.
"Of course this is a big, but also very considered, decision I have made. I've enjoyed more than 40 fantastic years in Fårup, and my children are pursuing their own careers in London and Copenhagen. It is, therefore, a very good solution for myself and my family that the Schnack family has the opportunity to take over my owner's share," says Søren Kragelund.
With the acquisition of Søren Kraglund's shares in the parent company, M. Kragelund Holdings, Henrik Schnack and his sons, Martin Norrbom Sam and Jacob Schnack, are now the sole owners of Fårup Sommerland.
"I am very pleased that we are able to maintain Fårup Sommerland as a family owned North Jutland business. It will ensure that the core values Fårup stands for will be retained. Over more than 40 years, Fårup achieved a fantastic position and some very good results, and we continue to see good opportunities for positive development, which was, of course, a premise for acquiring the entire shareholding. It is a very well-run company we are acquiring all the shares of, for which Søren must take a very large part of the credit," says manager Henrik Schnack.
A process will soon be initiated to find a new, future CEO for Fårup Sommerland.
Company board member and former auditor, Tage Borregaard, has taken up the role of new interim director and, together with the experienced staff and the board, he will lead the company until a new CEO is hired.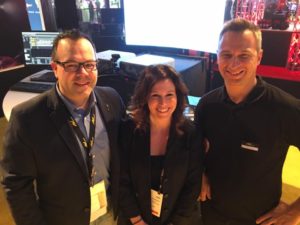 ORLANDO, Fla. – This November, AV Stumpfl is exhibiting the Wings Engine Raw 8K uncompressed media server for the first time at Booth 1671 at IAAPA Attractions Expo 2016.
As attractions and theme parks work on new ways to excite audiences through gripping visual information, storytelling and creative use of immersive displays, the demand for truly reliable and uncompressed playout solutions is steadily growing.
To the delight of exhibit and content designers worldwide, the Wings Engine Raw 8K media servers are capable of displaying visuals using a full 12-bit color space, delivering more color information than the current media server standard. Additional show control options make the world of AV Stumpfl media server products perfect for creating integrated and hassle free workflows.
Working with uncompressed image sequences can sometimes be time consuming due to the exceptionally large file size. In order to make it easier to transfer such files at short notice, AV Stumpfl's Wings Vioso RX software has integrated a new workflow model. Working with massive file sizes has never been easier. All Wings Engine Raw media servers now come with Dual 10 GBit network cards. In addition to this, AV Stumpfl also offers certified NAS (network attached storage) systems as well as certified 10 GBit switches for flawless operation. The Wings Vioso RX software now features a dedicated data management and transfer system that does not require all data to be physically copied onto a "Master" server. Instead, data can be copied to the NAS and assigned as so called "Proxy Objects" in the timelines. All "Slave" servers can now get their content directly from the NAS systems.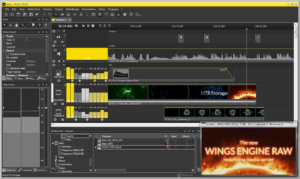 A powerful real-time pixel mapping engine has just been added to the Wings Vioso RX software platform (available for all Wings Engine media servers). The mapping matrix can be imported from CSV tables for real-time editing.
During the IAAPA Attractions Expo, Matt Finke, founder of the acclaimed show and lighting design company Loop Light, takes visitors on a journey into the world of Wings. The award winning designer shares insights and his first-hand experiences in live event production environments. Loop Light has worked on several exciting live event presentations to date using Wings Engine Raw.
Finke will present the very latest Wings developments, including the Avio Manager combined with the Wings Touch's new master pages. They promise to reduce the time taken to create a user interface and connections needed to run a presentation system more smoothly.
SHAWNEE, Kansas — This past summer, Splash Cove in Shawnee, Kan., opened Twin Tides, a dual entry wave pool from Aquatic Development Group (ADG). The bow-tie shaped attraction is designed to double the capacity of a typical wave pool and is the only one of its kind in the Midwest. The pool has two shallow entry points opposite each other, with a deep end in the middle. ADG's exclusive WaveTek wave generating equipment on either side of the deep end can generate four different kinds of recreational waves from gentle rollers to high-action diamond patterns. The cost of the new wave pool was not disclosed, but it was part of a $9.25 million renovation.
The unique configuration allows for double the occupancy of most wave pools by giving guests access to the pool at both ends.
David Allacher, aquatic supervisor at Splash Cove, said, "The guest response to the Twin Tides pool is astronomical. They love this wave pool; any time they walk in, they see the waves rolling and they are ready to get in and rock and roll."
ORLANDO, Fla. – UK-based Simworx has announced the launch of another major addition to its product range, the 360° Flying Theatre.
The specialist supplier of media based dynamic simulation attractions has partnered with Dutch company Mondial, one of the leading amusement ride manufacturers in the world, to bring an all new range of technologies together for a spectacular new attraction. Providing a real sensation of flying with the passengers' legs dangling freely below them, the Flying Theatre is available with 60 seats in three rows of 20 and offers unique movements with up and down, sideways to both sides, forward and backward motion.
Riders watch a movie on a huge dome screen as they 'fly' through the experience which is enhanced by a range of new technologies and optional special effects. Complete show control and an integrated audio visual system are combined with Simworx's world renowned expertise in delivering high quality 3D AV solutions to ensure a thrilling experience suitable for a wide age range.
The Flying Theatre is supplied as a full turnkey solution, with all audio visual and effects hardware supplied by Simworx. The attraction is designed, built and produced exclusively for the UK company by Mondial, bringing together a combination of knowledge and expertise from both organisations to create what Simworx is confident will be a hugely popular attraction at a wide range of venues.
"We are delighted to announce the launch of the new Flying Theatre which has been an exciting project for us to develop," said Simworx Managing Director Terry Monkton. "In conjunction with Mondial we have created a thrilling attraction that utilises cutting edge ride technology and the latest AV solutions to provide what will be hugely exciting and enjoyable experiences.
"As operators increasingly seek to install unique attractions that help them differentiate themselves from their competitors and which appeal to all the family, we are confident our Flying Theatre will create much interest throughout the global attractions industry."
Simworx is recognised as a world leader in the supply of media based dynamic simulation attractions – including its 4D effects cinemas and Immersive Tunnel – for the worldwide entertainment, education and corporate markets. Its capabilities extend from full turnkey solutions, custom attractions, product development, manufacturing and service support, to film content and complete themed attractions. Clients also have access to a vast film library with hugely varied subject content suitable for the wide variety of venue types the company works with.