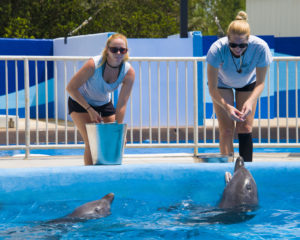 ORLANDO, Fla. — In anticipation of Hurricane Irma's landfall in Florida, five Atlantic Bottlenose Dolphins were transported from Dolphin Connection, a marine mammal organization owned by Hawks Cay Resort in Duck Key to SeaWorld Orlando. Four team members from Dolphin Connection traveled with the dolphins and are caring for them at SeaWorld's behind the scenes area.
Dolphin Connection is a renowned marine life educational facility with interactive dolphin conservation programs. The institution is accredited by the Alliance of Marine Mammal Parks and Aquariums (AMMPA) and the International Marine Animal Trainer's Association (IMATA).
The decision to conduct an emergency evacuation of the Dolphin Connection animals was made as a result of Hurricane Irma's current projection and anticipated impact on the Florida Keys. Each year, marine life institutions across the state convene to evaluate emergency plans and procedures for severe weather situations like this.
The five male dolphins range in age from 13 to 43 years old and are expected to stay at SeaWorld Orlando until they can be safely returned to their home in the Florida Keys. Staff members from Dolphin Connection are staying in the Orlando area to monitor the animals during the storm.

As Legoland Florida Resort prepares for Hurricane Irma, we have posted our Hurricane Policy, which is available on our blog in Q&A form and will be published to our website (legoland.com/florida) as soon as possible.
In summary, in the instance that a Hurricane Warning is issued for our area, or the area our guests are traveling from, within seven days of their visit, we will allow cancelation or changes to their tickets or vacation packages.
Based on the storm's trajectory and any warnings issued for our area, we will continue to post updated communications on our website and social media channels.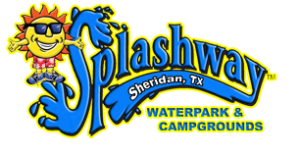 SHERIDAN, Texas — Splashway Waterpark and Campgrounds in Sheridan, Texas has made the decision to remain open this weekend. "The decision to open the waterpark was not an easy one but we feel like we have an opportunity to use our park even more to help in relief efforts," says general manager Carl Blahuta. "We have been housing evacuees in our campgrounds and cabins, but we can still do more." All admission profits from Labor Day weekend will be going toward Hurricane Harvey devastation and flood relief. Splashway understands that everyone has been affected by this tragic event and may not be able to come out this weekend. "Part of our goal in opening is to provide a place for people to come, if they are able, and spend some time with their family to get away," says Blahuta. The main goal of this weekend is simple, Splashway wants to give families of Texas a fun place to get away, if you can, and to make a difference at the same time. If you would like to give back and are unable to visit the park, Splashway has set up an online funding account. Every dollar that we raise from donations will be given to the gulf coast relief efforts. To donate and/or purchase tickets for this weekend, visit splashway.com or www.splashwaywaterpark.com/hurricane-harvey-donation/
This decision by Splashway is a huge opportunity to raise funds for relief efforts. "The more people that know about it and come out, the more people it will help. This is our opportunity to really give back to the entire gulf coast community who has helped us to become the business we are today. People have been asking what they can do to help. The answer is, come to Splashway with your family this weekend," Blahuta said.
Splashway Waterpark, located in the heart of south Texas, sits just south of I-10 between Houston and San Antonio and just north of Victoria. Visit www.splashwaywaterpark.com/hurricane-harvey-donation/ and help them make a difference.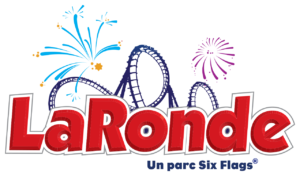 Montreal, Quebec — La Ronde is taking family entertainment to the next level for its 2018 season, with Carnaval en Folie—a carnival-themed family zone, complete with three exciting new rides sure to delight the young and young at heart.
"La Ronde is the Thrill Capital of Quebec and well known for its impressive mix of innovative thrills for all ages," said Park President Phil Liggett. "We are committed to adding new rides every season and with the addition of Carnaval en Folie, La Ronde further enhances its position as Quebec's favorite family and thrills destination."
Carnaval en Folie is a brand new zone dedicated entirely to families. Guests will be fully immersed in an atmosphere inspired by fairs and carnivals of yesteryear with rich, bright colors, dazzling lights, festive music, and crackling popcorn. Extravagantly decorated, Carnaval en Folie features three new family-friendly rides.
Carnaval en Folie highlights include:
Classic fun on Torsade, a spinning tilt a whirl where parents can ride with their kids;
A fun-size ferris wheel, Petite Roue, for the best view of the Carnaval;
Stepping up the thrills with Tourbillon, a dizzying new ride for thrill seekers in training; and
A dedicated place for parents, grand-parents and children of all ages
Carnaval en Folie will begin its operation on opening weekend of the 2018 season.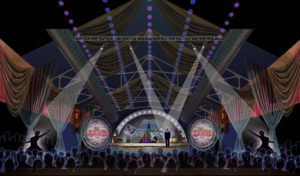 NEW YORK, N.Y. — RWS Entertainment Group, a New York City based full-service production company that creates award-winning custom entertainment, live events, and branded experiences worldwide, announces today "The House of Burlesque: A Night at the Circus," a custom-designed entertainment experience for Amusement Today's 20th Annual Golden Ticket Awards ceremony. The distinguished awards, which honor the best of the best in the amusement park industry, will take place Saturday, September 9th at Lake Compounce's historic Starlight Ballroom in Connecticut.
Fully produced by RWS Entertainment Group, "The House of Burlesque: A Night at the Circus" will transport attendees at the Golden Ticket Awards Ceremony into a vintage, circus-themed burlesque club experience complete with everything from captivating performers, such as contortionists and Burlesque dancers, to dazzling show acts throughout the night. Guests will feel as if they are the club's patrons stepping through the velvet curtains and entering a real time, vintage world full of circus memorabilia and theatricality. The ballroom will be transformed through scenery, décor and lighting to become an alluring 360-degree spectacle to showcase the glamorous costumes while highlighting the prestigious awards ceremony.
"RWS has a deep relationship with Amusement Today and we've been a proud supporter of the Golden Ticket Awards for years," says Ryan Stana, CEO and Founder of RWS Entertainment Group. "For this we wanted to create an experience that is truly special and never been done before. We hope guests feel immersed in the show within the show."
RWS Entertainment Group is an Emmy Award-winning, New York-based live entertainment production company that creates custom entertainment, live events and branded experiences for top resorts, cruise lines and theme parks. In 2015, RWS opened the largest facility of its kind in New York City – a 40,000 sq. ft. studio and office complex that houses three large rehearsal studios, vocal rooms, wardrobe and casting departments along with an in-house design lab. All hired performers are housed in fully furnished RWS Apartments adjacent to their office. In 2016, RWS acquired Broadway, film, and TV casting firm, Binder Casting, further expanding RWS' services. In 2017, RWS announced global expansion with an emphasis on business growth in Europe, Asia and the Middle East.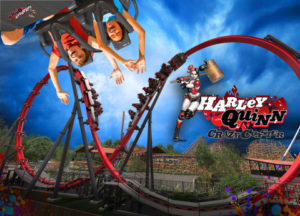 VALLEJO, Calif. — Six Flags Discovery Kingdom, the Thrill Capital of Northern California, in partnership with Warner Bros. Consumer Products on behalf of DC Entertainment, today announced its newest thrill machine—HARLEY QUINN Crazy Coaster, set to open in spring 2018. This world's first of its kind inverted looping coaster features continuous inversions along a vertically stacked figure eight track. The ride features multiple head-to-head high flybys at combined speeds of 70 miles per hour for the ultimate dueling adventure ride.
"Six Flags is the leader in thrills and opens new rides and attractions every year, at every park. Six Flags Discovery Kingdom will debut a world's first of its kind coaster and it will be our first to be themed after one of the world's most iconic female Super-Villains, HARLEY QUINN," said Park President Don McCoy. "Located next to THE JOKER—our popular hybrid coaster, the over-the-top personality of HARLEY QUINN will be the perfect addition as the world's most iconic Super Heroes and Super-Villains battle it out for dominance."
HARLEY QUINN Crazy Coaster takes thrills to a whole new level, as two trains race forward and backwards then charge each other head-to-head to create a dueling riding experience that only Six Flags could deliver. The dueling trains with 32 riders seated face-to-face, race repeatedly around a 360-foot circuit of lemniscate (figure eight) track.
HARLEY QUINN Crazy Coaster highlights include:
Riders experience up to 12 head-over-heels inversions;
After the two trains travel back and forth, the ride does three forward rotations and another three in the opposite direction;
A tantalizing "High Five" moment – when the two high speed trains pass each other at a combined speed of 70 miles per hour giving the illusion that riders can actually reach out and "high five" the other riders as they careen by.
HARLEY QUINN Crazy Coaster will be located across from THE JOKER and adjacent to SUPERMAN Ultimate Flight.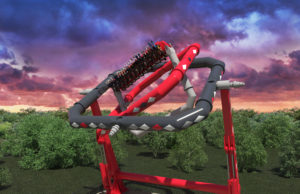 ARLINGTON, Texas — Six Flags Over Texas, the Thrill Capital of Texas, in partnership with Warner Bros. Consumer Products, on behalf of DC Entertainment, announces the next generation in thrill rides and the first-of-its-kind in North America—HARLEY QUINN Spinsanity. Staying true to its namesake, DC iconic Super-Villain HARLEY QUINN and inspired by the movement of a gyroscope, this ride promises to deliver a new level of thrills with unpredictable, gravity-defying flips, twists and turns.
"Once again, Six Flags is the leader in thrills with the most innovative, record-breaking rides and attractions in the industry. As the company's flagship park, Six Flags Over Texas is home to a long list of world records and world's firsts and we take great pride in continuing our legacy of one-of-a-kind thrills for all ages," said Park President Steve Martindale. "HARLEY QUINN Spinsanity is sure to captivate guests with each sinister spin. This fascinating new ride will be perfectly placed with our other DC Super-Villain-themed rides, including THE JOKER, CATWOMAN Whip and THE RIDDLER Revenge in the GOTHAM CITY section of the park."
HARLEY QUINN Spinsanity features a unique futuristic triple box design that allows the gondola to spin around three separate axes while rotating forward, backwards and sideways simultaneously at up to 70 feet in the air. Seated 24 across with over-the-shoulder harnesses, riders will experience a thrilling combination of negative and positive gravitational forces. By night, the attraction promises to light up the North Texas skies beckoning thrill seekers from near and far.
HARLEY QUINN Spinsanity highlights include:
Unpredictable flips and pivots at heights up to seven stories (70 feet) above the ground;
Unnerving floorless seats that leave riders' feet dangling as they whirl through the air;
Dazzling nighttime light display; and
Located in the GOTHAM CITY section of the park.
HARLEY QUINN Spinsanity is expected to debut in spring of 2018.
AGAWAN, Mass. — Six Flags New England, the Thrill Capital of New England, in partnership with Warner Bros. Consumer Products on behalf of DC Entertainment, today announced its newest attraction, HARLEY QUINN Spinsanity, to open in spring 2018. Inspired by The Joker's partner-in-crime, this ride promises to deliver epic thrills each time guests experience this villainous, new addition.
"Innovation is part of the Six Flags DNA and we deliver new, groundbreaking attractions every season at Six Flags New England," said Park President John Winkler. "HARLEY QUINN is an iconic DC Super-Villain and we are excited to add this action-packed thrill ride with her name next to THE JOKER, BATMAN, and SUPERMAN in our extremely popular line-up of DC branded attractions."
HARLEY QUINN Spinsanity is an extreme pendulum ride that will swing guests back and forth, higher and higher, at up to 70 miles per hour on a dizzying journey that will leave riders feeling as wild and out of control as HARLEY QUINN herself. 
HARLEY QUINN Spinsanity highlights include:
40 riders will be powered at speeds of nearly 70 miles per hour;
The ride swings back and forth while rotating counterclockwise; and
As guests swing higher and higher, they will experience a feeling of weightlessness at 147 feet in the air before plunging down from 15 stories.
HARLEY QUINN Spinsanity will be located near the park's newest attraction, THE JOKER 4D Free Fly Coaster, which opened earlier this year.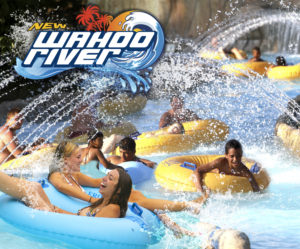 UPPER MARLBORO, Md.  — Six Flags America, The Nation's Capital of Thrills, today announced that it will debut Wahoo River, an all-new action-packed river adventure, in its water park for the 2018 season.
"Six Flags is recognized for its unparalleled collection of the most innovative rides and attractions in the industry. Wahoo River boasts a myriad of unique water features and will be the new centerpiece of our water park," said Park President Rick Howarth. "Every year we add new attractions, like this season's Wonder Woman Lasso of Truth ride. With the new Wahoo River, our guests will have yet another amazing experience they can enjoy together as a family and one more great reason to visit Six Flags America."
The park's existing Castaway Creek will be completely removed and replaced with the Bigger, Better and Wetter Wahoo River. Park guests will be thrilled with major enhancements such as a faster current, immersive rockwork theming, huge waterfalls, and tons of interactive, splashing thrills around every turn.
Wahoo River will be 33% wider and over 40% longer than Castaway Creek. The new attraction will include significant upgrades such as a zero depth entry that will make it convenient for guests of all ages to slip into the cool water with inflatable tubes. Friends and family members will have a blast as they float along the river, encountering wall sprayers, aqua archways, tippy water cones and a new wave generator. The journey continues under graceful water arches spanning the entire width of the river—as guests find even more surprises behind the rock waterfall, through the leaky pipes and under the leaky bridge waterworks.
Wahoo River highlights include:
Up to 18 feet wide; 33% wider and 40% longer;
Seven different water action zones with sprays, geysers, waves, waterfalls, leaky pipes, aqua arches and bucket dumps;
A wave generator that pulses waves every few seconds propelling guests down the water channel;
Colorful buckets dropping gallons of refreshing water from above; and
Nearly 2,500 feet of new deck space with hundreds of deck chairs.
Wahoo River is scheduled to debut in spring 2018. Admission to Six Flags Hurricane Harbor is free with theme park admission.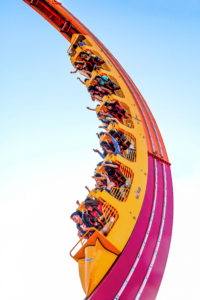 GURNEE, Ill. — Six Flags Great America, the Thrill Capital of the Midwest, has an announcement of epic proportions. Coming in 2018 is the world's largest loop coaster. This world-record breaking attraction will take riders forward and backward on a gigantic loop before suspending them completely upside down for plenty of wicked hang-time.
"Six Flags continues to prove that innovation is in our DNA and we are thrilled to introduce yet another world-record breaking coaster to our impressive arsenal of thrill rides," said Park President Hank Salemi. "Standing at 100 feet tall, this is an experience our guests cannot get anywhere else on the planet. With the multiple inversions and record hang-time, this new coaster packs a punch and is going to be one of our most intense attractions."
This ride will have riders traveling in unique "face-off" seating. Thrill seekers will go through a whirlwind series of 360° revolutions suspended upside down for the most insane, inverted hang-time of any coaster in the park before reeling down in the opposite direction.
Highlights include:
World's largest coaster of its kind;
100 feet tall;
360 degree revolutions with multiple inversions;
32 seats in unique "face-off" design, with guests seated back-to-back and face-to-face;
Inverted hang-time with riders suspended upside down for extended times; and
The park's 16th coaster.
This latest thrill will be located in the Mardi Gras area of the park. The new coaster will be named soon and is set to open in spring of 2018.