SANDUSKY, Ohio — As a unique fundriaser for the National Roller Coaster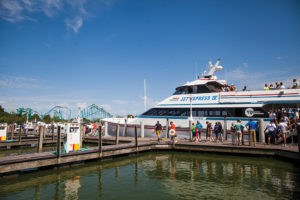 Museum & Archives (NRCMA), Cedar Point and Amusement Today have organized a boat cruise on the Jet Express for Saturday, Sept. 10.
The Jet Express will take riders
on a unique 45-minute cruise on Lake Erie, circling the Cedar Point Resort giving unique views of this historic amusement property.
Help support the amusement industry's fastest growing museum collection by purchasing a ticket!
Tickets are $75.00 per person and will be sold until the boat is sold out. The tour departs from the Cedar Point Marina at 11 am sharp. The boat cruise will last approximately 45 minutes.
Jet Express tickets may be purchased online at: GoldenTicketAwards.com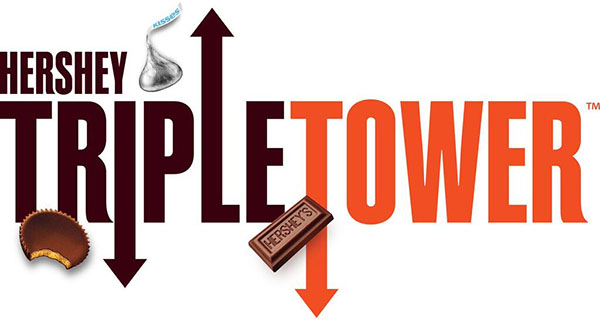 HERSHEY, Penn – At a press conference today, Hersheypark, the 110-acre theme park in Hershey, PA, announced its newest attraction – Hershey Triple Tower™. The new attraction, slated to debut for the 2017 Springtime In The Park event, is comprised of three drop towers of different heights: Hershey's Tower™, Reese's Tower™ and Hershey's Kisses Tower™.
Hersheypark will be the first amusement facility in the country with three towers at different heights. Each tower provides a different ride experience with varying heights, thrill levels and speeds.
Hersheypark is well-known for providing guests with rides and attractions that the entire family can enjoy and this new ride is sure to deliver, said Kevin Stumpf, General Manager Attractions & Entertainment. We are happy to be adding this new attraction that will offer families the opportunity to choose their level of thrill and enjoy panoramic views of the Park."
Stumpf also announced the addition of a Chick-fil-A Express restaurant to Hersheypark for 2017 – one of more than 2,000 Chick-fil-A restaurants across 43 states and Washington, D.C. Chick-fil-A is known for its menu of fresh, hand-crafted food that offers a variety of options for guests, with signature items including a hand-breaded, pressure-cooked, boneless chicken breast sandwich, Waffle Potato Fries, hand-spun milkshakes and fresh-squeezed lemonade. While the new restaurant will offer a limited menu, it will serve these favorites along with 2 delicious breakfast options. It will also will feature both indoor and outdoor seating for guests. Hersheypark Season Pass Holders will also receive food and beverage discounts at the new restaurant.
More details about the new ride were shared. At a height of 80', Hershey's Kisses Tower™ will have three seats on each of its four sides allowing for 12 riders on each ride. The ride will be themed in silver, the color of the famous Hershey's Kisses brand.
At a height of 131', Reese's Tower™ will have four seats on each of its four sides allowing for 16 riders on each ride. The ride will be themed in orange, the color of the famous Reese's candy brand.
Both Hershey's Kisses Tower™ and Reese's Tower™ are ͞double shot towers which offer two cycles of positive and negative G-force experiences. A ͞double shot͟ tower rapidly propels riders up to the top of the tower and then gently lowers them down, with a series of air-cushioned bounces, to the loading platform.
Reaching 189' above Hersheypark, Hershey's Tower™ will offer 20 seats in the round. Themed in the chocolate brown color of the famous Hershey's Bar wrapper, this tower will be able to offer a variety of experiences for riders. Two of the available options include space shot, where riders are rapidly propelled to the top of the tower; and turbo drop, where riders are blasted down the tower at speeds faster than a typical freefall.
Hershey Triple Tower™ is manufactured by S & S Worldwide, Inc. of Logan, UT. The newride will be located in the Kissing Tower Hill section of the Park. Each of the three towers will operate independently, launching at different times, with independent queue lines.
The maximum speed for all three towers is 45 mph and the ride braking system combines pneumatic braking with launch systems. The restraint system features an over the shoulder harness. Theoretical ride capacity is approximately 1,400 riders per hour and the minimum height required for all three towers is 48 inches or the Hershey's Bar category. The project cost of Hershey Triple Tower™ is projected at approximately $8 million.
The new attraction will be one of more than 70 rides and attractions that are available for guests during the 2017 season. Unlimited visits to Hersheypark are just one of the many benefits of purchasing a 2017 Hersheypark Season Pass, on sale now for the lowest rate available through September 30, 2016.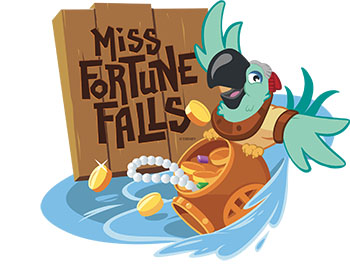 LAKE BUENA VISTA, Fla. – Disney's Typhoon Lagoon Water Park is growing its roster of great guest experiences and embarking on a high seas adventure with a new family-friendly water attraction called Miss Fortune Falls expected to open in spring 2017.
Located near Crush 'n' Gusher, Miss Fortune Falls brings to life the story of the fictitious Captain Mary Oceaneer, a treasure-hunting heroine who got stranded at Typhoon Lagoon years ago by a rogue storm.
Once aboard their treasure rafts awaiting them at the ride's entry point, guests will embark on a journey through Captain Oceaneer's past before plunging into a white-water adventure where guests can see unique artifacts that she collected on her many treasure hunts around the world.
"We're thrilled to add to our menu of great guest experiences at Disney's Water Parks with Miss Fortune Falls," said Faron Kelley, vice president of ESPN Wide World of Sports, Disney's Water Parks & Miniature Golf. "We believe this new attraction will quickly become a favorite with our guests, who are always looking for new ways to enjoy our parks."
With a ride time of two minutes, Miss Fortune Falls will be among the lengthiest at any Disney water park.
Miss Fortune Falls is yet another exciting addition to a series of expansion projects across Walt Disney World Resort as the property continues to grow in innovative and exciting ways. Within the theme parks this summer, guests can enjoy even more immersive experiences in Disney Parks including "Mickey's Royal Friendship Faire" at Disney's Magic Kingdom Park, "Star Wars: A Galactic Spectacular" Fireworks and Projection Show at Disney's Hollywood Studios and "Frozen Ever After" at Epcot. Longer-term expansion projects coming soon to Walt Disney World Resort range from Pandora – the World of AVATAR at Disney's Animal Kingdom to Toy Story and Star Wars-themed lands at Disney's Hollywood Studios.
Disney's Typhoon Lagoon is a 60-acre themed water park – inspired by the legend of a typhoon, earthquake and volcanic eruption combining to create an inland sea with break waves (Typhoon Lagoon) and a towering watershed mountain (Mt. Mayday) atop which is a stranded shrimp boat (the Miss Tilly).
The park offers water activities suitable for all ages, including signature attractions such as Crush 'n' Gusher, a water-coaster that takes riders aboard inflatable rafts on a twisting, turning, up-and-down adventure; Ketchakiddee Creek, a water playground for children ages 2 to 5 (under four feet tall) and their parents; and Castaway Creek, where guests hop onto inner tubes for a meandering water tour through a misty rain forest and a hidden grotto.
For more information on Disney's Typhoon Lagoon Water Park, visit wdwnews.com
WINTERSVILLE, Ohio – A.R.M. (USA) Inc., the manufacturer of the Super Shot ride involved in the July 25th accident which occurred at the Frederick County, Virginia fair wants to extend its prayers and well wishes to the woman who was injured. In addition, A.R.M. is compelled to address inaccuracies and misinformation reported in the news concerning the event. Contrary to early news reports, there has not been a structural failure of the passenger seat frame, main vehicle frame, or a failure of a cable or hydraulic brake. Based on information from post accident inspectors who have viewed the subject ride, the sole cause of the accident was a failure to properly assemble the ride before use.
A.R.M. is a well respected US ride manufacturer which has been in business for over 18 years. The company has designed and manufactured hundreds of rides, which have safely thrilled carnival and amusement park guests across the US. A.R.M. has manufactured over 60 Super Shot rides, which have had an impressive safety record.
The transportable Super Shot, like all portable amusement rides, must be properly assembled and inspected before operation. The company wants to assure its other Super Shot owners that by following the manufacturer's assembly, inspection and maintenance procedures, their ride is safe for operation.
For further information please contact: Mike Gill -­‐ mike@armrides.com
ALEXANDRIA, Virginia – The International Association of Amusement Parks and Attractions (IAAPA), the global trade association representing the attractions industry, announces Steve Van den Kerkhof, Plopsa Group CEO and Studio 100 chairman of the board, as the keynote speaker for the GM and Owners' Breakfast at IAAPA Attractions Expo 2016, the premier trade show for the global attractions industry. The Expo takes place Nov. 14-18, 2016, at the Orange County Convention Center in Orlando, and attracts more than 30,000 attractions industry professionals, 1,000 exhibitors, and some of the biggest names in the industry to network, learn, and experience new products and technology. The GM and Owners' Breakfast will take place on Wednesday, November 16 at 8:15 a.m. EST in the new location of the IAAPA Theater.
"We are honored to have someone with the experience and reputation of Mr. Van den Kerkhof address senior attractions industry executives from around the world at IAAPA Attraction Expo 2016," said IAAPA Vice President of Education, Professional Development, and Training Services, Rebecca Turner. "We look forward to Mr. Van den Kerkhof's insight and the behind-the scenes-story about the growth of Plopsa Group from a local park to a global entertainment company."
Steve Van den Kerkhof has been leading Plopsa Group for more than 17 years, and co-founded the theme park division when Studio 100 bought its first theme park in 1999. Under Van den Kerkhof's leadership, the Plopsa theme park group grew despite price competition, and economic crises. Today, Plopsa Group owns and operates six themed entertainment facilities in Belgium, The Netherlands, and Germany that together welcome more than 3 million visitors annually. Prior to joining Plopsa Group, Van den Kerkhof worked as an auditor and received his licence in commerce from Antwerp College.
With nearly two decades of attractions management experience, Van den Kerkhof has developed the reputation of an amusement park revitalization expert. His professional philosophy is that quality will prevail and this perspective has helped him transform a local company with local characters into a global family entertainment company and one of the most visited parks in Belgium.
In addition to Mr. Van den Kerkhof's keynote address, the IAAPA Service Awards will also be presented during the GM and Owners' Breakfast.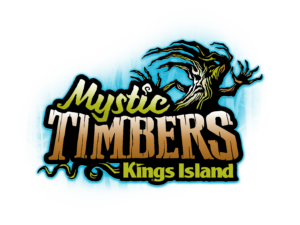 MASON, Ohio – Construction is underway on a new wooden roller coaster adventure for visitors to Kings Island.
Themed to an area surrounding a lumber company becoming overrun by a mysterious medusa-like overgrowth of vines as nature reclaims its land, Mystic Timbers will be 3,265 feet in length, reach 109 feet in height and weave along steep cliffs, down ravines, cross over water and go through an extreme S-turn, among a forest of trees, at speeds up to 53 mph.
The ride will feature a total of 16 airtime hills, a mid-course tunnel and interact with parts of the Kings Island & Miami Valley Railroad and White Water Canyon attractions.
"Mystic Timbers is naturally exciting because of its setting in a densely wooded area," Kings Island's vice-president and general manager Greg Scheid said. "The natural rugged terrain and tunnel ensures a unique and memorable ride experience."
Mystic Timbers is custom designed and built for the topography of Kings Island by Great Coasters International, Inc. (GCI) of Sunbury, Pennsylvania.  Three trains will accommodate 24 passengers each (four riders per car and six cars per train) with a capacity of 1,200 riders per hour. Guests must be at least 48 inches tall to ride. The ride experience will last more than two minutes.
"Everyone who enjoys the fun and thrills of riding a roller coaster will want to experience this attraction," Scheid said.
Mystic Timbers will debut in the spring of 2017 and become Kings Island's 16th roller coaster and its fourth wooden.
With the addition of Mystic Timbers, Kings Island's wooden roller coasters will combine to measure 18,804 feet of track, which will be the most at any amusement or theme park in the world.
Those who cannot wait until spring may take a virtual ride on Mystic Timbers at mystictimbers.visitkingsisland.com. Visitors of the website may also access exclusive updates and features, including virtual ride renderings, ride statistics, construction photos and a live Web cam.
Kings Island is owned and operated by Cedar Fair Entertainment Company, a publicly traded partnership that is listed for trading on The New York Stock Exchange under the symbol "FUN."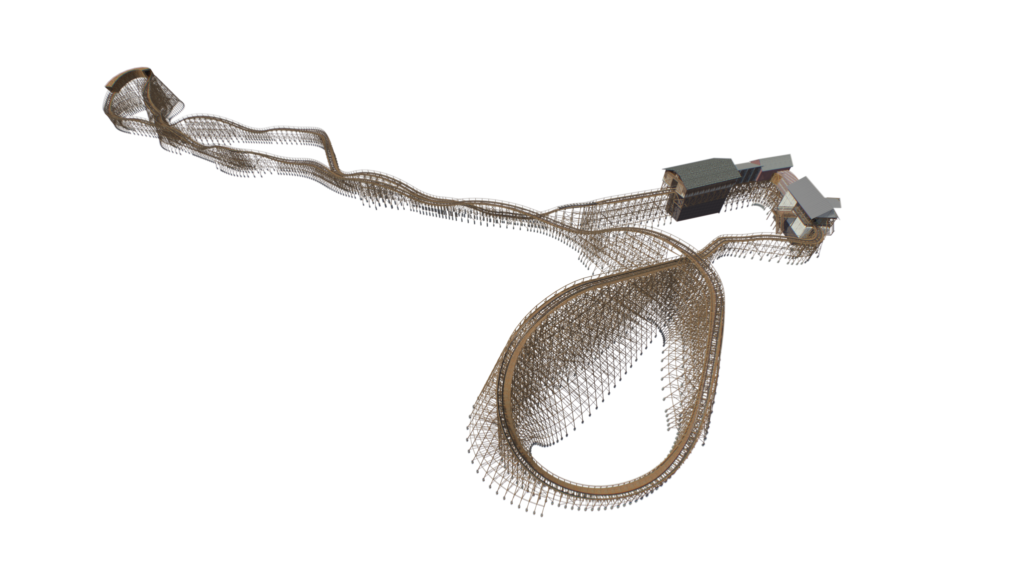 ORLANDO, Fla. – After celebrating its first birthday this past May, Orlando's 400-foot observation wheel is bubbling with happiness over its new name: Coca-Cola Orlando Eye.
This exciting partnership with Coca-Cola allows guests to share enhanced new experiences on the observation wheel from the moment they enter the attraction. Guests will be greeted with a bold and contemporary look throughout the interior and exterior of the Eye's terminal building, featuring Coca-Cola's signature red and white colors. On the wheel itself, select capsules have been transformed to offer the ultimate visitor experience, featuring special décor, an upbeat music selection, selfie sticks, themed tablets and Coca-Cola coolers.
On Thursday, July 28, all guests to the Coca-Cola Orlando Eye will receive a complimentary Coca-Cola® beverage in celebration of the 400-foot observation wheel's new name. Guests can continue to share their memories and moments, taken with selfie sticks, on social media by tagging their experiences with #cocacolaorlandoeye.
"In just one short year, the Orlando Eye has become recognized as a Central Florida icon. We are delighted to partner with Coca-Cola, an iconic brand globally recognized for sharing moments of happiness and celebration with loved ones," said General Manager Robin Goodchild. "The Coca-Cola Orlando Eye combines these elements to create an enhanced experience, giving guests the opportunity to create and share new memories."
"For Coca-Cola, our mission is simple – to refresh the world and inspire moments of optimism and happiness, while creating value and making a difference," said Krista Schulte, Vice President of Foodservice and On Premise, Coca-Cola North America. "Our partnership with Merlin Entertainments to create the Coca-Cola Orlando Eye helps us achieve our mission together by providing guests special memories while taking in the views of Orlando in an enhanced and refreshing way."
For more information on the observation wheel, visit OfficialOrlandoEye.com.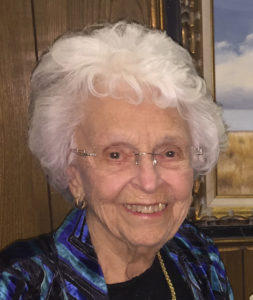 AMARILLO, Texas — Alethea Roads passed away on Tuesday, July 26, at a hospice in Amarillo, Texas. She was 100 years old. Alethea & her husband, Paul Roads, founded what was originally Kiddie Land in August 1951 at Amarillo's Thompson Park. Kiddie Land opened with three rides — a kiddie car ride (built by Paul Roads), kiddie boats, and a Herschell Li'l Dipper roller coaster. For the first several years, Paul held a full time day job and spent his nights and weekends working at the park. In 1958 he quit his day job to work full time at the park. Inspired by Alice in "Through the looking Glass," Paul & Alethea changed the name of the park to Wonderland in 1967. Alethea ordered supplies, sold tickets, kept the books, managed personnel, and was in charge of customer relations. Alethea was the only person in the office until her daughter Paula began helping in the 1970's. When Paula's husband, Paul Borchardt, finished his stint with the U.S. Navy, the two relocated to Amarillo to help run the park. Today Alethea's daughter and son-in-law Paula and Paul Borchardt (also known as P.D.) run the park along with Alethea's granddaughter, Rebecca Parker.
Alethea was a role model for all her employees. Young people spent several summers working for Mrs. Roads and former employees often returned to visit Mrs. Roads to thank her for the knowledge they gained while working at Wonderland. She continually stressed positive work ethics and many of her employees have become successful adults in education, business, finance, medicine, engineering, etc.
In 2003, IAAPA selected Paul & Alethea Roads to receive the 2003 Lifetime Service Award which recognizes individuals for consistent and long-term achievements in the amusement industry. The award reads "As founders of Wonderland in 1951, your work ethic and innovations have been an inspiration to small amusement owners everywhere. As members of IAAPA since 1962, your leadership and contributions have been invaluable."
Alethea started a School Ticket Fundraiser with Wonderland Park, allowing grade schools and middle schools in Amarillo to sell ride passes to Wonderland, keeping 30% of the sales. In the 1950s Alethea was a Cub Scout and Girl Scout leader.
Alethea was awarded the Amarillo Women's Network Lifetime Achievement Award for 2008.
In 2009, Wonderland Park received Amusement Today's Publisher's Pick Golden Ticket Award for Park of the Year.
The funeral will be held 11 a.m. on Monday, August 1, at Saint Paul United Methodist Church. Arrangements are by Boxwell Brothers Funeral Directors, 2820 Virginia Circle. The family suggests memorials be made to the Saint Paul United Methodist Church, 4317 I-40 Frontage Rd, Amarillo, TX 79106; or the Khiva Shrine, 305 SE 5th Ave, Amarillo, TX 79101
The Outdoor Amusement Business Association Political Action Committee (OABA-PAC) donations to federal legislators helps develop strong relationships with legislators that help to get favorable regulations to protect your seasonal, guest workers in the H-2B visa program. Because OABA's Board and OABA-PAC Committee strongly understand the importance of a reliable and dedicated staff for your operations, we now need your help to replenish our PAC funds. These funds are specifically dedicated to support members of Congress that go out on the limb to help us fight for less regulations and the returning worker exemption.
The OABA over the past three years has spent well over $150,000 in PAC funds to keep legislators, who our DC lobbyists and members of our Government Relations Committee believes are fighting for our changes to keep the H-2B visa program workable for this industry. These OABA PAC donations help to insure that these legislators are re-elected as Senators and Representatives and continue to help our H-2B stakeholders. The entire OABA Board of Directors approves these PAC contributions each year.
Your voluntary, personal contribution will help replenish our PAC Fund and as a company that benefits from the H-2B program, we urge you to "Back the OABA PAC"Campaign and donate today.
Simply go to the OABA website at www.oaba.org and click on the OABA PAC icon on our home page to donate now. Our OABA PAC contribution form must be completed, on-line, and use a Visa or MasterCard to make a simple, fast and easy contribution. The PAC form is a requirement of the Federal Election Committee. If you have any questions, please call 800-517-6222.
Our lobbyists in DC are working hard to protect the H-2B program from unreasonable and onerous regulation by our government and keep this program a reliable source of seasonal guest workers to save American jobs.
SEASIDE PARK, N.J. — Funtown Pier, the amusement park pier that was heavily damaged by Superstorm Sandy then subsequently destroyed in a 2013 fire, will not be rebuilt. An attorney representing the former owner said restrictions placed on the park by the borough's zoning board would not allow the park to be profitable.
Plans for a rebuilt pier called for rides up to 300 foot in height including a Skycoaster and drop tower. The zoning board initially set the height restriction at 50 feet, then agreed to double that to 100 feet. Attorney Stephen Leone indicated that would not be enough and that with these restrictions in place, the owner, William Major was not interested in rebuilding, fearing he might never recoup his investment. Major stated that he needed six to 10 large thrill rides to justify spending an estimated $20 million on a new pier park.
Local residents expressed concerns over potential noise generated by the rides, as well as lighting displays over 100 feet. Councilwoman Nancy Koury indicated the board was unhappy that Major and his attorney never proposed any alternate plans and that they left the meeting before it was over.
Funtown Pier dates back to the late 1950s and was home to more than 40 rides including four roller coasters, a flume ride, Ferris wheel, Skycoaster and drop tower. Some of the previous rides on the pier exceeded 100 feet in height.