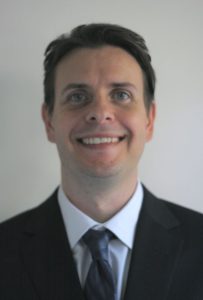 Wichita, Kan. — John Chance, the youngest son to Dick Chance, the Chance Rides Inc., CEO., has rejoined the company as the VP of Business Development. John left the company to run his own venture in 2012 after having worked in the family business for 10 years. During that 10 years John was instrumental in integrating the engineering team from D.H. Morgan Coasters into Chance Morgan, Inc. He has also served as the lead Project Manager and was head of Latin American sales. John holds a Master's Degree in Business Administration and brings strong international experience, having lived in Europe and Latin America.
Last year John successfully sold his business, making him available to rejoin Chance Rides where he will focus on maintaining and growing the strong customer relationships that his brother, Mike Chance, built before him. He also brings a renewed effort to ensure that Chance Rides is providing the best customer service and quality in the industry. Under John's leadership every department will direct its focus to continuous improvement. The talented veteran team will remain in place and they look forward to the renewed energy, excitement, and strength that John will bring to the company along with his father, Dick.
It is the company's hope to honor the memory of Michael Chance by dedicating themselves to serving the customers that he was proud to work with. The lesson passed down from Chance Rides founder, Harold Chance, was that if you can make your customers be successful then we will be successful. We will continue in that mindset and look forward to many more years of success together.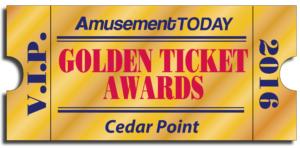 Save the date for "The Networking Event of the Year"! The red carpet will be rolled out for the amusement industry at the beautiful Cedar Point amusement park and resort in Sandusky, Ohio, for this year's "don't miss" event on Friday and Saturday, Sept. 9-10. Visit with old industry friends and enjoy meeting new colleagues during Amusement Today's annual Golden Ticket Awards. The complete itinerary, registration and hotel information are now available at goldenticketawards.com.
The Golden Ticket Awards event will officially kick off on Friday, Sept. 9, with specialty tours of Cedar Point, networking opportunities, a festive cocktail reception and Chef's Table Food Feast. On Saturday, Sept. 10, attendees will enjoy play time in the park, an optional – and unique – Lake Erie cruise with amazing vantage points of Cedar Point (proceeds of the ticket price will benefit the NRCMA) and finally the awards show itself, which will be an Academy Awards theme … literally walk the red carpet and dress the part if you wish!
To check out the itinerary and hotel information for the Golden Ticket Awards, as well as to register, please log on to goldenticketawards.com. This event is reserved for working professionals in the amusement industry. Representatives from parks and attractions, manufacturers, suppliers, consultants and more will come together to network and celebrate another industry season.
The lakeside Hotel Breakers at Cedar Point will serve as the host hotel for the event. Please refer to goldenticketawards.com for specific information and rates.
This is the 19th annual year for the Golden Ticket Awards; they are presented to the "Best of the Best" in the amusement industry and are calculated from an international poll conducted by Amusement Today.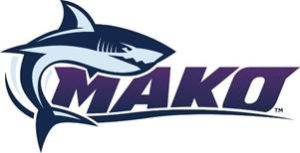 ORLANDO, Fla. — With properties across the country, if not the globe, having made the hypercoaster a commonplace theme park staple, it is rather surprising that the vacation Mecca of Orlando, or even Central Florida, has somehow missed out on that component over the past quarter century. But, no more.
SeaWorld Orlando has just recently introduced Mako, a 200-foot coaster that breaks through all sorts of records for the tourist destination. A hypercoaster is typically known for numerous drops without any type of inversions. Although the region is known for a complement of outstanding coasters, many of which are manufactured by the Swiss firm of Bolliger and Mabillard (B&M), it is not until the release of Mako that park goers in Orlando can now enjoy this missing ingredient of the theme park spectrum.
Along with sister park Busch Gardens Tampa just over an hour away and Universal Studios down the street, the B&M catalog is highly represented: multi-looping, dive machine, inverted, floorless, flying — those are all accounted for. Now, with two to three years in development, a hypercoaster can be added to the list.
"Our relationship with B&M goes back to the early 90s (with Busch Gardens Tampa)," said Mike Denninger, vice president of theme park development and design. "This is our 10th B&M coaster in our system of parks. We're very familiar with B&M and we love B&M. When we set out to do this project, we knew we had several products of theirs in our parks, so we saw how Apollo's Chariot (Busch Gardens Williamsburg) was a fan favorite. We needed to do something like this in this market."
Mako is the third B&M coaster in the SeaWorld Orlando park, following Kraken (floorless) and Manta (flying).
— Tim Baldwin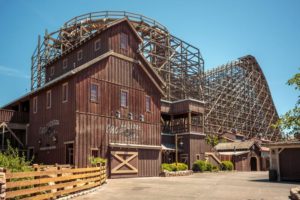 BUENA PARK, Calif. — Following nine months of renovation work, GhostRider, the iconic wooden roller coaster at Knott's Berry Farm, strutted its stuff for the media on June 9. The ride's official reintroduction to the public, taking place June 11, coincides with the 75th anniversary celebration of its host area in the park, Ghost Town.
Work on the 118-foot-tall coaster performed by Great Coasters International, Inc. (GCII), of Sunbury, Pa., included the replacement of all 4,533 feet of track and the swap-out of the original double-axel Philadelphia Toboggan Company rolling stock for GCI's trailer-style Millennium Flyer trains. The new trains sport a wood-grain barrel design
GhostRider has undergone some careful reprofiling to improve transitioning and to allow for the removal a mid-course block brake. The trains are slowed on the brake run by a new magnetic braking system.
Also expected to reduce overall maintenance on the ride, which runs year-round and reaches speeds exceeding 55 mph, is the retracking effort's use of two layers of ipe (pronounced ee-pay) wood — an extremely durable wood native to Central America and South America also known as Brazilian walnut.
GhostRider originally opened at Knott's Berry Farm in 1998. It was the last attraction commissioned for the park by the Knott family before they sold it to Cedar Fair Entertainment Company a year earlier.
—Dean Lamanna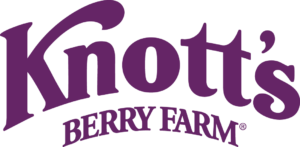 SANDUSKY, Ohio — Cedar Fair Entertainment Company has announced that Jon Storbeck has been hired as Vice President and General Manager of Knott's Berry Farm. Jon will join the company on May 30, after a distinguished career of more than 30 years at The Walt Disney Company.
Mr. Storbeck replaces Raffi Kaprelyan, who has been promoted to Regional Vice President of Cedar Fair.
"During his time with Disney Parks & Resorts, Jon demonstrated the leadership traits that make him particularly well-qualified for this role." said Raffi Kaprelyan. "As Vice President and General Manager, Jon will report directly to me and oversee all aspects of Knott's Berry Farm's operations, ensuring we continue to deliver the high-quality guest experience that Knott's is known for."
In his new role, Mr. Kaprelyan will oversee Knott's Berry Farm as well as several other parks in the Cedar Fair system. "Raffi has driven the record-performance of Knott's Berry Farm and we are excited to have his leadership applied to more of our parks." said Richard A. Zimmerman, Chief Operating Officer of Cedar Fair.
ARLINGTON, Texas — At 11 am on Tuesday, May 24, Six Flags Over Texas hosted a ribbon cutting ceremony to celebrate the opening of the super-villains rides in the newly expanded Gotham City section of the park. Officers from the Arlington Police Department were on hand to keep the villains under control and to be the first riders.
Following the police officers, media and VIP guests had the opportunity to be among the first to experience the three super-villainous rides during a media preview day at Six Flags Over Texas. The day was geared towards providing media with a first-hand account of their battle against The Riddler Revenge, Catwoman Whip, and Harley Quinn Spinsanity.
Six Flags season pass holders will have the opportunity to try the new attractions on May 26 and May 27. The area will open to the general public on Saturday, May 28.
The Riddler Revenge and Catwoman Whip are two new rides supplied by Zamperla S.p.A. of Italy. Harley Quinn Spinsanity is an existing ride that has been rethemed to fit in with the newly-expanded Gotham City section. It was supplied by Huss Park Attractions of Germany.

NORMAN, Oklahoma — Motorists traveling along I-35 just 10 miles south of Oklahoma City now have a prime view of the State's newest thrill ride- a 109 foot A-Frame Single Skycoaster that has instantly become the new vertical icon for Andy Alligator's Fun Park. 
The combination FEC-Waterpark has steadily grown since its debut and the addition of the Skycoaster marks a milestone in the park's history. "The FEC business is changing and we continue to look for attractions that meet the demands of our guests. We are excited to add an attraction we feel will take our business to new heights", proclaimed Kyle Allison, the park's General Manager.  "The Skycoaster is unique and that's what we look for. Our customers are already intrigued by the construction of the towers and we can't wait for the first ride!  We are confident the Skycoaster® will take us to the next level. Our customers are excited for a cutting edge thrill attraction."
Skycoaster's Managing Director Mark Rosenzweig is also thrilled with the installation. He added, "This model of Skycoaster is ideal for the FEC and small to medium-sized park market. For the investment, it is tough to find another vertical piece that makes such a strong visual presence. We are confident that the attraction will serve Andy Alligator's well over the coming years."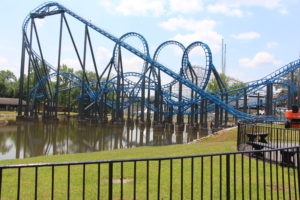 AUSTELL, Ga. — May 17, 2016 — By popular vote, Six Flags Over Georgia announces its guests select Blue Hawk as the new name for the renovated Ninja roller coaster. Blue Hawk, featuring an initial drop of 122 feet at speeds of more than 50 miles per hour, is set to debut on Thursday, June 2.
More than 6,000 votes were cast in the naming poll earlier this month. Blue Hawk received more than 50 percent of the vote, with American Eagle finishing in second place and Air Commander in third place.
Blue Hawk will reopen with new ride enhancements, including:
· Two new coaster trains with new soft-vest restraints for a more comfortable experience;
· Enhancements to the 2,800 feet of track for a much smoother ride; and
· A fresh, new coat of shiny blue paint along the track and silver paint on the support poles.
Service Members from Dobbins Air Reserve Base will participate in a ribbon cutting ceremony and the coaster will have a special military theme to honor America's service members, when it reopens in June.
Six Flags Over Georgia will unveil the official Blue Hawk logo on June 2. The park will be open for daily summer operation beginning May 21. For more information on the all-new Blue Hawk, visitwww.sixflags.com/overgeorgia.
About Six Flags Entertainment Corporation
Six Flags Entertainment Corporation is the world's largest regional theme park company with $1.3 billion in revenue and 18 parks across the United States, Mexico and Canada. For 55 years, Six Flags has entertained millions of families with world-class coasters, themed rides, thrilling water parks and unique attractions. For more information, visit www.sixflags.com.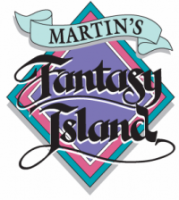 ALISO VIEJO, California — May 13, 2016, California-based Apex Parks Group is pleased to announce the acquisition of Martin's Fantasy Island theme park. This is Apex Parks Group's first acquisition for 2016.
Martin's Fantasy Island is located in Grand Island, New York, less than 10 miles southeast of Niagara Falls in western New York. The park has over 25 rides and 7 water attractions; including the Silver Comet wooden roller coaster. The park's attractions and live shows are geared toward family-oriented and thrilling entertainment for any age. Martin's Fantasy Island is an ideal addition to Apex's family of theme parks, water parks, and family entertainment centers.
Apex Parks Group CEO, Al Weber, Jr. commented: "We're excited to work with the Martin's team to continue the successful operation of Martin's Fantasy Island. The addition of this beautiful family-niche park is another step toward Apex's goal of growing to become the leading company in the fragmented out-of-home entertainment business."
Former owner, Martin DiPietro adds, "I bought this park 22 years ago and it's been a labor of love. I decided Apex Parks Group was the best choice to ensure that Martin's Fantasy Island continues to be the best family fun park in the area. Their track record in the family-oriented amusement business is unmatched, and I have every confidence that their success will carry over to Martin's Fantasy Island."
Martin's Fantasy Island opens for the 2016 season on May 14 and will continue planned operations during the transition. For more information about the park, visit martinsfantasyisland.com.
VICENZA, Italy — Zamperla is saddened to learn of the fatal accident at Kishkinta Park near Chennai, India, which occurred on May 11, 2016 involving a ride called the "Disco Dancer."
It is important for the public to know that the ride involved in this accident was not a Zamperla product. Zamperla, a leading manufacturer of amusement rides worldwide, devotes considerable resources into developing its unique amusement rides, providing the safest possible experience for the public.
The ride involved in this accident was an unauthorized, poorly executed forgery of the Zamperla design. Although outwardly appearing like a Zamperla ride, copies do not receive the level of engineering and manufacturing expertise Zamperla invests into each of its designs. Zamperla urges customers to only purchase genuine Zamperla rides and replacement parts in order to ensure the safety of their customers. Please direct any further inquiries to: Zamperla@zamperla.it.