GRAND PRAIRIE, Texas — Six Flags Entertainment Corporation (NYSE:SIX), the world's largest regional theme park company, today announced exciting new attractions for the 2017 season, featuring an extensive roster of Warner Bros. and DC Comics branded rides and attractions including the world debut of the next generation of the award-winning JUSTICE LEAGUE: Battle for Metropolis interactive dark ride. Additionally, the company is expanding its park portfolio with the opening of a new water park in Mexico and introducing thrilling rides at each of its other locations across North America.
In 2017, coming to Six Flags Magic Mountain, Six Flags Great Adventure, and as part of its 50th Anniversary celebration – Six Flags Over Georgia:
The award-winning JUSTICE LEAGUE: Battle for Metropolis. This multi-sensory dark ride features the most sophisticated technology available, completely immersing riders in a video gaming world. Guests become members of the JUSTICE LEAGUE Reserve Team and battle alongside BATMAN, SUPERMAN, WONDER WOMAN, GREEN LANTERN and THE FLASH against Lex Luthor, The Joker and his henchmen to save Metropolis. The Joker's partner in crime, Harley Quinn, will join the band of villains during this epic battle at Six Flags Magic Mountain.
Coming to Six Flags Over Texas, Six Flags Great America and Six Flags New England:
The Joker – Named among the Top 10 most anticipated new roller coasters by USA TODAY and FOX News, this thrilling roller coaster is set to wreak havoc in 2017. After being lifted straight up a 12-story, 90-degree hill, riders flip head-over-heels at least six times along the weightless journey. Thrill seekers will experience exhilarating leaps and dives along a horizontal plane, with unexpected drops as they tumble from one level to the next. The wing seats amp up the pandemonium since riders will experience all of this chaos with no track above or below — just the sky, ground and plenty of sinister thrills.
Coming to Six Flags America:
WONDER WOMAN Lasso of Truth – An extreme swing ride that spins guests in a 98-foot circle at speeds of 40 miles per hour atop a 24-story tower. Guests sit two across in open-air swings as they climb to the top of the tower while spinning round and round, high above the beautiful Maryland and D.C. landscape.
Coming to La Ronde and Six Flags Discovery Kingdom:
A massive pendulum-shaped thrill ride that swings 40 guests back and forth at 70 miles per hour, while rotating counterclockwise and climbing higher and higher to 147 feet in the air. This exciting attraction will bear the name Titan at La Ronde and will be known as WONDER WOMAN Lasso of Truth at Six Flags Discovery Kingdom.
Celebrating its 25th Anniversary, Six Flags Fiesta Texas welcomes:
Thunder Rapids – North America's first rocket blast water coaster. This state-of-the-art attraction is part roller coaster, part water slide, featuring a custom-designed inline raft and new water jet propulsion technology for lightning-fast uphill speeds and adrenaline-pumping drops. Guests will also encounter four high-banked flying saucer turns throughout the 942-foot long structure. The ride's advanced loading system design allows guests to quickly and easily board their vehicle at ground level from a moving station, eliminating the need to carry a tube. Also on tap for the 2017 season—a colorful, new Mardi Gras Festival, featuring 10 authentic New Orleans style parade floats, Mardi Gras themed food, merchandise and beautiful park décor. The Mardi Gras Festival takes place from March 24 through April 30.
Get ready for thrilling, spinning fun at Six Flags St. Louis:
Spinsanity – This high-flying attraction brings a unique level of thrill as the massive disc spins first one direction and then another, while swinging from side-to-side. Forty guests sit on motorcycle-style seats facing outward as the disc flies along the 51-foot high half-pipe track all while whirling around at 14 revolutions per minute. Spinsanity is the first-of-its-kind attraction at Six Flags St. Louis.
Coming to The Great Escape and Splashwater Kingdom:
Summer just got Bigger, Better and Wetter with the introduction of the all-new Bonzai Pipelines dueling water slides. The new attraction will feature a pair of twisting body slides with impressive heights, thrilling speeds and nearly 300 feet of pure splashing fun. A perfect way to beat the heat for thrill seekers and families alike, the slides will be located in the upper portion of Splashwater Kingdom. Bonzai Pipelines will be the water park's 13th attraction and its first body slide tower.
Coming to Six Flags Mexico:
The New Revolution,
North America's first fully-integrated Virtual Reality (VR) roller coaster makes its Six Flags Mexico debut. Riders don Samsung Gear VR headsets, for a multi-dimensional virtual coaster experience. High-definition imagery and storytelling syncs with the unique track configuration of the Medusa Steel Coaster creating a one-of-a-kind seamless "real world" to "virtual world" thrill ride experience. Riders now become co-pilots seated in the cockpit of a true-to-life fighter jet, flying through a futuristic city in a battle to protect the planet against alien invaders, all while racing along the 3,300 feet of twisting, turning, looping coaster track. Six Flags Mexico guests will also be treated to the new
Mardi Gras Festival,
from March 17 to May 1, featuring authentic New Orleans style parade floats, complemented with delicious, traditional carnival food and merchandise along with colorful park décor.
Joining the proud Six Flags family of iconic theme and water parks:
Hurricane Harbor Oaxtepec Mexico
in the beautiful state of Morelos. This tropical oasis will offer families a welcome summer retreat. The 67-acre park will feature an innovative new hybrid waterslide, a multi-level water play structure, a wave pool and a tranquil lazy river, among numerous other fun water attractions all set among a lush, inviting landscape. Hurricane Harbor Oaxtepec will be Six Flags' 19th park, and is scheduled to open in February 2017.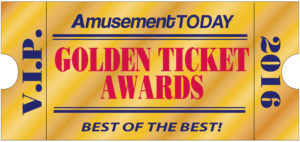 The time is now to register for the "Networking Event of the Year!" Registration for Amusement Today's 2016 Golden Ticket Awards is looming with a deadline of Friday, Sept. 2. The host park for the two-day event on Friday and Saturday, Sept. 9-10 is the beautiful Cedar Point amusement park and resort located along the shores of Lake Erie in Sandusky, Ohio.
To check out the itinerary and to register, please visit www.goldenticketawards.com. This event is reserved exclusively for full-time working professionals in the amusement industry such as park owners, operators and management, ride manufacturers, designers, suppliers and vendors.
Cedar Point is literally rolling out the red carpet and invites all industry attendees to dress the part of the Academy Awards – or their finest attire if they wish – to fit the atmosphere of the Oscars-theme of the awards show for Saturday evening's festivities (beginning at 5:30 p.m.).
Due to the overwhelming popularity of the "Cedar Point Legacy & Landmark Tour" slated for Friday, Sept. 9 at 2-3 p.m., that specific tour is now SOLD OUT. Space is still available for the "Cedar Point Behind-the-Screams Tour" from 3:30-4:30 p.m.
Tickets for the Jet Express Boat Tour also remain. The advance-purchase tickets ($75.00 per person) are a fundraiser to benefit the National Roller Coaster Museum & Archives.
This is the 19th annual year for the Golden Ticket Awards; they are presented to the "Best of the Best" in the amusement industry and are calculated from an international poll conducted by Amusement Today.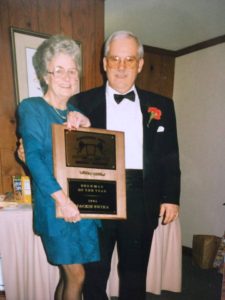 Stephen Swika, Jr., 77, of Scott Twp., Pa., owner of Pennsylvania-based S&S Amusements, passed away peacefully at home August 19, 2016.
Born in Carbondale, he was the son of the late Stephen Swika Sr. and Justine Mikloiche Swika. He was a graduate of Blakely High School.
Swika Jr.'s family began in the outdoor amusement industry as a game concession operation. But, in 1957, he and his dad partnered together to form S&S Amusements, broadening the game operation into amusement rides as well.
Today, the show has a large inventory of rides including a new one added this year, the A.R.M. Vertigo. The show plays from April until October.
Swika Jr. was a member and past president of the Pennsylvania State Showmen's Association and served on the board of directors of the Outdoor Amusement Business Association. Swika also was a member of the Showmen's League of America, the New York Association of Agricultural Fairs, the International Independent Showmen's Association and was a NARSO and Pennsylvania ride inspector.
He was a member of Washington Lodge 265, Free and Accepted Masons, Bloomsburg, Pa. and an honorary member of Scott Twp. Hose Company 1.
He was preceded in death by his wife, Jacqueline (Jackie) Swika, who passed away in 2007. She also was an active member of the industry. She was a member and past president of the Pennsylvania State Showmen's Association and the Outdoor Amusement Business Association and served on the board and as a trustee for both organizations.
Swika Jr. was respected for his knowledge and expertise in the outdoor amusement industry and played a large part in the implementation of the Pennsylvania Ride Safety Act. He was instrumental in the engineering and refurbishing of many rides. He was known for always being there to lend a helping hand, a replacement part or advice to anyone who asked.
Two of his favorite sayings were, "It Is What It Is" and "The Show Must Go On."
Swika Jr. was loved by many and will be greatly missed.
Surviving are a son, Stephen Swika III and wife, Paula, Scott Twp.; three daughters, Cherylann Swika-Post and husband, Michael, Scott Twp.; Saundra Swika-Belcher and husband, David, Scott Twp.; and Valerie Swika, Englewood, Fla.; one stepdaughter, Stephanie Williams and husband, David, Scott Twp.; 11 grandchildren, Adam, Justine, Melissa, Ursula, Alicia, Sabastian, Corey, Tiffany, Evan, Jordan and Emily; three great-grandchildren, Peyton, Bailey and Austin; two brothers, Robert Swika and wife, Mary Helen, Jessup; Richard Swika and wife, Linda, Peckville; and several nieces and nephews.
He also was preceded in death by his sister, Susan Klopher.
Friends may call from 2-5 p.m. or 6-9 p.m., Tuesday, Aug. 30, at the Hedley Mason Funeral Home, Peckville, Pa.
Masonic services by the Washington Lodge 265 will be held at 7 p.m.
Funeral services are set to start at 11 a.m., Wednesday, Aug. 31, at the funeral home, followed by entombment at St. Mary's Mausoleum, Montdale, Pa.
In lieu of flowers, memorial donations may be made to the Salvation Army, 500 S. Washington Ave., Scranton, PA 18505, or Special Olympics Pennsylvania, 2570 Blvd. of the Generals, Suite 124, Norristown, PA 19403, or Pennsylvania State Showmen's Association Scholarship Fund, P.O. Box 5, New Tripoli, PA 18066.
VICENZA, Italy – It was a labor of love for Alberto Zamperla as he began putting together celebratory preparations for his company's 50th anniversary.
The anniversary is year-long, but Zamperla wanted to bring his friends and customers together to show his appreciation of their support throughout the years.
And, that is what he did on June 9 and 10. More than 120 guests were invited to this small city just under 40 miles west of Venice, a city known for the architectural influences of Andrea Palladio in the 16th century.
Guests were wined, dined, toured and, most of all, appreciated.
"They are my reason for success," Zamperla said, adding that he not only builds amusement rides but he also builds relationships.
In fact, to him, that is what it is all about.
The birth of Antonio Zamperla S.p.A., Albert Zamperla's father, came in 1966. But, the foundation dates back to a century long family tradition which started with an equestrian circus at the beginning of the 20th century, moving through the establishment and management of one of the first street-cinemas in Italy, and then to the craftsmanship and production of amusement rides.
Antonio Zamperla's entrepreneurial adventure began in those years, when he realized that popular adult attractions could be successfully reproduced for children. Three years after founding Antonio Zamperla S.p.A., the company produced mini bumper cars, which since have been renamed mini scooters. They could be trailer mounted and moved, a novelty for the time.
In 1971, the company came out with the Punchball game.
In 1972, Alberto Zamperla moved to the U.S. to open a business here. He told those attending the celebration in Vicenza that it was very difficult for him when he first entered the U.S. and tried to sell products since he had no references and that was what park and carnival management wanted to see.
In 1975, Zamperla came out with the Mini Jet 6 and Alberto Zamperla made his first sale of the ride to Reithoffer Shows.
He finally had a reference. In 1976, the U.S. office was opened.
Today, Zamperla produces over 260 rides a year and not only has the headquarters in Vicenza and an office in the U.S., but has a global presence. In 2015, the production report broken up into ride types showed 46.18 percent of the rides produced that year were major and thrill rides. Family rides produced took up 30.88 percent; roller coasters, 15.04 percent; and kiddie rides, 7.90 percent.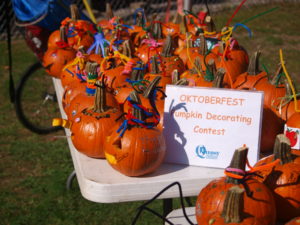 MIDDLEBURY, Conn. – The 25th Annual OKTOBERFEST is slated for 11 a.m. to 5 p.m., Saturday, Sept. 24 and Sunday, Sept. 25, at Quassy Amusement Park here.
Two bands will be performing for the event, which is held in the Fieldside Pavilion at the lakeside facility. They are: Joe Stanky & The Cadets on Saturday and John Stevens' Doubleshot on Sunday. Both bands hail from eastern Pennsylvania and have played for years at festivals, amusement parks and other large venues. The live music starts at 12:30 p.m. both days and the event will be held rain or shine.
Admission to the OKTOBERFEST pavilion is free, with fees for food, beverages, rides and attractions in the park. Parking for the event is $7 per car. Amusement rides will operate 11 a.m. to 5 p.m. both days. Quassy Amusement Park is located at 2132 Middlebury Road.
Traditional festival food in the pavilion will include knackwurst, bratwurst, sauerkraut, potato pancakes, roasted pork and steamed vegetables. There will be a variety of other menu items available as well during the two-day festival. Complete dinners or individual entrees will be sold.
Pumpkin decorating for youngsters will be offered both days at the event.
THE NETHERLANDS – Our co-founder and executive vice president Maarten van de Ven passed away unexpectedly at home on 16 August 2016, aged 58 years.  After finishing his studies of Master of Sciences in Industrial Engineering at the University of Technology in Eindhoven, Maarten worked at Philips Electronics and Tulip Computers before starting his career in the amusement industry at Vekoma Manufacturing.  After the bankruptcy of Vekoma in 2001, Maarten was instrumental in founding and building KumbaK as an engineering and service provider for the amusement industry. 
Within the company, Maarten was primarily responsible for finances, procurement and logistics.  In the almost 15 years of the existence of KumbaK, he has always been the main contact person for our suppliers and subcontractors.  Away from work, Maarten liked to travel and was a connoisseur of good food and drink – the latter skills he enjoyed applying annually to the company Christmas dinner, and which always ensured them to be memorable occasions enjoyed by everyone.
We owe him great gratitude and will truly miss him.  Maarten is survived by a brother and brother-in-law.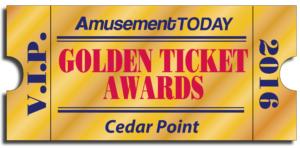 SANDUSKY, Ohio — Owing to the popularity of both the "Networking Event of the Year," and host park Cedar Point, the Hotel Breakers is now sold out of rooms reserved for the Golden Ticket Awards Ceremony weekend.
Fortunately Cedar Point is home to multiple lodging options and the park is offering accommodations at Sandcastle Suites, Lighthouse Point, Breakers Express and Castaway Bay.
Guests may view/book the following rates by using promotional code GTA. Details on rates and dates that are available are listed below. These rates are based on general availability and will appear as long as the property has open inventory.
Sandcastle Suites – dates available 9/9 and 9/10
Non Lake-View Suite – $179
Lake-View Suite – $199
Lighthouse Point – dates available 9/9, 9/10 and 9/11
Cottages – $205
Standard Cabins – $209
Deluxe Cabins – $255
Breakers Express – dates available 9/9 and 9/10
Friday Night – $85
Saturday Night – $95
Castaway Bay – dates available 9/9, 9/10 and 9/11
Rates vary depending on room types
This link will pre-populate the Cedar Point reservations website with the Golden Ticket Awards promotional code.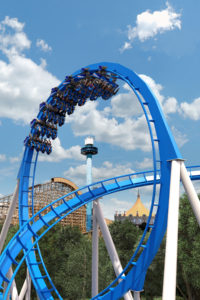 SANTA CLARA, Calif. — California's Great America (CGA) will introduce Patriot, the first floorless roller coaster in the park's 41-year history, for the 2017 season.
Patriot will emerge from a technical makeover of Vortex, which opened at the park in 1991, was designed by Werner Stengel and manufactured by Bolliger & Mabillard of Monthey, Switzerland.
Patriot will carry riders in a seated position, legs dangling free, to the top of a 91-foot-high lift before sending them into a 360-degree loop at 45 mph.
"With the track visible beneath their feet, Patriot will create unique and exciting new perspectives throughout the ride," said Raul Rehnborg, CGA's vice president and general manager.
The theme of the coaster was inspired by both the ride's position adjacent to the park's All American Corners section and the name of the park itself. The stand-up-to-floorless transition will include new blue-and-white trains.
Guests can take their final rides on Vortex on Sept. 5., after which it will be closed in preparation for its remaking into Patriot.
CGA's 2016 season continues weekends through Oct. 30, with Halloween Haunt running Fridays, Saturdays and Sundays from Sept. 24-Oct. 30.
Making its debut at CGA this year, WinterFest takes center stage Fridays, Saturdays and Sundays from Nov. 25-Dec. 30, with daily operation Dec. 19-23 and 26-30. —Dean Lamanna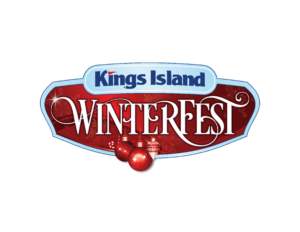 MASON, Ohio – Nostalgia and a return to traditions are what holiday seasons are known for, and in 2017 Kings Island will deliver those sentiments with the return of a month-long holiday celebration.
After a 12-year absence, the long awaited return of WinterFest will provide Gold season passholders and Tristate residents with four seasons of fun at the 364-acre amusement and water park.
The focal point of WinterFest will be the world's largest Christmas tree display with the park's iconic 314-foot tall Eiffel Tower decorated with thousands of lights which will be seen for miles.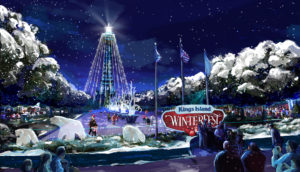 Below the Eiffel Tower, International Street will be transformed into a colorful and quaint winter village, featuring the fun of holidays past – outdoor ice skating on the park's Royal Fountain, Christmas carolers, and homemade crafts.
Tasty foods, colorful gifts, live stage shows, fun rides, and of course, Santa's workshop will all be part of WinterFest's warmth and excitement.
Rides will include the Grand Carousel and a journey through the park's Rivertown area on an authentic steam train.
Operating dates, hours and ticket prices for WinterFest will be announced at a later date. The event will be included free for 2017 Gold and Platinum season passholders.
Also new in 2017, Soak City Water Park will see the addition of a smokehouse style restaurant as well as other new amenities and improvements. Guests will enjoy the smells and tastes of new food items such as smoked pulled pork, smoked or grilled wings, hand-breaded chicken tenders and shrimp. The water park will also offer additional shade structures, changing rooms, cooling mister fans, and expanded deck space doubling the number of chaise lounge chairs.
Last month, Kings Island announced it was building a new wooden roller coaster, Mystic Timbers, which will debut in the spring of 2017.
Kings Island 2017 Gold season passes are now on sale at the lowest price of nine easy payments of $11 online at visitkingsisland.com and include free season-long parking, early ride time every public operating day on select attractions, early access to Soak City Water Park and unlimited admission to Halloween Haunt and WinterFest.
Kings Island is owned and operated by Cedar Fair Entertainment Company, a publicly traded partnership that is listed for trading on The New York Stock Exchange under the symbol "FUN."
THE NETHERLANDS – It is with great sadness that we share that our co-founder and colleague, M.W.T.M. (Maarten) van de Ven passed away unexpectedly.

In the almost 15 years of the existence of KumbaK, Maarten has always been the contact person for our suppliers and subcontractors.

We at KumbaK owe him great gratitude and will truly miss him.