GALVESTON, Texas — In anticipation of the opening of the world's tallest water coaster, MASSIV, park officials at Schlitterbahn Galveston Island released a computer generated ride video and teaser video. The ride video, which is based on detailed CAD drawings of the actual ride as well as photos of the Galveston park, provides a guest's perspective of what riding the world's tallest water coaster will be like – minus the refreshing splashes of water.
"We can't wait to ride MASSIV," said Ron Sutula, Schlitterbahn Galveston's general manager. "This ride video is the closest we can get until we open the ride in early June."
MASSIV will have four uphill sections, an enclosed tunnel section, translucent turn, and triple drop finale. At 926 feet long, it'll be the longest slide at Schlitterbahn Galveston. The official height will be revealed next month. Both the ride video and teaser are available on Youtube.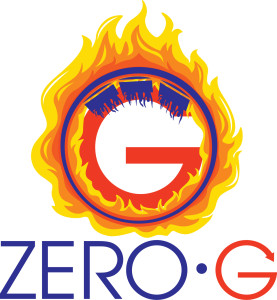 Monticello, IN – April 12, 2016 Indiana Beach, Indiana's Favorite Boardwalk Resort, will kick off its upcoming 90th Anniversary season with the addition of a looping-reversing coaster called Zero G.
Manufactured by Texas-based Larson International, the single loop coaster stands 5 stories high and can accommodate 20 riders at one time. Zero G will be placed on Indiana Beach's classic Boardwalk Funway.
"Indiana Beach is excited to have this new ride added to our line-up of six rollercoasters and other thrill attractions", said John Collins Indiana Beach Boardwalk Resorts General Manager. "With all the park improvements and upgrades being completed in preparation for Indiana Beach's 90th anniversary season, adding a ride as thrilling as Zero G is icing on the cake" Collins stated.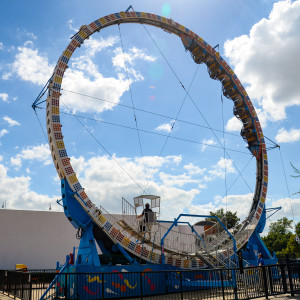 The "Larson Loop" coaster builds riders' anticipation as it rocks back and forth before looping 360 degrees, pausing briefly to suspend riders upside down. The ride is scheduled to be open at the start of the 2016 season.
About Indiana Beach Boardwalk Resort
Indiana Beach is located in Monticello, Indiana on Lake Shafer. The resort was founded in 1926 and purchased by Apex Parks Group in September 2015. The resort features a Boardwalk Funway, seven roller coasters, 45 rides, the Shafer Queen Paddlewheel boat, two campgrounds, rental accommodations, and an on-property hotel. Ideal Beach, the water park, includes the original swimming pool with sand beach, water slides, an action river, and kid's spray area.
About Apex Parks Group
Apex is a privately held company based in Aliso Viejo, California with 13 Family Entertainment Centers, 2 Water Parks, and 1 Amusement Park Resort in California, Texas, Florida, New Jersey, and Indiana. Apex Parks Group is currently one of the largest owners of Family Entertainment Centers in the United States. Apex Parks was founded in 2014 to acquire and operate best-in-class out-of-home entertainment assets and is committed to excellence, to the communities they serve, and to delivering value that exceeds expectation.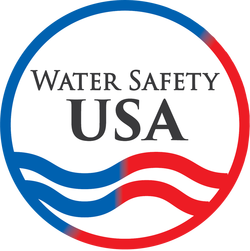 COLORADO SPRINGS, Colorado — Water Safety USA has been established by a consortium of national governmental and nongovernmental organizations concerned with water safety and drowning prevention. Water Safety USA aims to empower people with resources, information, and tools to more safely enjoy and benefit from our nation's aquatic environments. Water Safety USA will work to align safety advice from member organizations and magnify the reach of that advice in an effort to collaboratively improve water safety.
Aligned messaging was sought by the organizations because the American public receives water safety advice from many diverse sources. Sometimes these messages inadvertently conflict. To the degree that messaging can be simplified and made more consistent, there is a greater chance that it will be understood and followed. Water Safety USA also intends to work to help prioritize efforts toward the areas needing the greatest focus.
According to Water Safety USA moderator B. Chris Brewster, "We've all agreed we'll be even more effective working together. As our messaging aligns and we promote it in concert, public understanding should improve, and safer use of our waters will be the result."
Water Safety USA is a roundtable of equals. The founding members of Water Safety USA are the American Academy of Pediatrics, American Red Cross, Boy Scouts of America, Centers for Disease Control and Prevention, National Park Service, National Safe Boating Council, National Swimming Pool Foundation, Safe Kids Worldwide, U.S. Coast Guard, U.S. Consumer Product Safety Commission, United States Lifesaving Association, USA Swimming Foundation, and YMCA of the USA. Each has a strong record of providing drowning prevention and water safety programs, including public education.
In addition to better messaging, the members of Water Safety USA hope to help identify evidence-based strategies to promote water safety and to promote the collection and analysis of reliable, standardized data to assist in development and more effective targeting of prevention programs and strategies. The group believes that by working together, the combined strength will lead to increased impact and effectiveness of its members' prevention efforts.
Drowning is a leading cause of death and injury in the USA. Water accidents can be devastating, but with proper safety precautions, water is one of our healthiest recreational environments. Water Safety USA believes by working collaboratively it can meaningfully reduce the nearly 5,800 annual trips to emergency rooms and more than 3,800 deaths due to drowning. The good news is that drowning is almost always preventable.
Learn more about Water Safety USA and our initiatives at: www.watersafetyusa.org.
Colorado Springs, Colorado — The boards of the Association of Pool & Spa Professionals (APSP) and National Swimming Pool Foundation (NSPF) have agreed in principle to merge the two organizations. Both boards believe that the merge will better support the present and future needs of the aquatics industry.
Rich Garbee, APSP chairman of the board, and G. Bruce Dunn, NSPF chairman of the board, jointly stated, "The aquatics industry has seen dramatic changes over the past 10 years. APSP and NSPF each have a distinguished history of service to our industry. We are excited to build a vision where we can achieve even more together."
A process is underway to plan and implement this merger of equals.
For more information, or to arrange an interview with Bruce Dunn, President of NSPF's Board of Directors, please reach out to Jacki Krumnow at 719-540-9119 or jacki.krumnow@nspf.org.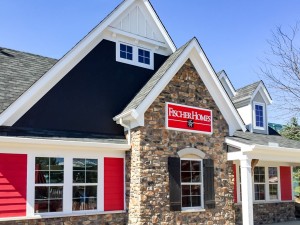 MASON, Ohio – Kings Island has partnered with Fischer Homes to offer a new Family Care Center for parents visiting the 364-acre amusement and waterpark.
The Family Care Center, built by Fischer Homes on International Street near the Eiffel Tower, will fulfill the wants and needs of young families visiting the park to provide a safe, private, comfortable nursing and changing experience with storage areas for personal items and waiting areas for accompanying family members.
"Parents with infants and toddlers will find helpful amenities in our new Family Care Center," Kings Island's Vice President and General Manager Greg Scheid said. "It features all the comforts and conveniences of home for our guests."
The façade of the Family Care Center features the unique style of a Fischer Home with a covered porch while the inside offers restrooms, electrical outlets, charging stations, Wi-Fi services, televisions, refrigeration and ice, and hot water.
"Fischer Homes has listened to the needs of families and designed a unique child and parent-friendly space at Kings Island that allows families to attend to their children in a relaxed home-like setting," said Steve Whaley, corporate marketing manager for Fischer Homes.
Privately held Fischer Homes began operations in 1980 in Cincinnati, OH and is now the number one builder there. It has successfully expanded into the Indianapolis, IN, Columbus, OH and Atlanta, GA markets. The company has sold over 20,000 homes and has more than 150 new home neighborhoods. These beautifully designed homes offer choices for people in all stages of life. For more information, visit fischerhomes.com.
Kings Island opens for the 2016 season April 16. Daily operation begins May 13.
Kings Island is owned and operated by Cedar Fair Entertainment Company, a publicly traded partnership that is listed for trading on The New York Stock Exchange under the symbol "FUN."

SANTA CLARA, Calif. — Cedar Fair Entertainment Company CEO Matt Ouimet appeared before local media this morning to dispel persistent regional buzz that the company's California's Great America theme park, a fixture here since 1976, will be sold or closed.
Ouimet further conveyed that Cedar Fair will be seeking zoning adjustments from Santa Clara that will allow the company to exceed current height restrictions and bring larger and different types of attractions to the 116-acre property.
For example, the addition of a smaller-scale Downtown Disney-style entertainment district is one concept being considered.
That the Cedar Fair executive felt compelled to fly to the Bay Area from the company's Sandusky, Ohio, headquarters to perform rumor control is telling. The park sits on increasingly valuable leased land adjacent to the two-year-old Levi's Stadium (home of the San Francisco 49ers NFL football team and site of this year's Super Bowl) — and developers have been circling for some time in the red-hot Silicon Valley real estate market.
The Great America parcel was formerly owned by the City of Santa Clara's redevelopment agency, with which the park negotiated its long-term lease. The land is now held by the Successor Agency to the Santa Clara Redevelopment Agency, which — under a state mandate — will be putting it and other former redevelopment holdings up for sale later this year.
Amusement Today obtained the following statement from Cedar Fair clarifying its local business position:
"We believe that Great America has compelling potential for future development as an amusement park and entertainment venue. Consistent with our long-term vision for Great America, we have filed a rezoning application with the City of Santa Clara that would allow for the addition of new attractions, shows and events that will enhance the guest experience.
"In light of the fact that our ground lease runs through 2074, we have the necessary control of the property to pursue our long-term vision. In addition, we have created enough financial flexibility to exercise our right of first refusal for the purchase of the property and that option will be considered as the land sale process moves forward."
Cedar Fair's major investment in Great America's new, soon-to-open Mass Effect: New Earth 4D Holographic Journey attraction and Winterfest, a new annual holiday celebration that will extend the park's operating season for the first time this year, further appear to affirm the company's commitment to remaining in Santa Clara. The park launched its 40th season March 25.
—Dean Lamanna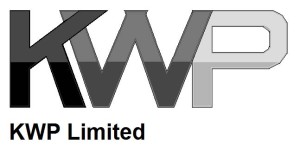 LONDON, UK, March 23, 2016 – The inaugural VR Arcade Conference scheduled for May 2-4, 2016 has announced the signing of an auspicious partnership with Kevin Williams, Founder and Director of consultancy firm KWP Ltd., Publisher of The Stinger Report, Chairman of the DNA Association. He is a renowned specialist in the Digital Out-of-Home Entertainment (DOE) sector. In addition to presenting a keynote on developments in this emerging sector at the conference, the DNA Association and The Stinger Report will respectively become sponsor and media partner for this ground breaking event.
The first VR Arcade Conference will be taking place in Mountain View, California, during May and has been designed to be the first ever event that addresses the emerging application of Virtual Reality in the out-of-home entertainment sector. It has already gathered an auspicious lineup of speakers and sponsors that will present developments in this highly auspicious market sector. The conference has been designed to bring together VR hardware and software developers, venue operators and investors, with major names in the sector, who'll expound on their plans in this key market.
Along with inspirational keynote presentations and specialist panel sessions covering the major topics impacting the growth of this attractive market, the event will include a boot camp for developers to learn how to develop content on each VR hardware platform. Many of the latest VR amusement and attraction systems will be exhibited. The deployment of VR entertainment hardware in the public-space will be defined during the three days of the conference, and the event organizers are working towards establishing licensing partnerships between hardware and software developers and the creation of a foundation to establish industry standards.
This unique conference will gather a highly exclusive audience of industry leaders and specialists, along with a number of the most influential corporations working in this sector. Tickets for the conference have gone on sale via the VR Arcade Conference website: http://www.vrarcadeconference.com
Commenting on KWP's affiliation with this brand new conference, Kevin Williams stated "We are greatly honored to be approached by VR Arcade Conference, to be able not only to present and moderate at this ground breaking event, but also to have our trade association and media outlet promote what will be seen as a must-attend gathering for those hoping to endure and prosper in this emerging new sector".
The need to gather the leading lights in this new sector was an essential objective for this first event. VR Arcade Conference organizer Jeremy Lam commented, "Welcoming KWP, along with the DNA Association and The Stinger Report to the mix offers us the ability to build a fantastic first event. Kevin's considerable knowledge of this sector, and extensive contacts greatly help consolidating the event."
This is planned to be the first of a series of regular conference events focused on the emergence of VR amusements, attractions, and facility development. Proceedings from the event will be recorded and circulated to help build a library of knowledge for those starting off in the sector or those looking to build on their existing experience. The full lineup of speakers,
panel sessions and topics to be covered will be disclosed in the coming days, as well as the initial list of supporting exhibitors.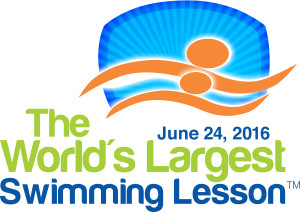 OVERLAND PARK, KS– Registration for the 2016 World's Largest Swimming Lesson (WLSL) is now open. This year's WLSL event will take place over the course of 24 hours at an estimated 500 locations in more than 20 different countries. The new time format allows individual host locations to conduct the 30-minute lesson anytime of day on Friday, June 24th. Organizers have restructured the program to make it easier for aquatic facilities to participate.
Aquatic facilities can be a part of the global, life-saving event by registering as an official 2016 WLSL Host Location at www.wlsl.org.
Tragically, drowning remains the leading cause of unintended, injury related death for U.S. children ages 1-4, and the second leading cause for children under 14. Drowning is an even greater threat in other countries around the world. Research shows participation in formal swimming lessons can reduce the risk of drowning by 88% among children aged 1 to 4, yet many kids do not receive formal swimming or water safety training.
Since its inception, more than 155,000 children and adults have participated in WLSL lessons generating more than half a billion media impressions about the vital importance of learning to swim. The 2015 WLSL event took place on June 18, 2015 and included 38,170 participants from 22 countries.
Facilities of all kinds, shapes and sizes are encourage to join Team WLSL™ in their mission to spread the message Swimming Lessons Save Lives™ to help prevent childhood drowning.
About The World's Largest Swimming Lesson™
The World's Largest Swimming Lesson was created as a platform to help aquatic facilities and the many different regional, national and international water safety organizations work together to communicate the fundamental importance of teaching children to swim. Visit www.wlsl.org to learn more.
BUENA PARK, Calif. — Knott's Berry Farm's Calico Stage became a "berry"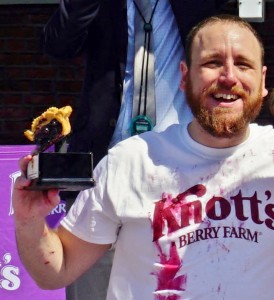 messy scene March 19 as pie eaters from across the nation competed for a $4,000 prize purse and the title of World Boysenberry Pie-Eating Champion.
Internationally top-ranked competitive eater Joey "Jaws" Chestnut successfully defended his ownership of the title, which he first claimed at Knott's last year. Chestnut set a new world record by shoveling down 14.5 pounds of pie in eight minutes. That bested his record of 14 pounds — or seven whole pies consumed — set in 2015.
Chestnut nabbed a $2,000 prize for his gluttonous gamesmanship. Steve Hendry, with 10.25 pounds of pie stuffed, took second and a $1,000 prize. Landing in third and fourth places by gobbling 9.5 pounds and nine pounds of pie, respectively, were Miki Sudo ($600 prize) and Michelle Lesco ($300 prize).
Rich LeFevre and Justin Mi tied for fifth place with each scarfing down 8.5 pounds of pie, sharing a $100 prize.
The event, which took place during the park's 16-day Boysenberry Festival, was sanctioned by Major League Eating — a global organization that has developed and oversees the sport of competitive eating and conducts about 80 contests annually. —Dean Lamanna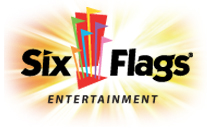 GRAND PRAIRIE, Texas — Six Flags Entertainment Corporation, the world's largest regional theme park company, announced a new strategic partnership with NaVi Entertainment, a private company based in Ho Chi Minh City, Vietnam, to build a theme park and a water park in Vietnam using the Six Flags and Six Flags Hurricane Harbor brand names, respectively. Both are expected to open in the next three to four years.
"Our international licensing strategy is gaining momentum and provides strong long-term upside for the company above and beyond the growth opportunity of our North America properties," said John Duffey, president and CEO of Six Flags Entertainment.
"We are excited to announce our third international licensing partnership and are honored to work with the highly-qualified team at NaVi Entertainment as we continue expanding the Six Flags brand globally," said John Odum, president of Six Flags International Development Co.
"We are delighted to bring the Six Flags brand to Vietnam through the development of these two parks, and confident we can offer guests unique and thrilling experiences like no other in the country," said Tin Nguyen, Chairman of NaVi Entertainment.
Terms of the arrangement were not disclosed.