ORLANDO, Florida — SeaWorld Entertainment, Inc. (NYSE: SEAS), a leading theme park and entertainment company, today announced changes in its operational management team at its corporate headquarters and its San Diego, San Antonio and Williamsburg locations. The company also announced the creation of its Resorts Development Group.
John Reilly, SeaWorld San Diego Park President, has been promoted to Chief Parks Operations Officer. Daniel B. Brown, current Chief Parks Operations Officer has announced his retirement. The change will be effective April 1.
Dr. Christopher (Chris) Dold, Vice President of Veterinary Services, has been promoted to Chief Zoological Officer. He succeeds Brad Andrews, who will continue to serve the company as Zoological Director Emeritus, helping to drive the company's conservation efforts, support new product development, and assist during the transition. These changes are effective April 1.
"These leaders bring to their new roles an extraordinary depth of knowledge and talent and the right expertise to deliver on our strategic priorities," said Joel Manby, President and Chief Executive Officer of SeaWorld Entertainment, Inc. "John is a strong and experienced operator who has proven his leadership, both at Busch Gardens Williamsburg and amidst a challenging operating environment at our California location."
As Chief Parks Operations Officer, Reilly will have operational oversight over all of the company's theme parks. Reilly has led SeaWorld San Diego's park operations since 2010 and has held a variety of leadership positions at other company parks and the corporate office.
"Chris is a highly respected veterinarian and scientist under whose leadership our animal care programs and contributions to conservation have helped further advance the care for animals in zoological settings and in the wild. I am confident that both John and Chris can drive forward our strategic priorities," Manby added.
As Chief Zoological Officer, Dold will lead the company's team of zoological professionals and oversee all animal programs that provide comprehensive care for the marine and terrestrial animals at the company's parks, as well as the animals assisted as part of the company's rescue program. Dold joined the company in 2005 as a Senior Veterinarian at the company's SeaWorld Orlando theme park.
"We are grateful to both Dan and Brad for their passionate leadership, business acumen, industry expertise and incredible years of service – nearly a century of experience combined – to our company. We wish Dan nothing but the best in his retirement and are pleased to have Brad continue with us as Director Emeritus," Manby said.
The company also announced that Marilyn Hannes, Vice President of Global Sales, has been promoted to SeaWorld San Diego and Aquatica San Diego Park President effective April 1. Hannes has served in a number of roles since joining the company in 1997, including Vice President of Marketing and Sales for the company's California parks.
In addition, Carl Lum, Busch Gardens Williamsburg and Water Country USA Park President, has been named San Antonio Park President effective February 19. He succeeds Dan Decker, who is leaving the Company. Lum will be responsible for leading the company's Texas parks, SeaWorld and Aquatica. Lum has been with the company since 1999 and has held various leadership roles within the company, including Vice President of Finance for Busch Gardens in Tampa, Fla. before being promoted to Busch Gardens Williamsburg Park President in 2010.
The company is considering both internal and external candidates for the vacancies created by the promotions described above.
Formation of Resort Development Group
The company announced the formation of its Resort Development Group and the appointment of Steve Iandolo to the position of Vice President of Resort Development, effective February 1. Iandolo is responsible for leading the resort construction and development effort that was introduced in November as part of the company's plan for organic and strategic growth. Iandolo has nearly 30 years of successful experience in design and construction in the hospitality industry. While with Universal Studios Parks and Resorts, he was creative director for the development of Orlando's Royal Pacific Resort, Hard Rock Hotel and Portofino Bay Hotel. Iandolo joined the company in February from Herschend Family Entertainment where he was Vice President, Hospitality Development.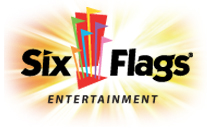 GRAND PRAIRIE, Texas — Six Flags Entertainment Corporation (NYSE: SIX), the world's largest regional theme park company, announced that its board of directors has split executive leadership roles at the company by naming Jim Reid-Anderson the company's executive chairman and promoting John Duffey to president and CEO, both effective February 19, 2016. Mr. Duffey has also been appointed a director of the company.
"The company has strong momentum and tremendous growth opportunities over the next decade, and I am proud to have helped our team deliver record guest satisfaction, industry-leading innovation, all-time high employee satisfaction, and our sixth consecutive year of record financial performance," said Jim Reid-Anderson. "Strategically and operationally, we are firing on all cylinders and I am extremely excited to mentor the company's next-generation of leaders. John Duffey has been instrumental in our past success and is a proven leader within the company, and this is an excellent time to transition responsibilities and develop others on our management team as we continue building the Six Flags brand globally."
"I am honored and excited to become the CEO of Six Flags and work side-by-side with the best team in the industry," said John Duffey. "We are extremely well-positioned for long term growth and shareholder value creation."
The company also announced that Marshall Barber has been promoted to chief financial officer. Mr. Barber has built a successful career at Six Flags over the last 20 years, serving most recently as the company's vice president financial planning & analysis. He is extremely experienced, having previously held both corporate level and park-based roles with increasing levels of responsibility.
In addition, the company announced its senior vice president of in-park services, John Bement, has retired from Six Flags following 48 years of dedicated service. Mr. Bement has been honored by Mr. Reid-Anderson for his incredible work, and received the company's prestigious Angus Wynne Lifetime Achievement Award, which has only been awarded to a handful of people who have devoted their lives to enhancing both Six Flags and the theme park industry.
David McKillips, formerly senior vice president of corporate alliances, was named the new senior vice president of in-park services and Brett Petit, senior vice president of marketing and sales, has assumed the responsibility of the corporate alliances sales team, consolidating all marketing and sales functions under one leader.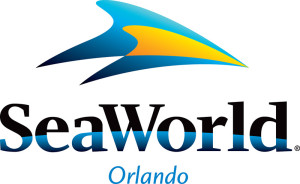 ORLANDO, Florida – SeaWorld Orlando unveiled the custom-built Mako lead car that will take riders on a thrilling experience this summer – the tallest, fastest and longest roller coaster in Orlando.
Mako's design and engineering was inspired by the real Mako shark – one of the ocean's fastest shark species. When it opens, Mako will top 200 feet high and reach speeds of 73 mph on a track that's nearly a mile long. The new ride will be a hypercoaster, which means it's all about speed, tight turns and that weightless feeling riders get at the top of each hill.
Coaster Train Design Facts Include:
Mako-Inspired Custom Car – In a collaboration between SeaWorld's animal experts and ride engineers, the car is inspired by the physiology of an actual Mako shark, including five gills on each side, eye placement and sleek, hydro-dynamic look.
Fast Wheels– Comprised of a special compound that reduces friction — providing a smooth, relentlessly fast ride from beginning to end.
Upper Body Mobility – With only a lap guard on their lower body, riders' upper bodies are free for added mobility and "airtime"
The coaster will boast a total of 21 cars – including 3 trains of 7 cars per train.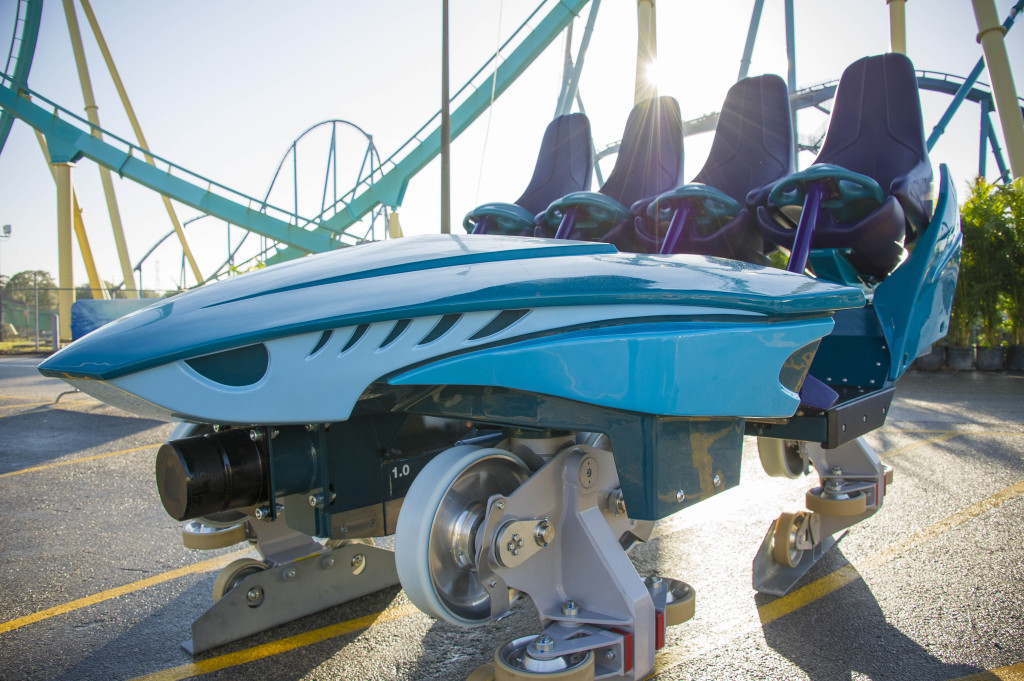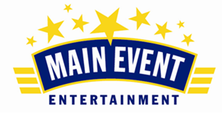 AVONDALE, Arizona — Main Event Entertainment, the Dallas, Texas-based company that specializes in bowling-anchored family entertainment centers, has opened its second Phoenix-area location in Avondale. The new center is Main Event's 23rd location nationwide.
"Main Event is the ultimate entertainment destination for families, friends and large groups who seek variety but still want to have a shared experience," said Vice President of Marketing Sherri Landry. "We've received an enthusiastic response from the Avondale community, and we welcome everyone to come and discover Main Event's 'Eat.Bowl.Play.' experience."
At more than 58,000 square feet, the Avondale center provides unique entertainment and dining for people of all ages. Attractions include state-of-the-art bowling with 26 ice-white lanes accented with black lighting, a multi-level laser tag arena and a challenging gravity ropes course suspended over a games gallery featuring more than 100 interactive and virtual games. Dining options include an extensive chef-inspired menu, specialty pizzas and a full bar serving innovative cocktails, wines, and craft and local beers.
"The new Main Event in Avondale is a boost for the city and the Southwest Valley community in terms of jobs, entertainment and tourism," said Southwest Valley Chamber of Commerce President John Safin. "We're grateful to have Main Event in the City of Avondale, and we know this new entertainment option will enhance our already high quality of life."
Main Event is also an ideal venue for special events such as birthday parties, social gatherings and corporate meetings, with private rooms, full-service catering, free Wi-Fi and the latest A/V technology available.
GALVESTON, Texas — Schlitterbahn Waterparks & Resorts is building the world's tallest water coaster at its award-winning Galveston Island waterpark.
Called MASSIV, the German word for massive, the water coaster will be in place in time for the waterpark's 10th Anniversary celebration this summer. Schlitterbahn Galveston Island is home to more thrill rides than any other Schlitterbahn Waterpark, making it the perfect home for this record-breaking ride.
The exact height of MASSIV is being kept secret until later this spring. Schlitterbahn has indicated that riders will need to climb 123 steps to the ride dispatch area. The length of the ride is 926 feet with seven green translucent sections and four uphill water blasts. The finale will include a thrilling triple-down.
MASSIV utilizes Master Blaster technology, which was invented 22 years ago by Schlitterbahn's Wizard of Water, Jeff Henry. This technology was licensed to WhiteWater West, which is the company constructing MASSIV.
"We are thrilled to be bringing this iconic ride to Galveston Island," said Ron Sutula, General Manager for Schlitterbahn Galveston Island. "It's a massive anniversary present to all our guests, and is going to be a blast to ride!"
Schlitterbahn Waterpark Galveston Island has won numerous awards, including Amusement Today's coveted Golden Ticket Award for world's best indoor waterpark, for the last eight years. MASSIV will be twice as long as any waterslide in the park and the tallest ride.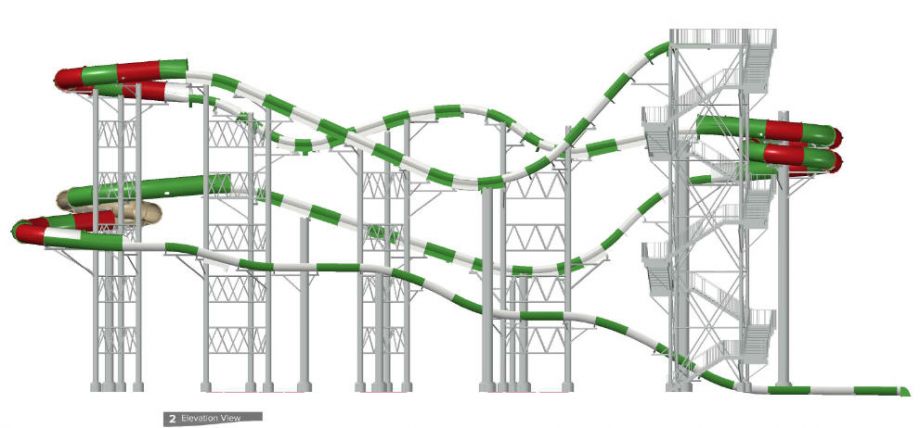 The West Coast's only amusement park on a Pier turns 20 years old on May 26, a variety of birthday activities are planned for the world-famous landmark

SANTA MONICA, Calif., — Pacific Park is busy preparing for its months-long 20th birthday celebration in 2016. The two acre amusement park on the Santa Monica Pier is detailing the rides, painting the exterior, refreshing the Ferris wheel with a new lighting package and introducing a new Pacific Park logo. The first change to the amusement park's logo in 20 years, the new design features a contemporary look for a park that offers an authentic amusement experience, as described:
"Pacific Park's logo symbolizes the only park on a pier that faces a sunset — and not any sunset, the iconic Southern California sunset, which echoes the shape of the pier especially when viewed from south of the pier. The baseline of 'Pacific Park' implies the wooden deck, with water underneath. 'Santa Monica Pier' subtly echoes the pylons beneath the deck, going into the water. Unique to the design is the beautiful double-entendre: sun over horizon – equals – wheel over pier."
Pacific Park's new logo is the leading element in a brand platform that includes a new visual identity for its advertising design, collateral development and in-park signage program, among other marketing activities.
"This is a very special time for Pacific Park and the Santa Monica community as we begin to celebrate our 20th birthday on the Santa Monica Pier," said Jeff Klocke, Vice President at Pacific Park on the Santa Monica Pier. "The new logo reflects the rich tradition and unique qualities of the Pier and Park while celebrating the quintessential California beach and amusement experience. Pacific Park is a special two acre theme park that helps attract more than 8 million visitors annually to the Pier."
As a part of the 20th birthday celebration, the Park also introduced a new vision statement: "Our purpose is to provide an authentic California amusement experience, where guests of all ages play together in a safe and unrivaled setting."
VENT, LLC in Los Angeles created Pacific Park's new logo and brand platform.
Pacific Park on the Santa Monica Pier, offers 12 amusement rides, 14 midway games, an oceanfront food plaza and beachside retail shops. In addition to the Pacific Wheel, the world's only solar-powered Ferris wheel, Pacific Park's signature rides include The West Coaster; as well as Inkie's Air Lift Balloon Ride, the high-flying, family-sharing kids' ride.
SARASOTA, Fla. — Bob Dean, president of Leisure Labs, LLC, announced recently the opening of the world's largest transportable Giant Wheel at a height of 70 meters. Manufactured by Mondial World of Rides, this major ride proudly towers over Paris's Place de la Concorde and offers thrilling panoramic views from its 48 enclosed gondolas.
Froukje Knijpstra, owner of Mondial World of Rides, notes this newest Roue de Paris replaces the older 55 meter wheel on the same site to extend its run as the grandest and premier tourist venue in the city. While congratulating Marcel Campion, the wheel's owner and operator, Mrs. Knijpstra said, "We find it very heartening this great showman has again entrusted Mondial to provide him such a legacy attraction."
Mondial World of Rides offers one of the largest assortments of amusement rides and attractions in the world. From Giant Wheels to major spinning, park and transportable rides Mondial has been at the forefront of the business for almost 40 years. "We see it as our duty to develop unique, safe and trusted attractions and make them user friendly with the lowest possible maintenance costs and best return on their investment possible," she added.
Headquartered in Terband, The Netheralands, Mondial World of Rides' sales and marketing efforts are represented by Leisure Labs based in Sarasota, Fla.
JACKSON, N.J. ─ Chaos reigns supreme at Six Flags Great Adventure in 2016 as one of the world's most iconic DC Comics Super-Villains commandeers the park's 14th and most unique scream machine in its history, The Joker.
Earlier this fall, the world's largest theme park announced "Total Mayhem," which quickly became one of the world's most anticipated new coasters of 2016. But behind the scenes, criminal mastermind The Joker was secretly plotting to take over the new 4D, free-fly coaster and name it as his own.
"The Joker is undeniably one of the greatest DC Comics Super-Villains ever created. Only someone with his warped sense of humor could provide this level of insanity ─ or spinsanity ─ with a new, vertical coaster that delivers gravity-defying somersaults with utter unpredictability. It is the perfect addition to our dynamic line-up of award-winning roller coasters because this ride delivers total mayhem with its next-generation, cutting-edge thrills," said Six Flags Great Adventure President John Fitzgerald.
After being lifted straight up a 12-story, 90-degree hill, this 4-D, free-fly coaster will wreak havoc as riders flip head-over-heels at least six times along the weightless journey. Thrill seekers will experience exhilarating leaps and dives along a horizontal plane, along with unexpected drops as they tumble from one level to the next. The wing seats amp up the pandemonium since riders will experience all of this chaos with no track above or below ─ just the sky, ground and adjacent Great Lake churning around them.
The unique design of The Joker features:
Massive, imposing, floating and twisting I-box track frame in a unique two-tone design
One-of-a-kind onboard magnetic technology featuring smooth head-over-heels free-fly flips providing guests the feeling of weightlessness as they soar outside the confines of a traditional track
4-D wing vehicles that seat up to 8 per vehicle with a total of 5 vehicles
Face-off seats that allow riders to face each other as they tumble head over heels
A 120-foot-tall, 90-degree hill that is ascended by an elevator-style, chain link lift
Two beyond 90-degree "raven" drops giving the sensation of free-falling
The Joker is expected to wreak total mayhem beginning in the spring of 2016, and join the ranks of all legendary roller coasters at Six Flags Great Adventure.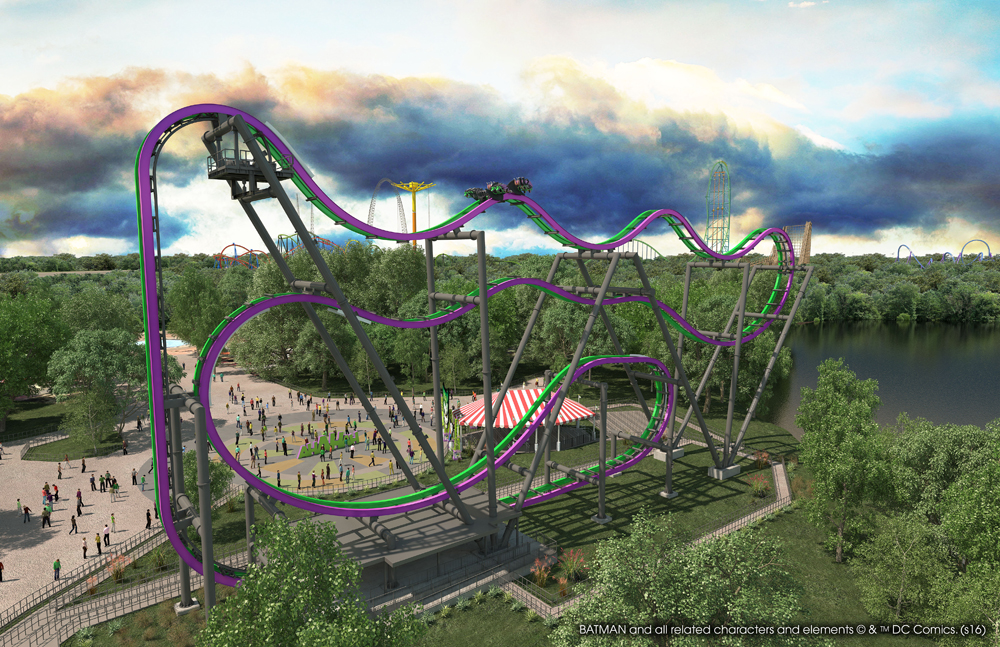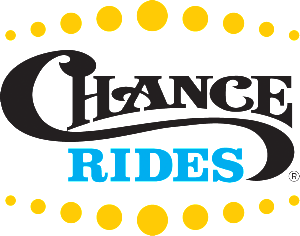 WICHITA FALLS, Kansas — The daughter of Chance Rides Founder Harold Chance Passed Away on Tuesday Nancy Chance Stadnyck, 59, passed away in her home peacefully on January 12, 2016, after
a nearly twelve-year battle with cancer. She died surrounded by her family in Metamora, Ill. Born on December 26, 1956 in Wichita, Kan. Nancy was the fifth child of R. Harold and Marjorie Chance who lovingly referred to her as their "Last Chance." She married Douglas Stadnyck, her husband of 37 years, shortly after graduating from St. Louis University in 1978. Nancy was deeply devoted to her family and friends.
She will be remembered for her unwavering enthusiasm for the many in her life whom she loved. Nancy never missed a chance to make someone feel special. She could be counted on to send hundreds of birthday cards each year, just to remind those fortunate to be in her life that they were loved. She was also an adventurous traveler.
Whether golfing with Doug in Ireland, visiting her mother in the Bahamas, or letting her family push her wheelchair around Europe in her final months, she was always looking forward to her next adventure. Enchanted by all things Christmas until the very end, she passed on wearing her Christmas pajamas. For her, her favorite holiday will never have to end. Her yearly Christmas letters will be deeply missed.
She was preceded in death by her father R. Harold Chance and her sister, Kathryn Chance. Nancy is survived by her husband, Douglas Stadnyck, her mother, Marjorie Chance, her siblings, Richard Chance (Carol Chance), Susie Chew (Bill Chew), and Judy Nielsen (Bruce Nielsen), and her three children, Chip Stadnyck (Allison Stadnyck), Joriane Stadnyck, and Elizabeth Fitz (Travis Fitz), her devoted dog, Skeeter, and her granddaughter Lyla Fitz.
Nancy cared deeply about her volunteer work at Hospice of the Valley, so in lieu of flowers, we request that you donate to them or your local hospice provider.
The family will host a celebration of life for Nancy in Arizona during the month of February, details to follow. All are welcome.
Hospice of the Valley: www.hov.org/donate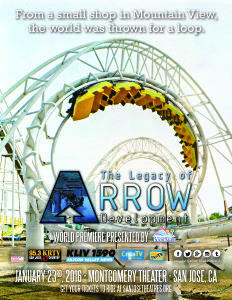 SAN JOSE, Calif. — The Legacy of Arrow Development, a documentary that highlights former South Bay amusement ride manufacturer Arrow Development, will be shown at a world premiere event at the Montgomery Theater in downtown on Saturday, January 23, 2016 at 7:30 pm.
Arrow Development is famous for pioneering tubular steel roller coaster track, an innovation that swept the amusement industry. First used on Disneyland's Matterhorn Bobsleds in 1959, the revolutionary track eventually led to the first modern roller coaster with upside down inversions — Corkscrew at Knott's Berry Farm in 1975. Arrow is also credited with producing the first log flume ride — a staple in amusement parks even today — all from its Mountain View, Calif. facility.
Highlighted are numerous parks from around the country including California's Great America, Six Flags Magic Mountain, Cedar Point, Busch Gardens Williamsburg, Kennywood and Santa Cruz Beach Boardwalk, which is the title sponsor of the premiere event.
Nicholas Laschkewitsch, film director, as well as video promotions coordinator for American Coaster Enthusiasts (ACE), says, "ACE is all about the preservation and enjoyment of roller coasters. The whole organization is proud to help tell the unique story of a company whose creations have been admired and enjoyed by millions."
Producer Kris Rowberry says, "Everyone knows Silicon Valley as a hotbed for technological innovations, but not for amusement parks. It truly is a forgotten piece of our local and national history." Rowberry is also known as the host of the award-winning television series, "The Lost Parks of Northern California."
Tim Baldwin, communications director for American Coaster Enthusiasts is thrilled that the project is now complete. "The time and energy that went into this project are exhilarating. This is the type of historical information that can just be lost if someone doesn't take time to document it. People love amusement parks and this is a part of history that most people just don't know much about." Baldwin adds, "Preserving history is vital, and what's been put on film will be a great resource for decades to come."
Seating is limited for the premiere at the Montgomery Theater, and the production team has been encouraged by initial ticket sales. Tickets for the film are available at SanJoseTheaters.org. General admission is $10 for the film only, or a $20 VIP admission that includes a reception and Q&A with the filmmakers.
About ACE: Founded in 1978, American Coaster Enthusiasts is a nonprofit, volunteer organization dedicated to the preservation, promotion, appreciation and safe enjoyment of roller coasters. With more than 5,000 members worldwide, ACE is the largest and longest-running enthusiast organization in the world. Members of ACE receive exclusive park benefits, newsletters, magazines and the opportunity to attend national, local and even international tours at parks. ACE has been prominently featured on various news programs and many cable networks such as the Travel Channel.