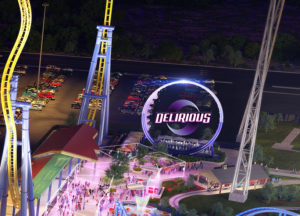 SHAKOPEE, Minn. – Valleyfair will introduce Delirious, a 70-foot looping thrill ride, for its 2018 season. Delirious will coil riders upside-down on a seven story, 360-degree freestanding structure with a high capacity, high speed train. The ride will be a prominent feature in the park's Route 76 nostalgia-themed area.
Once on board Delirious' 24-person train, riders rock back and forth as the train gains momentum and races around the inside of the track; the ride slows to hold riders suspended upside-down before rapidly reversing direction. Delirious will be capable of completing 10 complete revolutions in less than a minute, producing a high intensity looping experience.
The ride's purple color scheme, lighting, and music will create an immersive atmosphere in keeping with Route 76's classic amusement park theme.
Delirious joins other improvements in the picturesque Route 76 area including new shade structures, improved lighting, and enhanced seating and gathering locations. The themed area opened in 2014 as a way to bring guests back to the classic ambience of Valleyfair when it first opened in 1976.
"Delirious is a great addition to the retro family road trip feel of Route 76," said Brad Marcy, general manager, Valleyfair. "The additional atmospheric enhancements to the area will allow our Twin Cities neighbors to not only relive memories of visits to Valleyfair, but also create new family traditions and enjoy the 'best day' experience that we strive to give everyone."
Guests may get a head start on next season's fun with a 2018 Gold Season Pass, on sale now at the lowest price of the year, or a free Pre-K Pass that provides children between three and five years of age with complimentary admission all season long. The gold pass provides unlimited access to Valleyfair and its Soak City water park, and includes one free visit to the park in 2017 that can be used during the regular operating season or during fall's ValleySCARE. Special pricing ends on October 29, 2017.
SANTA CLARA, Calif. — California's Great America will introduce a groundbreaking new single rail steel coaster, RailBlazer, for the 2018 season. RailBlazer will be the first coaster of its kind on the West Coast featuring a single rail track throughout; the design requires the rider to straddle the rail, creating an extremely low center of gravity that amplifies every move and enables more dynamic turns and rotations than have ever been possible on a coaster. With an eight-passenger single file train hugging the rail, the coaster will give riders an unobstructed view of the ground and air as they speed smoothly over the twisting track.
RailBlazer will lift riders to a height of 106 feet before plunging them face down at a 90-degree angle. Throughout the 1,800 feet of track, riders will travel 52 miles per hour, experience an abundance of airtime and steeply banked turns, undertake three inversions and twist through a zero gravity roll.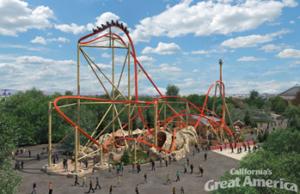 "RailBlazer is a revolutionary roller coaster concept that will be an intense and exhilarating ride experience for our guests," said Raul Rehnborg, vice president and general manager, California's Great America. "In addition, it marks the company's initial investment in the park following the City of Santa Clara's approval this year of the new park master plan, and kicks off a multi-year transformation of California's Great America into a world-class destination for everyone in the Bay Area and beyond."
The 2018 Gold Season Pass is on sale now at the best price of the year, and also includes unlimited park visits in 2017. The pass gives guests unlimited access to RailBlazer as well as all the other rides and attractions at California's Great America, its Boomerang Bay water park and Gilroy Gardens; special events like The Great Pumpkin Fest, Halloween Haunt and WinterFest; and other discounts and benefits such as free parking. Special pricing ends October 29, 2017.

Branson, MO — Following months of speculation and extreme interest radiating within the amusement industry and from coaster enthusiasts around the globe, Silver Dollar City announces the World's Fastest, Steepest and Tallest Complete-Circuit Spinning Roller Coaster with the spring 2018 debut of Time Traveler. The Branson, Missouri internationally-awarded 1880s-style theme park makes history again with this custom-designed, custom-engineered attraction that introduces a new generation of thrill coasters for families.
Time Traveler will be world record-breaking:
-Fastest – Top speed of 50.3 miles per hour
-Steepest – A 10-story, 90-degree vertical drop…straight down. Custom-engineered to have
an immediate out-of-the-station, gravity-driven drop down an Ozarks mountainside
-Tallest – Custom-designed for mountainous terrain with its tallest point at 100 feet
-First & Only with Three Inversions – a Dive Loop, a Vertical Loop and a Zero-G Roll
-First & Only with a Vertical Loop – A 95-foot tall loop
-First and Only Double Launch – 0 to 47 mph in 3 seconds; 30 to 45 mph in 3.5 seconds
At an investment of $26 million, this is Silver Dollar City's biggest attraction EVER. For concept, design and development, Silver Dollar City is working with renowned coaster manufacturer MACK RIDES of Waldkirch, Germany. MACK RIDES, founded in 1780 and family-owned for eight generations, shared Silver Dollar City's dream to create Time Traveler as a one-of-a-kind ride that combines a variety of coaster elements with mountainous terrain. The track crosses over itself 14 times in total.
"This coaster's state-of-the-art controlled spin feature provides riders a unique thrill experience while still appealing to families," said Brad Thomas, President of Silver Dollar City Attractions. "Since Silver Dollar City's opening day in 1960, guests have taken a journey back in time with unique and world-class experiences. We strive daily to continue that tradition through our rides, our festivals, our crafts and our food. That pursuit continues in 2018 with Time Traveler – a Revolutionary Coaster Ahead of Our Time."
Many coaster enthusiasts have pointed out the paradox of an 1880s-inspired theme park developing a track record for revolutionizing roller coasters: Time Traveler follows the daring wood coaster Outlaw Run, which after its debut in 2013, made it into the Guinness Book of World Records and earned the coveted title of the industry's "Best New Ride" that year. "Today, several years later, Outlaw Run still carries high prestige globally, and now Time Traveler will build upon that record-breaking tradition," said Thomas.
Time Traveler opens in Spring 2018. Silver Dollar City is open mid-March through December.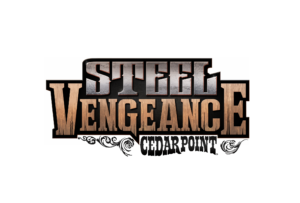 SANDUSKY, Ohio — Cedar Point's FrontierTown will be transformed when Steel Vengeance – the tallest, fastest and longest hybrid roller coaster in the world – opens in the spring of 2018. At more than 200 feet tall, the new hybrid design combines a steel running track on a massive wooden structure that provides an extremely smooth and comfortable ride while enabling the coaster's trains to perform maneuvers previously unheard of on a wooden roller coaster.
The Wildest Ride Cedar Point Has Ever Built
Steel Vengeance will offer riders unmatched intensity through a relentless series of dynamic movements on this innovative coaster. Riders will board one of three trains and climb 205 feet above FrontierTown. Once they crest the lift hill, they'll be staring straight down a 90-degree initial drop and a 200-foot fall to earth. Multiple airtime hills follow, including the world's fastest airtime hill ever created on a hybrid roller coaster, and a 116-foot-tall outer-banked hill placing riders on an outward tilt while moving forward.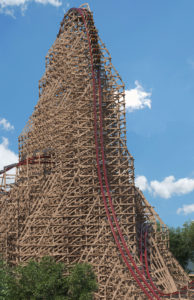 Steel Vengeance will also debut the first-of-its-kind "Twisted Snake Dive." In this new maneuver, the coaster's train will enter a half-barrel roll, hang upside-down for a brief moment and then turn back in the direction of travel, not completing a full roll. The coaster's figure-eight layout will create a fast-paced journey with multiple airtime hills, twists and dives, overbanked turns and surprise maneuvers. The entire ride will last approximately 2 minutes, 30 seconds.
"This is another roller coaster that only Cedar Point could build – tallest, fastest and longest of its kind with four inversions and the exciting movements the hybrid design can achieve," said Jason McClure, vice president and general manager of Cedar Point. "There are so many unexpected moments on Steel Vengeance, it's just plain twisted. It'll be an extremely wild experience for our guests."
The World's First "Hyper-Hybrid"
Steel Vengeance introduces a new classification of roller coaster – the "hyper-hybrid." The coaster not only combines a hybrid construction of smooth steel track set atop a wood support structure, but also reaches a height of over 200 feet – the defining feature of a "hyper-coaster." It marks the fourth classification of roller coaster introduced by Cedar Point as the park's ever-higher roller coasters have needed new categories to define them.
Previous roller coasters that were world's firsts include Magnum XL-200 – a "hyper-coaster," a term given to any roller coaster that breaks a 200-foot height; Millennium Force – the world's first "giga-coaster," a coaster eclipsing a 300-foot height; and Top Thrill Dragster – the world's first "strata-coaster," soaring over 400 feet tall.
Another World Record Breaker
With the addition of Steel Vengeance, Cedar Point will once again shatter both roller coaster and amusement park records. These records include:
-World's tallest hybrid roller coaster (205 feet)
-World's fastest hybrid roller coaster (74 mph)
-World's steepest drop on a hybrid roller coaster (90 degrees)
-World's longest drop on a hybrid roller coaster (200 feet)
-World's longest hybrid roller coaster (5,740 feet)
-Most inversions on a hybrid roller coaster (4)
-Fastest airtime hill on a hybrid roller coaster (73 mph)
-Most airtime on a hybrid roller coaster (27.2 seconds)
-Most airtime on any roller coaster (27.2 seconds)
-World's first "hyper-hybrid" roller coaster
-Most roller coaster track at one amusement park (60,423 feet/11.4 miles)
-Most steel roller coaster track at one amusement park (57,865 feet/11 miles)
-Most roller coasters over 200 feet tall at one amusement park (6)
-Most rides at one amusement park (71)
-Most roller coasters with a first drop of 90 degrees or more at one amusement park (5)
Steel Vengeance is being constructed by the roller coaster engineers and builders at Rocky Mountain Construction, an Idaho company that specializes in the reconstruction and re-imagination of traditional wooden roller coasters.
They're Coming. But Who Are "They?"
Throughout the summer of 2017, the park released clues about the ride on social media, all referencing the word, "they." The story of Steel Vengeance will be told through three new outlaws who have banded together to "unsaddle" the reign of Maverick, FrontierTown's low-to-the-ground, double-launching roller coaster. Throughout the winter months, guests will learn more about Jackson "Blackjack" Chamberlain, Chess "Wild One" Watkins and Wyatt "Digger" Dempsey.
DOSWELL, Va. — Wood and steel intertwine into twisting barrel roll drops, dynamic inversions and gravity-defying weightlessness on Kings Dominion's newest hybrid roller coaster – Twisted Timbers – slated to open in the spring of 2018.
Twisted Timbers is an innovative hybrid coaster that uses the latest technology to combine wood supports with a steel track to give riders an exhilarating experience with maneuvers previously unimaginable on a traditional wooden coaster. The coaster is designed by Rocky Mountain Construction of Idaho, a company renowned for reimagining wooden coasters. Features of the ride include:
-109 foot tall barrel roll drop
-3351 feet of track
-Top speed of 54 miles per hour
-Three loops
-Three overbanked turns
-20 airtime moments
Twisted Timbers will be located in the Candy Apple Grove section of the park and is themed to an abandoned apple orchard on the edge of town. The story behind the coaster is that an unknown force – supernatural or natural– destroyed the harvest years ago and froze the orchard in time; now the strictly "off-limits" orchard has reopened for tours, with the twisted ride as its highlight.
Also new in 2018 is WinterFest, an immersive holiday experience in which the park will be transformed into a winter wonderland complete with uniquely themed areas, multitudes of Christmas trees, millions of lights, ice-skating, entertainment, food, crafts and hands-on activities. A nightly tree lighting ceremony will kick off each evening of the imaginative holiday event. The park's fountain on International Street will be transformed into Snowflake Lake, an area where guests can enjoy ice skating in the shadow of the iconic Eiffel Tower; the tower will be converted into a 300-foot Christmas tree complete with a state-of-the-art light show as snow falls over the midway.
Winterfest visitors will be able to enjoy holiday-themed live entertainment in more than a dozen shows like Cool Yule Christmas, Jingle Jazz, and a special production of Snoopy's Ice Show. Classic Peanuts™ characters along with special Winterfest entertainers like Jack Frost, the Sugar Plum Fairy and Candy Cane will meet and interact with guests. Kids can help elves mail letters to Santa at the North Pole Post Office, and decorate cookies in Mrs. Claus' Kitchen. Shoppers may select unique holiday gifts at Crafter's Corner, featuring handmade goods from some of Virginia's best crafters. Throughout the event, guests will be able to enjoy dozens of the park's rides and attractions.
"2018 is going to be an amazing year for our guests," said Gary Chadwick, vice president and general manager, Kings Dominion. "Twisted Timbers raises the bar for Kings Dominion's high thrill level, and adrenaline junkies everywhere will crave experiencing its astonishing twists and revolutions over and over again. This, added to the immersive Winterfest seasonal event, will let our guests experience the park in an entirely different way, creating new family traditions. These investments demonstrate our continued commitment to position Kings Dominion as a dynamic world class destination."
Guests may enjoy unlimited rides on Twisted Timbers as well as admission to WinterFest with the purchase of a 2018 Gold Season Pass, available now at the lowest price of the season, or a free Kings Dominion Pre-K Pass that provides children between three and five years of age with complimentary admission all season long. Gold season passholders receive unlimited access to Kings Dominion and its Soak City water park; entry to special events like Halloween Haunt, The Great Pumpkin Fest and Winterfest; free parking and exclusive discounts; and one free visit to the park in 2017. Special pricing ends October 29, 2017.
CHARLOTTE, N.C. — Carowinds will debut a newly expanded kids' area, Camp Snoopy, opening for the spring 2018 season. Formerly known as Planet Snoopy, Camp Snoopy will feature new rides, a climb and play area, and a more natural looking midway that celebrates the beauty of the Carolina wilderness. Also new for 2018 is the Pre-K Pass, a season pass offering free admission to children ages three to five.
The Camp Snoopy playtime spot will feature five new rides:
-Camp Bus: Buckle up on the wacky camp bus and take a ride that will lift guests into the air and back down to the ground in smooth extensions.
-PEANUTS Trailblazers: Get behind the wheel of a Jeep-themed vehicle and burn rubber on a small, round speedway.
-Kite Eating Tree: Ride along in a kite vehicle that travels up and down a tree.
-Pig Pen's Mud Buggies: Take a trip in a "mud buggy," where guests will rotate around the popular Pig Pen character while bouncing on a bumpy ride.
-Woodstock Whirlybirds: Spin around in an oversized birds nest on this classic ride.
In addition, an 8,000 square foot climb and play area, Beagle Scout Acres, will be added. Children can explore the wide open space with three all-new features:
-The youngest adventurers will be able to gather in a fenced-in toddler area with lots of hands-on activities.
-A new play hill will be an open area for guests to enjoy slides and climb on a turf covered mound.
-Playground wood structures will have hands-on interactives, slides and plenty of things to climb.
The child care facility and Snack Shack restaurant will receive improvements as well.
Also for 2018, Carowinds will introduce the Pre-K Pass, a free season pass specifically for children. The Pre-K Pass provides complimentary admission for kids three to five years of age throughout the 2018 season as well as the remainder of 2017. Online pre-registration is required.
"The expansion of our kids' area along with the introduction of the Pre-K Pass puts Carowinds as a top destination for families," said Pat Jones, Carowinds vice president and general manager. "The new Camp Snoopy area joins our world-class attractions such as the record-breaking Fury 325 giga coaster and the massive Carolina Harbor water park in offering features that meet the needs of guests ranging from three to 23 to 93, providing unique opportunities for creating family memories."
Guests may purchase a 2018 Gold Season Pass at the lowest price of the year. 2018 Gold Season passholders receive unlimited access to Carowinds as well as its Carolina Harbor water park in 2018, along with free admission to SCarowinds and WinterFest, access to special passholder-only events, plus one free visit during the remaining 2017 season. The special pricing ends October 29, 2017.

JACKSON, N.J. — Six Flags Great Adventure in Jackson, NJ celebrated National Roller Coaster Day August 16 by setting the world record for most roller coaster riders in pajamas with its "Sleep & Soar" event.
167 fans showed up in their super hero pajamas as part of the DC Summer of Super Heroes. Riders spent one hour riding Batman: The Ride exclusively to set the world record.
All participants received a special certificate commemorating the record.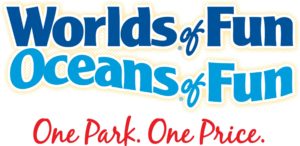 KANSAS CITY, Mo. — Worlds of Fun, Kansas City's hometown amusement park, will introduce a new family ride, Nordic Chaser, for the 2018 season. On Nordic Chaser, guests of all ages will board mini ships that rotate speedily around a circuit. The ride captures the imagination as guests experience the sensation of rising and falling along ocean waves. The ride will be placed in the park's Scandinavia themed area.
"The new Nordic Chaser ride will allow parents and children the opportunity to make lasting memories together," said Tony Carovillano, general manager, Worlds of Fun. "We strive to provide new and exciting changes at Worlds of Fun every year, and look forward to having more families experience every aspect we have to offer at the park."
Returning for the 2018 season is the popular WinterFest holiday event. Winterfest showcases favorite holiday characters, spectacular light displays, ice skating, hands-on activities and live entertainment. The park will be transformed into a winter wonderland for several weeks starting in late November through December, 2018.
Also returning in 2018 is the Pre-K Pass, which grants complimentary admission to children ages three to five years old for the entire season. Online preregistration is required.
2018 season passes are on sale now at the lowest price of the season, and also include one visit to the park in 2017. The pass gives guests unlimited access to the new Nordic Chaser ride as well as all of the attractions in Worlds of Fun and the Oceans of Fun water park, plus special events like Winterfest, Halloween Haunt and The Great Pumpkin Fest.
Attendees Encouraged to Register and Reserve Hotel
Amusement Today, Lake Compounce and Quassy Amusement Park invite working professionals in the amusement industry such as park owners, operators and management and ride manufacturers, designers, suppliers and vendors, to be part of the fun at "The Networking Event of the Year" during the 2017 Golden Ticket Awards on Friday and Saturday, Sept. 8-9.
GTA attendees are encouraged to register for the event at www.goldenticketawards.com and to make reservations for hotel accommodations at one of the two Host Hotels: the Doubletree by Hilton in Bristol, Conn., or Homewood Suites by Hilton in Southington, Conn. Special discounted rates are available at each property by identifying yourself as a Golden Ticket Awards guest. Please refer to www.goldenticketawards.com for detailed information and rates.
"I'd like to personally extend the invitation to our industry to join us in what promises to be a wonderful weekend in Connecticut," says Gary Slade, publisher and editor-in-chief of Amusement Today. "Now is the time to register and secure your hotel reservation for the 20th annual year of the Golden Ticket Awards."
The Host Parks, Lake Compounce and Quassy Amusement Park, are busy gearing up for an unforgettable two days. The Golden Ticket Awards are presented to the "Best of the Best" in the amusement industry and are calculated from an international poll conducted by Amusement Today.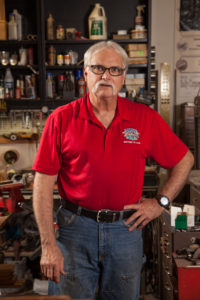 JACKSONVILLE, Fla – Sally Corporation is sad to announce the passing of a key team member and friend. Animation Supervisor and long-time employee Harold Esposito died suddenly on August 4.
"For over thirty years, Harold was a vital member of the Sally family. We lost a great friend and brother today," said CEO John Wood. "Throughout his career he led the way as we developed animatronic figures and show action equipment for parks around the world. He always embodied a can-do spirit that helped us design and develop extraordinary creations in our animation department. Harold seemed to be born with innate problem-solving mechanical skills and always maintained a willingness to mentor others along the way. He began his career with the Disney Imagineers producing figures for Epcot and Tokyo Disneyland. In the early 80's he returned to Jacksonville and joined the Sally team. We were extremely fortunate to have him as a member of our family. His memory will be cherished by all who were blessed to know him."
"Harold was an extraordinary, one of a kind leader who envisioned some of Sally's most memorable and loved animatronics," said Todd Gillrup, Sally's VP of Operations. "Harold led his fabrication team with lifelong industry experience and brilliant imagination."
Harold was commonly known for his quirky personality, love for his wife Margaret, motorcycle riding, practical jokes, and an occasional craft beer with friends. Our company, our "family", lost an incredible man today and he will truly be missed.