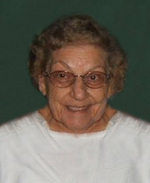 EGG HARBOR TOWNSHIP, New Jersey — Esther Fricano passed away peacefully on May 13, 2015 in the comfort of her home.
She was raised in Vineland, where she worked on the family farm with her parents and five siblings. She graduated from Vineland High School in 1940, one semester early, and near the top of her class. After graduation, she worked as a secretary and bookkeeper at Wene Chick Farm, based in Vineland.
Esther married John Fricano, Sr. in 1945. In 1955, she co-founded Storybook Land, in Egg Harbor Township, with her husband when their children were 2 and 6. They cleared the land and built some attractions with nursery rhymes themes. The two gradually expanded the park over the years, adding rides in the 1970s and expanding into more than 20 acres today. Esther handled the decorating and furnishing of the displays and buildings at Storybook Land. She would dress up as Mother Goose to greet the children, or be in the snack bar cooking lunch or scooping ice cream for the park patrons. She dedicated herself to the business and used her secretarial experience to handle all the office work associated with running an amusement park.
She loved dolls. Her collection included Shirley Temple, Barbie and even Kate Middleton. The business continues to be run hands-on by family members, and Fricano welcomed input from her children and grandchildren.
As an Italian grandmother, Fricano was known for her hospitality and for being an excellent cook and baker. Friends, family, neighbors, and employees could stop by her home anytime at all, where she would always offer a cup of tea and cook huge family-style meals. Whether it was morning or night, nobody left the house hungry.
Esther was predeceased by her husband of 63 years, John Sr., her parents John and Jennie DeMarco, and her five siblings: Lewis DeMarco, Rose Spada, Frank DeMarco, Joseph DeMarco, and Mildred Crescenzo.
She will always be remembered by her two children: JoAnne and John Jr., and the late Iris Fricano; grandchildren: Jessica and John III; nephews and nieces; and all of her friends and employees at Storybook Land.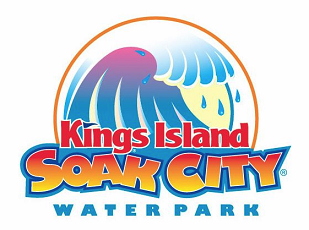 MASON, Ohio — Kings Island's Soak City Waterpark has been awarded the Platinum International Aquatic Safety Award for the 2014 season. Earning this award demonstrates that the aquatic facilities the park operates consistently exceed industry standards in risk management and epitomize aquatic safety excellence. International Aquatic Safety Awards are conferred to deserving aquatic facilities by Jeff Ellis & Associates, Inc. – International Aquatic Safety and Risk Management Consultants.
International Aquatic Safety Awards are presented annually to participants in Ellis & Associates comprehensive aquatic risk management program and are based on the results of multiple random unannounced aquatic facility operational safety audits throughout the year. These audits include undercover video surveillance of individual lifeguards while they protect their zone of protection areas, in order to accurately evaluate their professional diligence. Additionally, individual and team basic life support and rescue skills are evaluated, along with simulated emergencies that measure the effectiveness of established emergency action plans. The audit concludes with administrative, supervisory and facility evaluations.
Soak City Waterpark opens for the 2015 season May 23 and is included with park admission to Kings Island.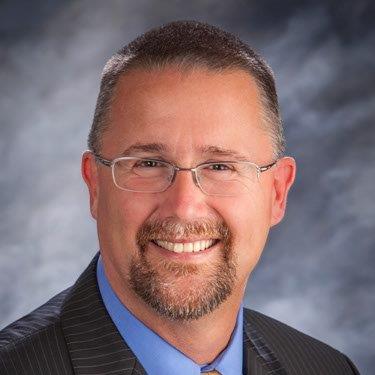 SANTA ANA, California — Uremet Corporation, the leading manufacturer of high quality, high performance solid polyurethane wheels, has named Charles R. Cornman, PhD, as the company's Chief Executive Officer. Cornman joins Uremet with 20 years' experience as a functional leader in market-leading manufacturing companies. The new CEO brings to Uremet a wealth of technical and commercial experience growing businesses through innovative and differentiated products.
Cornman most recently served as the Vice President for R&D at Custom Building Products. While there he built a new product strategy and research organization to enable market-beating growth. Prior to that Cornman served in several leadership roles in multinational specialty chemical and materials companies.
"Chuck, with his wealth of technical experience and passion for leading high performing teams, will further advance Uremet's wheel performance," says outgoing CEO Steve Zamolo. Uremet's founder and president, Mark Moore, adds, "The experience Chuck brings will continue to strengthen and improve Uremet's quality and service. His chemistry knowledge will provide better performing polyurethane blends for our customers," says Moore. Steve Zamolo will continue with Uremet as Chairman of the Board of Directors, while Mark Moore will remain a Board Member and lead special projects.
"Performance, quality, and service will remain hallmarks of the Uremet brand," explains the incoming CEO Charles Cornman. "Mark and Steve have built an amazing company, with a stellar position in the amusement wheel segment. We're looking forward to further strengthening our product offerings for the amusement industry, as well as entering select new markets where high performance is mission critical."
Cornman, who earned Bachelor's and Ph.D. degrees in Chemistry, plans to meet Uremet customers and get up to speed quickly, starting with visits to as many amusement ride manufacturers and parks as he can during his first few weeks as CEO.
WISCONSIN DELLS, It was 1942 when the unique amphibious vehicles first rolled off the General Motors assembly line. Built to go to war, the land-and-water military craft, code named DUKWs, were simply nicknamed "ducks" by World War II soldiers. This summer, a special fleet of the vehicles are celebrating 70 years of service at the Original Wisconsin Ducks in Wisconsin Dells, undoubtedly the longest tour of duty for any of the original machines that were manufactured.
"We are very proud of reaching this milestone 70th season," said Dan Gavinski, who is the general manager and part owner of Original Wisconsin Ducks, and began his career with the operation at age 14 as a parking lot attendant. "At the core we are about a fun, family ride on a unique vehicle; but we are also about helping preserve the legacy of the Ducks and their importance to the war efforts."
The Ducks finest hour came on D-Day – June 6, 1944 – where 2,000 of the vehicles participated in the historic invasion at Normandy, France. It is touted as the greatest amphibious operation in history and the turning point for the Allied Forces. Just a year later, the war would be over and surplus military supplies would be made available to the public. Among those were amphibious ducks. War veteran Bob Unger of Milwaukee plucked one up, and with his friend Mel Flath, brought it to Wisconsin Dells to offer tours. Scenic boat excursions had long been a draw for tourists, so why not add a new twist – land-and-water tours all from one seat.
While the operation had simple beginnings in 1946, the fleet grew rapidly. Unger left with his Duck after that first summer, and Flath added 37 more vehicles to the operation, which he ran through the summer of 1952. He then sold the business and entire fleet to Dr. R.O. Ebert, who also owned the Lost Canyon horse-drawn carriage tours. Ebert named the operation Original Duck Tours and ran it through 1955 before selling it to Wisconsin Ducks Incorporated. In 1956 the tour became known as Original Wisconsin Ducks.
Throughout its 70-year history the operation has continued to grow, with managers even traveling to Europe to find Ducks in good enough shape to add to the fleet. Today, Original Wisconsin Ducks, with more than 90 vehicles, is the largest tour duck operation in the United States.
"Visitors and industry folks alike are surprised at the size of our fleet," said Gavinski. "We far outnumber any operation and we are proud of that distinction. We work hard to maintain our reputation of providing safe tours and preserving the Ducks for generations to come."
The Ducks are a challenging fleet to maintain, with their amphibious features and the fact that most of the parts made for these 70-year-old behemoths, are no longer manufactured. Original Wisconsin Ducks has built a top-notch staff of eight full-time mechanics and expert metal workers who have made careers out of maintaining this novel fleet. Together they have a combined 175 years of service working on the Ducks. They've been innovators in their field and are recognized as the foremost authority on the unique land-and-water craft.
The story of "man and machine" extends to those who get behind the wheel of the lumbering Ducks and shuttle vacationers through the woods and waters of the Dells. Over its seven decade history, about 670 people can claim the title of Original Wisconsin Ducks Driver. In the early days, most of the tour operators were young men. Today most drivers are young college students, men and women, who commandeer the seven-ton Ducks for tours. This summer all alumni drivers are invited back for a special Duck Driver Reunion June 19-21, 2015.
"We have located about 600 of our former drivers and asked them to join us this summer; it's really going to be like a big family reunion, seeing what our alumni have gone on to do in their lives," Gavinski said.
Laying claim to the title of Duck Driver is special in and of itself. Only 50 candidates are chosen for the summer jobs each year. Besides the rigorous six-week training, being a driver takes a charming personality and a love for helping make family vacations fun. It's often said "You haven't done the Dells, if you haven't done the Ducks" and that's a legacy the operation hopes to maintain for decades to come.
Original Wisconsin Ducks take passengers on a one-hour tour on exclusive wilderness trails and make splashdowns into the Wisconsin River and Lake Delton. Shared by generations it's considered a top attraction in the Midwest and a quintessential part of any Wisconsin Dells vacation.
With more than 90 vehicles, Original Wisconsin Ducks is the largest "flock" of amphibious tour Ducks in the United States. There are about a dozen Duck tours nationwide, with only about 300 operational Ducks combined. Original Wisconsin Ducks' 2015 season runs mid-March through mid-November, weather permitting. Tours run every few minutes during the peak summer season. For more information about Original Wisconsin Ducks, please call (608) 254-8751 or visitwisconsinducktours.com.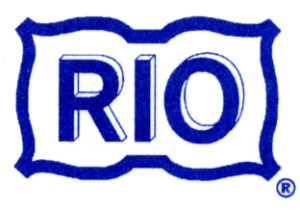 ST. LOUIS, Mo. — Rio Syrup company, Inc. was founded in 1940 by Stuart S. Tomber, thus the company is celebrating its 75th anniversary this year. The third generation of family members continue their involvement in the company which manufacturers beverage flavors for Shaved Ice, Slush Drinks, Sno Cones, Fountain Drinks, Ices, Punch Drinks, Malt and Milk Shakes.
The St. Louis-based company also manufactures a line of liquid food colors as well as several color dyes in more than 300 flavors that are both sugar and sugar-free.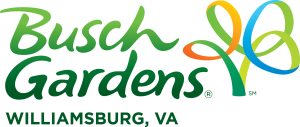 JAMES CITY, Virginia — Tempesto, the Premier rides Sky Rocket II model launch coaster opened to rave reviews during a media event April 24 at Busch Gardens Williamsburg, Va. The 154 foot tall structure features numerous tight turns and banked inversions. The 18 passenger train uses a double shuttle launch (Linear Synchronous Motor or LSM) to get the train up to speed (63 mph) propelling it to the top, going through two high speed inversions before the first drop. The rest of the 53 second ride features a steep drop with tight turns, gravity-defying rolls and a 90 degree swoop turn to the station. Tempesto concludes with the train going through the station, then it is launched backward before it comes to a final stop. Carl Lum, Busch Gardens Williamsburg Park President had this to say during the inaugural run to the public on April 25, "Tempesto has exceeded my expectations as a thrill attraction. Tempesto packs a lot of punch in every second of the ride and I am thrilled to see our guests enjoying themselves as they experience our newest coaster."
The name Tempesto is based on a fictional Italian stunt motorcycle daredevil. The character, known for death-defying feats such as racing up and over a giant loop, is the inspiration for Tempesto's collection of dives, twists and turns. No one ever wowed the crowds like Tempesto and this ride recreates his most famous stunt. As the sign reads, "Real Thrills – Supreme Stunts."
Tempesto is situated very close to the entrance and lift hill to Apollo's Chariot. The area surrounding the ride is circus themed with acrobatics, aeronautics and tightropes, bicycle stunts and the flying trapeze. A star-stamped plaza, followed by brightly colored strands of lights crisscross the entrance area. Riders go through a large barrel, reminiscent of what Tempesto the daredevil transversed. The bold orange and red colors, graphics and visuals bring a new level of excitement and energy to the Festa Italia village. ThemeWorks, Inc., High Springs, Florida provided the attraction theming.
The ride trains are comfortable; however the "comfort collars" that take the place of the standard "over the shoulder restraint system" will take a bit of getting used to by first time riders. They work well, but can be tricky to put on. The Tempesto crew is on hand to easily assist. Also the front to back space in each car is tight making for slower load-in, load-out of passengers until they get used to the process.
When asked about why Premier Rides was selected and if other manufacturers were in contention, Kevin Crossett, Senior Communications Manager, Busch Gardens/Water Country USA said, "Other companies were considered when we were planning what type of coaster we wanted to manufacture. Premier's mix of thrill elements and innovative design led us to choose the company to design and manufacture Tempesto."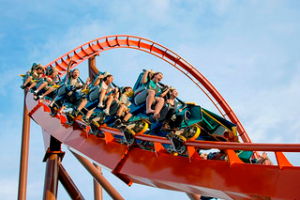 SANTA CLAUS, Indiana — With a crowd of hundreds of roller coasters enthusiasts from around the nation cheering, America's first launched wing coaster took flight over Holiday World Theme Park on April 23.
"This is an incredible day in our park's history," says park president Matt Eckert. "We can't wait to see and hear our guests' reaction to riding Thunderbird."
Thunderbird, Holiday World's new steel roller coaster features a zero-to-60 miles-per-hour launch in 3.5 seconds, followed by multiple inversions — including a 14-story Immelmann loop, Zero-g roll, barrel roll, and a loop soaring 125 feet in the air.
Continuing Holiday World's tradition of sending roller coasters through its thickly wooded and hilly terrain, Thunderbird at first soars and loops high in the air and then hugs the ground, surprising riders with rapid-fire "near misses" such as keyholes, themed elements, other rides, trees, and even the ground.
"A wing coaster creates a feeling of incredible freedom — you ride beside the coaster track with nothing above or below you," says Eckert. "Thunderbird is the first launched wing coaster in the nation – it's a whole new experience for thrill seekers."
Eckert calls Thunderbird's manufacturer, Bolliger & Mabillard, the "Cadillac of roller coasters, known for their safety, quality and reliability. We've dreamed of adding a B&M steel coaster for many years and are excited that Thunderbird will be B&M's first launched coaster."
Thunderbird's $22 million price tag is more than twice the amount of any other single-ride investment at Holiday World & Splashin' Safari in the park's 69-year history.
Thunderbird, which opens to the public on Saturday, is located in the park's Thanksgiving section. A new restaurant, the SmokeHouse, and a shop named Hevron's Mercantile will also open Saturday. Also new this season is George's Gluten-Free Pizza & Snacks, the park's latest effort to provide menus for those with special dietary needs.
Holiday World, the world's first theme park, opens for its 69th season on April 25; Splashin' Safari water park opens May 13.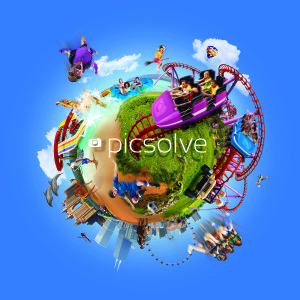 ORLANDO, Florida — Picsolve, the leading image capture partner for the leisure and entertainment industry, has announced the appointment of Anthony Boddie as its new Vice President of Theme Park Operations, North America.
Following Picsolve's recent $14 million investment in the US, the company has recruited heavily in the region, with Boddie's position fundamental to the senior leadership team that provides added value for partners looking to offer enhanced guest experiences and future proof their revenues.
Boddie will bring over 25 years of experience in the theme park and attractions industry to his new role, previously working at America's largest amusement concessionaire, Kaman's Art Shoppes. During this time, Boddie held several leadership positions including Director of New Business Development and Director of Photo Imaging/Operations, following management positions at theme park photography company John Shawn Productions.
Well-respected in the industry, Boddie has a strong understanding on meeting and exceeding clients' expectations and will bring his experience of working with operations, financial management, personnel management and business development to his role at Picsolve.
Anthony Boddie, Vice President of Theme Park Operations, North America commented: "I've watched Picsolve's offering develop over the years into something that is unrivaled in the industry and I am looking forward to joining the team to help cement this innovative model even further in the US. With such a forward-thinking culture at Picsolve, there is a huge opportunity in North America to 'future proof' theme parks and meet the increasing guest demand for park photography; driven by evolving digital and social media trends."
COO of Picsolve North America, Don Potts commented – "Having Anthony join our North America team is fundamental to our recent growth and investment in with the region. No one in the segment has Anthony's experience and proven track record of delivering operational excellence. He'll be joining a robust team of experts already in place to revolutionise our services for theme parks and attractions, while enhancing the guest experience. As a result, Picsolve's market leadership position is further strengthened in both the industry and region."
Springfield, Mass. — Gary Payne, President of the Circus Fans of America, announced that The Enquirer Printing Company of Newtown, Ohio, will be offering a large collection of Circus memorabilia for sale during The World Wide Circus Summit 2015, scheduled for The Big E Fairgrounds, July 14-18.
John Anderson, president of The Enquirer Printing Company and one of the fourth generation of the Anderson family to own and operate the company said, "We have been looking for a way to put our warehouse full of circus posters, original art work, wood & metal circus cuts and wood type in the hands of true circus fans. With circus fans from around the world coming to Springfield in July to attend the WCS 2015, we feel it is the perfect place for us to offer a portion of our archives for sale!"
The Enquirer Printing Company, which has been in business and owned by the Anderson family since 1890, was the largest printer of circus posters in United States for many years. When the circus was the king of local entertainment in America, EPC specialized in creating large circus posters. Their work was plastered throughout towns days before the circus train and its big top and parade of elephants arrived. In recent years, the circus poster business has changed with many communities and utilities banning posters on utility poles, and many circuses don't want the hassle and expense of hiring someone to collect them when they leave town.
However, Enquirer Printing Company still prints for many circuses including Kelly Miller Brothers Circus and Feld Entertainment, Inc., owners of Ringling Brothers. They also provide printing services for several carnivals, fairs, amusement parks and other entertainment venues.
Bill Robinson, of William H. Robinson, Inc., whose company has been retained by EPC to handle the sale says, "Boxes and skids are stacked to the ceiling in a 35,000 square foot building, and every box we open has another surprise. This sale is going to be a huge opportunity for the circus collector, decorators, antiques shops and auctioneers to purchase old/authentic circus advertising and collectables. I don't believe there has been — or there ever will be — another offering of real circus memorabilia of this magnitude again."
For more information on the sale, contact Bill Robinson.
For more information on The World Wide Circus Summit 2015, visit worldwidecircussummit2015.com.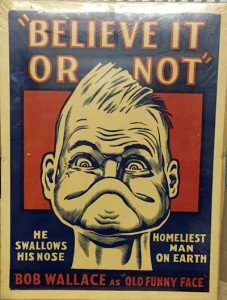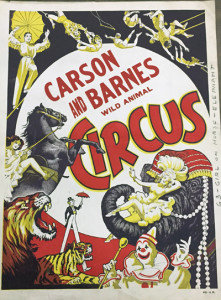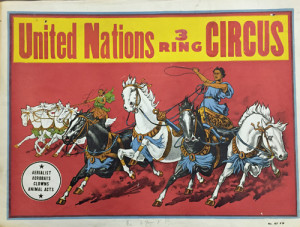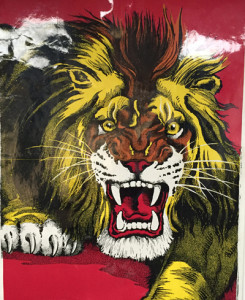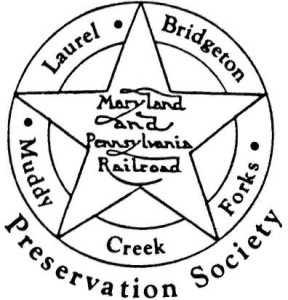 Muddy Creeks, Pa. — The Maryland and Pennsylvania Railroad Preservation Society is hosting the first joint conference of the two leading national rail preservation organizations, April 16 – 18, 2015. The Association of Tourist Railroads and Railway Museums (ATRRM) and the National Railway Historical Society (NRHS) are meeting together in a spring conference that has been two years in the making. Over 100 leading figures in rail preservation from all over the U.S. and Canada are expected to attend. The Yorktowne Hotel, 48 East Market Street, York, is serving as the official conference hotel.
The York area has a rich railway history that includes pioneer locomotive builder Phineas Davis. He built the first coal burning locomotive and developed the B & O's (Baltimore and Ohio's) grasshopper design. Just south of York City is the Howard Tunnel, the oldest railway tunnel in the United States. Starting in the late 1800's, Billmeyer and Small was a major railroad car builder for standard and narrow gauge lines. By the 1930's, York's thriving industrial operations were being served by more than 130 dedicated sidings.
The conference program starts on Thursday, April 16 at the York County Heritage Trust, 250 East Market Street, York, with a 6:00 pm reception followed by 7:00 pm presentation. "Steel Rails to the White Rose City: The Northern Central Railway in York County, PA," will be presented by Fred Wrabel. Between 1974 and 1986, Wrabel served the Pennsylvania Railroad Technical and Historical Society in a variety of capacities, including editor, writer and President for the Chesapeake Chapter. He created displays for Amtrak, Conrail, the Baltimore Streetcar Museum and others. He has written over twenty lecture/slide presentations. Before and after the presentation, at least a half dozen local rail attractions will have display tables at the Heritage Trust to showcase what they have available for the public. Both activities are free and open to the public.