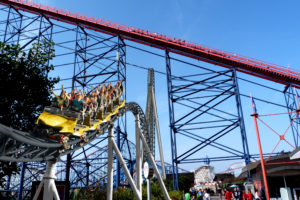 Blackpool Pleasure Beach has announced it is to build a new £16.25m rollercoaster. It will be the UK's first ever with a double-launch – an advanced technology that gives the roller coaster two powerful thrusts of acceleration during the ride. 'Construction 2018' will feature the most number of interactions in the world with 15 interactions involving five different rides and two tunnels.
The ride is being manufactured by Mack Rides at their world-class factory in Waldkirch, Germany, utilising the latest state-of- the-art engineering processes, including laser beam technology for extreme accuracy. The ride will open in Spring 2018.
A double launch will see thrill seekers propelled forward at high speed not only at the start of the ride, but also at a second point half way through the two and a half minute experience. Riders will experience the same levels of G force as felt by the driver of a Formula 1 car. The launch of the ride features acceleration which is 4 times that experienced in a Lamborghini Gallardo.
Construction 2018 will reach heights of 88.5ft with drops of up to 82ft. It will interact with five other Blackpool Pleasure Beach rides including the iconic Big One, Steeplechase, Big Dipper, Pleasure Beach Express and the Grand Prix.
Over 44,800 hours have been invested in the development to date with that number expected to treble ahead of completion.
Speaking on the announcement Deputy Managing Director of Blackpool Pleasure Beach, Nick Thompson, comments: "We have been working on this concept for five years now and are delighted to be able share news of our plans.
"Construction 2018 will be fast, adrenalin fuelled and exhilarating but also smooth and comfortable – an entirely new ride experience. It sees a significant investment in Blackpool Pleasure Beach. We expect to see thrill seekers flock to the park to experience this UK ride first."
Blackpool Pleasure Beach's Managing Director, Amanda Thompson OBE, adds, "Construction 2018 follows in the long tradition we have at Blackpool Pleasure Beach of investing in fantastic rides and bringing first of their kind rollercoasters to the UK. Blackpool Pleasure Beach, the world's most ride intensive amusement park, is home to the UK's first looping coaster, Revolution, and, at the time it was built, the world's tallest and fastest rollercoaster, The Big One, plus many more thrilling rides. I'm delighted to be able to continue this tradition and bring such a thrilling ride to the UK."
ALEXANDRIA, Va. – Three fundraisers to benefit Give Kids The World (GKTW) Village will be held during IAAPA Attractions Expo 2016 the week of Nov. 14 in Orlando, Florida: the IAAPA International Charity Golf Tournament, IAAPA Motorcycle Ride, and IAAPA Charity 5K Run and 1K Walk, Footprints from the Heart. Companies exhibiting during the trade show can also donate items to the Village at the conclusion of the week. Funds and donations collected will benefit GKTW, a 70-acre, nonprofit resort based in Central Florida that creates magical memories for children with life-threatening illnesses and their families. The International Association of Amusement Parks and Attractions (IAAPA) and its members have raised more than $1 million for GKTW over its 20-year partnership.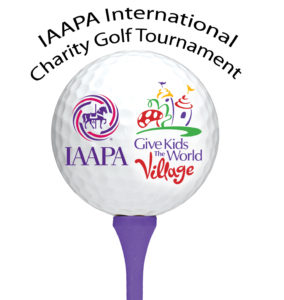 IAAPA International Charity Golf Tournament
The 18-hole scramble starts at 8 a.m. Sunday, Nov. 13, at Hawk's Landing Golf Club in Orlando. Playing slots are limited to 144 and available on a first-come, first-served basis. (Members are encouraged to register early as the event is expected to sell out weeks in advance.) The $200 registration fee includes practice facility time, bag service, lunch, and more. The registration deadline for individuals, pairs, threesomes, or foursomes is Nov. 4
IAAPA Motorcycle Ride
The motorcycle ride begins at 8 a.m. Sunday, Nov. 13. The $100 registration fee includes basic registration and lunch. Details regarding the specific route are forthcoming. The fee does not include motorcycle rental, which is available through Orlando Harley-Davidson at +1 407/238-8660. All registrations must be completed by Nov. 4.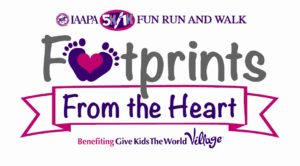 Charity 5K Run and 1K Walk, Footprints from the Heart
The IAAPA 5K Fun Run and 1K Walk, Footprints from the Heart takes place Thursday, Nov. 17, at GKTW Village. Once runners and walkers register they can create a personal fundraising page online to share with family and friends to raise additional donations. Fundraising prizes are awarded to the top individual fundraiser and top team fundraiser. Teams of five or more register at a minimum donation of $30 per person; individuals can register for a minimum donation of $35 per person. People do not actually have to run or walk to participate. IAAPA's virtual runner program (formerly known as cheerleaders) allows anyone to donate (minimum donation is $35) and create a personal fundraising page. Advance registration is open online until Nov. 16 and on-site at the Expo at the GKTW Booth #3431 up until 6 p.m. Wednesday, Nov. 16. Runners can also register in person the morning of the event, Thursday, Nov. 17.
Exhibitor Donations
Exhibiting companies can donate leftover booth items, such as plush toys, games, t-shirts, etc., to the Village. Additional information will be distributed to each booth during the week and will be available at the Exhibitor Services Desk behind IAAPA Central, Booth #3831, Thursday, Nov. 17, or Friday, Nov. 18.
Event registration information and details are available at www.IAAPA.org/GKTWatExpo.
Sponsorship opportunities are also available. Visit www.IAAPA.org/GKTWatExpo or e-mail GKTWCharityEvents@IAAPA.org for additional information.
PLAINVIEW, Texas – Chris Gray, co-founder and Vice-President of Skyline Attractions will join the National Rollercoaster Museum and Archive board of directors after the passing of NRCMA founding board member, Mark Moore, the founder and President of urethane wheel manufacturer Uremet.
While replacing Mark Moore on the board was difficult, a search ensued to find another industry veteran that shared Moore's passion and entrepreneurial skills. Chris Gray was immediately identified as a match for Moore's passion for the industry and NRCMA's efforts.
"I have known Chris for many years," Gary Slade, NRCMA Chairman said. "His passion and experience in the industry will greatly benefit our efforts at the National Roller Coaster Museum."
Gray is a U.S. Navy veteran who has worked in the industry for nearly 20 years. In 1998, Gray founded CMG Models, a photo-realistic attraction model fabrication company for the amusement and architecture industry. He also served as the Procurement and Assembly Director for Great Coasters International, the global wooden coaster manufacturer. During his tenure there, Gray worked on projects around the world including seven of the top 25 wood roller coasters. As co-founder of Skyline Attractions, he now develops experiential rides and games for the amusement industry. Most recently, Skyline has produced the innovative "Strike U Up" and "Spin U Win" ridable, interactive midway games for amusement parks and family entertainment centers.
"Chris has wanted to be part of the board for several years and has waited patiently in the wings. Now we can get him more involved with our projects," Richard Munch, American Coaster Enthusiasts Founder and NRCMA Historian said. "We look forward to having him bring fresh new ideas to the table and welcome his expertise in model building, as well maybe directing repairs to the many models we have in the archival collection."
Gray received unanimous approval by the NRCMA board and assumes his position on the board immediately.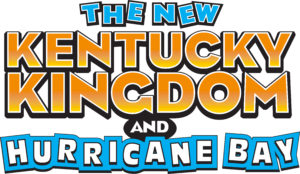 LOUISVILLE, Kentucky — Kentucky Kingdom announced that it hosted 800,000 visitors during its recently completed 2016 season, surpassing last year's attendance by more than 200,000 visitors. The majority of the increase is represented by out-of-state visitors, 78% from Indiana and Tennessee and the remaining 22% from the other 48 states.
"Over the past three years, Kentucky Kingdom has firmly established itself as a regional attraction and is now drawing visitors from all over the country," commented Ed Hart, President and CEO. "Our goal is to reach 1 million visitors as early as next year and we expect much of the increase to come from out of state. Of course, we also value our season pass holders, who make up the majority of our local customer base. We're dedicated to providing our season pass holders – and all of our guests – the best in family fun at affordable prices."
Added Julie Johnson, Director of Sales and Marketing, "Delivering an outstanding experience for our guests is the key to our success. We offer a great selection of rides and attractions, beautifully landscaped grounds, a friendly staff, and a clean, safe, and fun environment."
Aaron Banks, Kentucky Kingdom's Executive Chef, who manages food quality, procurement, and catering, remarked, "This year, our food service staff prepared more than 80,000 catered meals. To satisfy our guests, we know how important it is to serve food of the highest quality. We pride ourselves on buying the best ingredients, preparing delicious food and presenting it well, and serving ample portions at reasonable prices. Frankly, the feedback from our guests has been terrific."
Hart went on to say, "We are very grateful to both our full-time staff and our seasonal team members, many of whom are completing their third season with us. We could not have made Kentucky Kingdom the success it is today without their hard work and dedication. In cooperation with state and local officials, the Mayor's office, the Louisville Convention and Visitors Bureau, and the Kentucky State Fair Board, we continue to work toward the goal we've always had, which is to develop the park into the state's number one summertime destination for family fun. We will continue to do our best to deliver on that promise."
Kentucky Kingdom 2017 season passes are now on sale for only $59.95 (plus tax) at all area Kroger stores. If purchased prior to October 31, 2016, the 2017 pass includes free drinks throughout the season. A season pass also comes with other valuable benefits, such as free parking and a 20% discount on all food and merchandise purchased in the park.
TORONTO, Ontario – Cineplex Entertainment ("Cineplex") today announced that it is acquiring all of the issued and outstanding shares of Tricorp Amusements Inc. ("Tricorp").  Upon completion of the transaction, which is expected to close in early October, New Jersey-based Tricorp will become part of Cineplex Starburst Inc. ("CSI"), a wholly owned and operated subsidiary of Cineplex Entertainment.
  Financial terms
 were not disclosed. 
"With Premier Amusements as well as through strategic mergers and acquisitions like Brady Starburst last year, CSI has become one of the leading distributors and operators of amusement and gaming equipment across North America," said Ellis Jacob, President and CEO of Cineplex Entertainment.  "The acquisition of Tricorp enables CSI to further scale its US presence and create opportunities for significant growth."
Tricorp is a leading provider of interactive video, redemption and amusement gaming services through revenue sharing agreements in the United States. It has a diversified client portfolio focusing on the theatrical exhibition vertical
as well as community-based family entertainment destinations such as bowling centres, amusement and water parks, indoor mini-golf and laser tag facilities, as well as casinos and restaurants. It also specializes in entertainment centre design and has over 35 years of experience in delivering high quality entertainment programing and attraction selection.
"This transaction with Cineplex is exciting because it will allow for greater scale in our existing business channel and provide for even more opportunities for the entire Tricorp team," said Charles T. Peitz, Founder and Chief Executive Officer, Tricorp Amusements Inc. "Combining our two organizations creates a powerful, strong and diverse amusement company that can now provide amusement services to a much broader and expanded market across North America."
Headquartered in Toronto, Ontario, 
CSI has 
16 offices across Canada and the United States operating as Cineplex Starburst, Brady Starburst, Premier Amusements and Playdium
. The acquisition announced today strengthens CSI's already strong US market position by adding nearly 100 Tricorp employees covering over 20 states from five regional distribution centres across the eastern seaboard. The Tricorp corporate offices will remain in New Jersey and the executive management team will continue to be led by industry veterans Charles 'Chuck' Peitz and Joe Ingui.
With pro forma revenues of approximately $28.0 million USD and pro forma adjusted EBITDA of approximately $6.0 million USD, the Tricorp acquisition will be financed with cash-on-hand and existing credit facilities.
BARCELONA, Spain – Today, the International Association of Amusement Parks and Attractions (IAAPA), the largest trade association for the $39 billion worldwide attractions industry, announced it will relocate its global headquarters office to Orlando, Florida. The move will begin in 2017. IAAPA also announced plans to host its annual conference and trade show (IAAPA Attractions Expo) in Orlando at the Orange County Convention Center through 2030. The move from Alexandria, Virginia, and convention contract extension are contingent upon support from the state of Florida and Orange County, Florida.
The IAAPA Board of Directors approved the relocation and convention agreement extension during meetings held in Barcelona, Spain in conjunction with the association's European conference and trade show, Euro Attractions Show 2016.
Move Supports the Growing Association that Supports a Growing Industry
The IAAPA board of directors concluded the worldwide headquarters for the association should be located in the global epicenter of the theme park and attractions industry, Orlando. In addition to world-renowned theme parks including Legoland Florida, SeaWorld Orlando, Universal Orlando Resort, and Walt Disney World, the region offers Fun Spot, Ripley's Entertainment, Dave & Buster's, and other best-in-class attractions including water parks, family entertainment centers, zoos, aquariums, museums, and natural attractions. Many of the industry's leading manufacturers and suppliers have a presence in the region as well.
The Central Florida location will make it easier for IAAPA members from around the world to connect with each other and engage with IAAPA's professional staff when they travel to the region to meet with industry suppliers and to see some of the latest industry innovations at Florida's attractions. As IAAPA's staffing needs grow in the future, the move will also facilitate the association's ability to recruit candidates with industry experience.
"IAAPA is the global organization that supports and connects attractions industry professionals from around the world and although we've done so successfully for almost 100 years, it's now time to look ahead and form our vision for the next 100 years," said John McReynolds 2016 IAAPA Chairman of the Board and Senior Vice President of External Affairs for Universal Parks and Resorts.
"I cannot think of a better place to build our future than in Orlando, the theme park and attractions capital of the world," McReynolds added. "Our new headquarters will become a global gathering place where industry leaders will connect to conduct business, learn from each other, address challenges, and imagine the attractions that will put smiles on people's faces for many years to come."
"In an effort to keep up with the rapid growth of the global attractions industry over the past 10 years, we have expanded our regional offices, increased the products and services we offer our members, added staff, expanded our training and professional development programs, and hosted record-breaking trade shows around the world. We have outgrown our headquarters office so now is the time to put infrastructure in place to support the association and the industry for the future," said IAAPA President and CEO Paul Noland.
"Orlando is not just a place to have fun, it's also a great place to conduct serious business and that's a winning combination for IAAPA," Noland added.
Convention Agreement Extension to Generate Millions for the Orlando Economy 
IAAPA has held its global conference and trade show at the Orange County Convention Center for many years and since 2010. The association previously committed to host the event in Orlando through 2025. That agreement will now be extended for five additional years through 2030. The weeklong event brings 30,000 people to the region and generates an estimated $51.3 million for the Orlando-area economy each year. The economic impact of the 20-year agreement will exceed $1 billion. IAAPA Attractions Expo 2016 takes place at the Orange County Convention Center Nov. 14-18 and additional information is available at www.IAAPA.org/IAAPAAttractionsExpo.
Orange County Welcomes IAAPA to the Orlando Business Community
Orange County Mayor Teresa Jacobs traveled to Barcelona to answer questions from the IAAPA board members about the region and to outline the county's interest in bringing the headquarters to Orlando and discuss the Expo extension.
"We're thrilled to welcome IAAPA to Central Florida," said Orange County Mayor Teresa Jacobs. "In addition to the obvious synergy with our world-class theme park and entertainment industries, the addition of another national association headquarters unit is tremendously important. As the home of the AAU and USTA associations, it makes great sense to add IAAPA to this impressive lineup."
The State of Florida, Orange County Florida, Visit Orlando, the Orange County Convention Center, the Orlando Economic Development Commission, and Enterprise Florida Inc., have all played key roles in assisting IAAPA in the association's plans to relocate their headquarters office Orlando.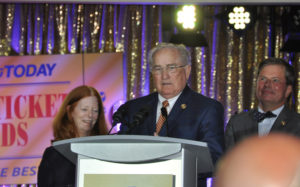 SANDUSKY, Ohio – Harold Hudson was presented with the first AIMS International Safety award during the Golden Ticket Awards held Saturday, September 10, at Cedar Point. The Award, presented by AIMS International president, Timo Klaus, and AIMS Executive Director, Karen Oertley was created to recognize a person or organization that has made a significant impact or contribution in improving safety in the amusement industry by demonstrating leadership, innovation, and foresight.
In presenting the award, Karen Oertley said, " We were pleased to have received many nominations, all are top candidates for future consideration. One individual stood out, however, as one the most passionate and dedicated safety advocates in the amusement industry. He is a man that has been committed to ensuring the safety of our amusement industry guests and employees throughout his career as well as through his work with ASTM in developing safety standards. Harold Hudson is truly a gentleman, scholar and safety icon in the industry and we are so proud to present him with the 2016 AIMS International Safety Award."
In accepting the award, Harold Hudson remarked, "I am truly honored to receive this first AIMS International Safety Award, especially when I think of the thousands of people AIMS has trained at their safety seminar and the thousands upon thousands of people in our parks that are all involved in keeping our guests happy and safe. When I began my industry career as the Corporate Engineer for Six Flags St. Louis, I found more than a job. I found a great family where safety is the #1 goal. Safety is a moral obligation as prescribed by our values to make sure our guests are happy, have a good time, and are safe.. It's been a great 38 years and I hope my efforts from the past as well as those in the future warrant this award."
During the presentation, Timo Klaus also announced a scholarship to the AIMS Safety Seminar in memory of former AIMS president and Executive Director, Mark Moore. In the spirit of Mark's passion for craftsmanship, the scholarship will be awarded by AIMS to a craftsperson who works with their hands in the amusement industry. More details will be released shortly.
About The AIMS International Safety Award
Created in 2016, The AIMS International Safety Award is presented annually to the individual or organization that demonstrates leadership, innovation, and foresight in improving safety in the amusement industry. With safety as the industry's #1 concern for amusement industry guests and employees worldwide, efforts in improving safety are shown in many forms: the design and implementation of new products and technology, the development of safety education programs and training, and by exemplary leadership in influencing others.
Nominations for the AIMS Safety Award can be submitted by individuals within the amusement industry and the winner is selected by a vote of AIMS International's board of directors. The award will be presented annually during the Golden Ticket Awards.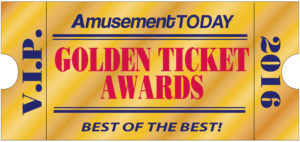 SANDUSKY, OHIO, Sept. 10, 2016 – It's been called "the Academy Awards of the amusement industry," and in a show full of "red carpet" pageantry and excitement, the winners of Amusement Today's 2016 Golden Ticket Awards were revealed tonight at this year's host park, Cedar Point, the legendary amusement park and resort along the shores of Lake Erie.
The Golden Ticket Awards are presented annually to honor the "Best of the Best" in the amusement industry and are calculated from an international poll conducted by Amusement Today. The prestigious survey asks experienced amusement park voters around the country and world to rate the "bests" in 23 categories.
Always revealing some surprises, this year's poll did not disappoint. In the category of "Best Seaside Park," perennial favorite Santa Cruz Beach Boardwalk in Santa Cruz, Calif., re-gained its title after being edged out last year, and the Twilight Zone Tower of Terror at Disney's Hollywood Studios in Orlando narrowly displaced Universal's Islands of Adventure's Harry Potter and the Forbidden Journey, also in Orlando, as "Best Dark Ride." Finally, fan-favorite Millennium Force at Cedar Point was out-voted for "Best Steel Coaster" by a single ballot by Fury 325 at one of its sister Cedar Fair parks, Carowinds, in Charlotte, N.C.
The list of 2016 winners are:
| | | |
| --- | --- | --- |
| Category | Winner | Location |
| Best Amusement Park | Europa-Park | Rust, Germany |
| Best Water Park | Schlitterbahn Waterpark Resort | New Braunfels, Texas |
| Best Children's Park | Idlewild & SoakZone | Ligonier, Pa. |
| Best Marine Life Park | SeaWorld Orlando | Orlando, Fla. |
| Best Seaside Life Park | Santa Cruz Beach Boardwalk | Santa Cruz, Calif. |
| Best Wooden Coaster | Boulder Dash | Lake Compounce, Bristol, Conn. |
| Best Steel Coaster | Fury 325 | Carowinds, Charlotte, N.C. |
| Best Kids' Area | Kings Island | Kings Mills, Ohio |
| Friendliest Park | Dollywood | Pigeon Forge, Tenn. |
| Cleanest Park | Holiday World & Splashin' Safari | Santa Claus, Ind. |
| Best Halloween Event | Halloween Horror Nights | Universal Studios Orlando, Fla. |
| Best Landscaping | Busch Gardens Williamsburg | Williamsburg, Va. |
| Best Christmas Event | Smoky Mountain Christmas | Dollywood, Pigeon Forge, Tenn. |
| Best Food | Knoebels Amusement Resort | Elysburg, Pa. |
| Best Shows | Dollywood | Pigeon Forge, Tenn. |
| Best Water Ride | Valhalla | Blackpool Pleasure Beach, Blackpool, England |
| Best Water Park Ride | Wildebeest | Splashin' Safari, Santa Claus, Ind. |
| Best Dark Ride | Twilight Zone Tower of Terror | Disney's Hollywood Studios, Orlando, Fla. |
| Best New Attraction of 2016 — Amusement Park | Lightning Rod | Dollywood, Pigeon Forge, Tenn. |
| Best New Attraction of 2016 — Water Park | Massiv | Schlitterbahn Galveston Island, Texas |
| Best Carousel | Grand Carousel | Knoebels Amusement Resort, Elysburg. Pa. |
| Best Indoor Roller Coaster | Revenge of the Mummy | Universal Studios Orlando, Fla. |
| Best Funhouse/Walkthrough Attraction | Noah's Ark | Kennywood, West Mifflin, Pa. |
Personally chosen by Gary Slade, publisher and editor-in-chief of Amusement Today, this year's Publisher's Pick Awards were presented in the following categories:
Supplier of the Year – Bolliger & Mabillard (B&M) in Monthey, Switzerland, for its success and dedication to excellence, as well as achieving 100 roller coaster projects during more than a quarter-century of quality business practices;
Person of the Year – Raffi Kaprelyan of Knott's Berry Farm in Buena Park, Calif., for his vision and passion for his park's history and respect for the role of Knott's Berry Farm in the evolution of the theme park concept;
Renaissance Award – Ed Hart of Kentucky Kingdom in Louisville, Ky., for the dedication he has shown in the presentation of his park's rebirth and its ultimate thriving atmosphere; and
Park of the Year – Cedar Point, for its foresight and philosophy of reinvesting that has resulted in continued excellence and for transforming the park into a complete resort destination, taking it back to its original 1870 roots.
For the 12th consecutive year, Amusement Today recognized college students who plan to pursue a career in the amusement industry and are employed by the host park of Cedar Point and two of its sister parks in the region – Kings Island, Mason, Ohio, and Michigan's Adventure, Muskegon, Mich., – as Miss and Mr. Golden Tickets. These individuals exemplify the spirit and integrity of the amusement industry by promoting the cornerstones of safety, service, courtesy and cleanliness at the highest level, while consistently exceeding job expectations. This is an annual designation by Amusement Today to promote education in the field of hospitality and amusement.
Amusement Today newspaper was founded in 1997 and covers international amusement and water park news and trends. In its 19-year history, it is a five-time winner of various awards from the International Association of Amusement Parks and Attractions. For a detailed outline of the 2016 winners and survey results, please visit GoldenTicketAwards.com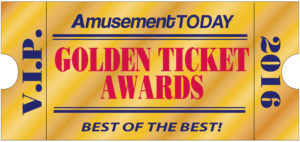 SANDUSKY, Ohio — Cedar Point will host the 2016 Golden Ticket Awards on September 9 and 10, 2016. Presented by trade newspaper Amusement Today, the private, two-day event for amusement industry professionals recognizes the "best of the best" in the amusement industry.
Beginning at 8:00 p.m. Eastern Daylight Time on September 10, 2016, the public can watch the Golden Ticket Awards ceremony streaming live online at www.cedarpoint.com/GTA.
The annual Golden Ticket Awards are the amusement industry's equivalent of the Oscars, with amusement park owners and managers, ride manufacturers, and other industry officials gathering to salute the industry's top parks. Winners were selected by amusement park enthusiasts, voting from around the world.
The legendary Cedar Point in Sandusky, Ohio is hosting the 2016 event. With its scenic location on a 364-acre Lake Erie peninsula, Cedar Point is an historic amusement park and resort that dates back to 1870. It is steeped in rich tradition and character, while providing modern-day family fun and thrills with the biggest array of rides – from mild to wild – anywhere in the world.
This is the 19th annual year for the Golden Ticket Awards; they are presented to the "Best of the Best" in the amusement industry and are calculated from an international poll conducted by Amusement Today.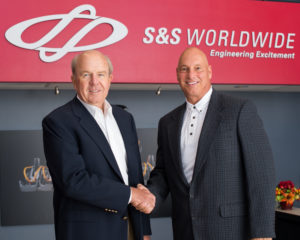 LOGAN, Utah – Under the leadership of long-time CEO Rich Allen, S&S Worldwide, Inc. ("S&S") has experienced tremendous growth and success, including the recent groundbreaking for a large, new facility that will increase productivity and efficiency throughout the company. Allen will now be retiring as CEO after nearly twenty years of service and after taking the company from an exciting enterprise with primarily one product (tower rides) to a global corporation that has quadrupled its former size and become the largest U.S. manufacturer of roller coasters and thrill rides.
Tim Timco, currently serving as President of S&S, has accepted the position of President and CEO. In his new position, Timco will be responsible to evaluate and advise the Board of Directors on the impact of the company's strategic plans, ensure that the company is consistently represented in a strong positive image, introduce new programs and strategies to provide solutions to business challenges, and lead the planning process for the continuing growth and development of S&S. Timco joined S&S in 2013, was promoted to the role of Vice President, Sales and Marketing in 2014, and was promoted again to President in 2015. From his executive sales position, Timco has contributed to the development of the company's global growth and he has been a leader in charting the course for its corporate direction in his role as President.
Jason Mons (formerly Executive Vice President) has been promoted to the position of COO at S&S. Mons will be responsible to develop and direct the management of the general operations of the company. Mons will participate in formulating and administering company policies to improve productivity, ensure cost efficiency, and he will implement processes and systems to generate higher productivity and profits, as well as ensuring compliance with company needs for capital investments and improvement projects. Since joining S&S in 2004, Mons has had considerable influence on the operational success of S&S.
Gerald Ryan, an employee of S&S since 1996, has accepted the position of Vice President, Sales and Marketing. Ryan will be responsible to develop sales and marketing programs and systems to support the strategic direction of the company and to align international business plans with organizational objectives. In this role, Ryan will develop annual marketing and sales plans, direct the implementation and execution of those plans, and oversee and direct market research efforts and new business affiliations. Ryan will also serve as a member of the Executive Management Committee.
Preston Perkes, who has been with S&S for ten years, has accepted the position of Director, Project Management and Ride Services. In this new role, Perkes will be responsible for the guidance of Project Management, Customer Service, Technical Support, and Ride Installation. Perkes and his team will oversee all aspects of complex amusement ride projects from inception to conclusion, as well as customer support for the hundreds of S&S rides operating in over 30 countries.
Roger Mann, CPA, was recently hired by S&S as CFO, replacing Mike Bassett. Mann brings many years of manufacturing accounting experience and will continue to develop systems and processes that will support and contribute to the company's success.
Tim Timco, President and CEO, said the combined knowledge and talent of this new management team, with the assistance and support of the company's other seasoned managers will "provide increased leadership internally and externally, all toward the achievement of our long-range business objectives. With the amazing, talented team at S&S, the company's organizational growth and business success can only continue."