SARASOTA, Fla. — Bob Dean, president of Leisure Labs, LLC, announced recently the opening of the world's largest transportable Giant Wheel at a height of 70 meters. Manufactured by Mondial World of Rides, this major ride proudly towers over Paris's Place de la Concorde and offers thrilling panoramic views from its 48 enclosed gondolas.
Froukje Knijpstra, owner of Mondial World of Rides, notes this newest Roue de Paris replaces the older 55 meter wheel on the same site to extend its run as the grandest and premier tourist venue in the city. While congratulating Marcel Campion, the wheel's owner and operator, Mrs. Knijpstra said, "We find it very heartening this great showman has again entrusted Mondial to provide him such a legacy attraction."
Mondial World of Rides offers one of the largest assortments of amusement rides and attractions in the world. From Giant Wheels to major spinning, park and transportable rides Mondial has been at the forefront of the business for almost 40 years. "We see it as our duty to develop unique, safe and trusted attractions and make them user friendly with the lowest possible maintenance costs and best return on their investment possible," she added.
Headquartered in Terband, The Netheralands, Mondial World of Rides' sales and marketing efforts are represented by Leisure Labs based in Sarasota, Fla.
JACKSON, N.J. ─ Chaos reigns supreme at Six Flags Great Adventure in 2016 as one of the world's most iconic DC Comics Super-Villains commandeers the park's 14th and most unique scream machine in its history, The Joker.
Earlier this fall, the world's largest theme park announced "Total Mayhem," which quickly became one of the world's most anticipated new coasters of 2016. But behind the scenes, criminal mastermind The Joker was secretly plotting to take over the new 4D, free-fly coaster and name it as his own.
"The Joker is undeniably one of the greatest DC Comics Super-Villains ever created. Only someone with his warped sense of humor could provide this level of insanity ─ or spinsanity ─ with a new, vertical coaster that delivers gravity-defying somersaults with utter unpredictability. It is the perfect addition to our dynamic line-up of award-winning roller coasters because this ride delivers total mayhem with its next-generation, cutting-edge thrills," said Six Flags Great Adventure President John Fitzgerald.
After being lifted straight up a 12-story, 90-degree hill, this 4-D, free-fly coaster will wreak havoc as riders flip head-over-heels at least six times along the weightless journey. Thrill seekers will experience exhilarating leaps and dives along a horizontal plane, along with unexpected drops as they tumble from one level to the next. The wing seats amp up the pandemonium since riders will experience all of this chaos with no track above or below ─ just the sky, ground and adjacent Great Lake churning around them.
The unique design of The Joker features:
Massive, imposing, floating and twisting I-box track frame in a unique two-tone design
One-of-a-kind onboard magnetic technology featuring smooth head-over-heels free-fly flips providing guests the feeling of weightlessness as they soar outside the confines of a traditional track
4-D wing vehicles that seat up to 8 per vehicle with a total of 5 vehicles
Face-off seats that allow riders to face each other as they tumble head over heels
A 120-foot-tall, 90-degree hill that is ascended by an elevator-style, chain link lift
Two beyond 90-degree "raven" drops giving the sensation of free-falling
The Joker is expected to wreak total mayhem beginning in the spring of 2016, and join the ranks of all legendary roller coasters at Six Flags Great Adventure.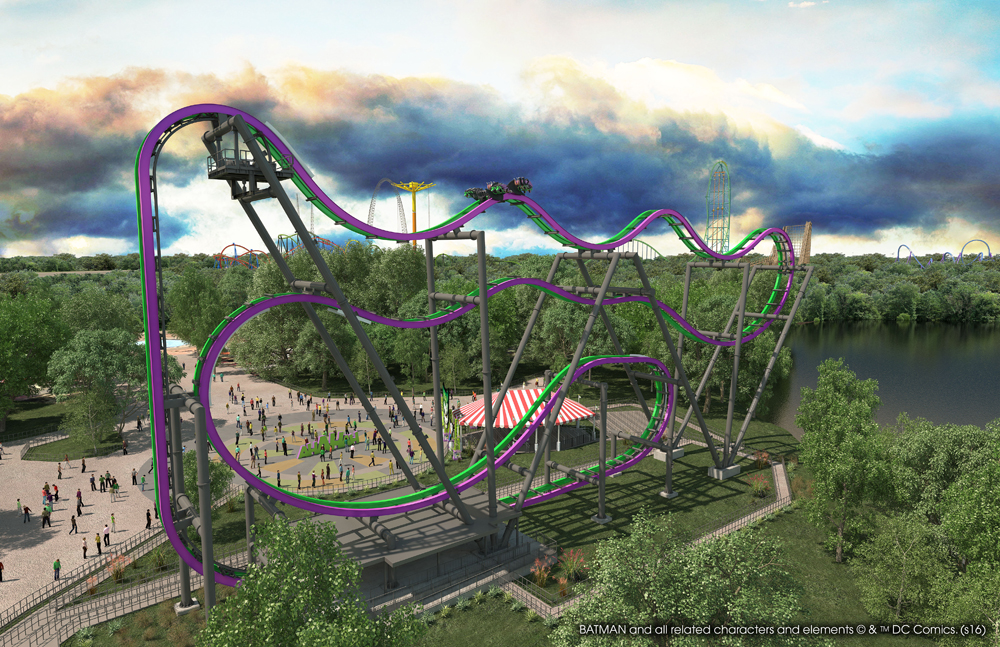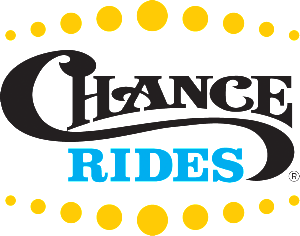 WICHITA FALLS, Kansas — The daughter of Chance Rides Founder Harold Chance Passed Away on Tuesday Nancy Chance Stadnyck, 59, passed away in her home peacefully on January 12, 2016, after
a nearly twelve-year battle with cancer. She died surrounded by her family in Metamora, Ill. Born on December 26, 1956 in Wichita, Kan. Nancy was the fifth child of R. Harold and Marjorie Chance who lovingly referred to her as their "Last Chance." She married Douglas Stadnyck, her husband of 37 years, shortly after graduating from St. Louis University in 1978. Nancy was deeply devoted to her family and friends.
She will be remembered for her unwavering enthusiasm for the many in her life whom she loved. Nancy never missed a chance to make someone feel special. She could be counted on to send hundreds of birthday cards each year, just to remind those fortunate to be in her life that they were loved. She was also an adventurous traveler.
Whether golfing with Doug in Ireland, visiting her mother in the Bahamas, or letting her family push her wheelchair around Europe in her final months, she was always looking forward to her next adventure. Enchanted by all things Christmas until the very end, she passed on wearing her Christmas pajamas. For her, her favorite holiday will never have to end. Her yearly Christmas letters will be deeply missed.
She was preceded in death by her father R. Harold Chance and her sister, Kathryn Chance. Nancy is survived by her husband, Douglas Stadnyck, her mother, Marjorie Chance, her siblings, Richard Chance (Carol Chance), Susie Chew (Bill Chew), and Judy Nielsen (Bruce Nielsen), and her three children, Chip Stadnyck (Allison Stadnyck), Joriane Stadnyck, and Elizabeth Fitz (Travis Fitz), her devoted dog, Skeeter, and her granddaughter Lyla Fitz.
Nancy cared deeply about her volunteer work at Hospice of the Valley, so in lieu of flowers, we request that you donate to them or your local hospice provider.
The family will host a celebration of life for Nancy in Arizona during the month of February, details to follow. All are welcome.
Hospice of the Valley: www.hov.org/donate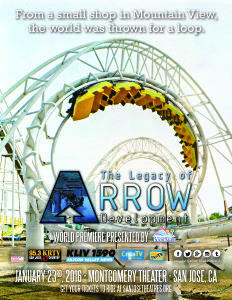 SAN JOSE, Calif. — The Legacy of Arrow Development, a documentary that highlights former South Bay amusement ride manufacturer Arrow Development, will be shown at a world premiere event at the Montgomery Theater in downtown on Saturday, January 23, 2016 at 7:30 pm.
Arrow Development is famous for pioneering tubular steel roller coaster track, an innovation that swept the amusement industry. First used on Disneyland's Matterhorn Bobsleds in 1959, the revolutionary track eventually led to the first modern roller coaster with upside down inversions — Corkscrew at Knott's Berry Farm in 1975. Arrow is also credited with producing the first log flume ride — a staple in amusement parks even today — all from its Mountain View, Calif. facility.
Highlighted are numerous parks from around the country including California's Great America, Six Flags Magic Mountain, Cedar Point, Busch Gardens Williamsburg, Kennywood and Santa Cruz Beach Boardwalk, which is the title sponsor of the premiere event.
Nicholas Laschkewitsch, film director, as well as video promotions coordinator for American Coaster Enthusiasts (ACE), says, "ACE is all about the preservation and enjoyment of roller coasters. The whole organization is proud to help tell the unique story of a company whose creations have been admired and enjoyed by millions."
Producer Kris Rowberry says, "Everyone knows Silicon Valley as a hotbed for technological innovations, but not for amusement parks. It truly is a forgotten piece of our local and national history." Rowberry is also known as the host of the award-winning television series, "The Lost Parks of Northern California."
Tim Baldwin, communications director for American Coaster Enthusiasts is thrilled that the project is now complete. "The time and energy that went into this project are exhilarating. This is the type of historical information that can just be lost if someone doesn't take time to document it. People love amusement parks and this is a part of history that most people just don't know much about." Baldwin adds, "Preserving history is vital, and what's been put on film will be a great resource for decades to come."
Seating is limited for the premiere at the Montgomery Theater, and the production team has been encouraged by initial ticket sales. Tickets for the film are available at SanJoseTheaters.org. General admission is $10 for the film only, or a $20 VIP admission that includes a reception and Q&A with the filmmakers.
About ACE: Founded in 1978, American Coaster Enthusiasts is a nonprofit, volunteer organization dedicated to the preservation, promotion, appreciation and safe enjoyment of roller coasters. With more than 5,000 members worldwide, ACE is the largest and longest-running enthusiast organization in the world. Members of ACE receive exclusive park benefits, newsletters, magazines and the opportunity to attend national, local and even international tours at parks. ACE has been prominently featured on various news programs and many cable networks such as the Travel Channel.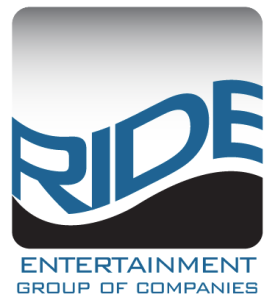 Stevensville, Md. — Lagotronics Projects and Ride Entertainment are working together in the North American theme park industry. The partnership brings together the industry's premier technology leader with one of the best-known sales companies.
Lagotronics Projects is a leader in the theme park industry, with the best quality interactive systems and technology in the world. By combining this with audiovisual products, lighting and games, they create unforgettable memories for visitors of theme parks. Their innovative and high quality solutions offer great experiences for virtually every leisure business, such as theme parks, museums, amusement parks, shopping centers, and retail areas. Their completed projects speak tremendously to the imagination.
Ride Entertainment is a world leader in providing thrilling rides to the attractions industry. The company was founded as a company focused on offering the industry the best rides from around the globe. Over the years, they have expanded to serve every sector of the attractions industry: sales, financial partnerships, installations, proprietary thrill rides based and operations.
Mark Beumers, CEO Lagotronics Projects, said, "I'm extremely pleased with this promising partnership. Both companies have many commonalities and will strengthen each other tremendously. I believe this partnership will have many advantages. Not only for ourselves, but for the whole theme park industry!"
Adam Sandy, Ride Entertainment's Chief Business Development Officer, agreed, "We have been looking to add a technological component to the portfolio and are thrilled to partner with Lagotronics Projects. Their combination of innovation, technology and reliability are why we feel their potential is limitless."

WINDERMERE, Fla. — IAM StarGuard ELITE has announced that Cowabunga Bay, Nevada, has joined its portfolio of Risk Prevention Clients. IAM has grown leaps and bounds over the past two years investing in technology and new curriculum integrations into the industry leading SAI lifeguard text and training programs. The IAM lifeguard portal is a prime example of this development and a key piece of technology bringing lifeguarding into the digital age. The portal is a living program that continues to be updated as we encourage our clients to provide us continual feedback on how to improve their facilities efficiency and operational safety. Michael Oostman, one of the Managing Partners for IAM noted "IAM StarGuard ELITE is honored to be able to partner with Cowabunga Bay to ensure a safe aquatic experience for their guests. The IAM StarGuard ELITE program will provide unprecedented strength and experience to Cowabunga Bay and the aquatic industry as a whole".
Additionally, as the only true provider of a comprehensive menu of offerings, the management division, Innovative Attraction Management will take on the role of turn-key manager for the Cowabunga Bay Aquatics Department. IAM will provide a seamless process for park leadership utilizing our over 100+ years of operational experience managing the Aquatics operation. This includes departmental leadership, Lifeguards, Slide Dispatchers, Supervisors and EMT staff. "We are thrilled to be able to provide our industry changing, innovative approach to a great facility like Cowabunga Bay" explained Mike Friscia, President of IAM. "We have the experience, ability and frankly the foresight to provide the multitude of services that our Clients are requesting".

BURBANK, Calif. — The Walt Disney Company and Shanghai Shendi Group announced that Shanghai Disney Resort will host a multi-day, grand opening celebration, culminating in a spectacular welcoming ceremony for the resort's first official guests on June 16, 2016. The world-class resort, located in the Pudong District of Shanghai, will be Disney's first destination resort in mainland China, featuring classic Disney storytelling and characters with all-new experiences tailored for the people of China.
At Shanghai Disneyland, Disney stories will come to life at the tallest, largest and most interactive castle at any Disney theme park. It will offer immersive attractions, dining, shopping and spectacular entertainment, and will be the first castle in a Disney theme park that represents all the Disney princesses.
"When it opens in June, Shanghai Disney resort will be a one-of-a-kind, world-class destination that is authentically Disney and distinctly Chinese," saidRobert A. Iger, chairman and chief executive officer, The Walt Disney Company. "The resort reflects Disney's legendary storytelling along withChina's rich culture, and showcases some of the most creative and innovative experiences we've ever created. We're looking forward to showing it to the world and sharing it with the people of China for generations to come."
In 2014, Disney and Shanghai Shendi Group, joint shareholders of the Resort, announced an accelerated expansion plan to capitalize on the tremendous growth in China's tourism sector – adding additional attractions, entertainment and other offerings to increase capacity at the theme park. On opening day, Shanghai Disney Resort will include:
Shanghai Disneyland — theme park with six lands
Shanghai Disneyland Hotel — Art Nouveau-inspired resort hotel
Toy Story Hotel — Pixar-themed hotel
Disneytown — shipping and entertainment district
Wishing Star Park — recration area with gardens, walking paths and glittering lake
The resort represents the largest foreign investment project in Shanghai, and one of the largest foreign investments in the history of China. The opening of Shanghai Disney Resort will mark a key milestone in the development of tourism in Shanghai, changing the landscape of the industry and delighting guests for generations to come.

RICHMOND, B.C. — WhiteWater is happy to announce its latest senior hire, Chris Perry, to the WhiteWater team as Executive Vice President of Strategic Partnerships. Chris brings an enviable reputation in waterpark operations, having helped some of the world's best water parks as an operational consultant. He has spent the last 15 years with Wild Wadi Waterpark, eight of those years as the youngest General Manager in the Group, having full accountability for the water park and overseeing aquatic safety for some of the most luxurious hotels in the world.
Chris has spent his entire life in the industry, starting in operations as a teen doing everything from cleaning locker rooms and lifeguarding, to serving food; having done almost every job in a park gave him a perspective which helped him motivate teams to create exceptional guest experiences. He has led teams that have won numerous industry, safety and service awards, leading Wild Wadi Waterpark to become the first waterpark in the world to be I.S.O. and Green Globe certified.
Chris has always been very active within the industry serving as a Director of Ellis & Associates' International Aquatic Safety School for many years and with IAAPA for the last decade, sitting on the Board of Directors since 2013. He was also one of the founding members of MENALAC (Middle East & North Africa Leisure and Amusement Council), championing the growth of the amusement industry in the Middle East.
But perhaps Chris is best known as the host of Travel Channel's amusement series, Epic Attractions, providing viewers with an all-access, backstage pass to the best attractions in the world (of which numerous WhiteWater attractions were featured). Chris also hosted Mission Amusement, a turn-around show which focused on providing major face lifts to struggling small and medium sized family run amusement facilities.
Chris joins the WhiteWater team to lead the strategic partnerships where he'll bring his tremendous park operations experience and industry profile to complement our service offering for our customers.
BOWLING GREEN, Kentucky — Beech Bend Park has announced the largest water park expansion in the park's history. The multi-million dollar expansion includes Cyclone Saucers, the first-ever North American installation of ProSlide's Flyingsaucer ride. Riders will fly around the edge of three "flying saucers" at high speeds. At nearly 500 feet long with a 55 foot elevation change, Cyclone Saucers offers a very unique ride experience.
Joining Cyclone Saucers in 2016 are three more new iconic rides. Tidal Wave positions riders face to face as they surge up a thrilling wall and hang weightless before rocketing back down. Riptide features an intense dark ride section, before plummeting into two separate funnels. Polynesian Plunge drops riders from the top of the slide tower into a swirling bowl. All four slides are being custom designed for Beech Bend Park by ProSlide Technology, Inc. of Canada. The new rides are expected to open in June, 2016.
Beech Bend Park is a family owned park which employs approximately 300 people per season. The new expansion will increase those numbers by approximately 25 people, which includes positions for life guards and slide attendants. Beech Bend is also seeking a ride mechanic/safety inspector supervisor, a food and beverage manager, an aquatics manager, and a marketing manager. Beech Bend Park is part of a large entertainment complex that includes Beech Bend Raceway and Beech Bend Campground, and brings almost one million visitors to the Bowling Green area each year.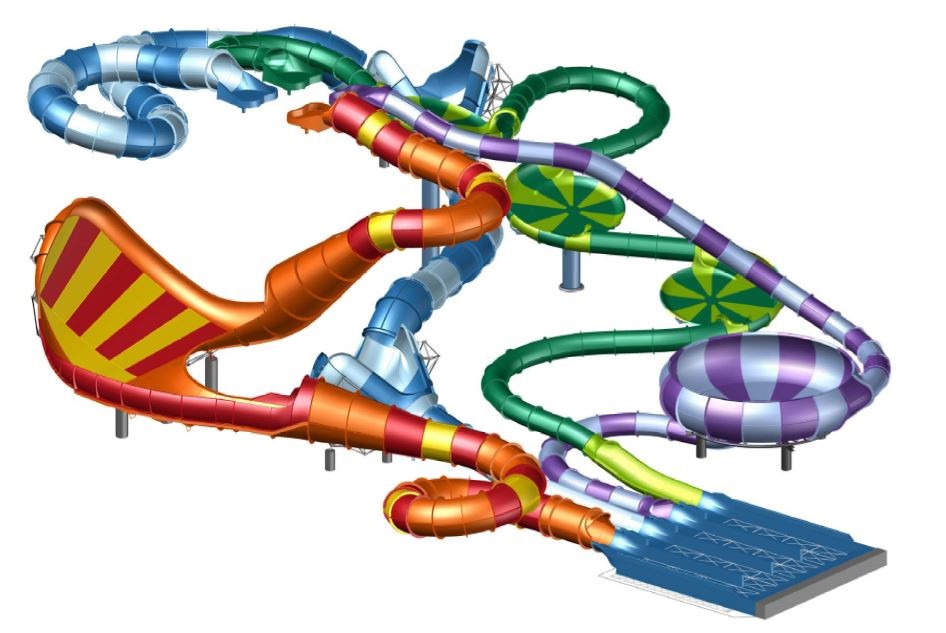 To perpetuate his kindness, in lieu of flowers, contributions can be made in Bob Minick's memory to his Random Acts of Kindness fund, c/o Bronco Productions, LLC; PO Box 77233, Fort Worth, Texas 76177.