BRISTOL, Conn. — "The Networking Event of the Year" is right around the corner! The charming Lake Compounce and Quassy Amusement and Waterpark in Connecticut are the host parks for Amusement Today's annual Golden Ticket Awards this year. Mark your calendar for Friday and Saturday, Sept. 8-9 and plan to visit with old industry friends and enjoy meeting new colleagues during this "don't miss" two-day bash. The complete itinerary, registration and hotel information are now available at www.goldenticketawards.com.
The Golden Ticket Awards event will officially kick off on Friday, Sept. 8, at Quassy with networking opportunities, a cocktail reception, entertainment and rides and a grand dinner overlooking Lake Quassapaug. On Saturday, Sept. 9, attendees will enjoy play time at Lake Compounce (the oldest continually operating amusement park in America), specialty tours and the awards show itself, which will be held in the historic Starlight Ballroom with dinner and plenty of fantastic entertainment.
To check out the itinerary and hotel information for the Golden Ticket Awards, as well as to register, please log on to www.goldenticketawards.com. This event is reserved for working professionals in the amusement industry. Representatives from parks and attractions, manufacturers, suppliers, consultants and more will come together to network and celebrate another industry season.
The DoubleTree by Hilton in Bristol, Conn., will serve as the host hotel for the event. Please refer to www.goldenticketawards.com for specific information and rates or call the DoubleTree by Hilton at (860) 589-7766. Please mention "Golden Ticket Room Block" when calling or use group code GTA when making online reservations at www.doubletreebristol.com.
This is the 20th annual year for the Golden Ticket Awards; they are presented to the "Best of the Best" in the amusement industry and are calculated from an international poll conducted by Amusement Today.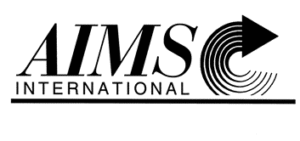 NASHVILLE, Tenn –  Created in 2016, The AIMS International Safety Award is presented annually to the individual or organization that demonstrates leadership, innovation, and foresight in improving safety in the amusement industry. With safety as the industry's #1 concern for amusement industry guests and employees worldwide, efforts in improving safety are shown in many forms: the design and implementation of new products and technology, the development of safety education programs and training, and by exemplary leadership in influencing others.
Nominations for the 2017 AIMS Safety Award can be submitted by individuals within the amusement industry. The winner will be selected by a vote of AIMS International's board of directors and the award will be presented during the Amusement Today Golden Ticket Awards at Lake Compounce, Bristol Connecticut, on September 9, 2017.
The deadline for nominations is Friday, July 7, 2017. Information on the AIMS Safety Award and official nomination forms can be found on the AIMS website at http://aimsintl.org/aa-SafetyAward.asp. Requests for forms can also be sent to AIMS at info@aimsintl.org.
The AIMS International Safety Award was created in 2016. The inaugural award was presented to Harold Hudson during the 2016 Golden Ticket Awards at Cedar Point in recognition of his long held passion and advocacy for safety in the amusement industry throughout his career with Six Flags as well as in his work with ASTM in developing safety standards.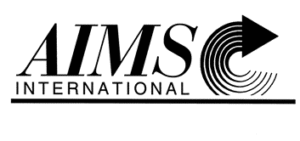 AIMS International is a non-profit 501(c)(6) association dedicated to improving amusement Industry safety through leadership in education. AIMS International provides training classes and certification (CEU) programs for ride inspectors, operations, aquatics and maintenance personnel through its annual Safety Seminar and at other venues throughout the year.
The amusement industry includes amusement and theme parks, waterparks, family entertainment centers, mobile attractions and carnivals, and other amusement attractions such as trampoline parks, ropes courses, and zip lines.
General Responsibilities
The Certification Program Manager is responsible for processing applications, certifications, tests and renewals throughout the year.
This is a part time, remote position with potential for growth. The candidate will work closely with the Executive Director and Seminar Manager to craft best practices related to the certification process. This person is responsible for existing procedures and should contribute to suggestions for improving the process.
Key Responsibilities
• Serve as the main point of contact for certification related issues. Manage day-to-day activities of the certification program including communication with candidates and certified individuals.
• Support the Certification Committee on the development of testing policies, procedures and guidelines. Coordinate the testing process, prepare and distribute tests at the AIMS Safety Seminar and as needed throughout the year. Grade tests and prepare certificates and credentials to those who pass and letters to those who do not.
• Manage the certification renewal process including communication with soon to expire and lapsed members.
• Responsible for accurate maintenance and upkeep of the certification database. Maintain all certification records and files for both internal and external use. Produce statistical reports and data analysis.
• Ensure compliance with all AIMS certification and renewal requirements.
• Work with Executive Director and Seminar Manager to oversee the processing of all fees associated with certification and renewal applications.
• Assess program strengths and weaknesses and contribute to solutions to address deficiencies. Engage in ongoing development of strategies to improve customer service.
• Review current documents for consistency, making changes as approved by Executive Director.
• Provide exceptional customer service to inquiries and customer requests.
Qualifications
• Attention to detail, organizational, analytical and problem solving skills needed to manage resources effectively.
• Strong interpersonal skills with the ability to interact effectively and collaboratively with members, board, volunteers, and staff. Requires excellent communication skills, both oral and written.
• Proficient in MS Office (Word, Excel, PowerPoint, Access). Experience with association databases is preferred.
• The ability to travel to and attend the AIMS Safety Seminar each January (8-10 days stay) is a must.
• College degree or equivalent work experience. Experience in association certification processes and/or amusement industry experience are a plus.
Applications
Please send cover letter and resume to info@aimsintl.org using subject line "Certification Mgr." No phone calls please.
Martin & Vleminckx Rides Companies (MVR) are very pleased to be able to announce two very important additions to our sales team. Our growth the past few years and awareness of the spectacular Wood Coaster projects we have been delivering with exciting inverted elements has created the need to not only add sales personnel but the most qualified industry members to our team.
The Americas, North, South and Canada will now be managed by Gina Romano who holds the position of Vice President Marketing and Sales, The Americas. In addition to the pursuit of MVR wood coaster sales Gina will handle the core business of MVR from its beginning; the installation, dismantling, moving, repair and maintenance of any amusement attraction.
Gina Romano was raised in a family operated park, Nellie Bly Park in Brooklyn, NY. She is a graduate in Commercial Design from Pratt Institute and holds a Masters in Education from NYU. After an early life spent in ride operations, food service, grounds keeping, safety, maintenance, and marketing she became the GM of the park in 1986.
Her love of the business led her to be involved in the International Association of Amusement Parks and Attractions. She served on the Education, Smaller Facilities and Safety Committees. She was nominated to serve on the IAAPA Board of Directors for two three year terms. In 1995, she became the first woman to be elected as 3rd Vice President of the Association. She served as President in 1997. Gina was instrumental in ushering IAAPA into the digital age and the Association becoming a truly international entity. She advocated for the industry to departments of tourism, representatives of government and developers all over the world. "One of the great aspects of our industry is that while cultures can be very different, the basic elements of what brings us joy are very much the same. We all speak that language." is a credo Gina lives by.
Gina took an eight-year leave from the Parks and Attractions Industry to work as an art and math teacher and to raise the two boys she adopted. During that time she produced local events, art shows and workshops as Nellie Bly Productions. The Parks and Attractions Industry and the people who are its creators, operators, developers and suppliers are her passion. She joins Martin & Vleminckx to continue her commitment, use her knowledge and support the industry.
Gina holds Certificates in "The Disney Approach to People Management, The Dale Carnegie School of Effective Speaking and Public Relations, The Cornell School of Hospitality IAAPA Facilities Management Program and is an Advanced Public Speaker with Toastmasters International. She has served as a Board of Director of the Brooklyn Chamber of Commerce and the Brooklyn Chapter of the Boy Scouts of America. She recently joined the IAAPA Foundation Board.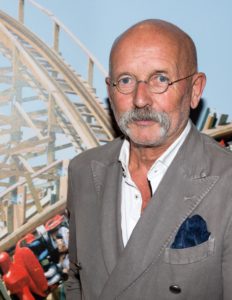 Europe, the Middle East, Africa, and Eastern bloc countries will now be managed jointly by Eckart Schultz who holds the position of European Representative and Chuck Bingham, Sr. Vice President Marketing & Sales MVR. The combined industry experience of Eckart and Chuck total 107 years which equates to the most experienced, talented, and best known sales team in the industry. MVR is delighted to have Eckart Join Chuck to bring the best traditional wood coasters in the world to Europe, the Middle East and beyond Eckart worked part time in the industry as a teen joined the amusement industry full time in 1969 with an electrical engineering qualification. He joined Becher Company in Germany who supplied ride systems to the amusement industry. In a very short 4 years Eckart was serving as a consultant to such major parks as Liseberg Park in Sweden and Phantasialand in Germany. Since this early success Eckart was General Manager of Reino Avenura, Mexico City and in various other positions for Middle East and European parks.
In 1994, Eckart became the Sales Director for Vekoma, The Netherlands in Europe, Middle East, Africa, and Eastern Bloc countries and has been active with sales in this area ever since with Vekoma, S & S and other notable suppliers. Eckart has establish a relationship with most parks in this territory as well as with Park designers around the world. His Park operations experience brings expertise to both purchaser as well as the park planner in selecting what is the best solution.
Eckart is fluent in German and English and is conversant with basic Spanish, Italian and French languages.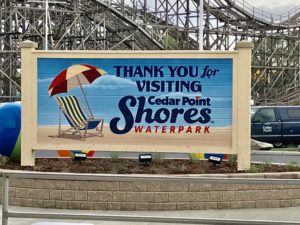 SANDUSKY, Ohio – Cedar Point's rich history began as a simple bathing beach and bathhouse in 1870. Today, Cedar Point still is the summertime destination for families from all over the world with 70 rides, including 17 roller coasters, a mile-long beach, five hotel properties, beautiful marinas and now, the new Cedar Point Shores Waterpark, opening Saturday, May 27.
Located on Cedar Point's shoreline on Lake Erie, Cedar Point Shores is an 18-acre playground for aqua-lovers of all ages with attractions that provide big thrills, little thrills and the world's best water thrills. Just like guests cooled off in the summer almost 150 years ago, that tradition continues with new ways to beat the heat, eat, relax and have fun.
"This is a unique time in Cedar Point's history. As the park evolves with the latest and greatest attractions, we will never lose sight of how we started," said Jason McClure, vice president and general manager of Cedar Point. "Cedar Point Shores is a direct nod to our past as it existed on the Lake Erie shoreline. Only today, new and exciting thrills are available right alongside the beach that has, and still continues to bring families together."
Cedar Point Shores is home to 17 water attractions geared for everyone in the family. Thrill-seekers will experience near free-fall on the new Point Plummet, a six-story aqua-drop body slide. Riders first climb into individual capsules at the top of the tower. After an ominous countdown of, "3-2-1," the floor will drop from underneath riders' feet and the journey begins through twists and turns in an enclosed tunnel until the splashdown in the runout below. Non-riders can watch the fear in the faces of their friends on special monitors on the ground with video cameras focused on the launch capsules.
On the same tower as Point Plummet, Portside Plunge provides thrills of a different kind, five stories above the ground. Riders can experience the slide alone or with a friend on an inner tube as they're sent through an enclosed tunnel, then shot out into the sun over unique airtime hills and into a pool at the end of the ride.
What's known as a legend on Lake Erie is now rising from the shallow pool of Lemmy's Lagoon, an area geared just for the little ones. Kids can splash and play around "Lemmy," the mythical, green Lake Erie monster, as well as sandcastles, geysers, whimsical fish and more.
Just next to Lemmy's Lagoon, Lakeslide Landing is the place where young ones can start their journey to become a big water thrill-seeker. Featuring 12 pint-sized slides, Lakeslide Landing also welcomes its sliders with a shallow pool, making it a great place for parents to interact with their children and cool off at the same time. Expanded shaded areas around Lakeslide Landing and Lemmy's Lagoon provide relaxing spots for parents to decompress and watch all the fun.
Dining at Cedar Point Shores is an experience in and of itself. The centerpiece of the new culinary experiences is Crystal Rock Café, named after the Crystal Rock Castle that once called Cedar Point home in the early 1900's. Crystal Rock Café will serve hand-made pizza, fresh chicken wraps, gourmet salads, seafood and items not found anywhere at Cedar Point.
A brand-new custom ice cream flavor is also on the menu at the new Beaches & Cream. The cold and creamy confection is a refreshing hint of cotton candy, a staple at Cedar Point for a large part of its history. The flavor is made in partnership with Sandusky's own Toft Dairy, creators of the Rougarou mint and chocolate and the Valravn salted caramel ice cream flavors sold inside the park.
Adults can relax with a new custom brew named Shandy Shores, a light and surprising mix of blood orange and mango. Shandy Shores is available at Muffleheads Beach Bar, a swim-up experience right on the waterfront, and at Schooner's Bayside Bar, a completely new hot spot serving not only frosty cold beverages, but snack items as well.
Setting the mood for Cedar Point Shores' resort-like atmosphere is a host of live entertainment, including appearances by Cedar Point's own Toes in the Sand Band and Cedar Point Beach Band. Playing popular favorites that will take guests into the relaxation mindset, both bands will play at select times throughout the summer. In addition, daily activities and games are planned at various locations in the waterpark for guests of all ages.
The new offerings don't stop there. The waterpark will also debut a new entrance with an artfully-crafted welcome sign and giant beach balls, enhanced midway paths with lush landscaping, more shaded areas for guests to relax, updated changing areas, luxury VIP cabanas alongside the Breakwater Bay wave pool and a new merchandise location, Sandals Souvenirs and Sundries.
With more to do than ever before, guests can play their way for multiple days while staying at one of Cedar Point's five hotel properties, including the beautiful beachfront Hotel Breakers, located just steps from Cedar Point and Cedar Point Shores Waterpark. Other properties include the cottages, cabins and luxury RV sites at Lighthouse Point, Sandcastle Suites Hotel, Cedar Point's Express Hotel and Castaway Bay Indoor Waterpark Resort.
A stay at Cedar Point's hotel properties includes free admission to Cedar Point Shores Waterpark (when a one, two or three-day Cedar Point ticket package is purchased), early access to Cedar Point Shores, Early Entry to Cedar Point to ride some of the biggest rides and coasters, discounted admission to Cedar Point and the closest rooms to the world's best destination for thrills.
Guests can also take advantage of a summer of fun at Cedar Point Shores with a Platinum Pass. Benefits include unlimited admission to Cedar Point Shores and Cedar Point, Early Entry, discounts on food and merchandise, exclusive ride nights, access to special passholder events at both parks, free parking and more. The best time to purchase a Platinum Pass is right now, as prices go up on May 30.
For more information on Cedar Point Shores, Cedar Point's hotel accommodations, hours of operation and more, guests can visit cedarpoint.com.
AccuWeather Global Weather Center – AccuWeather reports damp and dreary conditions will plague the northeastern United States late this week, with enough wet weather possible to disrupt travel and outdoor activities.
Rain is not particularly needed in this part of the country as most locations have received above-normal precipitation so far this year. Even so, any rain that falls will help to water lawns and blooming gardens heading towards the long summer months.
Not every day heading into Memorial Day will be a washout as dry conditions and partial sunshine are expected in-between rainy spells.
However, residents will want to keep umbrellas and rain coats on hand and be prepared to alter outdoor sporting events and gatherings.
"A storm approaching from the west will bring the return of rain on Wednesday night into Thursday," AccuWeather Meteorologist Brett Rathbun said.
The wet weather is expected to exit in time for Saturday sporting events, beach trips, yard work and hikes.
The best weather for Fleet Week New York City will likely be on Saturday," according to AccuWeather Senior Meteorologist Alex Sosnowski. "Likewise, dry weather and some sunshine are likely for the Bethpage Air Show at Jones Beach, New York, on Saturday only,"
The next storm from the Ohio Valley will be knocking on the door with the likelihood of a return of wet weather on Sunday and into Monday.
"The forward speed of the next storm will determine if Memorial Day ceremonies and barbecues are inconvenienced by a passing thundershower or washed out by periods of rain," Sosnowski said.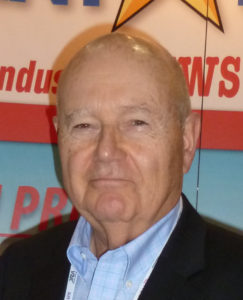 MALIBU, Calif. — Ira West, formerly of R. Duell & Associates passed away on May 21, 2017. He was 78.
A former set designer for MGM, West worked with Randall Duell designing theme parks built in the 1960s through the 1980s, eventually working his way up to president. Some of West's projects include the design of Frontiertown at Cedar Point, AstroWorld, Worlds of Fun, the two Marriott's Great America parks, and Parc Asterix.
West also providing concept design for large attractions such as Magic Mountain's Great American Revolution and Hersheypark's Sooperdooperlooper. West created a scale model of the terrain, determined where everything should be placed, then turned the design over to Intamin who then engineered the coasters. West also developed the concept for converting the Turn of the Century roller coasters at both Great America parks to Demon coasters with the addition of two vertical loops and new themeing.
Funeral services were held on May 25, 2017, in the TaNaCH Chapel at Mt. Sinai Hollywood Hills.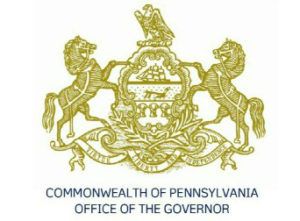 WHEREAS, Pennsylvania is home to more than 9,300 amusement rides and attractions that provide entertainment to millions of visitors attending the commonwealth's fairs, carnivals, and amusement parks; and
WHEREAS, to ensure the mechanical and physical safety of all ride patrons, the Pennsylvania Department of Agriculture's Bureau of Ride and Measurement Standards administers the state's amusement ride safety program, and is a national leader in ride inspection and safety; and
WHEREAS, the Department of Agriculture works cooperatively with the amusement ride industry, certifying and training nearly 1,600 professional inspectors from the private sector to ensure every ride in Pennsylvania is inspected and registered under the Amusement Ride Safety Act of 1984; and
WHEREAS, for quality assurance, additional inspectors are employed by the state and are assigned to work together with the amusement ride industry to ensure failsafe protection of all patrons; and
WHEREAS, the commonwealth is committed to amusement ride inspector training and regularly leads in national safety education and outreach programs that include hands-on demonstrations and workshops; and
WHEREAS, consumers also play an instrumental role to ensure their own safety while riding amusement attractions. Amusement rides are best enjoyed as intended and without the addition of rider-added thrills for their own safety and the safety of others.
THEREFORE, in recognition of the cooperative roles that the Pennsylvania Department of Agriculture and the amusement ride industry play in keeping all amusement attractions safe for all to enjoy, I, Tom Wolf, Governor of Pennsylvania, do hereby designate May 21-27, 2017, as AMUSEMENT RIDE SAFETY WEEK.
GIVEN under my hand and the Seal of the Governor, at the City of Harrisburg, this eighth day of May two thousand seventeen, the year of the commonwealth the two hundred forty-first.
Tom Wolf
Governor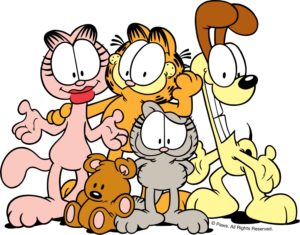 GRAND PRAIRIE, Texas – Six Flags Entertainment Corporation (NYSE: SIX), the world's largest regional theme park company, and Riverside Tourism Investment Group Co. Ltd., an award-winning tourism and real estate developer and Six Flags partner, today announced that the children's areas of China's first-ever Six Flags branded parks will be themed after Garfield and the Garfield characters from the world-famous comic strip. Six Flags Zhejiang is scheduled to open in 2019, anchoring a 30 billion yuan (USD $4.6 billion) resort development located on the coast of Hangzhou Bay. Six Flags Chongqing is scheduled to open in 2020.
"We are excited to partner with the great team at Paws Incorporated to create unique, themed sections based on the beloved Garfield character for children and their families," said John Odum, President, Six Flags International Development Company. "From themed rides and attractions to live shows, character meet and greets and merchandise, guests will be fully immersed inside the clever world of Garfield and friends."
"This alliance is another major step toward building a world class park for millions of visitors," said Che Li, Chairman of the Riverside Investment Group. "Garfield is already a beloved character in China and we look forward to bringing him to life inside Six Flags Zhejiang and Six Flags Chongqing."
"This is a great opportunity for Garfield to entertain families and children," said Garfield's creator Jim Davis. "Six Flags and Riverside have an extraordinary project planned and to have our characters featured is an incredible honor."
"Garfield" and "the Garfield characters" are intellectual properties owned by Paws, Inc., an Indiana-based corporation of which Davis is President. Paws was represented by International Theme Park Services, Inc., a leader in the theme park and amusement industry.
ROXBORO, NC – Sherry Howell, Director of Client Success at CenterEdge Software, a leading provider of point-of-sale, online sales and reservations, and ticketing systems for entertainment and recreation facilities, will speak at the International Association of Trampoline Parks (IATP) European Conference and Trade Show on Monday, May 22 at Hilton London Paddington in the United Kingdom.
Howell's presentation, "Getting the Return on Your Investment for Your Event Sales Effort," will provide attendees with reasons why an event sales effort is needed, offer two different approaches to setting sales targets, and discuss strategic ways to examine your current and future sales pipeline.
"It's virtually impossible to grow your business without dedicated event sales efforts, but this important piece of the pie isn't always given the love and attention it needs. My hope is to offer differing strategies to help operators determine the approach that makes the most sense for where they are today and what they wish to accomplish," said Howell.
The first annual European International Association of Trampoline Parks Conference and Trade Show will provide a forum for the exchange of information and opportunities to network with others in the trampoline park industry. The conference program will benefit indoor trampoline park owners, operators and managers, entrepreneurs looking to get into the business, and entertainment center owners looking to add this exciting new attraction to their existing businesses.