ARLINGTON, Texas — The offices of Amusement Today will close at 1 p.m on Monday, December 21, 2015, and will re-open on Monday, January 4, 2016, in order to give our employees a chance to celebrate the Christmas and New Year holidays with their family and friends.
Limited editions of Extra! Extra! Your Desktop Edition will be published on Dec. 21, 22 and 28, 29, 30. As always, should breaking news occur, Amusement Today will post news on amusementtoday.com.
The entire staff of Amusement Today wish all our friends in the amusement industry a safe and happy holiday season!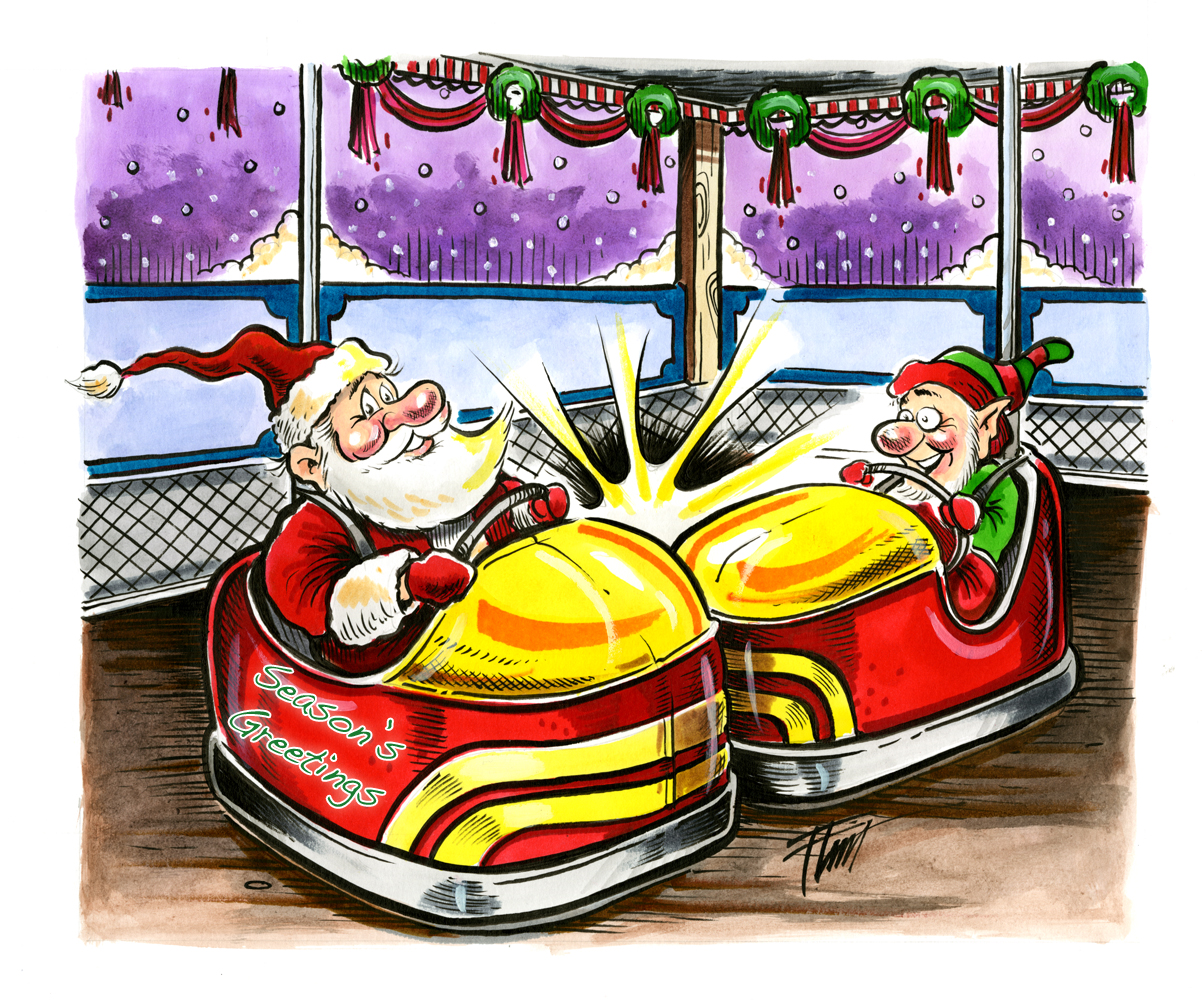 OCOEE, Florida — Ellis & Associates, Inc., the leader in aquatic safety innovation for over 30 years, is expanding once again, with the introduction of its new safety & health training services for professionals and laypersons. Beyond its' acclaimed International Lifeguard Training Program (ILTP), E&A will now offer a full line of additional certification programs including Health Care Provider Basic Life Support, Community CPR and AED, Standard First Aid, Bloodborne and Airborne Disease Prevention, and others.
According to Richard Carroll, E&A Chief Operating Officer, "We are pleased to be able to once again provide our clients with more choices. Clients will now have the opportunity to assess their individual facility needs and choose options for training any staff members, as well as providing training to local community members, in important lifesaving skills."
E&A is the ONLY training and risk management organization in the world to offer such a full scope of services.
Jeff Ellis, E&A founder, explains, "For years we have been training lifeguards to confidently perform skills that include first aid, CPR, AED, and BBP awareness. We are responding to requests from our clients for new certification programs for aquatic staff, as well as non-aquatic staff for facilities worldwide. Adapting to ever-changing client needs is what we at E&A are all about."
E&A's presence in the industry is staggering. E&A works with over 600 organizations around the world, conducting over 2,000 Safety Operational Audits and training over 45,000 aquatic professionals annually while serving over 100 million facility guests each year.
Jeff Ellis adds, "At E&A, our mission has always been about safety. We feel that through our extensive cadre of experienced instructors we can broaden our mission to help save even more lives through client and community safety education programs. "
NASHVILLE, Tenn. — The AIMS International Nomination Committee is pleased to announce the call for nominees to serve on the Board of Directors. The committee seeks nominees willing to lend their leadership and vision to AIMS International's mission to promote safety in the amusement industry through education, and to contribute to defining the organization's path forward.
Two board positions are open to individuals who hold Active Member status, as an individual or through an employer's membership. Active members are defined as manufacturers or suppliers of goods and services to the amusement industry.
Nominations should be submitted by December 20, 2015. If you are interested in serving or nominating a fellow member, please send the nominee's name, company affiliation, contact information, and a brief statement in support of the nomination to: Karen Oertley, Executive Director, at k.oertley@aimsintl.org.
The new Board members will be elected by the vote of Active Members of the Association attending the Annual AIMS Membership meeting to be held January 11, 2016 at the Doubletree by Hilton at SeaWorld in Orlando, Florida.
AIMS International is a non-profit 501(c)(6) association dedicated to improving amusement Industry safety through its leadership in education. AIMS International provides training classes and certification (CEU) programs for ride inspectors, maintenance, operations, and aquatics personnel through its annual Safety Seminar and at other venues throughout the year. AIMS also serves to inform its members on legislative and other issues relating to industry. The AIMS Board of Directors holds its annual meeting in conjunction with the dates and location of the Annual Golden Ticket Awards presented by Amusement Today.
For more information or inquiries regarding membership in AIMS International, please contact Karen Oertley at 714.425.5747 or k.oertley@aimsintl.org.
RICHMOND, B.C., Canada — Today is WhiteWater's birthday and they would like everyone to join in the celebration! 35 years ago the WhiteWater Waterslide & Recreation Complex in Penticton, B.C. broke ground. Today the company celebrated with its amazing team in the Richmond, B.C., office and thanked them for making WhiteWater into the global leader it has become.
WhiteWater has pioneered innovations throughout the waterpark industry such as the first Boomerango (and later the Family Boomerango) and the world's largest waterslide complex (52 slides off one tower!), as well as pushing the boundaries of technology with our latest invention: Slideboarding.
The company is understandably proud to have such a great team along for the ride, especially after such a fantastic year! This year marked one of WhiteWater's best years winning 17 awards for business excellence, product innovation and contributions to amazing international projects.
Staff members toasted with sparkling apple juice and cookies!
MIDDLEBURY, Conn. — Slide City, the new five-slide children's attraction at Quassy Amusement & Waterpark, started taking shape Tuesday as construction crews placed sections of fiberglass flumes on location. The Middlebury, Conn., park announced the additions to its popular Splash Away Bay waterpark in June with construction to be completed in time for the 2016 season. ProSlide Technology, Ottawa, Ontario, Canada, provided the new slides. Quassy officials said three huge state-of-the-art waterslides are also on the drawing boards for future expansion in the park. The five latest waterslides are among numerous park improvements coming for 2016 and the recent mild weather has helped construction crews remain on target.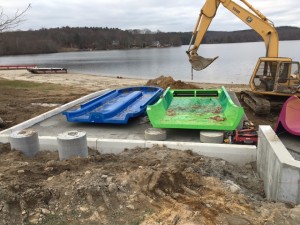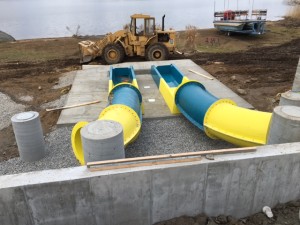 GALVESTON, Texas (December 3, 2015) — The crew at Schlitterbahn Waterparks and Resorts released a video today, hinting at a new ride coming to the Galveston waterpark. The details are still well under wraps, but the ride appears to be massive, according to the video.
"Next year will be our tenth anniversary and we are ready to do something big," said Ron Sutula, Schlitterbahn Galveston's General Manager. "If everything goes as planned, we'll have more news at the first of the year."
Schlitterbahn Galveston Island is well known for its expansive indoor section, immense river system, and high number of thrill rides. The new ride, according to Sutula, will add to that number.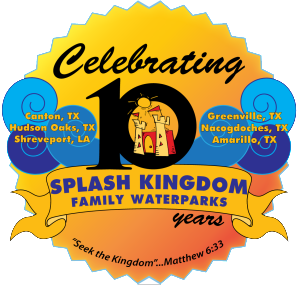 CANTON, Texas — Splash Kingdom Waterparls is offering a complimentary season pass to all law enforcement officers during its "Splash the Blue" campaign during the month of December. Splash Kingdom want to show how thankful they are to the brave men and women in blue who work hard to keep the community and neighborhoods safe every day.
All City, state and national law enforcement officers are invite to visit the ticket windows at any of the Splash Kingdom parks in Louisiana and Texas from 9 a.m. to 5 p.m. through Sunday, December 5. Law enforcement officers need to present their badge and department issued ID to receive a free season pass.
During the "Splash the Blue" week, law enforcement officers may purchase season passes for family members at a discounted rate $70 plus tax, per pass — $25 off the regular rate.
The complimentary season pass is valid at all five Splash Kingdom Waterpark locations in Louisiana and Texas. The free pass is for the law enforcement officer only — it is not transferable.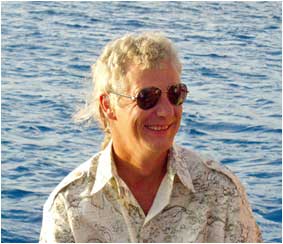 TILLAMOOK, Oregon — Fred Frantz, inventor and tinkering genius passed away on April 30, 2015, while searching the mountains in Nevada for rare and precious stones. He was 60 years old. Frantz was an important, yet quiet industry icon who made many inventions in the water park and theme park industry come to life that are played on by millions of families worldwide today. Best known for co-inventing giant water play structures with the dumping bucket of water at water parks he also created Super Saturator coasters, Foam Factories, MagiQuest, and many other iconic industry innovations. The First tree house dumping bucket was built and installed in 1995 at White Water Water Park in Marietta, Georgia. Frantz was instrumental in making this attraction come to life. There are great stories of how he and his daughter (who was just a little kid at the time) wore wetsuits and stood under a "test" big dumping bucket in the freezing cold rain of Tillamook. Frantz also built attractions for children's museums around the country. He loved to create places where kids and families could play.
A welder, tinker and inventor by training, Frantz founded The Metal Mender, at the Port of Tillamook, Oregon in 1984. He became a founding partner, designer, and engineer for SCS Interactive in 1989 and with Creative Kingdoms in 2002. When he wasn't building the latest big idea for theme parks, Frantz enjoyed riding his Harley Davidson on the back roads of Oregon and traveling the world. He especially loved the deserts, exploring, spelunking, collecting and mining for rare rocks and gems.
Frantz is survived by his daughter Mahonia Whitney Overbye (Nia), husband Todd Overbye, and children Jonathan and Makenna, of Fruita, Colorado, step-daughter Melanie Zallee, husband Van Zallee, and children Emma, Leah, Elijah, and Sarah of Portland, Oregon, and siblings, Sharon Frantz, Diane Nosal, David Frantz, Laura Herrington, with 14 nieces and nephews. The many people who worked for and with him in his many business ventures and neighbors, were his extended family.
In an effort to remember him and all he stood for, his partners Denise Weston, Rick Briggs and Jonathan Barney, alongside his family, have started an education and training fund at a local community college in his home town. The fund was named "Pass the Torch" in Frantz's memory, given the many people he has mentored over the decades with his skill and support of the trade he loved so much.
Contributions to the "pass the torch" fund may be made at Fredfrantzfund.com.
WILDWOOD, N.J. — Tim Samson, who works as the marketing director for Morey's Piers, made the cut to appear on a short-run televised baking contest. The Great Holiday Baking Show is based on a series out of the UK. It pits some of the best amateur bakers in an attempt to be named the Holiday Baking Champion. Samson is one of six finalists who will compete in a series of themed challenges and eliminations, all hoping to be crowned America's Best Holiday Baker. Samson learned to bake as a child by making traditional Czech desserts with his mother, grandmother and aunts. He bakes to relieve the stress of a long work day. Samson has been working for years at Morey's Piers in different roles but now is the marketing director for the company. His coworkers love his baked creations and rarely leave a single crumb. The show will premier on ABC, Monday, November 30 at 10 p.m. EST/ 9 p.m. Central.
Windermere, Florida – Innovative Attraction Management (IAM) and the Starfish Aquatics Institute (SAI) are pleased to announce that they are merging business operations for elite lifeguard training and comprehensive aquatic risk management programs to create IAM StarGuard Elite, LLC.
Since 2013 the companies have been in a strategic alliance to expand the program offerings for both organizations which has resulted in quick growth. Building upon this success, the new company will be made up exclusively of executives from the two organizations. IAM StarGuard ELITE incorporates all the benefits of the very successful strategic alliance PLUS includes the strategic merging of select facilities within the two organizations combined client base. This pushes the overall portfolio of clients for IAM StarGuard ELITE to 70+ Water Park and large public / private facility organizations both domestically and internationally, licensing over 10,000 lifeguards and slide operators worldwide.
Some of the most recognized brands in the waterpark industry are among the clients that will now be a part of IAM StarGuard ELITE.
Moving forward, the carving out of comprehensive aquatic risk management services into IAM StarGuard ELITE will allow both IAM and SAI to focus on impact in other areas of service to the industry. IAM will continue to provide turnkey attraction management (which will include the IAM StarGuard ELITE comprehensive risk management system), and expand their amusement industry consulting services. SAI will continue to provide aquatic education products and service aquatic facilities worldwide where a lifeguard certificate program delivered through a training center system (vs. license) is more appropriate. The new structure will also allow SAI more time to expand its highly successful Starfish Swimming and PADI Swim School programs and increase drowning prevention and international outreach efforts.
IAM has invested in technology and new curriculum integrations into the industry leading SAI StarGuard lifeguard text and certification programs. The IAM StarGuard ELITE lifeguard portal is a prime example of this development and a key piece of technology bringing lifeguarding into the digital age. The portal is a cloud-based software service program that is continually updated based on client feedback on how to improve efficiency and operational safety.
Michael Oostman, one of the Managing Partners for IAM noted "Our strong partnership with Jill and the SAI organization has been incredibly positive. We have received an amazing amount of industry interest and recognition for what our combined efforts have put forth so far. Our combined new company, IAM StarGuard ELITE is the natural next evolutionary step in providing unprecedented strength and experience to the aquatic industry".
Jill White, Founder of Starfish Aquatics Institute adds "We feel that the client-centric IAM StarGuard ELITE organization will provide much needed leadership to an industry that has been inactive recently related to innovation and technology. Without significant competition in the waterpark aquatic risk management and lifeguard market some lifeguard programs have become stagnant and less operator friendly. The singular focus of IAM StarGuard ELITE is to bring a competitive option to the market and advance the evolution of lifeguarding overall."