VICENZA, Italy – It was a labor of love for Alberto Zamperla as he began putting together celebratory preparations for his company's 50th anniversary.
The anniversary is year-long, but Zamperla wanted to bring his friends and customers together to show his appreciation of their support throughout the years.
And, that is what he did on June 9 and 10. More than 120 guests were invited to this small city just under 40 miles west of Venice, a city known for the architectural influences of Andrea Palladio in the 16th century.
Guests were wined, dined, toured and, most of all, appreciated.
"They are my reason for success," Zamperla said, adding that he not only builds amusement rides but he also builds relationships.
In fact, to him, that is what it is all about.
The birth of Antonio Zamperla S.p.A., Albert Zamperla's father, came in 1966. But, the foundation dates back to a century long family tradition which started with an equestrian circus at the beginning of the 20th century, moving through the establishment and management of one of the first street-cinemas in Italy, and then to the craftsmanship and production of amusement rides.
Antonio Zamperla's entrepreneurial adventure began in those years, when he realized that popular adult attractions could be successfully reproduced for children. Three years after founding Antonio Zamperla S.p.A., the company produced mini bumper cars, which since have been renamed mini scooters. They could be trailer mounted and moved, a novelty for the time.
In 1971, the company came out with the Punchball game.
In 1972, Alberto Zamperla moved to the U.S. to open a business here. He told those attending the celebration in Vicenza that it was very difficult for him when he first entered the U.S. and tried to sell products since he had no references and that was what park and carnival management wanted to see.
In 1975, Zamperla came out with the Mini Jet 6 and Alberto Zamperla made his first sale of the ride to Reithoffer Shows.
He finally had a reference. In 1976, the U.S. office was opened.
Today, Zamperla produces over 260 rides a year and not only has the headquarters in Vicenza and an office in the U.S., but has a global presence. In 2015, the production report broken up into ride types showed 46.18 percent of the rides produced that year were major and thrill rides. Family rides produced took up 30.88 percent; roller coasters, 15.04 percent; and kiddie rides, 7.90 percent.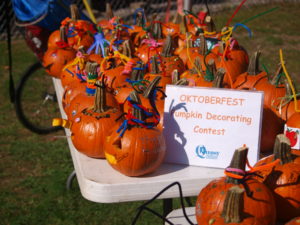 MIDDLEBURY, Conn. – The 25th Annual OKTOBERFEST is slated for 11 a.m. to 5 p.m., Saturday, Sept. 24 and Sunday, Sept. 25, at Quassy Amusement Park here.
Two bands will be performing for the event, which is held in the Fieldside Pavilion at the lakeside facility. They are: Joe Stanky & The Cadets on Saturday and John Stevens' Doubleshot on Sunday. Both bands hail from eastern Pennsylvania and have played for years at festivals, amusement parks and other large venues. The live music starts at 12:30 p.m. both days and the event will be held rain or shine.
Admission to the OKTOBERFEST pavilion is free, with fees for food, beverages, rides and attractions in the park. Parking for the event is $7 per car. Amusement rides will operate 11 a.m. to 5 p.m. both days. Quassy Amusement Park is located at 2132 Middlebury Road.
Traditional festival food in the pavilion will include knackwurst, bratwurst, sauerkraut, potato pancakes, roasted pork and steamed vegetables. There will be a variety of other menu items available as well during the two-day festival. Complete dinners or individual entrees will be sold.
Pumpkin decorating for youngsters will be offered both days at the event.
THE NETHERLANDS – Our co-founder and executive vice president Maarten van de Ven passed away unexpectedly at home on 16 August 2016, aged 58 years.  After finishing his studies of Master of Sciences in Industrial Engineering at the University of Technology in Eindhoven, Maarten worked at Philips Electronics and Tulip Computers before starting his career in the amusement industry at Vekoma Manufacturing.  After the bankruptcy of Vekoma in 2001, Maarten was instrumental in founding and building KumbaK as an engineering and service provider for the amusement industry. 
Within the company, Maarten was primarily responsible for finances, procurement and logistics.  In the almost 15 years of the existence of KumbaK, he has always been the main contact person for our suppliers and subcontractors.  Away from work, Maarten liked to travel and was a connoisseur of good food and drink – the latter skills he enjoyed applying annually to the company Christmas dinner, and which always ensured them to be memorable occasions enjoyed by everyone.
We owe him great gratitude and will truly miss him.  Maarten is survived by a brother and brother-in-law.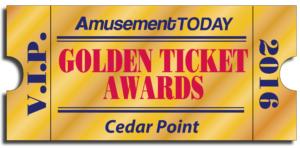 SANDUSKY, Ohio — Owing to the popularity of both the "Networking Event of the Year," and host park Cedar Point, the Hotel Breakers is now sold out of rooms reserved for the Golden Ticket Awards Ceremony weekend.
Fortunately Cedar Point is home to multiple lodging options and the park is offering accommodations at Sandcastle Suites, Lighthouse Point, Breakers Express and Castaway Bay.
Guests may view/book the following rates by using promotional code GTA. Details on rates and dates that are available are listed below. These rates are based on general availability and will appear as long as the property has open inventory.
Sandcastle Suites – dates available 9/9 and 9/10
Non Lake-View Suite – $179
Lake-View Suite – $199
Lighthouse Point – dates available 9/9, 9/10 and 9/11
Cottages – $205
Standard Cabins – $209
Deluxe Cabins – $255
Breakers Express – dates available 9/9 and 9/10
Friday Night – $85
Saturday Night – $95
Castaway Bay – dates available 9/9, 9/10 and 9/11
Rates vary depending on room types
This link will pre-populate the Cedar Point reservations website with the Golden Ticket Awards promotional code.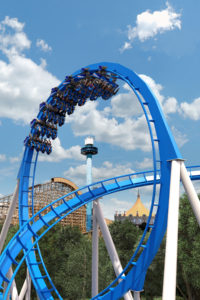 SANTA CLARA, Calif. — California's Great America (CGA) will introduce Patriot, the first floorless roller coaster in the park's 41-year history, for the 2017 season.
Patriot will emerge from a technical makeover of Vortex, which opened at the park in 1991, was designed by Werner Stengel and manufactured by Bolliger & Mabillard of Monthey, Switzerland.
Patriot will carry riders in a seated position, legs dangling free, to the top of a 91-foot-high lift before sending them into a 360-degree loop at 45 mph.
"With the track visible beneath their feet, Patriot will create unique and exciting new perspectives throughout the ride," said Raul Rehnborg, CGA's vice president and general manager.
The theme of the coaster was inspired by both the ride's position adjacent to the park's All American Corners section and the name of the park itself. The stand-up-to-floorless transition will include new blue-and-white trains.
Guests can take their final rides on Vortex on Sept. 5., after which it will be closed in preparation for its remaking into Patriot.
CGA's 2016 season continues weekends through Oct. 30, with Halloween Haunt running Fridays, Saturdays and Sundays from Sept. 24-Oct. 30.
Making its debut at CGA this year, WinterFest takes center stage Fridays, Saturdays and Sundays from Nov. 25-Dec. 30, with daily operation Dec. 19-23 and 26-30. —Dean Lamanna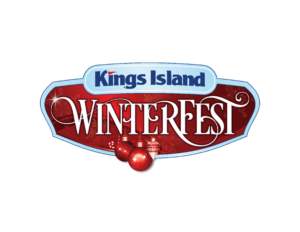 MASON, Ohio – Nostalgia and a return to traditions are what holiday seasons are known for, and in 2017 Kings Island will deliver those sentiments with the return of a month-long holiday celebration.
After a 12-year absence, the long awaited return of WinterFest will provide Gold season passholders and Tristate residents with four seasons of fun at the 364-acre amusement and water park.
The focal point of WinterFest will be the world's largest Christmas tree display with the park's iconic 314-foot tall Eiffel Tower decorated with thousands of lights which will be seen for miles.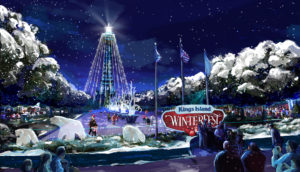 Below the Eiffel Tower, International Street will be transformed into a colorful and quaint winter village, featuring the fun of holidays past – outdoor ice skating on the park's Royal Fountain, Christmas carolers, and homemade crafts.
Tasty foods, colorful gifts, live stage shows, fun rides, and of course, Santa's workshop will all be part of WinterFest's warmth and excitement.
Rides will include the Grand Carousel and a journey through the park's Rivertown area on an authentic steam train.
Operating dates, hours and ticket prices for WinterFest will be announced at a later date. The event will be included free for 2017 Gold and Platinum season passholders.
Also new in 2017, Soak City Water Park will see the addition of a smokehouse style restaurant as well as other new amenities and improvements. Guests will enjoy the smells and tastes of new food items such as smoked pulled pork, smoked or grilled wings, hand-breaded chicken tenders and shrimp. The water park will also offer additional shade structures, changing rooms, cooling mister fans, and expanded deck space doubling the number of chaise lounge chairs.
Last month, Kings Island announced it was building a new wooden roller coaster, Mystic Timbers, which will debut in the spring of 2017.
Kings Island 2017 Gold season passes are now on sale at the lowest price of nine easy payments of $11 online at visitkingsisland.com and include free season-long parking, early ride time every public operating day on select attractions, early access to Soak City Water Park and unlimited admission to Halloween Haunt and WinterFest.
Kings Island is owned and operated by Cedar Fair Entertainment Company, a publicly traded partnership that is listed for trading on The New York Stock Exchange under the symbol "FUN."
THE NETHERLANDS – It is with great sadness that we share that our co-founder and colleague, M.W.T.M. (Maarten) van de Ven passed away unexpectedly.

In the almost 15 years of the existence of KumbaK, Maarten has always been the contact person for our suppliers and subcontractors.

We at KumbaK owe him great gratitude and will truly miss him.
SELLERSBURG, Ind. – With deep regret and great sadness, Weber Group has tragically lost one of their own. On August 14, president Tom Weber passed away unexpectedly.
"Tom and I founded Weber Group together in 1983 as a Design/Build Company. Through Tom's leadership, WGI has become a pathfinder in comprehensive specialty fabrication and a world leader in both design and construction services," said Vice President Donny Weber.
Tom was married to Barb, his beloved wife of 39 years. They have two children, Max and Sam, both of whom worked alongside their father at the Weber Group. Tom was thrilled with his three-year-old grandson Henry, and often spoke about putting family first.
"Dad expected excellence which can be seen in Weber's unparalleled quality and craftsmanship," says son and Project Manager Max Weber. "But he was also a very kind and patient teacher to me and our company. As we move forward through this difficult time together we will honor dad's memory with continued success as a market leader."
"Weber Group was not just a business to dad, it was family," remarked son Sam Weber. "He viewed every member of the company as a son or daughter, and treated everyone with dignity and respect. He was a man of principals and always conducted himself, and the business, in a manner he believed to be fair and just."
Tom held a bachelor degree in Architecture from the University of Kentucky and was an avid supporter of the UK athletic program. His tenure at Weber Group included over 30 years of experience in design and construction in a variety of environments from multi-family housing and commercial construction to highly branded and themed environments for clients such as Disney, Kennedy Space Center, Crayola, SeaWorld, Lego and Great Wolf Lodge.
Tom was heavily involved in community projects and led annual efforts to support New Directions Housing Corporation, which served low income families in need of home repairs and rental housing. He was also a valued contributor to The Council for Developmental Disabilities, a local organization that provides a variety of programs for people with disabilities.
A memorial service to honor Tom's life will be held on Monday, August 21st at Holy Spirit Catholic Church, located on 3345 Lexington Road in Louisville, Kentucky at 10 AM EST. Visitation will occur on Sunday, August 20th at Ratterman Funeral Home, located on 3711 Lexington Road in Louisville, Kentucky between 1 – 7 PM EST. Memorial gifts will benefit The Council on Developmental Disabilities; Down Syndrome of Louisville and The Flaget Alumni Scholarship Fund.
Friends of Tom's can also share their memories and stories on a special tribute page found at http://www.webergroupinc.com/tomweber/
For more information please contact Carolyn McLean at CarolynMcLean@WeberGroupInc.com or 502-645-4996.
PIGEON FORGE, Tenn. – With the excitement of what is shaping up to be a record season in 2016, The Dollywood Company today announced the addition of TailSpin Racer to Dollywood's Splash Country for 2017.
This thrilling new attraction, supplied by WhiteWater West, allows up to six guests to race each other on mats through the twists and turns of TailSpin Racer's unique spiraling tube design. The race begins with riders descending a daring first drop inside intertwined, high-speed AquaTubes. After navigating the wet and wild curves, riders emerge from the translucent tubes on a traditional mat racer-style slide. From there, it's an all-out race toward the splashdown finish.
"TailSpin Racer is an exciting addition to the park that we know our guests are going to love," explained Dollywood's Splash Country General Manager Mike Brown. "We always seek to add slides and attractions which will leave our guests with big smiles and memories to share. I think we'll see a lot of fun as families and friends challenge each other to races down this great new slide."
TailSpin Racer's slides are longer than a football field in length and stand five stories above the park. The $2 million attraction, which uses ergonomically designed starting blocks, will be located alongside Big River Pavilion near the park entrance.
Thanks to strong visitation to Dollywood's Splash Country in 2016, officials added five new days, Aug. 15-19, to the park's operating calendar. The award-winning water park now is open daily through Aug. 21 and on weekends through Labor Day.
Dollywood's Splash Country's other family-favorite attractions underscore why the park was named America's Must-See Waterpark in 2009 by the International Association of Amusement Parks & Attractions. The park also was named a Top-10 water park by TripAdvisor in 2016. With RiverRush, Tennessee's first and only water coaster, the daredevil drops of Fire Tower Falls and Mountain Scream and the white water rafting journey on Big Bear Plunge, Dollywood's Splash Country has thrill rides for the adventurous members of every family.
For those who want a slower pace, The Cascades leisure pool, Mountain Waves wave pool, Downbound Float Trip lazy river and children's water play areas are a relaxing way to cool down. Voted one of America's best waterparks by The Travel Channel, Dollywood's Splash Country features more than 35 water adventure slides in its breathtaking natural surroundings, the Smokies.
With the upcoming addition of TailSpin Racer, an impressive lineup of water-based attractions, and fun at every splash, Dollywood's Splash Country is the best place to beat the heat in the Smoky Mountains.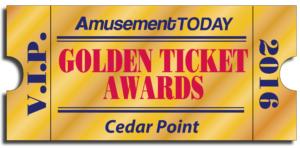 SANDUSKY, Ohio — Amusement Today and Cedar Point invite working professionals in the amusement industry such as park owners, operators and management and ride manufacturers, designers, suppliers and vendors, to join the fun at "The Networking Event of the Year" during the 2016 Golden Ticket Awards on Friday and Saturday, Sept. 9-10.
"This is a great networking opportunity for our industry," says Gary Slade, publisher and editor-in-chief of Amusement Today.  "It's also the perfect way to celebrate the end of the summer season with friends and colleagues."
The host park, Cedar Point amusement park and resort in Sandusky, Ohio, is busy gearing up for an unforgettable two days. The setting on a picturesque Lake Erie Peninsula will provide a one-of-a-kind backdrop for the event with all the feel of a relaxing beach resort coupled with a dramatic skyline of thrill rides and roller coasters.   
"The Golden Ticket Awards have grown into so much more than just an awards show over the years," says Slade. "Along with the team at Cedar Point, I'd like to personally extend an invitation to our industry to check out the GTAs… and be part of a truly remarkable weekend."     
To check out the itinerary and hotel information and and rates for the Golden Ticket Awards, as well as to register, please log on to www.GoldenTicketAwards.com.  Cedar Point's beautiful Hotel Breakers will serve as the host hotel for the event.
This is the 19th annual year for the Golden Ticket Awards; they are presented to the "Best of the Best" in the amusement industry and are calculated from an international poll conducted by Amusement Today.