RICHMOND, B.C. — WhiteWater is happy to announce its latest senior hire, Chris Perry, to the WhiteWater team as Executive Vice President of Strategic Partnerships. Chris brings an enviable reputation in waterpark operations, having helped some of the world's best water parks as an operational consultant. He has spent the last 15 years with Wild Wadi Waterpark, eight of those years as the youngest General Manager in the Group, having full accountability for the water park and overseeing aquatic safety for some of the most luxurious hotels in the world.
Chris has spent his entire life in the industry, starting in operations as a teen doing everything from cleaning locker rooms and lifeguarding, to serving food; having done almost every job in a park gave him a perspective which helped him motivate teams to create exceptional guest experiences. He has led teams that have won numerous industry, safety and service awards, leading Wild Wadi Waterpark to become the first waterpark in the world to be I.S.O. and Green Globe certified.
Chris has always been very active within the industry serving as a Director of Ellis & Associates' International Aquatic Safety School for many years and with IAAPA for the last decade, sitting on the Board of Directors since 2013. He was also one of the founding members of MENALAC (Middle East & North Africa Leisure and Amusement Council), championing the growth of the amusement industry in the Middle East.
But perhaps Chris is best known as the host of Travel Channel's amusement series, Epic Attractions, providing viewers with an all-access, backstage pass to the best attractions in the world (of which numerous WhiteWater attractions were featured). Chris also hosted Mission Amusement, a turn-around show which focused on providing major face lifts to struggling small and medium sized family run amusement facilities.
Chris joins the WhiteWater team to lead the strategic partnerships where he'll bring his tremendous park operations experience and industry profile to complement our service offering for our customers.
BOWLING GREEN, Kentucky — Beech Bend Park has announced the largest water park expansion in the park's history. The multi-million dollar expansion includes Cyclone Saucers, the first-ever North American installation of ProSlide's Flyingsaucer ride. Riders will fly around the edge of three "flying saucers" at high speeds. At nearly 500 feet long with a 55 foot elevation change, Cyclone Saucers offers a very unique ride experience.
Joining Cyclone Saucers in 2016 are three more new iconic rides. Tidal Wave positions riders face to face as they surge up a thrilling wall and hang weightless before rocketing back down. Riptide features an intense dark ride section, before plummeting into two separate funnels. Polynesian Plunge drops riders from the top of the slide tower into a swirling bowl. All four slides are being custom designed for Beech Bend Park by ProSlide Technology, Inc. of Canada. The new rides are expected to open in June, 2016.
Beech Bend Park is a family owned park which employs approximately 300 people per season. The new expansion will increase those numbers by approximately 25 people, which includes positions for life guards and slide attendants. Beech Bend is also seeking a ride mechanic/safety inspector supervisor, a food and beverage manager, an aquatics manager, and a marketing manager. Beech Bend Park is part of a large entertainment complex that includes Beech Bend Raceway and Beech Bend Campground, and brings almost one million visitors to the Bowling Green area each year.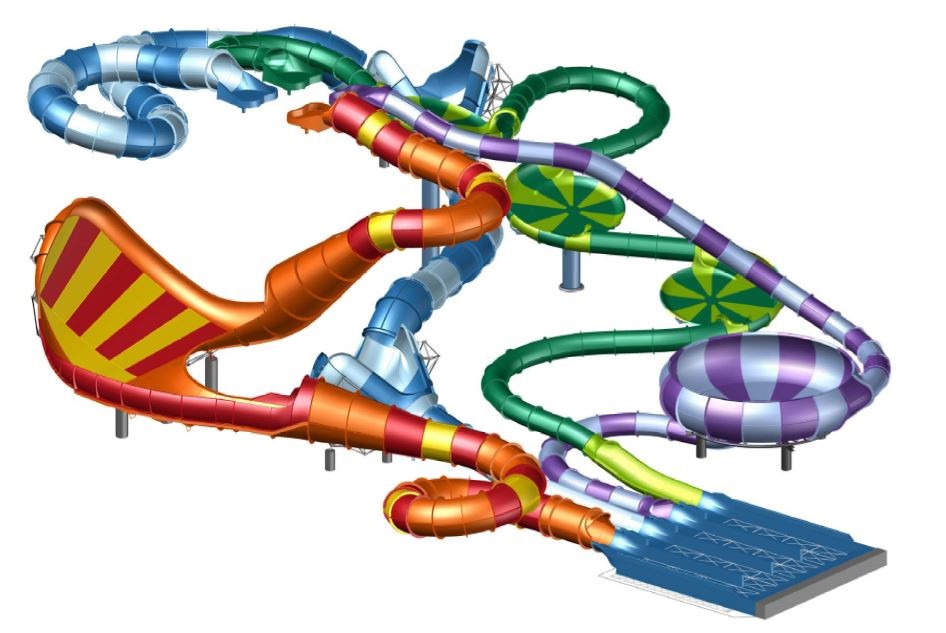 To perpetuate his kindness, in lieu of flowers, contributions can be made in Bob Minick's memory to his Random Acts of Kindness fund, c/o Bronco Productions, LLC; PO Box 77233, Fort Worth, Texas 76177.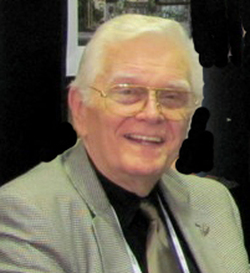 DALLAS, Texas — J.R. (Bob) Minick, a beloved husband, father and friend passed away peacefully on January 2 after a brave battle with cancer.
Bob grew up in Fort Worth, Texas, and had a passion for art at an early age. His career path was solidified when, after high school, he moved to California to live and work with his aunt and uncle, Owen and Dolly Pope, in the only house on the grounds at Disneyland. They were the original managers of the Circle D ranch at Disneyland, and the house is still there — historically restored. This area was known as the Pony Farm and at one time, the Pope's with Bob's help, cared for as many as 220 animals. The Popes and Bob Minick are the only people to actually ever live at Disneyland.
Working in that environment, in the early stages of Disneyland, with the influence of the late great Walt Disney provided fuel for Bob's imagination and artistic ability.
After working at and managing several large theme parks, Bob founded Minick Associates, a world renowned Design and Architectural Firm. He specialized in entertainment venues and theme parks with impressive projects from Dubai to the Fort Worth Stockyards. His insider knowledge and management of theme parks gave him a unique perspective to crowd flow and profitability. He was the first to design games in a park, designing the skill game operations at Six Flags over Texas and many more.
He married the love of his life, Lottie, and they spent the last 42 years on a fabulous adventure, working together on unique projects around the world. Their relationship was a true partnership in every sense, they encouraged each others creativeness. They enjoyed working together at operations from Billy Bob's Texas to the State Fair of Texas. Their son James Randall has inherited his parents amazing artistic talents. He is a student at the University of North Texas.
Bob has friends in all walks of life and all parts of the world. He was a loyal friend who always had a positive attitude and smile on his face. He is described by all who knew him as a kind gentleman, always making generous gifts to friends and strangers.
To perpetuate his kindness, in lieu of flowers, contributions can be made in Bob Minick's memory to his Random Acts of Kindness Fund, c/o Bronco Productions, LLC; P.O. Box 77233, Fort Worth, Texas 76177.
He was preceded in death by his parents Bob and Punkin Minick. He is survived by wife Lottie, and son James Randall of Dallas, Cousin Billy Minick of Argyle, and a wide range of friends who are part of their extended family.
A celebration of life is planned for January 24 from 1 to 5 p.m. at their Dallas home, a place where Bob loved to entertain.
ARLINGTON, Texas — The offices of Amusement Today will close at 1 p.m on Monday, December 21, 2015, and will re-open on Monday, January 4, 2016, in order to give our employees a chance to celebrate the Christmas and New Year holidays with their family and friends.
Limited editions of Extra! Extra! Your Desktop Edition will be published on Dec. 21, 22 and 28, 29, 30. As always, should breaking news occur, Amusement Today will post news on amusementtoday.com.
The entire staff of Amusement Today wish all our friends in the amusement industry a safe and happy holiday season!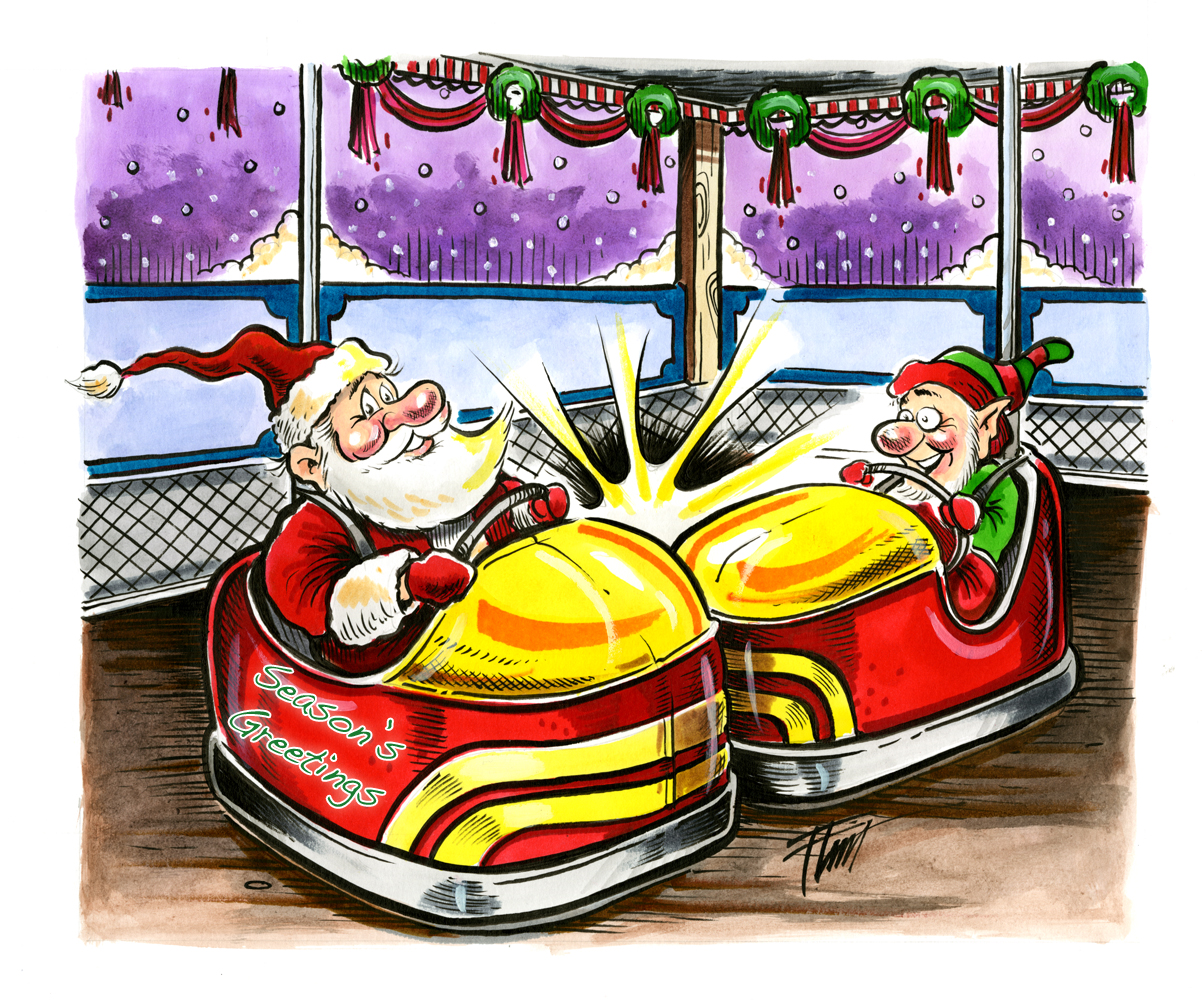 OCOEE, Florida — Ellis & Associates, Inc., the leader in aquatic safety innovation for over 30 years, is expanding once again, with the introduction of its new safety & health training services for professionals and laypersons. Beyond its' acclaimed International Lifeguard Training Program (ILTP), E&A will now offer a full line of additional certification programs including Health Care Provider Basic Life Support, Community CPR and AED, Standard First Aid, Bloodborne and Airborne Disease Prevention, and others.
According to Richard Carroll, E&A Chief Operating Officer, "We are pleased to be able to once again provide our clients with more choices. Clients will now have the opportunity to assess their individual facility needs and choose options for training any staff members, as well as providing training to local community members, in important lifesaving skills."
E&A is the ONLY training and risk management organization in the world to offer such a full scope of services.
Jeff Ellis, E&A founder, explains, "For years we have been training lifeguards to confidently perform skills that include first aid, CPR, AED, and BBP awareness. We are responding to requests from our clients for new certification programs for aquatic staff, as well as non-aquatic staff for facilities worldwide. Adapting to ever-changing client needs is what we at E&A are all about."
E&A's presence in the industry is staggering. E&A works with over 600 organizations around the world, conducting over 2,000 Safety Operational Audits and training over 45,000 aquatic professionals annually while serving over 100 million facility guests each year.
Jeff Ellis adds, "At E&A, our mission has always been about safety. We feel that through our extensive cadre of experienced instructors we can broaden our mission to help save even more lives through client and community safety education programs. "
NASHVILLE, Tenn. — The AIMS International Nomination Committee is pleased to announce the call for nominees to serve on the Board of Directors. The committee seeks nominees willing to lend their leadership and vision to AIMS International's mission to promote safety in the amusement industry through education, and to contribute to defining the organization's path forward.
Two board positions are open to individuals who hold Active Member status, as an individual or through an employer's membership. Active members are defined as manufacturers or suppliers of goods and services to the amusement industry.
Nominations should be submitted by December 20, 2015. If you are interested in serving or nominating a fellow member, please send the nominee's name, company affiliation, contact information, and a brief statement in support of the nomination to: Karen Oertley, Executive Director, at k.oertley@aimsintl.org.
The new Board members will be elected by the vote of Active Members of the Association attending the Annual AIMS Membership meeting to be held January 11, 2016 at the Doubletree by Hilton at SeaWorld in Orlando, Florida.
AIMS International is a non-profit 501(c)(6) association dedicated to improving amusement Industry safety through its leadership in education. AIMS International provides training classes and certification (CEU) programs for ride inspectors, maintenance, operations, and aquatics personnel through its annual Safety Seminar and at other venues throughout the year. AIMS also serves to inform its members on legislative and other issues relating to industry. The AIMS Board of Directors holds its annual meeting in conjunction with the dates and location of the Annual Golden Ticket Awards presented by Amusement Today.
For more information or inquiries regarding membership in AIMS International, please contact Karen Oertley at 714.425.5747 or k.oertley@aimsintl.org.
RICHMOND, B.C., Canada — Today is WhiteWater's birthday and they would like everyone to join in the celebration! 35 years ago the WhiteWater Waterslide & Recreation Complex in Penticton, B.C. broke ground. Today the company celebrated with its amazing team in the Richmond, B.C., office and thanked them for making WhiteWater into the global leader it has become.
WhiteWater has pioneered innovations throughout the waterpark industry such as the first Boomerango (and later the Family Boomerango) and the world's largest waterslide complex (52 slides off one tower!), as well as pushing the boundaries of technology with our latest invention: Slideboarding.
The company is understandably proud to have such a great team along for the ride, especially after such a fantastic year! This year marked one of WhiteWater's best years winning 17 awards for business excellence, product innovation and contributions to amazing international projects.
Staff members toasted with sparkling apple juice and cookies!
MIDDLEBURY, Conn. — Slide City, the new five-slide children's attraction at Quassy Amusement & Waterpark, started taking shape Tuesday as construction crews placed sections of fiberglass flumes on location. The Middlebury, Conn., park announced the additions to its popular Splash Away Bay waterpark in June with construction to be completed in time for the 2016 season. ProSlide Technology, Ottawa, Ontario, Canada, provided the new slides. Quassy officials said three huge state-of-the-art waterslides are also on the drawing boards for future expansion in the park. The five latest waterslides are among numerous park improvements coming for 2016 and the recent mild weather has helped construction crews remain on target.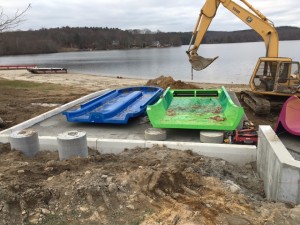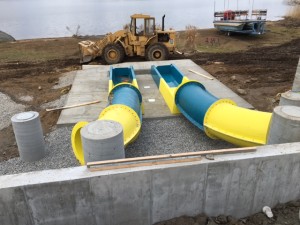 GALVESTON, Texas (December 3, 2015) — The crew at Schlitterbahn Waterparks and Resorts released a video today, hinting at a new ride coming to the Galveston waterpark. The details are still well under wraps, but the ride appears to be massive, according to the video.
"Next year will be our tenth anniversary and we are ready to do something big," said Ron Sutula, Schlitterbahn Galveston's General Manager. "If everything goes as planned, we'll have more news at the first of the year."
Schlitterbahn Galveston Island is well known for its expansive indoor section, immense river system, and high number of thrill rides. The new ride, according to Sutula, will add to that number.