Ray Cammack Shows' new Bussink Observation Wheel huge at Houston
New wheel stands 164 feet tall; requires 22 trailers to transport
AT: Pam Sherborne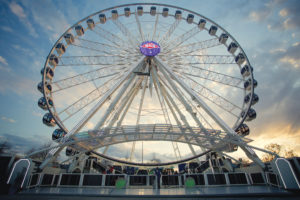 HOUSTON, Texas – Ray Cammack Shows (RCS) is serious about its business. The show's 2017 debut at the Houston Livestock Show and Rodeo, March 7-26, demonstrated just how much.
New rides, including the La Grande XL Observation Wheel, a Ronald Bussink of Professional Rides AG R50XL model, new games, and new tarps were just some of the things that greeted visitors at the Houston event this year.
And, if that event is any indication how the year will go for the carnival, 2017 will be a very good year.
The Houston Livestock Show and Rodeo broke their previous attendance record this year, drawing 2,611,176 visitors.
"It was our best year ever there," said RCS owner Guy Leavitt.
The new R50XL wheel is being touted as the largest portable wheel in the Western Hemisphere. Response to the ride was great, Leavitt said. Standing 50 meters in the sky (164.042 feet), it weighs 616,000 pounds. There are 36 climate-controlled cabins that can hold up to eight riders as music plays.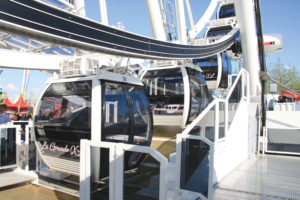 "Most of the wheel arrived at the port in Galveston, Texas, (about two weeks before the Houston show)," Leavitt said. "There were some parts that were actually packed and flown here to make sure they got here in time."
It was erected using an 80-ton crane with a 10-man crew. There is a 20-foot convex LED screen on the center axle of the wheel.
It is adorned with over 500,000 LEDs. The LED package came installed on the wheel and part of Ronald Bussink's design, said Charlene Leavitt, Leavitt's wife.
Along with the 50-meter wheel, RCS brought  two more portable wheels to the livestock show. Both are 33 meters high and both are from the same manufacturer as the XL wheel. The La Grand Wheel was introduced in 2001. The Big Wheel was purchased last year and was new to the Houston livestock show this year.
According to information RCS provided, this was the first time an American rodeo or fair had three wheels of this magnitude operating at one venue.
Leavitt said the 50-meter wheel takes 22 trailers to move.
"Our Big Wheel takes 19 trailers, but those cabins are collapsible for moves," Leavitt said. "The cabins on this new wheel are not."
Leavitt had booked the wheel into five spots this season and
hoped for a sixth, a holiday event sometime during November, December and/or January, 2018.
Along with Houston, other events are: the Coachella (Calif.) Valley Music and Arts Festival, April 14-16 and April 21-23; Stagecoach Festival, Indio, Calif., April 28-30; Orange County Fair, Costa Mesa, July 14-Aug. 13; Los Angeles County Fair, Pomona, Calif., Sept. 1-24; and the Arizona State Fair, Phoenix,  Oct. 6-29. 
The R50XL wheel, although a giant new touch for the carnival,  was not the only RCS improvement and/or addition for this season. At Houston, he debuted a new Zamperla Endeavor ride, a new Puppy Roll from Gold Star Manufacturing, and two new water race games from Bob's Space Racers.
Also new, the carnival has replaced all of their game tarps. Waterloo Tent & Tarp Co. sent 800 new pieces of tarp to the carnival prior to the Houston livestock show. The tarps were made from the typical polyvinyl chloride material,  but also included metal flecks that gives the fabric a highly reflective characteristic.
In addition, the tarps are adorned with custom fiberglass finials made by Leavitt's brother, Mark Leavitt and patterned after the finial top on the carnival's carousel. LED lights were installed in the finials.
This year, the carnival purchased new ticket booths from Waymatic. The old ticket booths were converted into Guest Service stands.
This year, they integrated food sales into their computer program, which already tracked ride and game sales. The carnival has 288 food points-of-sale.
"Now, we can, at any time we want, go into our computer program and find out what the sales are at any of our stands," Leavitt said.
This article appears in the May 2017 issue of Amusement Today.